10 Significant John Deere Milestones
10 of our favorite John Deere products from the last 178 years
By Geof Fowler, Photography by John Deere, May 06, 2016
With a history dating back to 1838, picking 10 significant milestones from John Deere might be called subjective and subject to differences in opinion, but this Tractor.com article focuses on 10 of our favorites.

Steel Plow

John Deere was a Vermont blacksmith, who, in search of opportunity moved west. Arriving in Grand Detour, Ill., he observes the cast iron plows in use, which work well in the light, sandy soil conditions of New England, not faring so well in the heavy, sticky prairie soils of the Midwest. Using steel from a sawmill sawblade he fabricates two plows with a concave curve that successfully "sheds" soil as they work instead of clogging up. Demand for John Deere's self-cleaning design grows and 10 plows are manufactured in 1839, 40 in 1840, 70 in 1841 and 100 in 1842. In 1848, John Deere moves to Moline, IL, a more business-suitable location and begins to manufacture plows under the John Deere name. Production ramps up slowly, but by 1849 the company is manufacturing more than 2000 plows annually.

Waterloo Boy Tractors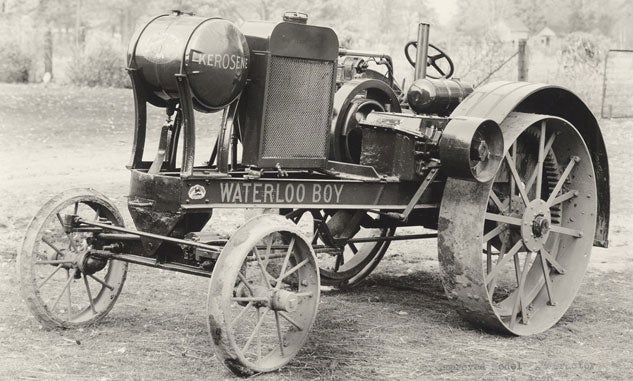 In 1918, John Deere purchases the Waterloo Gasoline Engine Company for $2.1 million and starts selling Waterloo Boy tractors with John Deere decals on the front. In the first year, 5,634 tractors are sold and the company continues sales of the model until 1923. Waterloo Boy tractors came in two variants, the Model R single-speed and Model N dual-speed, both of which started on gasoline but ran on low cost kerosene. Engine power was from a two-cylinder horizontal engine making somewhere between 12 and 24 horsepower at 750 rpm. The engine sound was a distinctive pop-pop, giving way to the nickname "Johnny Poppers."
Model D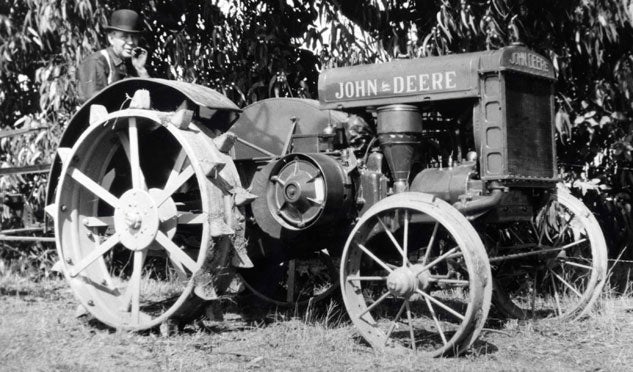 In 1923, John Deere introduces the first in-house designed and Waterloo-built tractor carrying the John Deere name. The Model D is powered by a 7.6L two-cylinder engine making 27 horsepower at the belt. To start a Model D, the operator would open two decompression caps, give the tractor some throttle, then spin the flywheel until the engine started. The Model D was an instant success, so-much-so that it would be sold until 1953 with a production total that reached 160,000.
Model A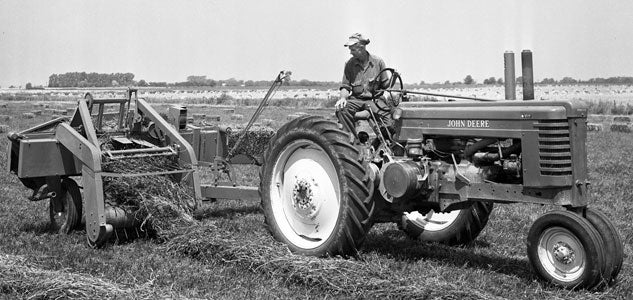 To compete with the popular McCormick Farmall tractor, John Deere introduced the Model A in 1934. This would be the first tractor with rubber tires and adjustable wheel treads with models for orchard, industrial, and high-crop use. The 5.1L two-cylinder engine made 29 belt horsepower at 975 rpm and could be started using a crank or the flywheel. Early tractors had four-speed transmissions and could pull 4110 lbs at 2.25 mph. Instrumentation included temperature and pressure gauges, a three-way fuel control valve, and a radiator shutter control. The Model A run would last until 1952 with a total of 300,000 tractors made.
4010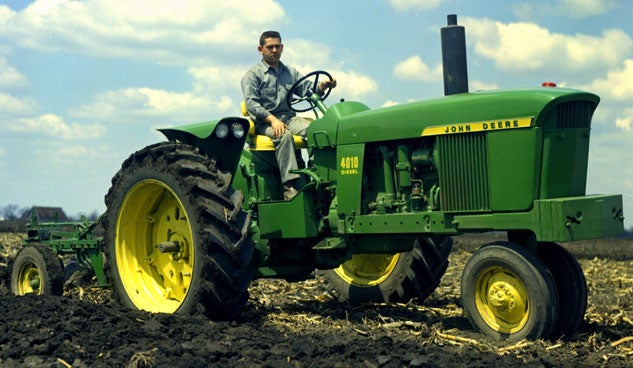 At Deere Day held in Dallas, Texas held on August 30, 1960, dealers were met with a surprise introduction of the new 10 Series. New Generation tractors, as they were called, ranged from the 35 horsepower 1010 to the 80 horsepower 4010, which in later tests would show 84 horsepower, making it one of the most powerful 2WD tractors at the time. Power for the 4010 was by 4.9L six-cylinder engines (gas & LP), or a 6.2L six-cylinder diesel. Hydraulics were advanced for the day, with a closed center system flowing 13 gpm. An 8F / 3R transmission with dash lever control saw a speed range from 1.5 to 14.3 mph. Fuel consumption for these next generation machines at power take-off (PTO) speed ranged from 6.1 gph for gasoline variants to 4.9 gph for diesel tractors. Over the three-year span 10 Series tractors were manufactured, 58,000 would be sold and would pave the way for the most popular John Deere tractor ever, the 4020. A 4010 was sold to Elvis Presley in 1967 and in restored form is on display at Graceland.
55 Combine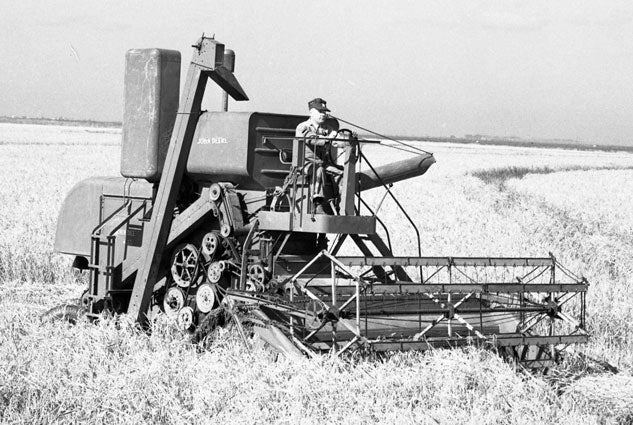 Farmers first heard of the John Deere 55 combine in the early 1940s, but with WWII in the way it wouldn't be until 1947 when production would begin. Massey Harris was already a leader in this field and the late-to-market John Deere combine was priced at a premium ($4700). Still, advanced features such as a single lever controlled variable speed drive, which allowed slowing or speeding up without having to change gears, won over many customers. John Deere continued production of the 55 combine until 1969.
400 Garden Tractor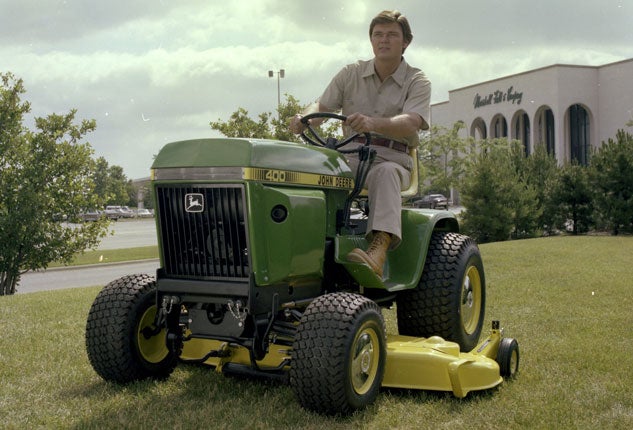 John Deere first introduced the 100 series lawn and garden tractors in 1963 with the 7 horsepower 110. With a Quick-Tach implement attaching system, these tractors quickly opened the imaginations of homeowners to new, faster and more comfortable ways of tackling tasks. In 1975 John Deere introduced three new series, the 200, 300 and 400. The granddaddy of all, the 400, came with an impressive even by today's standards list of standard equipment. Powered by a 53-cubic-inch Kohler KQ532 engine with spin on oil filter, the 19.9 horsepower 400 came with a two-speed hydrostatic transmission, power assist steering, six-bolt rear cast hubs with individual brakes, three hydraulic spools (two remote and one rockshaft), and mid and rear PTOs. A Cat O three-point hitch (3PH) was an option as-well-as big tractor implements such as a 60" mid-mount mower that could cut two acres an hour, front blade with hydraulic angling and lift, front shaft-driven snow blower, rear PTO driven rotary tiller, and a front end loader (FEL). Production of the 400 continued until 1983 with the series DNA clearly evident in today's X700 Ultimate tractors.
755 Compact Tractor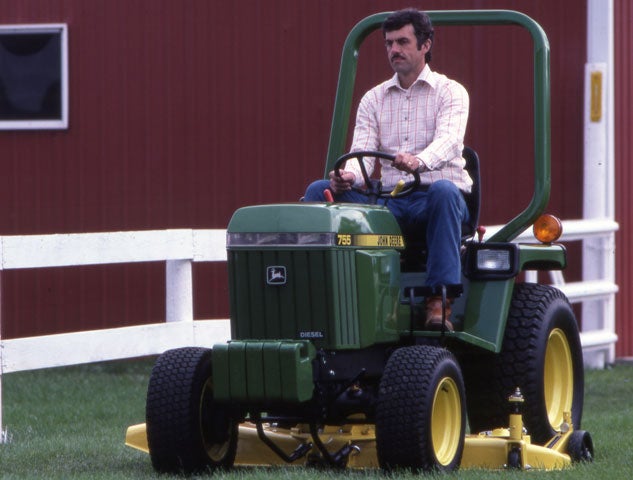 In 1977, John Deere partnered with Yanmar to manufacture smaller tractors which would become the foundation for the Compact Utility Tractor (CUT) class. Early tractors were gear-driven but packed time proven and tested Yanmar engines, strong hydraulics and a wide range of implements that let homeowners, contractors, municipalities, and hobby farmers tackle otherwise daunting tasks. In 1986, the John Deere-Yanmar partnership introduced the first hydrostatic drive tractors: the 55 Series. The 20 horsepower 755 came with a MSRP of $8800 and received high praise for its twin side-by-side pedal arrangement. Hydraulic flow was 5.6 gpm – enough to give the 755 a 3PH lift capacity of 785 lbs. Production of the 55 Series continued until 1998 when the 4010 Series was introduced. Today's 2 and 3 Series tractors are just a natural progression.
Gator 6x4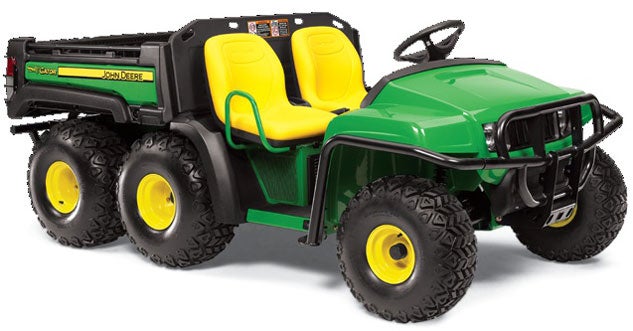 In 1987, John Deere unveiled the AMT, a five-wheeled utility vehicle. This "little" pickup truck quickly became a workhorse for any number of hauling, towing, and moving – especially in tough-terrain – projects. The single front wheel though was a limitation, but taken care of by the Gator 6x4 introduced in 1992. With six high floatation tires, a wide stance, 1000-pound cargo capacity, this was one heavy-duty machine. Today, almost every tractor manufacturer has an all-terrain vehicle (ATV) or utility task vehicle (UTV) in their lineup, along with most snowmobile and motorcycle makers. The John Deere lineup has several UTV series with high-performance, crossover, traditional work and military models, including one with a 62 mph top speed. Credit the Gator for getting this now not-so niche marketplace started.
9620RX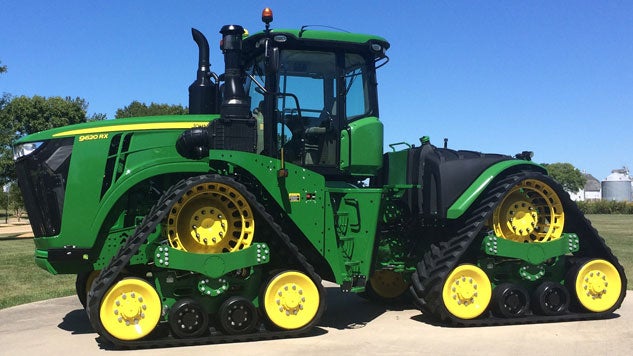 It's hard to pick milestone favorites from John Deere's long list of innovative, efficiency-enhancing machinery, but not including the 9620RX would be even more difficult. With 620 horsepower on tap, four separate driven tracks, and a cab environment to die for, it is the pinnacle of today's tractor technology.
Conclusion
For 178 years, John Deere has shown the world a look at tomorrow's technology today. Not many, if at all any of us, will be here in another 178 years, but it certainly would be fascinating to know and see what John Deere will be making going into the 22nd and 23rd centuries. Our bet is John Deere will still be here innovating and finding ways to increase productivity.
Buyers Guides
Our Partners