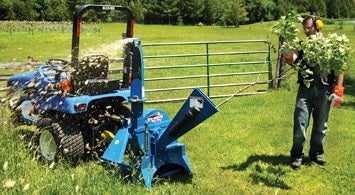 Having trouble finding reasonable clean up help after a storm? Brush pile building up after years of accumulated debris? In our case, both were motivations behind the Wallenstein BX32 review this week.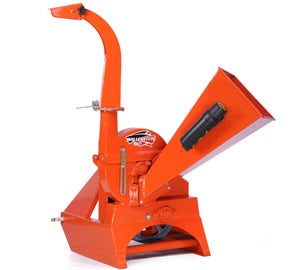 Wallenstein is a well-known manufacturer of backhoes, generators, spreaders, grapples, skidding equipment and accessories, splitters and chippers. A division of EBM Manufacturing, Wallenstein products are designed, engineered and manufactured by craftsmen from the Kitchner area of Ontario, Canada. Though Wallenstein makes chippers sized to handle even 10-inch diameter wood, we were especially interested in the model BX32, which is rated to handle up to three-inch branches, and curious as to how it would perform powered by a diesel subcompact tractor (SCUT). This category of tractor generally has 15 to 30 gross horsepower, with power take off (PTO) horsepower ratings ranging from 12 to 26. Our choice for this review was a John Deere 2210, a popular tractor which is rated at 23 gross and 17.7 horsepower at the PTO.
Our BX32 arrived fresh on a skid and painted green (other major brand colors are also available) with an owners manual that is plainly written and with all of the requisite safety precautions you would expect on a piece of equipment of this nature. The BX32 weighs 320 lbs, so manual positioning was out of the question. We backed the tractor up to the skid and attached the three point hitch (3PH) lift arms and top link. Our PTO shaft length was correctly sized by our dealer, but a word of warning is advisable to heed this important step otherwise major and expensive damage to the tractor transmission could occur.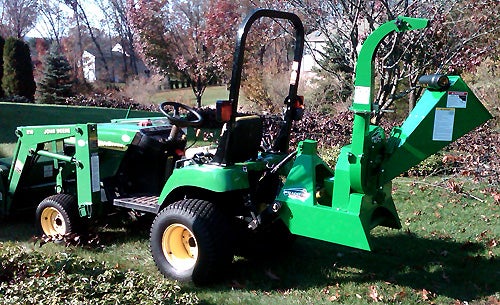 We were able to engage the PTO at idle without stalling the tractor, but on subsequent startups we felt 2,000 engine rpm was best. The BX32 is rated to operate between 540 to 1000 PTO rpm and our 2210 has a tachometer indicating at what engine rpm 540 PTO rpm is generated. We worked the chipper up to rated speed and started with some softwood saplings leftover from the September Surprise snowfall that ranged from one to two inches in diameter. The BX32 handled these saplings with no trouble, consuming the branch, offshoots, and leaves and turning them into a mulch that though not as fine as you might purchase from your garden supply, was certainly fine enough for use in flower beds or other landscape needs. The output chute adjusts a full 360 degrees without tools and can be further aimed by loosening/tightening two knobs on the upper neck. The chips from the 58-inch high chute can be directed to something as small as a wheelbarrow or directly to the desired end location, but we found a 20 cubic foot dumpcart more practical.
After cleaning up several large piles of saplings, we moved on to the brush left from a large oak tree. We found the hardwood branch offshoots did not bend as easily as the softwood and necessitated a more thoughtful approach with the chainsaw, but past that, the BX32 had no trouble chipping branches as large as three inches in diameter.
Hearing protection is highly recommended, but we found the whine of the chipper not much louder than that of the tractor diesel at rated PTO rpm. Disengaging the PTO gives you an idea of the flywheel mass, which on the BX32 is 45 lbs, and takes a good 8-10 seconds to come to a halt. After a day of chipping, where we experienced no clogging other than when we forced a large amount of thin branches into the chute and had to push them through with a larger branch, we found the flywheel access to be virtually clean. Wallenstein uses a square blade that can be rotated for maximum life. The blades can also be sharpened.
The BX32 is protected by a shear pin on the chipper side of the driveshaft but we never came close to taxing the blower and suspect you would have to put something really stupid into the chute to have it trip. The BX32 retails for $2,806 and Wallenstein stands behind it with a three-year limited warranty. The biggest challenge for us will be to find a place to store the BX32, as the footprint isn't small (54"L x 36"W x 60"T).
If you're in the market for a small PTO chipper, the BX32 should be on your short list. If you purchase one, we're sure you'll be pleased with your decision. We know we are.
Related Reading
2011 Bush Hog 296 Rotary Cutter Review