2014 John Deere New Product Intro
John Deere unveils its 2014 product line
By Geof Fowler, Photography by John Deere, Aug 23, 2013
John Deere
's 2014 model year dealer, media and investor event was certainly centered on the rollout of the newly revamped 7R and 8R row crop tractors, but we suspected there would be more. Local dealers were expressly tight-lipped as to what we might be exposed to, though you're never sure how much is leaked to them ahead of time or not.
Arriving in Columbus after a seemingly counterintuitive routing and change of planes in Detroit, media packages let a little of the suspense out. Not only would the 7R and 8R tractors be covered but the new R4030/R4038 self-propelled sprayers, the enhanced S-series combine line-up, a new W235 self-propelled windrower, the 2510L liquid fertilizer applicator, new wireless data transfer technologies across models and platforms, and an expansion of commercial z-track mower to include a flex fuel model.
7R Tractors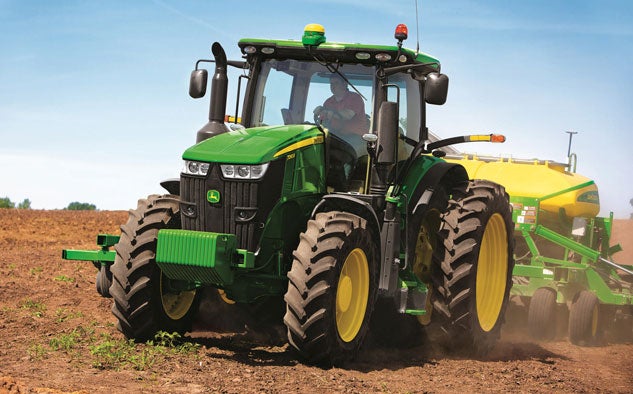 The big news for the five-model lineup is more power, greater efficiency, more comfort and more productivity. Moving to EPA Final Tier 4 emissions compliance (FT4), achieved by a selective catalytic reduction (SCR) system that uses common diesel exhaust fluid (DEF), gross horsepower on the 6.8L and 9.0L PSS engines goes up by 10 for each model. We got a chance to get some seat time behind the wheel of a 7290R (290 gross/242 PTO horsepower) and will follow next week with a more detailed review. For now, we'll just say the all-new e23 Power Shift transmission with Efficiency Manager is sure to be a popular choice, though an IVT (infinitely variable transmission) may still be preferred by some. And when combined with the ultra-quiet new CommandView III cab with 40-degree right-hand swivel seat, redesigned CommandARM controls and CommandCenter info displays, makes for a simple-to-drive performer suited for a wide range of chores on the farm or ranch.
8R Tractors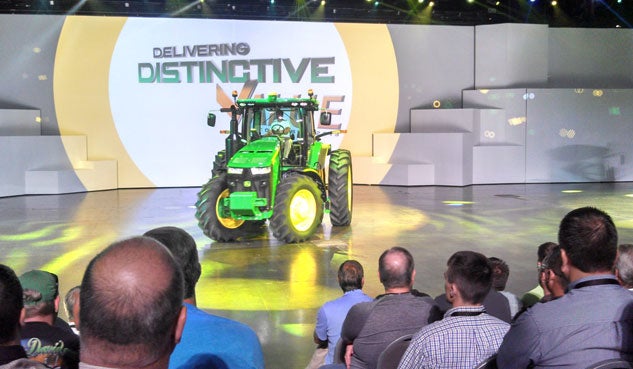 The 8R model line-up for 2014 will include nine models (six wheel and three track) that range from 245 to 370 gross horsepower. As on its little brother 7R series, FT4 is accomplished by an SCR/DEF system. Initially only 16-speed Power Shift and IVT transmissions will be offered, but will soon be followed by an e23 option. With 85 gpm on tap for hydraulic flow, group 49 tires to improve traction while reducing soil compaction, and an option for Intelligent Power Management which bumps horsepower on the 8370R to 405 (similar increases for other models), these are sure to be eagerly awaited models. Though we didn't get a chance to get one of these dirty we did get to see several up close and were treated to a nifty video presentation.
R4030/R4038 Sprayers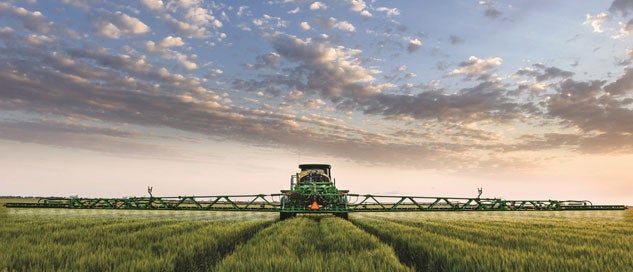 John Deere unveiled two new completely redesigned self-propelled sprayers that are easier to use, operate at higher speeds and deliver a more precise metering of product, even on uneven terrain. The 800-gallon R4030 gets a 6.8L 280 horsepower FT4 engine and comes with a four-wheel hydrostatic drive capable of 25 mph in the field and 30 mph for transport. The 1000-gallon R4038 gets a 9.0L 310 horsepower FT4 engine and a similar drive that bumps field and transport speeds by another 5 mph. With flat-folding boom options offering coverage to 120', a CommandView II cab, independent suspension coupled with auto chassis leveling, and integrated electronics that make opening the boom and lowering to a preselected position as simple as depressing a toe switch and toggling another on the joystick, options including 135 gallons of up to two chemicals outside of the primary tank holding, these are sure to be popular for their increased comfort and productivity. And with glyphosate resistance increasingly a problem, the additional chemicals along with direct injection makes it easier to combat this nusance.
S-Series Combines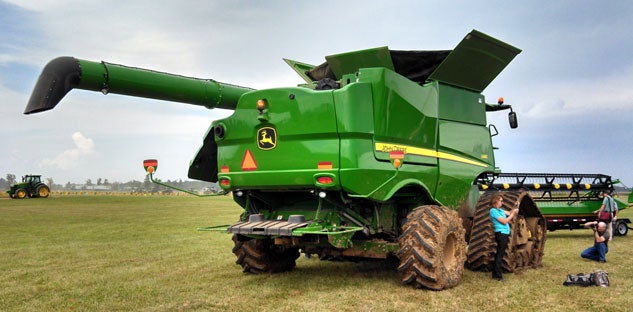 Touted as the most productive harvesting machines ever from John Deere, the big news here is the addition of 36" tracks which offer better traction, reduced ground compaction and improved fuel consumption during challenging conditions. Cab improvements include a heated and ventilated seat with lumbar support and improved heating and cooling systems, an Engine Speed Management system to increase fuel efficiency, and Interactive Combine Adjustment (ICA) to simplify adjustment and make for more consistent harvesting under all conditions. The track option will be dealer installed so resale should be improved by being able to revert to a wheeled drive if so desired.
W235 Windrower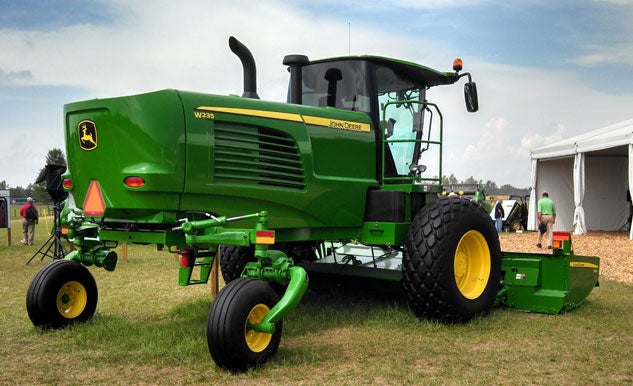 A new addition to John Deere's hay and forage product line-up for 2014, the W235 offers FT4 compliance, more power, integration of AutoTrac and CommandCenter electronics for precision guidance. Upping performance with an up-to 17 mph field speed (from 8 mph), the W235 with a 16' cutter can cut as much as 100 acres per day. Utilizing 6.8L engines rated at 235 gross horsepower, the W235 comes with a larger, ground level 160-gallon tank providing more than enough fuel to keep running for more than a day. And now with clean intake air coming from high on the machine, less time is required to keep the cooling system clean from debris.
2510L Liquid Fertilizer Applicator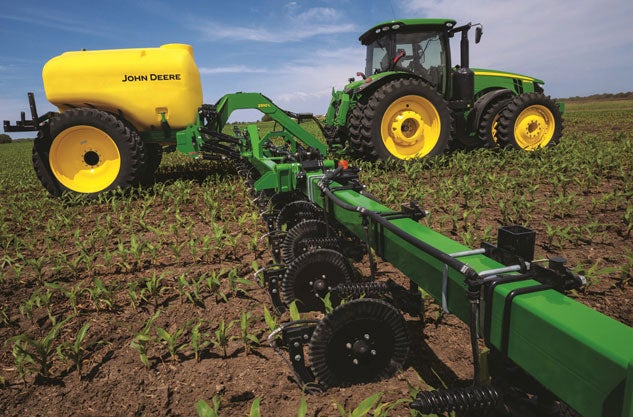 For the nutrient application product line, John Deere adds an all-new applicator designed for more precise placement of liquid fertilizers. Two models are offered, in either vertical or side-fold configurations and in widths of 30', 40' and 60'. GreenStar integration ensures minimal overlap while minimizing missed soil.
Wireless Data Transfer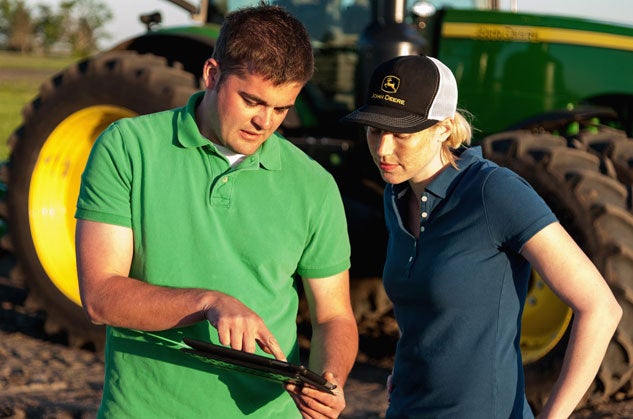 And from the Intelligent Solutions Group, attendees were told how John Deere was tying all this new technology together. Using FarmSight where field data can be acquired, transferred, managed, shared and protected, ISG team members are thinking and planning for the productivity gains that will be required of farmers in the 21st century to stay competitive. For the farmer today, no longer having to wonder what the status of a particular machine is will be part of that gain. Statuses can be grouped into "yellow" and "red" flags and things such as on-board fuel levels and implement load can remotely be ascertained. As expected, members of the ISG team spent a lot of time assuring attendees that data protection will be a top priority.
Z925M Flex Fuel Z-Track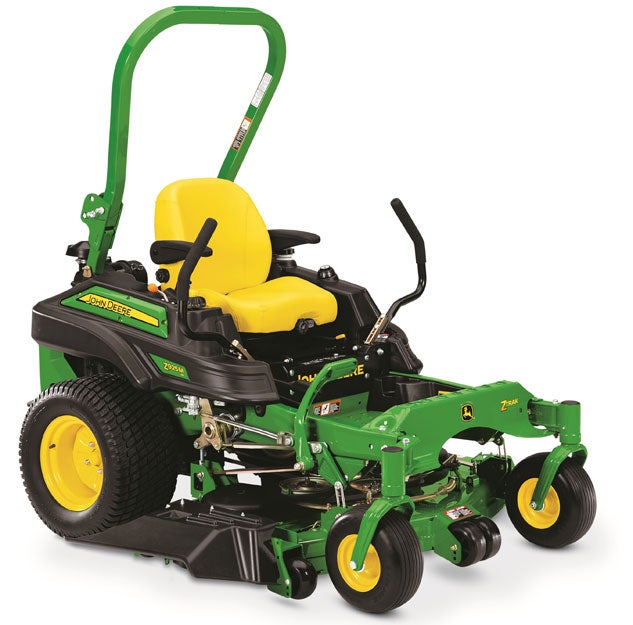 This machine may not be of much interest in areas of North America where flex fuels up to E85 aren't readily available, but in those areas where it is and to commercial mowers who are looking for the most economical way to cut grass, it should be. Using 24.6 HP EFI engines, the Z925M comes with a 10 mph top speed and choice of 54" or 60" seven-Iron decks for clean cuts and long durability. With a three-year/1200-hour warranty and GreenFleet Loyalty Rewards eligibility, don't be surprised if you start seeing these models around town.
Wrap Up
Luke Gakstatter, John Deere's VP, Agriculture and Turf, from his keynote address Wednesday evening to his wrap up Thursday, stressed delivering distinctive values. With the worldwide population expected to grow from seven billion to nine billion by 2050, the need for intelligent machinery capable of improving performance at the farmer level will continue to drive John Deere design, engineering, and manufacturing. With record profits being generated, we have no doubt the little snapshot he left points to a future we'll enjoy being a part of.
Buyers Guides
Our Partners