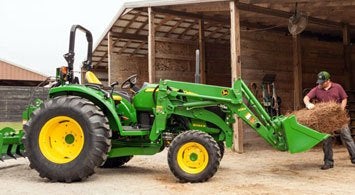 The email arrived with the subject line, You're Invited: John Deere Florida Ride & Drive. At that time, the mercury in our neck of the woods hovered around 21F with an expected high of 24-26F. A quick check of the Orlando weather pointed to a more pleasant forecast, with highs near 80F. Our calendar contained a conflict but the shuffling of a few dates culminated in a response of, Heck yes, we're in.

But don't for a moment be thinking that warmer weather was the primary driver behind agreeing to the trip: included in the email was another line that read, John Deere invites you to their annual dealer training event in Orlando, FL to learn about the newest 4M/4R compact utility tractors, speak with product experts and get behind the wheel.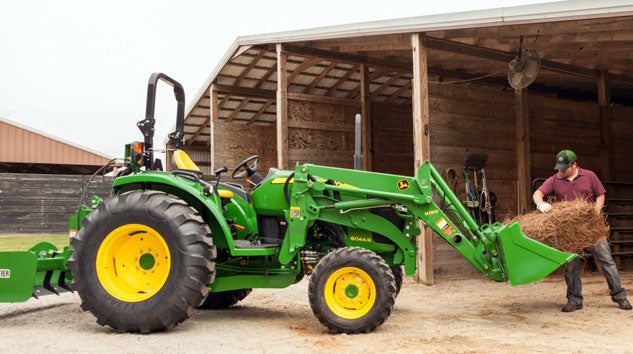 That was back in January. The Ride & Drive wouldn't be for another month, and for weeks we tried to find out what we could about the new 4 Family of tractors. But John Deere kept a tight lid on leaks. It wasn't until the National Farm Machinery Show (NFMS) in Louisville that we finally did get up close to 4M/4R models and our interest immediately picked up on the rear fender-mounted forward/reverse switches and the three-point hitch (3PH) raise/lower knob also located at the tractor rear. The subsequent weeks would drag on. Feb. 24th was a great travel day. Orlando temps were in the 80s and that evening we got acquainted with our John Deere hosts, Maureen McCormick and Richard Kershner. Lest you think it was all fun, Kershner opened the evening with a PowerPoint presentation detailing 4M/4R features and advantages, and the note pads came out.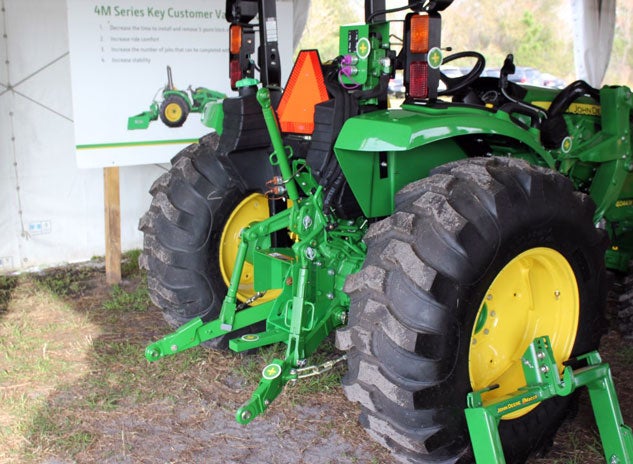 The John Deere 4000 Series has gone through a number of itinerations over the years, driven by a strong customer following demanding more – more comfort, more power, and more deluxe features. The outgoing 4000 Series tractors; five models ranging from the 40.5 HP 4105 to the 66 HP 4720, with cab, loader, and backhoe options, combined years of John Deere product development into a compact utility tractor (CUT) series that infringed on utility tractor (UT) capability. And yes, these tractors were known for their deluxe-ness. And yes, these tractors, compared to some competitive models, were pricy. And to the later point, often dealers when in a competitive bid situation were forced to steer purchasers to the 5D and 5E series tractors, which though larger, were priced more competitively. Kershner told us that now had changed with the introduction of the all-new 4 Family.
Read our review of the 2012 John Deere 4720 HSTC
The 4 Family lineup now consists of six models. Under the 4M designation are three tractors: the 44 HP 4044M, the 52 HP 4052M, and the 66 HP 4066M. And under the 4R designation are three tractors: the 44 HP 4044R, the 52 HP 4052R, and the 66 HP 4066R. All models can be open station, but only the R series tractors can be had with a factory cab. The engines used meet EPA final tier 4 (FT4) emissions requirements with a regenerative function that operates automatically without the need for operator interaction, though for safety reasons, the system can be overridden when in confined areas such as a barn.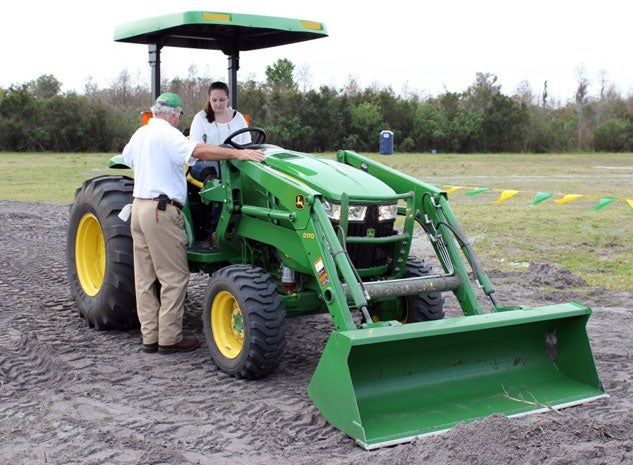 4M tractors may have been designed to compete dollar for dollar with the competition, but the 4044M, 4052M, and 4066M are certainly not stripped down models. Sure to delight dealer and consumer alike, in many cases 4M models are expected to come in 10-15% lower than the competition.
So what were some of the advantages? Transmission choices for one. 4M tractor purchasers can choose from a PRT (power reverser) that allows clutchless directional changes, or an eHST hydrostatic transmission. The front axle is also critically important. The number one complaint for tractors of this class and size through owner surveys is front axle leaks. John Deere turned to testing its axles in water paddy conditions. To those unfamiliar with water paddy farming, that takes place predominantly in Southeast Asia, the conditions entail full submergence of tractor axles for the entire season. John Deere axles were tested in these conditions for more than 2000 hours. But axle seals are only a piece of the durability puzzle.
John Deere utilizes planetary final drives. Planetary final drives connect nine teeth every 120-degrees and more evenly distribute the load. This is in contrast to the spur gear drives used by some of the competition where only two or three teeth are in contact at any given time. Other advantages are the 1200-hour hydraulic fluid change interval that saves time and money compared to the competition. Two options to consider: the 11" wheel spacer kit which increases stability and the drawbar, which surveys show are used by only 25% of purchasers.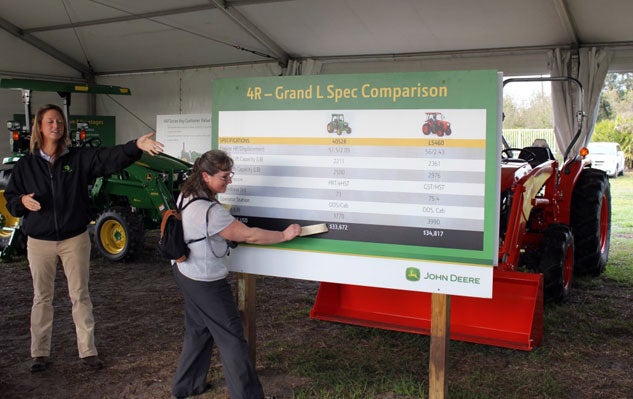 As nice as the 4M tractors were, it was the 4R series that really got our pulses racing. These tractors are deluxe all the way. With a long list of standard creature comfort and ergonomic job-getting-it-done features, there are options the competition doesn't even offer. Let's start with a 4R in standard dress. As with 4M tractors, 4R machines can be had with a power reverser transmission or an eHydrostatic transmission. Order a 4R with eHST and you also get the latest electronic wizardry.
Other standard features include a high-back seat with improved suspension and a 15-degree swivel base (an air ride seat is an option), armrests, tilt steering wheel, two standard tool boxes reachable from the operator seat (a third is an option), deluxe lighting, a 12V outlet, and the joystick integrated into the right hand console. The eHST electronic wizardry we mention includes: Speedmatch, an automotive-style cruise control with +/- and resume; LoadMatch, which keeps the engine from stalling in high load conditions; eThrottle, which matches engine RPM to hydro pedal position; and MotionMatch, which adjusts the responsiveness of the transmission. Options include a deluxe factory cab, three-point hitch (3PH) with down pressure, Hitch-Assist which adds a knob to raise/lower the 3PH from the rear of the tractor and rear fender controls to move tractor forward/backwards without requiring the operator to be in the seat (more on these features later), and the rear spacer kit that moves the tires outboard by 11".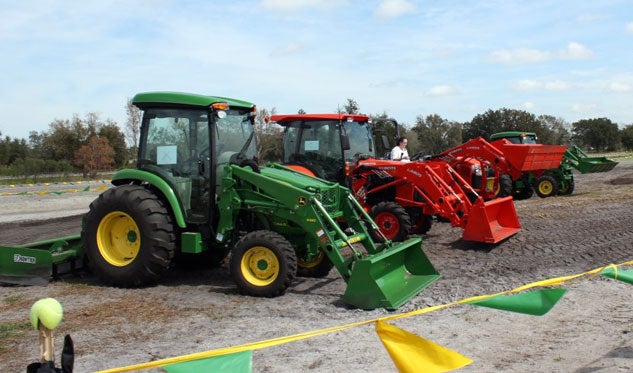 For 4 Family tractors, John Deere has repositioned the seat lower in the cockpit. For this 5' 11" tester, the legroom felt identical to the outgoing series, but as soon as we get a chance to get some of our longer-legged operators behind the wheel we'll report back their findings. Stability, in part due to the lower center of gravity and wheel spacers, was confidence-inspiring even in a challenging, rutty, soft sand track while pulling an 84" box blade. And it is of great note that the electronics worked fabulously in those conditions, taking an aggressive bite and never getting close to stalling – something we can't say for at least one competitor model that John Deere had on hand for comparison.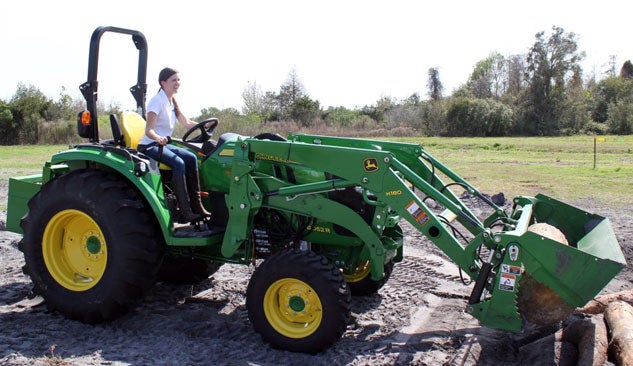 Loader options include a D170 loader that is rated to lift 2245 lbs at 2500 RPM. This is a non-removable loader, but for those who don't have the need for removal, a cost effective option. For those who require loader removal, the H180 is the premium offering. With it comes a quick park stand, chain loops on the 72" bucket, optional skid-steer carrier, and optional self-leveling feature.
A four-in-one bucket clamshell is also an available option. One of the tractors at our disposal had the four-in-one option and we can report visibility over the bucket was exceptional. Regenerative curl/dump – raise/lower at the same time was one area not as pronounced as on some of the competitor models on hand. Despite that, control was pinpoint accurate and we always knew exactly where the bucket was along with what it was doing – something we can't say for those same competitor models.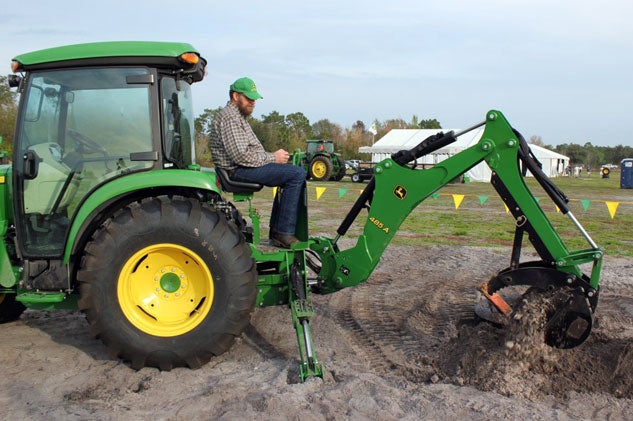 At another station, a demonstration took place showing that the new 485A backhoe could easily be removed in under five minutes without the operator breaking a sweat. The new mount system needs 9" of clearance to let everything line up just so, but has the advantage of accommodating ground shift such as might take place over a season change. We found control layout ergonomic, foot room exceptional, and modulation superb, even at speeds as low as idle. In a test arena, using the mechanical thumb, we found it easy to pick up the challenge tire and then gently reposition it around the post.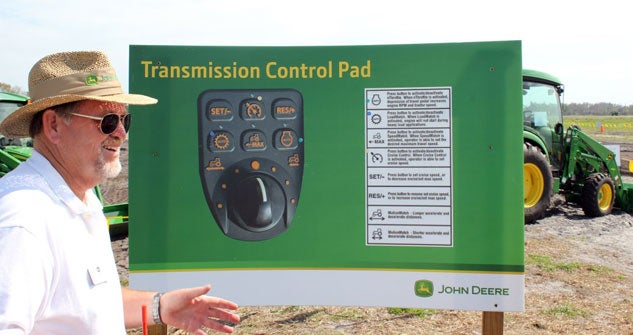 Another nice feature we were first exposed to on the 3R Family of tractors and is now incorporated in 4R eHST tractors is the transmission control pod. The top row features three touch-sensitive buttons (SET/-, ON/OFF, RES/+) that cover cruise control functions in automotive-like style. Below that are three more buttons that engage LoadMatch , SpeedMatch, and eThrottle. A dial below the six buttons gives sensitivity control over the electronics.
Read our review of the 2014 John Deere 3R Series
eThrottle is one of our favorite functions. Massey Fergusson has long had this on its hydrostatic tractors and it is a highly convenient feature that saves fuel by running at only the RPM needed to get the job done and no more. John Deere takes this feature to another level, with the ability to turn eThrottle on and off. At first we weren't sure this mattered, but can say in really rough, bumpy conditions, it could be the difference between feeling really beat up or rested at the end of the day.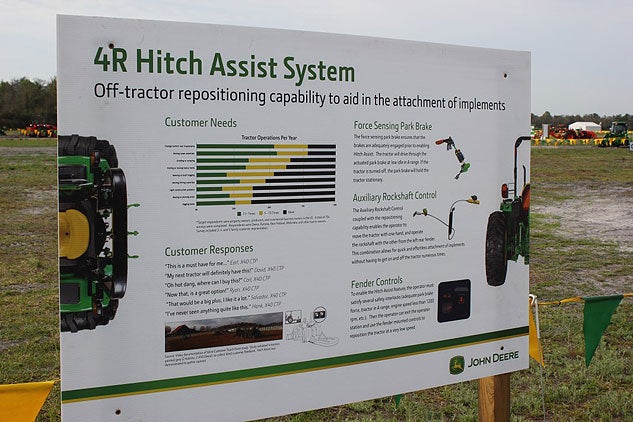 That brings us to the features that first caught our eye at the NFMS in Louisville. Hitch Assist allows an operator to move the tractor forward/backward from the hitch area making the hookup of attachments easier and without the need to climb back and forth from the cockpit to jog direction. To engage the system – and you can be assured John Deere has many levels of safeties built in – the operator sets the parking brake, selects a range, lowers the throttle, ensures PTO is off, and selects Hitch Assist. Flashers are triggered to show Hitch Assist is engaged. When the operator steps off tractor, a series of beeps signals the mode. This feature, in conjunction with the rotary knob controlling the three-point hitch (3PH), will definitely be a hit with anyone attaching (wrestling with) an implement. Larger tractors have long had this ability, but John Deere is the first to include it in a large chassis compact utility tractor. Kudos we say!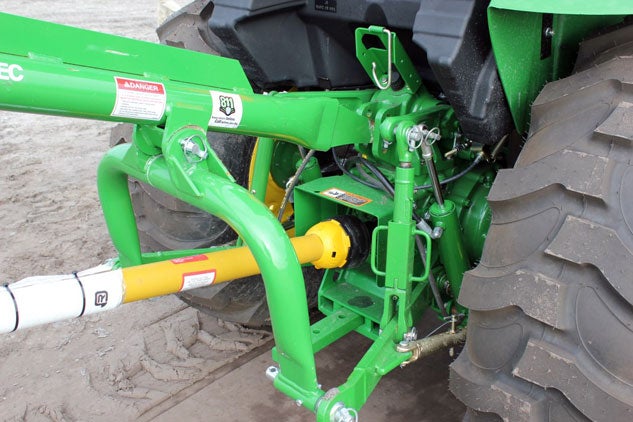 The other feature that is new and unique to 4R tractors is the 3PH downforce option. This is a dealer-installed kit that will retail for approximately $700 and adds hydraulic cylinders to the 3PH arms. The system is an electro-mechanical one, so it is not operated from the rockshaft control, but works in conjunction with that hydraulic system. Without getting overly technical, users of post-hole diggers, rakes, blades and tillers will appreciate the ability to get more out of the tractor with this option. Of note, the downforce kit is not compatible with the backhoe and so must be removed for that to be installed. Fortunately, John Deere has taken that into consideration and the kit can easily be removed by pulling a few pins and disconnecting the hydraulic lines.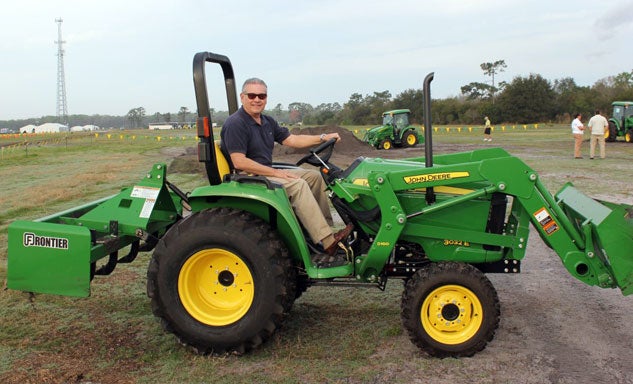 Though the majority of our time was spent with 4M/4R tractors, we also did get to drive 1, 2, 3 and 5 Family tractors as well. Field testing John Deere models alongside competitor models was an eye opener. And though we did not get to drive the EZtrak mowers, Gators or X-series tractors, hopefully we'll be invited back by John Deere in the future for some additional seat time.