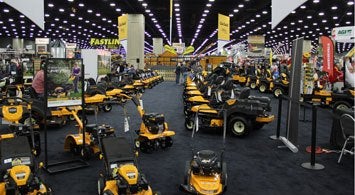 With snow covering all but one of the contiguous states and interrupting travel plans in normally winter-isolated cities such as Atlanta, Ga., Tractor.com brings you coverage of the 2014 National Farm Machinery Show (NFMS) in Louisville, Ky., where – you guessed it – that pesky white stuff was on the ground.

This year the dates ran from February 12 – 15, and determined to cover the show yet still remain in good standing with my honey back home – Valentine's Day you know – yours truly figured an early start and early return could accomplish both. Wrong. With a cancelled flight to Atlanta, another rescheduled for 10 hours later, promises of a waiting connecting flight that somehow wasn't, and an overnight 6+ hour drive to Louisville, just getting there was exhausting. And, as I sit to write this, homeward travel arrangements are still not certain. But misery loves company, and for the many traveling to NFMS, there was a lot to go around. Fortunately the show was worth it.
Arriving at the Kentucky Expo Center grounds, it's easy to get overwhelmed at the sheer vastness of the grounds. While the World Agricultural Expo in Tulare, Ca. that takes place the very same week is almost totally outdoors, NFMS is totally indoors. And with Mother Nature not cooperating, visitors to NFMS certainly appreciated the shelter of the eight interconnected halls that together cover some 1.2 million square feet. The big difficulty for attendees is where to begin. For this report, we'll focus on tractor manufacturers.
Branson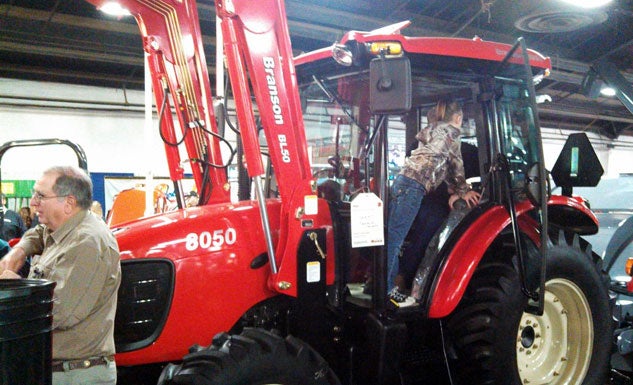 The Branson brand might be somewhat new to Tractor.com readers, but the S. Korean manufacturer has over 200 dealerships in the U.S. and Canada, including several in our backyard that we were unaware of. With a lineup of diesel tractors ranging from 24 to 80 HP, going forward we promise to get more acquainted with what this manufacturer has to offer. Judging by the attendee interest at the Branson booth, to our loyal readers, this is certainly overdue.
Case IH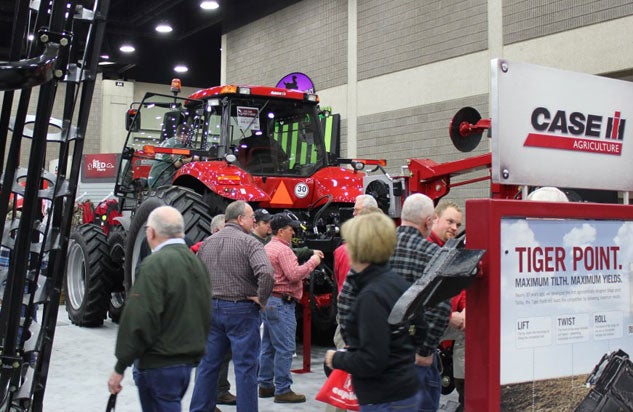 The Case IH booth proved to be popular, not only with its Get RED Here store where Case IH themed clothing and toys could be purchased, but a wide range of product from Tiger Point disk rippers to the all-new Puma tractors that achieve EPA final tier four (FT4) compliance using SCR-only technology.
Challenger
Challenger is a brand that shouts large. With a range of tracked and wheeled machines on hand, the AGCO-owned brand holds high appeal for large-scale agribusinesses where work done at the end of the day is all that matters. Challenger tractors utilize SCR technology to achieve clean air standards without compromising power.
Claas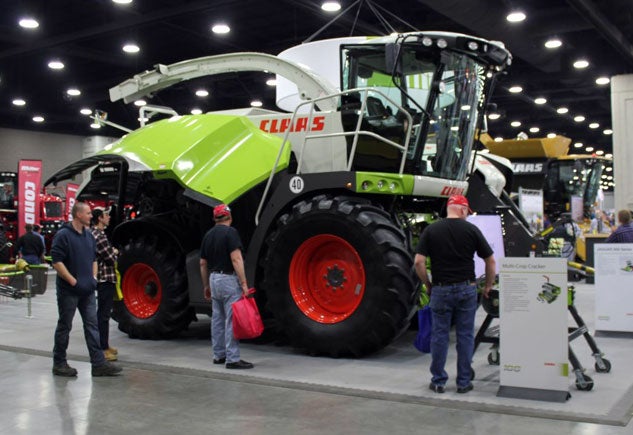 Claas is a family owned manufacturer and has been so for over a hundred years. The Claas Lexion 780 combine was honored at the NFMS with a FinOvation award. FinOvation winners are chosen by Farm Industry News editorial staffers, who annually choose products whose innovations help corn and soybean farmers make their operations more productive and profitable. The 590 HP Mercedes-Benz powered Lexion 780 is one of the largest headers in the world.
Cub Cadet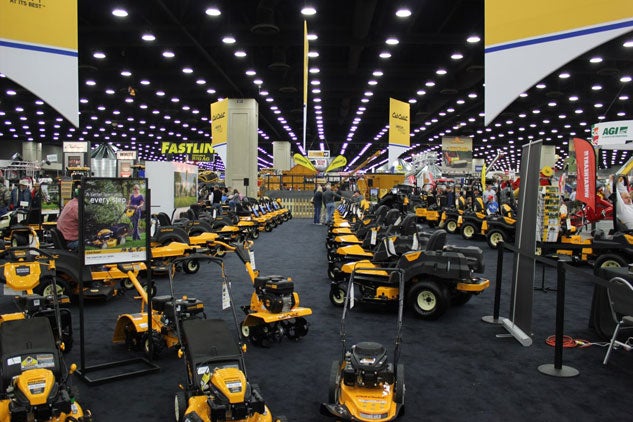 The Cub Cadet display, in all its yellow and white pride, may have been dwarfed in size by the equipment from Massey Ferguson, Challenger and Fendt across the aisle and Westfield Equipment on the other side, but it was one of the most attractive and full-line arrangements at the show. Of special interest: the lineup of commercial z-traks, and especially the electric-powered, steering wheel equipped RZT that seemingly defied gravity on the steep-sloped demonstration ramp. We definitely plan to review this model in the near future.
Fendt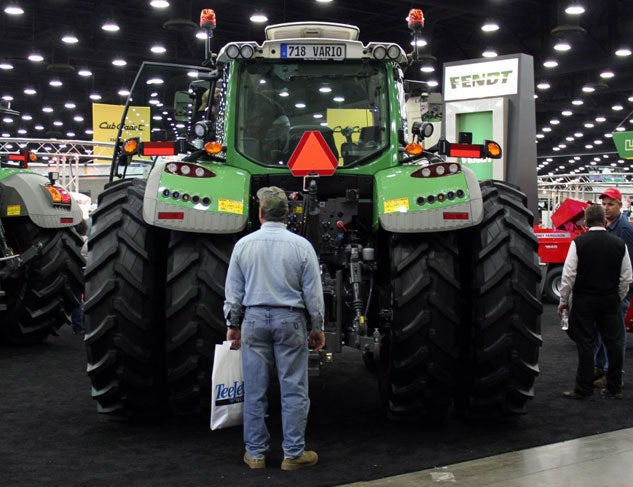 Fendt is another AGCO brand that knows a lot about firsts. First to offer a vario CVT, first to offer front axle suspension, and first to offer GuideConnect (where two tractors can be operated with just one driver). Neat. With a theme of MORE from LESS, Fendt tractors come in a variety of configurations up to 390 engine horsepower.
John Deere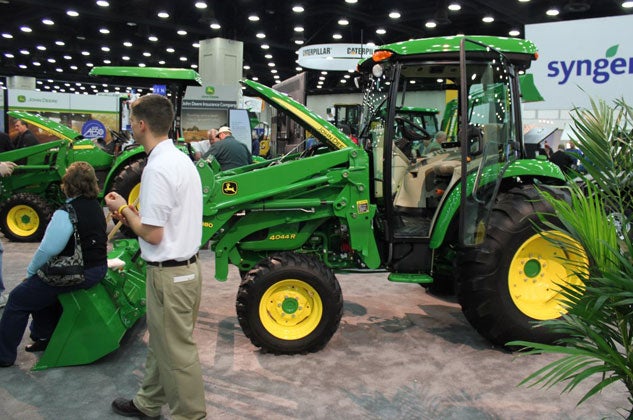 The Moline, Ill. based manufacturer was out in force with a number of new products, including the 1775NT ExactEmerge game-changer planter we covered last week. Of special interest to us was the redesign and renumbering of the 4×20 series tractors that now come with an R designation. This was our first taste of these new models and we can't wait until next week when we'll be in Florida to get up-close-and-familiar with the new lineup. The ability to raise/lower the three-point hitch (3PH) from the rear of the tractor and the ability to move the tractor forward/reverse from the same position were just a few of the improvements that have us counting the days to the ride-n-drive.
Kioti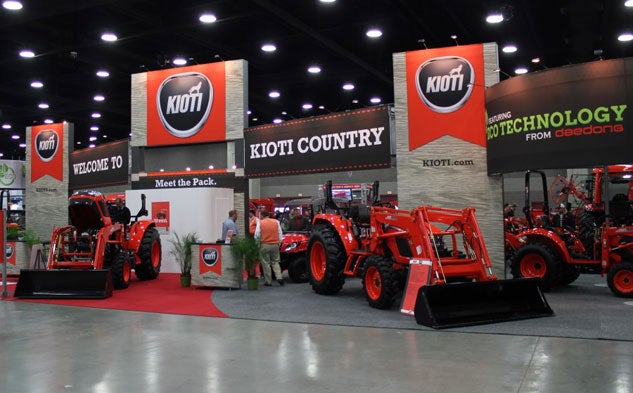 Kioti was at the NFMS with a really good representation of its 2014 lineup. We were especially interested in the EPA FT4 RX6620PS, NX5010 and RX7320PS, all of which we intend to review in the near future. The Mechron 2200 UTV on display is also worthy of special mention, with its 22 HP diesel power, two-speed transmission and fully independent suspension.
Kubota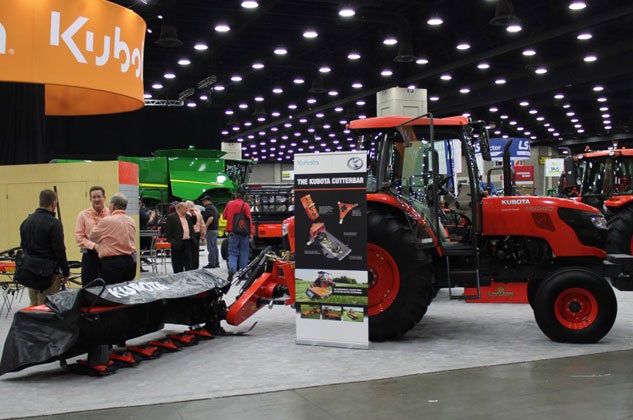 The Kubota booth was a popular stop for show attendees, and for good reason. With products ranging from the Z700 commercial z-trak series to the latest L, M and B series tractors. The DM series side-mounted disc mowers also seemed to attract a good amount of interest. With sizes ranging from 5'-6" to 10'-5", these mowers utilize three counter-rotating blades per disc so they are constantly cutting. This means a third less load per blade; an even load on the drive; smoother power usage; and the production of neat, cleanly cut stubble.
LS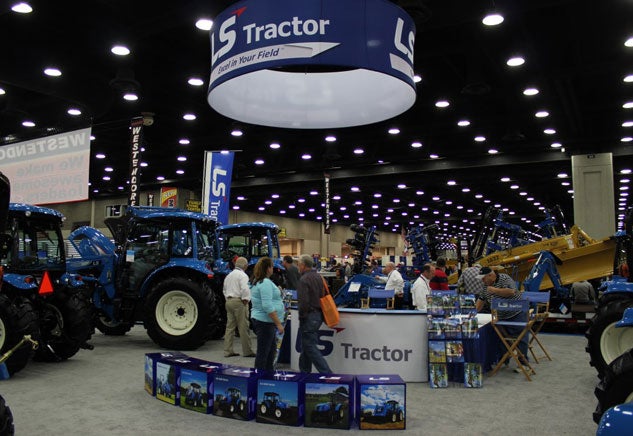 LS is one of the largest corporations in S. Korea with sales in excess of $30 Billion. With tractors ranging in size from 23 to 97 HP, ergonomic niceties such as side-by-side hydro pedals and a five-year warranty that doesn't care if the user is a farmer, commercial groundskeeper or homeowner, it's easy to see why this brand is fast developing a enthusiastic following.
Mahindra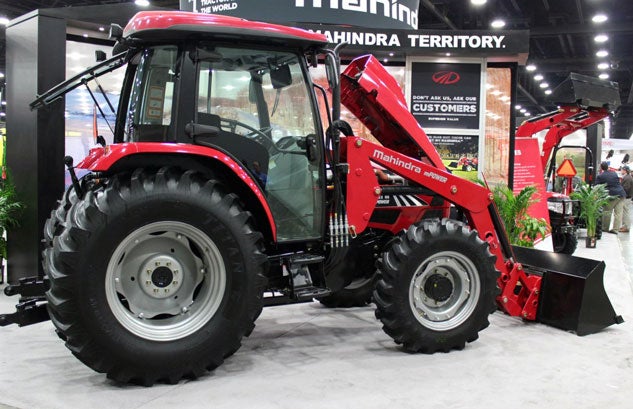 The Mahindra booth is always a lively one, and with fun attractions like the pair of one-arm bandits that seemed to always come up Mahindra, it was even more so. Of interest was the newest addition to the Max family, the Max 24, along with the hush-hush subcompact eMax 22, which to our delight featured side-by-side hydro pedals. As soon as eMaxs begin to hit dealer stocks we'll be featuring a review.
Massey Ferguson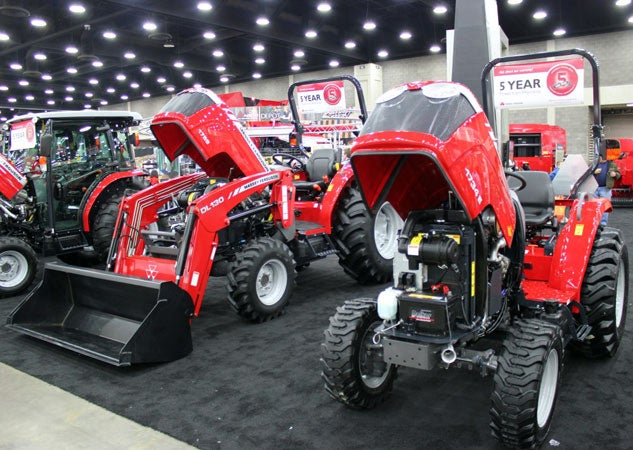 The Massey Ferguson booth was front and center in the midst of featured product from the many AGCO divisions, which included Challenger and Fendt, but also SunFlower, Gleaner, and Valtra. Tractor.com readers already know how fond we were of the all-new deluxe Massey Ferguson 1754 we reviewed in December, where we briefly touched on the upcoming 1700 E Series. During the show we spent some time with a 1734E that was on display and can definitely report that a full review will be forthcoming as soon as these start hitting dealer stocks.
McCormick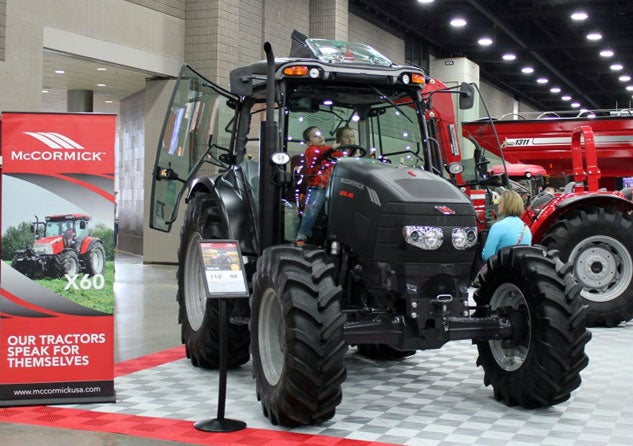 Tracing the lineage of the McCormick brand can get a little trying, with periods in time where giants such as International Harvester and AGCO have been part of the progression. Today, fully a part of the ARGO Group whose holdings include the brands Landini, Laverda, Valpadana and Pegoraro, McCormick manufactures tractors from 22 to 213 horsepower.
New Holland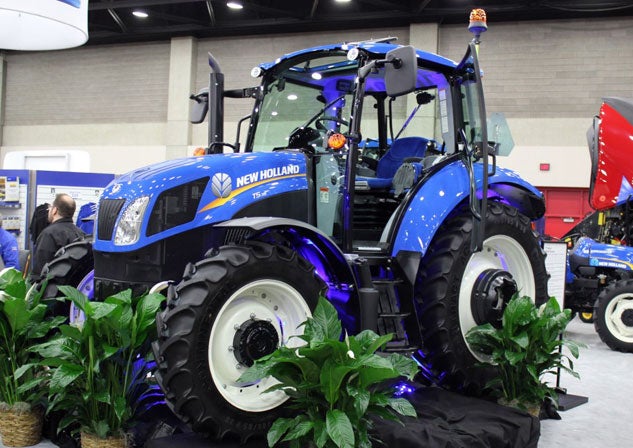 Big Blue was in full force with tractors that ranged from the Tier 4B compliant Boomer to the behemoth T8.435 equipped with duals all around. With 380 engine/315 PTO horsepower on tap and as much as 50 additional engine horsepower available through boost, the T8 was a popular stop and see for show attendees.
TYM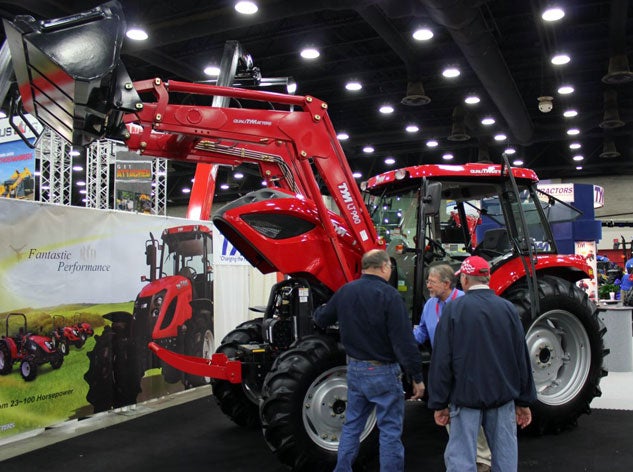 TYM cleverly uses its name in company marketing where the adopted theme is QualiTYMatters. With tractors that range from 23 to 100 engine horsepower, transmission choices that include hydrostatic power with side-by-side pedal control, and cabs available for most models, the S. Korean manufacturer, which boasts it is the fastest growing brand in North America, has a lot to offer.
Versatile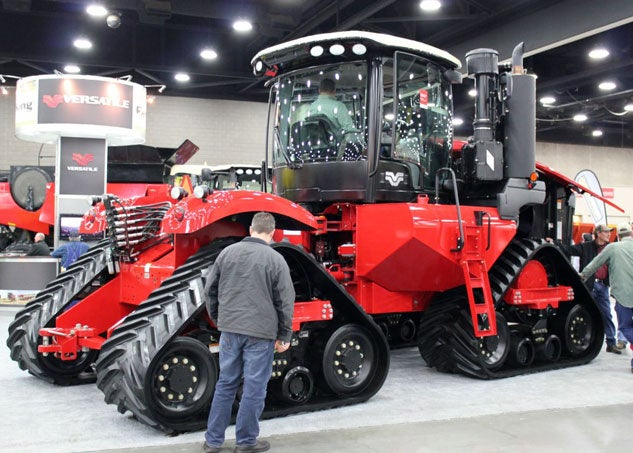 Versatile is a division of Buhler Industries, the only Canadian manufacturer of agricultural tractors. And what a lineup Versatile has. With tractors ranging from 190 to 575 engine horsepower, self-propelled sprayers, combines and seeders, all manufactured at the 700,000-square-foot Winnipeg, Man. facility, agribusinesses in need of large, productive machinery should have Versatile on their short list.
Zetor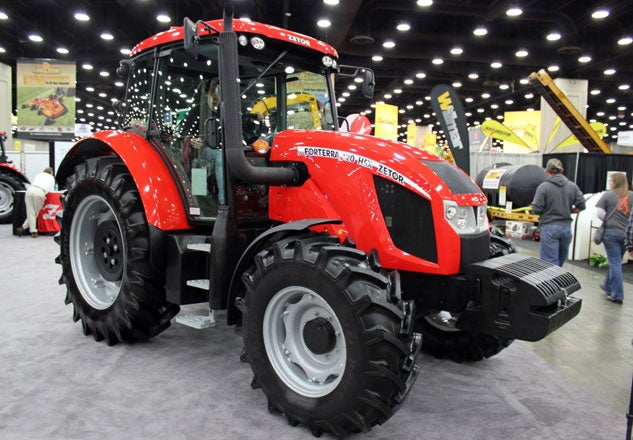 Zetor tractors have been made in Brno, Czech Republic since 1946 and can boast to having more than one million tractors in use in nearly 100 countries. With parts availability not only covering current models but those manufactured 20 years or more ago and a full five-year warranty, Zetor prides itself on delivering a premium-quality product for the price of many light-duty competitors.
Wrap Up
With the second highest attendance in show history (307,906), that flew in the face of the less-than-ideal weather conditions, a cool mobile app that kept attendees up to date with all that was going on, 870 exhibitors, and a $21.5 Million impact on the greater Louisville area, the 2014 NFMS can be considered nothing less than a success. For Tractor.com, the only questions for 2015 will be NFMS or The World Ag Expo in Tulare. Right now we might be favoring whichever show featured the better weather. For those in search of the latest in farm progress and technology, Louisville is a welcoming city and not at all a bad destination.