2015 Farm Progress Show Report
Perfect weather equals big attendance
By Geof Fowler, Photography by Geof Fowler, Sep 09, 2015
After two years of weather-shortened/cancelled events, the 2015 Farm Progress Show held in Decatur, Ill. at the beginning of September got its wish of blue skies and bright sunshine. Temperatures were up there, right into the mid 90s, so hydration was key each of the three days. Air conditioned tents were also popular stops, but the heat didn't temper enthusiasm or attendance for the field demonstrations.

On Sept. 2, 13 combines ran harvest demos on corn coming in around 200 bushels per acre and 17% moisture. In the video below, a Claas Lexion 780 combine running a Fantini corn head shows what it can do:

The combines were followed by tillage demonstrations where 40 machines showed their effectiveness at cutting down residue levels while leveling the seed bed. Nearby, attendees got to show off their skill (or lack thereof) on an obstacle course in a skid-steer.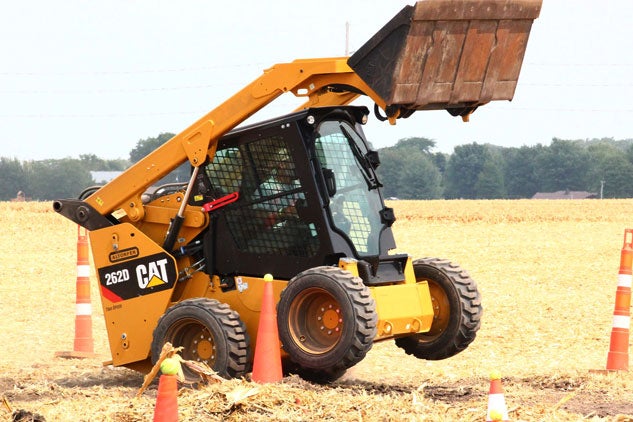 The Case IH booth was a popular stop, showcasing an extensive lineup. Of special interest was the new 140 series combines along with the Optum series tractors, the latter which has two models (270 and 300 horsepower) both equipped with CVT transmissions. Tractor.com hopes to get behind the wheel of these machines as soon as they become available in 2016.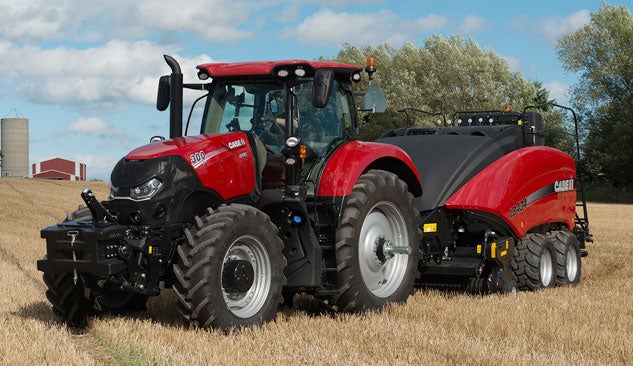 Kubota also came with a full lineup, with several new models, including the M6 series which will replace the outgoing GX tractors. Kubota's Kent Brown told us that there will be four models boasting the largest cab available in the smaller chassis utility tractor segment. Cab quietness comes with a 74 dBA rating.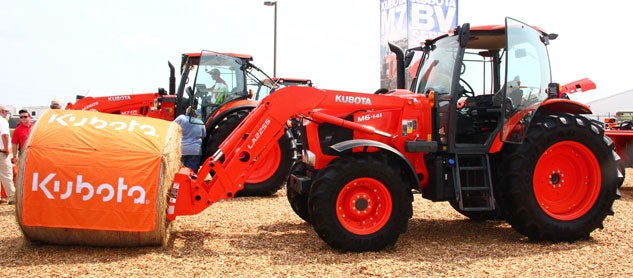 JCB is a name well known to many, especially those in the construction field. We were impressed with the wide range of machinery well-suited to the wide use range demanded by agribusinesses. Celebrating its 70th year in business, the Great Britain-based manufacturer maintains a U.S. presence on 1,100 acres in Pooler, Ga. (Savannah) right off I-95. We plan to get started with a review of the new Fastrac 4000 series tractors as soon as we can get our hands on one. Other interesting models, such as the 525-60 telescopic handler and the single boom skid-steer, will soon follow.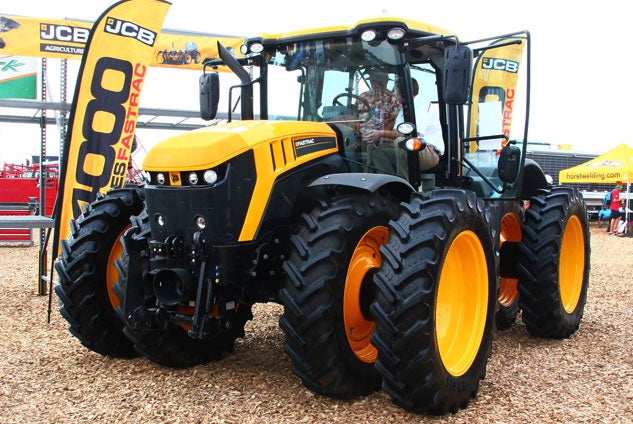 AGCO, as usual, wowed with an extensive lineup, but also its tall gantry platform which was the perfect spot for a near-aerial view of the show grounds. New products also abounded, including an agreement with The Climate Corp. to introduce factory integration of select Precision Planting technology to the White Planters line. Combined with AGCO's Fuse Technologies open architecture, farmers will easily be able to collect data, monitor and locate equipment, and be able to access important machine needs such as fuel/DEF levels. Fuse can come in two levels of support, with one being access and insight and a second adding dealer involvement. Other products of high interest were the all-new 9830NT air drill, SF6830 high-speed rotary finisher, SF6610 vertical tillage tool, SF4630-09 disk ripper, Fendt 500 Vario, 2700E series, and 4600M series tractors.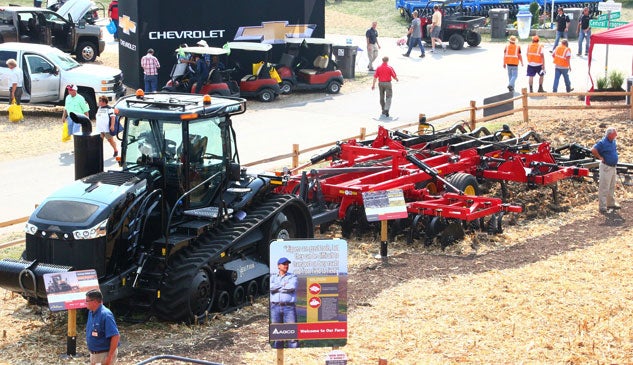 The New Holland booth showcased a wide range of products, including the high-horsepower T7.315 we covered in August, plus the articulating T9 series, the new T8, T6, TS6, T5 and T4 tractors, the Workmaster 33/37 compacts, and the Workmaster 70 utility models. Of special interest was the new five-model T5 Series, of which the T5.95, T5.105 and T5.115 can be equipped with 12x12, 20x20 (with creeper), or 24x24 Dual Command transmissions. As well, the T5.105 and T5.115 can be optioned with New Holland's Electro Command transmission, which offers push-button shifting in 16x16 or 32x32 creeper configurations.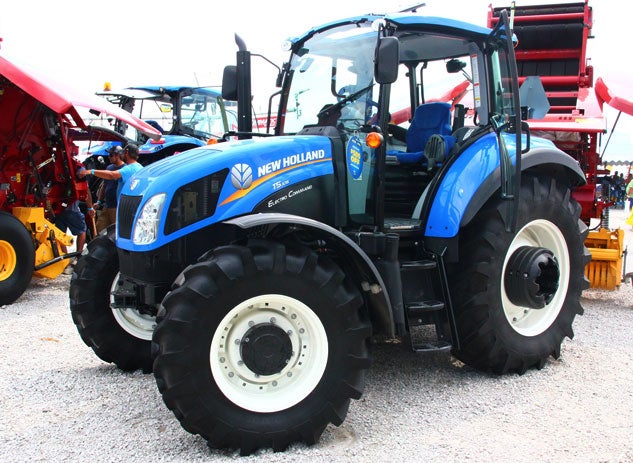 There was lots of news at the Mahindra booth. Fresh off the announcement of factory cabs for the eMax and Max series of tractors, the Mumbai, India manufacturer showed off the latest upgrades to the 2500 series and spoke enthusiastically of the automated parts facility expansion going on in Houston, Tex. to match growth. On display was a new 2555 cab tractor we very much look forward to testing, as well as a 3550 power shuttle model we hope to drive in a few weeks.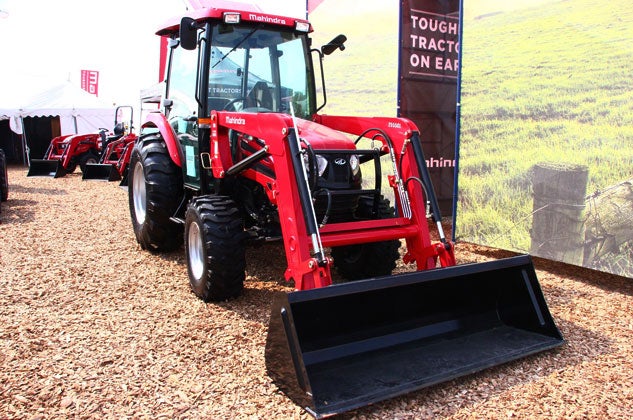 Claas has been in business since 1913 and has North American locations in Omaha, Neb., Columbus, Ind. and Regina, Sask. Employing 11,000+ employees worldwide, the Harsewinkel, Germany manufacturer was on hand with its lineup of Lexion combines, Jaguar forage harvesters, and Quadrant square and Rollant round balers. Of special interest was the Xerion 5000 outfitted with a 500 horsepower Mercedes Tier 4f. Tractor.com readers can expect a full review of this tractor in the near future.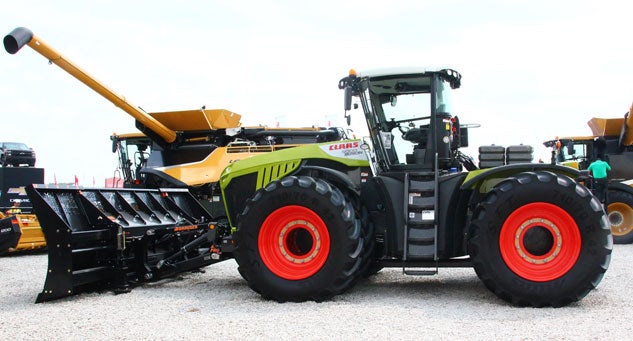 There was a lot of excitement around the John Deere booth, and for good reason. The Moline, Ill. based manufacturer displayed a wide range of equipment ranging from generators to the 9RX tractor we were exposed to last month at the Waterloo, Iowa new product reveal. New additions to the lineup were many, but include an ExactEmerge retrofit kit for newer 1770NT, 1790 and DB planters, Triple-Mounted (Mo-Co) mower-conditioner configurations, 6E series tractors, 459E round balers, W155 self-propelled windrower, and a 12-row folding corn head for S-series combines.
Mitas conducted a neat field demonstration using a pair of Case Maxxum 125 tractors; one outfitted with traditional R1 Ag tires and the second VF HC 2000 tires. The VF designation stands for Very High Flexion, and the tires are well suited for the increased load and high speed demands of today's high-horsepower tractors. The demonstration showed the larger footprint left by the VF tire. Larger foot print equals less soil compaction while improving mobility under wet and difficult soil conditions. A VF 380/95R38 HC 2000 tire, for example, allows transport speeds up to 31 mph and while inflated to 23 psi comes with a max load rating of 8,267 lbs. Lower the pressure to 15 psi and the tire is still rated to carry 6,000 lbs. VF tires are suitable as replacements for duals and Mitas claims they compete shoulder-to-shoulder with rubber tracks.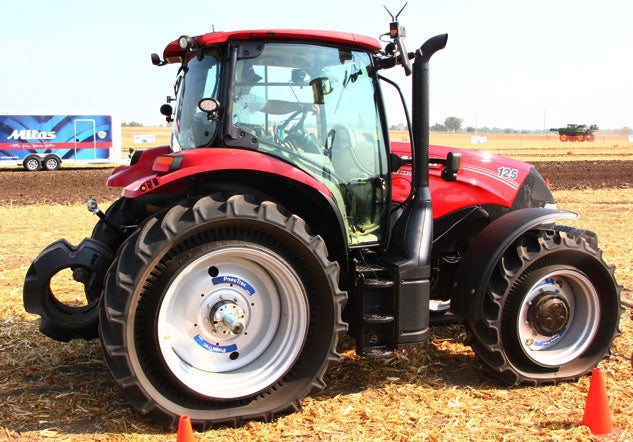 Conclusion
Three days of walking the Decatur fairgrounds and demo fields sure took a toll on those able to attend, but ask anyone who was exposed to the technology, field demonstrations, manufacturers with different solutions, the food and the entertainment, and Farm Progress 2015 was worth every foot blister and sun burnt ear. Next year the show shifts back to Boone, Iowa. Tractor.com plans to attend, hoping the weather will be as good as it was in Decatur.
Buyers Guides
Our Partners