2016 Kubota Dealer Meeting: Part 1
Highlights from the first day of Kubota Connect 2016
By Geof Fowler, Oct 14, 2016
Wave one of the 2016 Kubota Dealer Meeting took place October 5th and 6th at the Gaylord Resort and Convention Center in Grapevine, Texas. Tractor.com and five other members of the media joined Kubota executives from Japan and the U.S., along with a majority representation from the 1100+ North American dealers, and were allowed an inside look at where Kubota is today, what their goals for the future are, and how they intend to get there.

The agenda called for a dinner on the 5th, highlighted by a motivational talk from the former Dallas Cowboy quarterback, Danny White, field demos on the 6th followed by exhibit hall displays, and a media wrap up with Todd Stucke, Senior VP Sales, Marketing & Product Support and Kubota Product Marketing Directors. Of major interest would be the all-new BX series tractors.

Kubota employs just under 5,000 people in the U.S. and Canada, with those markets representing an important contribution to corporate sales revenue, which has now reached $16.6 billion. To better connect with customers and dealers, a new corporate headquarters in Grapevine is under construction and should be staffed and operational by the end of 2016. And it was the word connect that framed the 2016 Kubota Dealer Meeting, so much so, that for at least the near future, Kubota Dealer Meetings will be known as Kubota Connect. A fun symbol of the connection was the white wristbands attendees wore that flashed different colors, sometimes in response to group motions such as raising ones' hands, sometimes in reaction to a key spoken word, and sometimes randomly.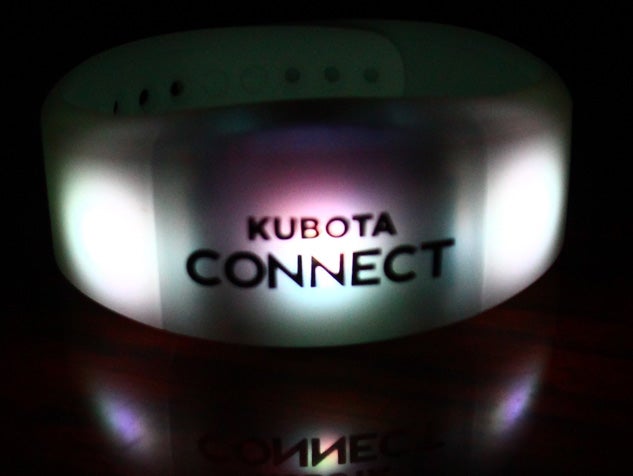 Kubota President and CEO, Masato Yoshikawa, spoke of Gemba, a Japanese word meaning the real place. In business, that would be where value is created. To maintain position as a Global Major Brand (GMB), the customer must always come first. Yoshikawa went on to say that being trusted by the largest number of customers, while contributing the most to society, were core Kubota values that would never change. The corporate headquarter relocation, acquisition of Great Plains Manufacturing (Land Pride), partnering with Trimble on telematics, and the expansion of the Jefferson, Ga. distribution center by some 617,000 square feet, were just some of the investments being made to further the Kubota connection to industry, to the customer, and to each other.
With ambitious sales goals, Todd Stucke and Alex Woods (VP Product Resources, Parts, Divisional Operations) tag-teamed a presentation highlighting some of the product additions/tools that will help grow the business.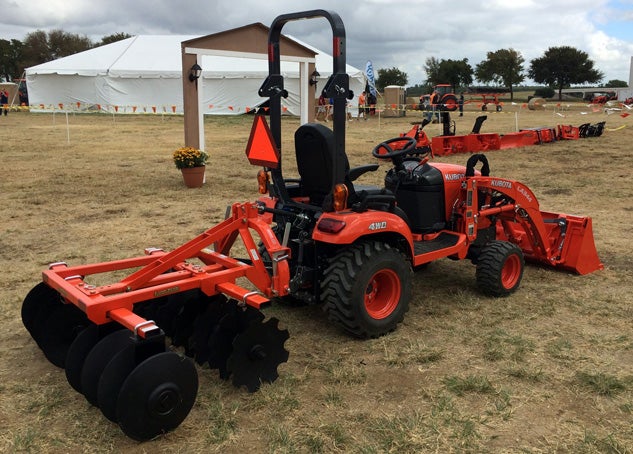 For 2017 a new 5'x6' variable chamber round baler (BV4580) will be available. Kubota, relatively new to the hay tools business, has already achieved a 5.7% market share. With the addition of the BV4580, Kubota will be even better-positioned for growth in that segment. For the utility vehicle marketplace, a new UTV factory now produces a unit every three minutes. Gas-powered RTV models, competitively priced but with Kubota reliability, continue to be big sellers. Diesel-powered RTV-X models with industry-leading features such as oil-cooled variable hydraulic transmissions, limited slip front differentials, independent front and rear suspensions with adjustable height, hydraulic power steering, and ½ ton cargo/1300 lbs. towing capacity round out a lineup that has few peers.
For the zero-turn marketplace, new models position Kubota to now have a zero-turn model every step of the way from entry-level Kommander models ($3,900) to the top-of-the-line ZD series ($22,000). For the construction marketplace, KX compact excavators and KX super series compact excavators with their float angle blade and enhanced stability, and SVL compact track loaders with an even greater lineup of Land Pride Kubota labeled attachments should help continue sales growth that has been double digit for the last three years. And for the subcompact tractor market, a marketplace Kubota created, the all-new BX80 lineup is expected to command major excitement.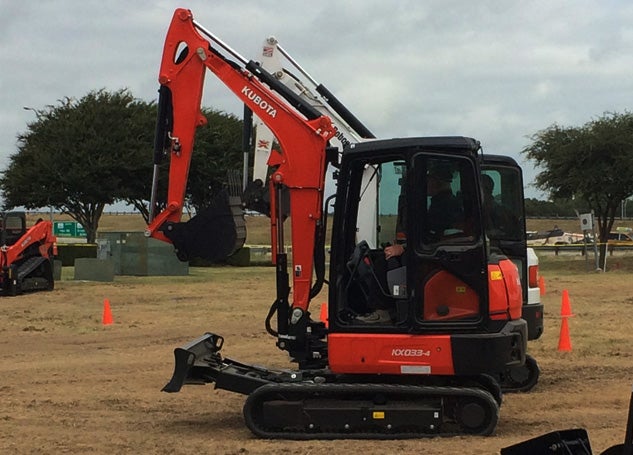 With so many new products, Kubota Orange Days – dealer-held events where the goal is to invite as many people as possible to demo Kubota products in a competitive ride & drive – will take place across the U.S. and Canada. And to take training to another level, Kubota University will hold training sessions at 14 locations.
Danny White's presentation began with a whiteboard where the former quarterback drew an oval and then asked if the audience could guess what he had drawn. A few colorful guesses led to the adding of more lines until a dealer guessed that it was Texas Stadium, which White had drawn from the perspective of a quarterback sacked on his back. White talked about his time with Coach Landry, his first conversation with running back Tony Dorsett, aggressive plays that worked and ones that did not, finishing up his motivational talk by saying, that to get to the highest levels of success, there will be failures to learn from along the way, but one should never relent on ones' drive for excellence.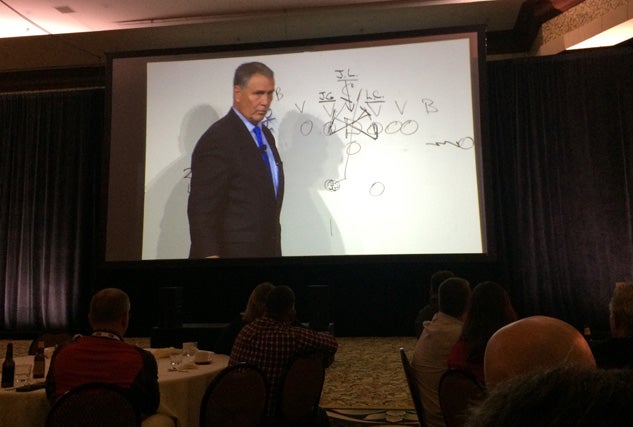 After dinner the media was encouraged to mingle with dealers and Kubota employees. As always, the question of "what the business condition was" came up. Most dealers we spoke with saw a relatively soft marketplace with growth coming from smaller tractors, commercial equipment, and haying tools. Many references to the upcoming presidential election were made, but we'll leave those comments for another time and place. With a full day agenda on tap for the next day, combined with a time zone change, Tractor.com made an early night out of it.
Check back next week to read about the new Z400 machines, M5, M6 and M7 tractors, and much more.
Buyers Guides
Our Partners