2016 National Farm Machinery Show Coverage Report
Plenty of new tractors and technology on display in Louisville
By Geof Fowler, Photography by Geof Fowler, Feb 18, 2016
The National Farm Machinery Show (NFMS) may have opened this year with temperatures in the icebox and snow whitening Louisville and the surrounding countryside, but inside the Kentucky Expo Center what was on display was cutting edge and red-hot.

This event marked the 51st year of the NFMS, which now fills the entire convention center, some 27 acres where over 850 exhibitors showcase ag-related wares and solutions. Over 300,000 attendees fill the isles, attend seminars, talk to product specialists, kick tires, and partake in lots of good cooking that can be found in booths lining the central atrium. With plenty tractor news of interest, we'll focus on what the major manufacturers brought to the show.

AGCO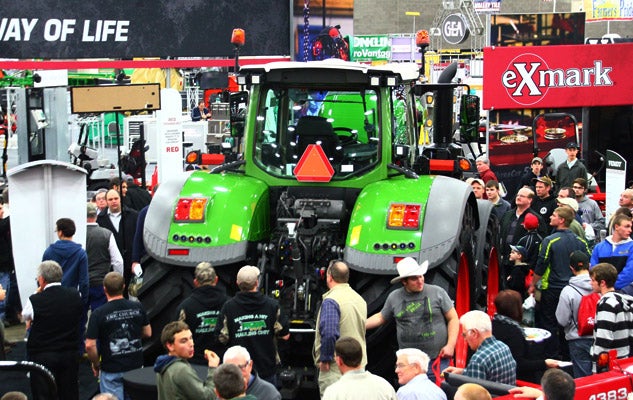 AGCO Corp had one of the largest booths at NFMS, with plenty of new products from Gleaner, Massey Ferguson, White Planters, Challenger, and one from Fendt, a black-draped model from the all-new 1000 series that was unveiled to selected audiences during each of the show days. The new 1000 Vario series consists of four models ranging from 380 to 500 engine horsepower. Under the black cloak was the top-of-the-line 1050, which is powered by a MAN 12.4L six-cylinder engine making 500 horsepower and 1770 lb-ft of torque at engine speeds as low as 1100 rpm. Max transport speed of 31 mph requires just 1200 rpm. With an unladen weight of 15 tons, flexible ballasting, VarioDrive transmission with intelligent four-wheel drive management, Concentric Air System (CAS) cooling technology, AgCommand telemetry and Fuse Connected services, the 1050 is perfectly suited to a wide range of tasks including heavy draft work.
Case IH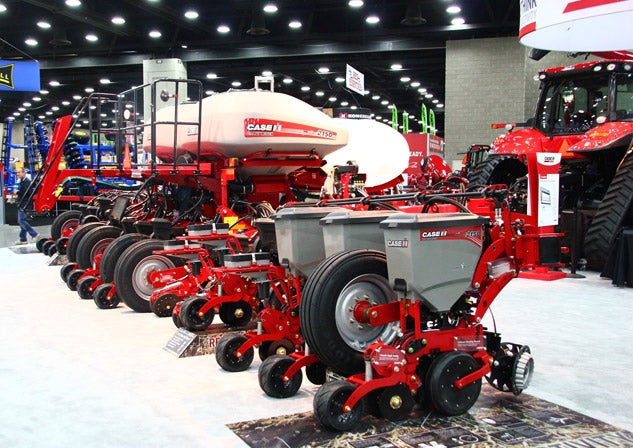 The big news at Case was the unveiling of the all-new Early Riser 2000 series planters, which have been redesigned from top to bottom using field and customer input. Using a v-Set 2 meter, vDrive electric drive and DeltaForce hydraulic down force, these new planters have row-by-row shut offs for seed, liquid fertilizer and chemicals, allowing individual row units to react to changing conditions for better seed placement. Accurate, robust, able to handle a variety of crops including the latest hybrids, the new models will be available in 12, 16 and 24 row configurations in time for the 2017 planting season.
John Deere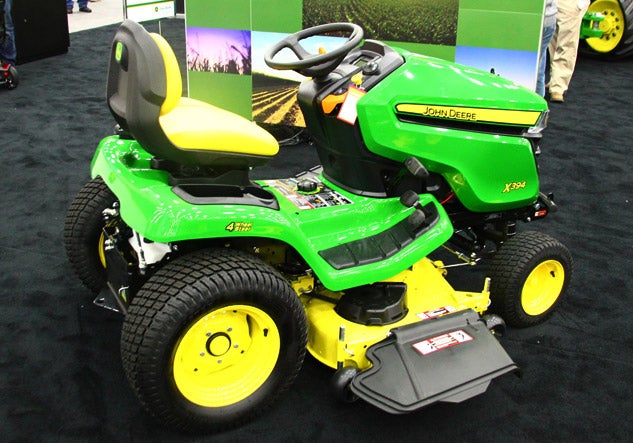 It wasn't hard to get caught up in the enthusiasm surrounding the 9620RX four-track machine big green brought to NFMS. Not only is the 9 series the largest tractor to date for John Deere with hydraulic flow up to 115 gpm, drawbar capacity of 12,000 lbs and hitch capacity of up to 20,000 lbs, the four-track concept offers reduced soil compaction, amazing turn capability, and improved traction in the toughest conditions. Also on display were a variety of products across the compact, subcompact, and utility tractor lines but what caught our eye was the all-new X394 lawn and garden tractor. Powered by a 22-horsepower Kawasaki air-cooled V-Twin, the X394 comes with a one-piece 10-gauge stamped 48" deck that is 5" deep. Four-wheel power steering, hydraulic deck lift, electronic LCD dash panel with tachometer and electric fuel gauge, cruise control and a tilt wheel all come standard for an MSRP of $6,099. We can't wait to get behind the wheel and cut an acre or two to see how the new system fares, which is touted at delivering a better cut at higher speeds.
Kioti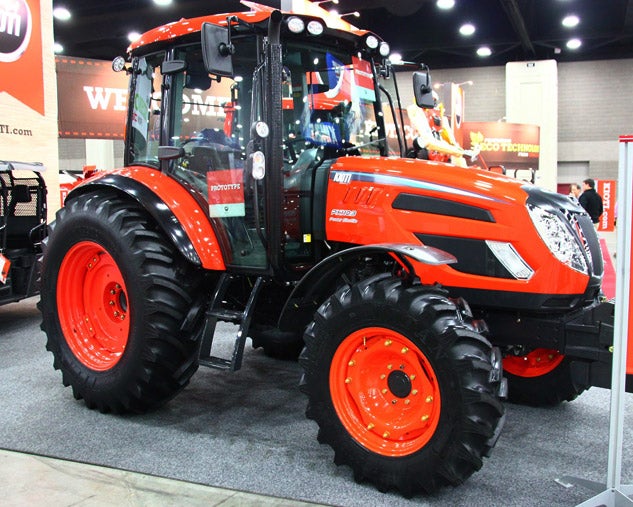 The big news at Kioti was the PX1103 power shuttle cab prototype on display. While no specs were available, it looked to us that a lot of key areas are addressed in this model, including fender three-point hitch (3PH) controls, a quality cab with flat floor, air ride seat, and an intuitive and ergonomically positioned control layout. On the available today side, on display was the new CK2610 tractor, which joins the CK10 lineup. Powered by a 24.5 horsepower three-cylinder engine with either a 9x3 gear or three-range HST transmission, the CK2610 boasts a hydraulic flow of 11.7 gpm and a 3PH lift capacity of 1631 lbs. Max transport speed for HST models is 16.6 mph.
Kubota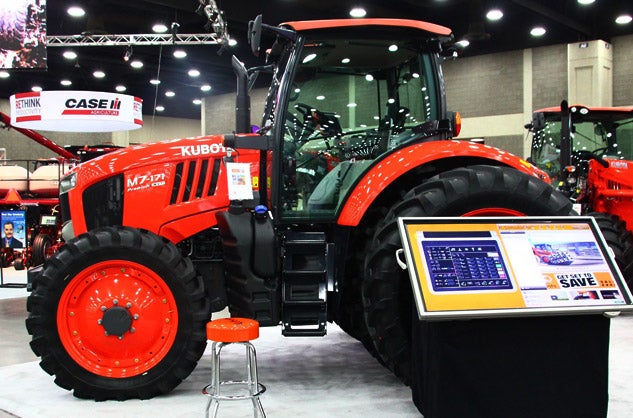 The big news is that the long-delayed M7 series is promised to hit selected dealers in April 2016 with sales and service training taking place for Phase 1 dealers right now. Changes have includ beefing up of the front axle to handle the more extreme loader loads these machines could be used for, the adoption of a North American trailer electric connector, and a panel protecting lighting electronics under the rear fenders. Kubota expects these tractors will fill a gap in between row crop and utility use. Pricing for a M7-171 Premium with the K-VT transmission starts at $184,947. Show sticker on a M7-151 Premium with LM2605 loader was $167,319. Kubota SVL compact track loaders, which too were delayed, are currently available. When we inquired about M series tractor-loader-backhoes (TLB), we were told these models will be hitting dealer stocks by the end of February. We're most interested in a review of the M62 TLB and hope to bring this to our readers shortly.
Mahindra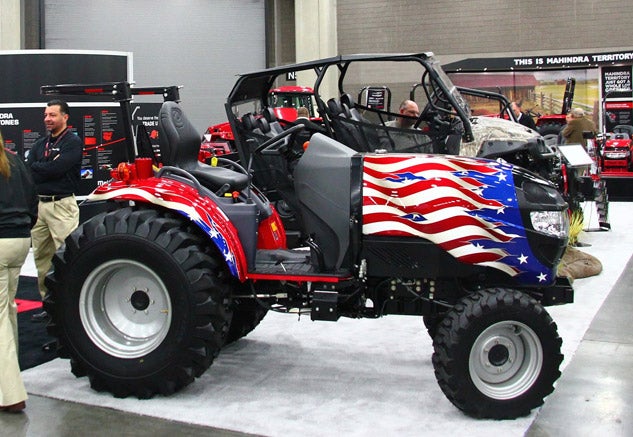 Mahindra brought a good representation from its lineup, including models as basic (and dated) as a 2WD 4540 but which delivers to the marketplace a tried and tested 41-horsepower tractor for $17,955, to the MPower 100, which is as modern and cushy as any 100-horsepower machine on the market. Of special interest was the 1500 Series tractor positioned on the booth corner that had a custom car red, white and blue metalflake paint job. Probably not the most practical protection from the elements, but who wouldn't want one?
McCormick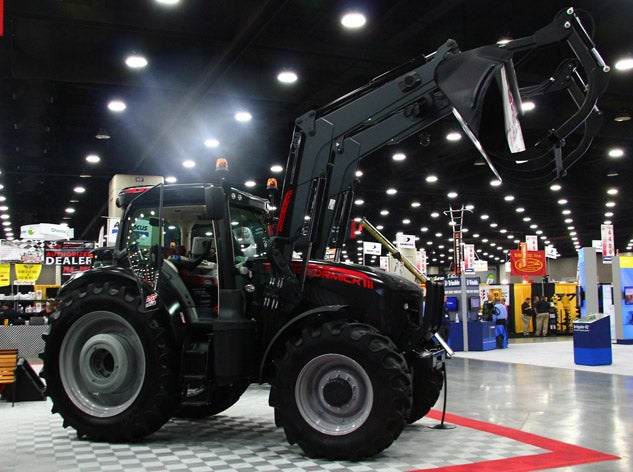 McCormick, fresh off the introduction of the X8 series, its highest horsepower tractors to date, showcased a nice lineup including a 175-horsepower special edition X7.670 painted black with red lettering and a red leather air ride seat. X8 tractors widen McCormick's tractor offering from 23 to 310 horsepower. Powering the most powerful X8 is a 6.7L engine mated to a ZF four-stage continuously variable transmission (CVT) with a 25 mph transport speed coming at just 1300 engine rpm and 32 mph at just 1600 (ECO). With 32 gpm hydraulic flow on tap, the X8 is one serious row crop contender.
New Holland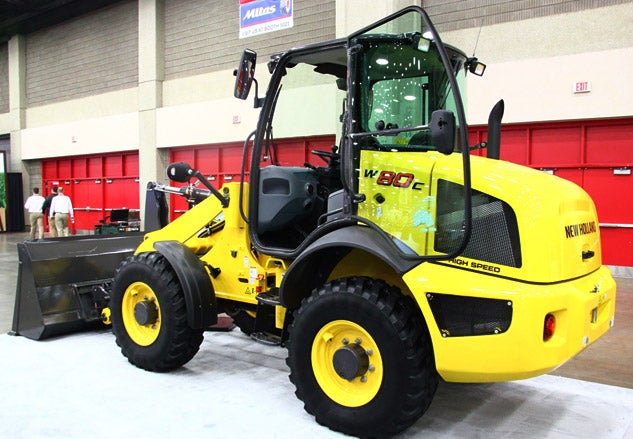 There was plenty to get excited about at the New Holland display, including the CR6.80 combine outfitted with a 980 series corn head, T5 tractors showcasing the new family look, and a Workmaster 33 compact utility tractor with a 140TL curved boom loader. The new C Series compact wheel loaders lineup, which ranges from 58 to 74 horsepower and with transport speeds up to 21 mph, caught our eye. These articulating workhorses with up to 1.4-cubic-foot bucket capacity are sure to increase productivity and versatility in ways only compact wheel loaders can.
Yanmar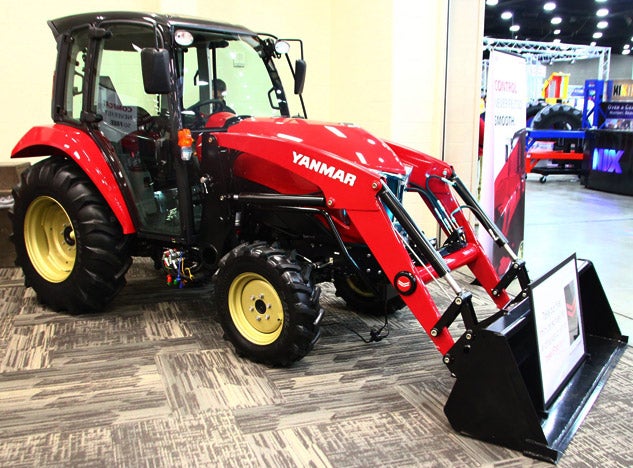 With all the new products at NFMS, it was Yanmar that may have brought the star of the show. The all-new YT series looks to have hit all the high marks right on the head, and in fact, caused us to make three visits to the booth. The YT series currently consists of three tractors; the YT235, YT347 and YT359 (we did see a youtube video showing a YT490 model). Powering this series are Yanmar engines ranging from 35 to 59 horsepower while sending that power through an innovative transmission Yanmar calls I-HMT. An I-HMT transmission is best described as delivering the convenience of a hydrostatic unit with power of a gear transmission without the power-robbing parasitics of a HST. There is a single right foot pedal which works much the same as a typical CVT or HST. Directional change is accomplished using a left hand turn signal-like power reverser stalk – or thumb switches on the joystick.
I-HMT adds five major functions that make getting the job done all the easier. Auto Throttle allows the engine speed and travel speed to be controlled by the right foot pedal. Auto Throttle can be turned off when doing constant speed tasks such as mowing but is always engaged when in speed range three. There is an A/B speed button on the joystick, allowing the operator to select a preset speed with A for high engine speed, low travel speed and B for high engine speed, high travel speed. Auto Cruise overrides the Auto Throttle and can be preset for constant speed applications such as mowing, tilling or box blading. Throttle Boost increases engine speed when needed for applications such as loader work when scooping and lifting the load. Throttle Boost is activated using a thumb switch on the joystick. For heavy load applications, Anti Stall rounds out the electronic niceties made possible by the I-HMT transmission and prevents the tractor from stalling when engine speed drops due to a high load situation.
Wrap Up
Each year we have a difficult choice of attending the World Ag Expo in Tulare, Calif. or the NFMS in Louisville, Ky. Last year we tried to attend both, but the weather did not cooperate and our California flight was cancelled. Though neither show is better than the other, they are different, not only in that one is held outdoors and the other indoors, but in the range of attendees and some equipment more geographically suited to the region.
In 2017, it is our intention to attend the World Ag Expo and then alternate in future years – as long as Mother Nature cooperates. Readers who have not attended either show would do well to put future dates on their calendar now. NFMS 2017 will take place Feb. 15th – 18th and WAE Feb. 14th – 16th. Perhaps we'll see you there.
Buyers Guides
Our Partners