2017 Farm Progress Show Report: Part 1
Perfect weather again for the nation's largest outdoor farm event
By Geof Fowler, Sep 07, 2017
After an auspicious start – rain, thunder and lightning Monday evening, and heavy, dense fog Tuesday morning – Mother Nature moderated and gave the 2017 Farm Progress Show perfect weather.

The Farm Progress Show is an annual event, alternating every other year in Boone, Iowa and then Decatur, Ill. For 2017 the event took place in Decatur, where more than 100,000 visitors from near and far came together to spend time at the 600+ manufacturer, organization, food and informational booths on display.
Kioti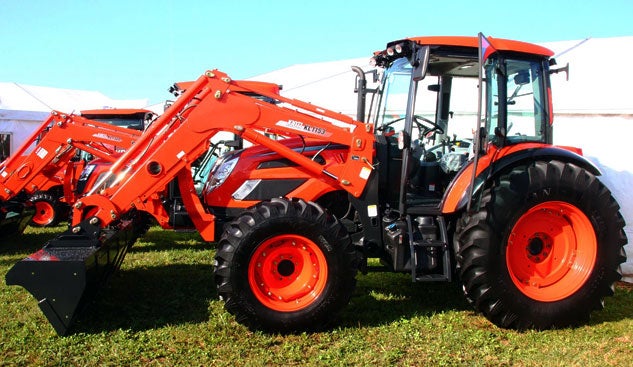 The big news at Kioti, as its dealer network expands to more than 340, is the move forward to higher horsepower models, with their PX1153PC delivering 110 gross and 92.2 power take-off (PTO) horsepower. The PX1153PC comes with a deluxe cab with full HVAC and a ventilating roof panel, a 32 x 32 power shuttle transmission (four speeds, three ranges, creeper with high/low), Cat II three-point hitch (3PH) able to lift 8,002 lbs (24" aft of hitch), at an MSRP of $77,773 with loader and 90" bucket. And while higher horsepower is big news, Kioti hasn't and has no plans to forget that important hobby farmer marketplace it has so excelled at, with its CK10 series continuing to be best sellers, while the new subcompact CS2210 and CS2510 continuing to bring new, happy owners into the Kioti fold.
Mahindra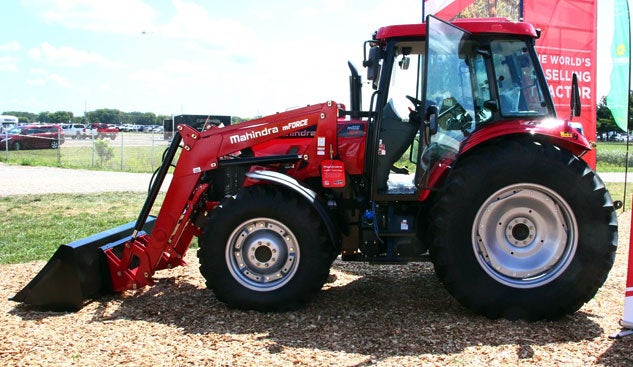 A number of key Mahindra personnel we expected to see at FPS were not at hand. Considering the staggering impact of Hurricane Harvey on the Houston area where Mahindra is headquartered, we can only hope all are well and that the cleanup will go as quickly and smoothly as possible. As Mahindra continues to tout being the number one selling tractor in the world, it is a marvel to look back just a few years and then compare the lineup then to the number of offerings now in its 22 to 105 horsepower/$12,530 to $$69,880 MSRP product lines, not to mention the mPACT XTV lineup. Naturally, on display was the flagship 105 hp mForce 105, which is now available with a 12 x 12 power shuttle transmission or a 24 x 28 + 8 speed power shift option. With a 3PH lift capacity of 6,860 lbs, the available 105L loader having a lift capacity of 4,129 lbs to 141.7", standard radial tires, and 22.7 gpm (total) hydraulic capacity, the mForce 105 is indeed becoming a force in that 100+ horsepower niche.
New Holland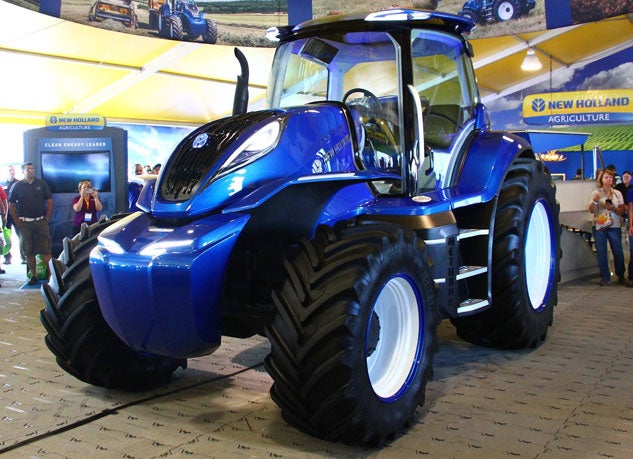 The New Holland Media Event began early on Tuesday with an introduction by VP Bret Lieberman, an overview of industry leading innovations by Cash Crop Segment Manager Dan Valen, then insight into the CNH corporate direction by President Carlo Lambro. If there was a single common thread repeated by the management and product specialists it would be productivity and innovation. Valen talked about how the New Holland CR Combine in independent testing conducted in 2015 proved to have a $4.60/acre advantage over the competition and how as a company it was tasked with making the next generation more productive while burning less fuel. The new 700-horsepower CR Revelation CR9.90 does just that, with a claimed 10% productivity boost without burning any additional fuel.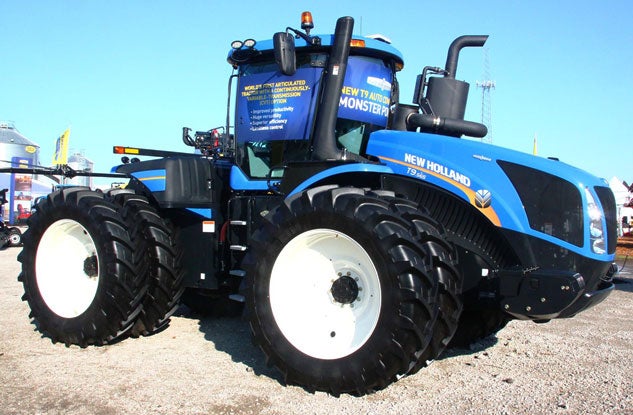 Other New Holland innovations included a 10% increase in hay bale density on its Big Baler line. An increase in bale density means better maximization of trailer and storage space, which equates to more productivity. The new Dynamic Command Transmissions (DCT) put more gears at working speeds. More efficiency at working speeds equates to more productivity. The new T9 4WD articulating tractors now have a CVT. The added productivity shines in silage packing, where reversing can take place at speeds as fast as forward travel. The added productivity from the CVT carries over to grain cart operation, where travel speed can be precisely matched to that of the combine. With enough innovations to focus an entire article to this single manufacturer, we'll move on to the amazing gains in alternative energy power which CNH continues to be a leader in.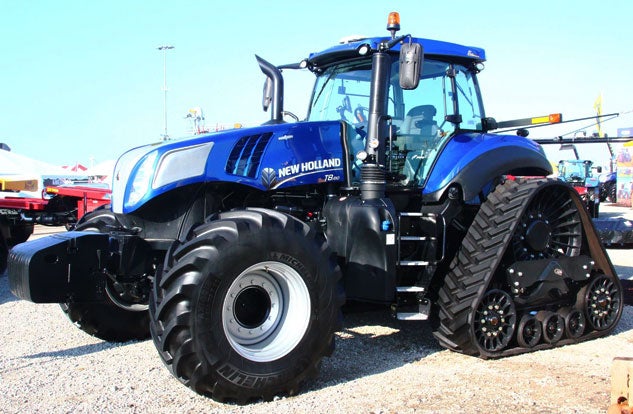 Since 2006 CNH tractors have been 100% biodiesel compatible. In 2009 CNH introduced the first hydrogen-powered tractor concept, which was a key element in the first Energy Independent Farm. Today, CNH has produced over 30,000 alternative fuel vehicles, including 22,000 natural gas-powered trucks and busses (IVECO). Two new power innovations that may well change farming are propane and methane power. Propane power was first explored in 2012 on a T6 concept tractor, achieving a 10% running cost savings over equivalent diesel power, with reduced emissions, and less noise (2-3 dBA). In 2013 experimentation extended to methane power, with more promising productivity gains. To date a 180-hp T6 concept tractor has shown running costs of up to 30% less than an equivalent horsepower diesel and near zero CO2 emissions. The T6 methane-power tractor unveiled at FPS illustrated what a clean-slate design might yield and looked very tractor-unlike. Media were told that CNH is ready to start production of methane-powered tractors within three years.
JCB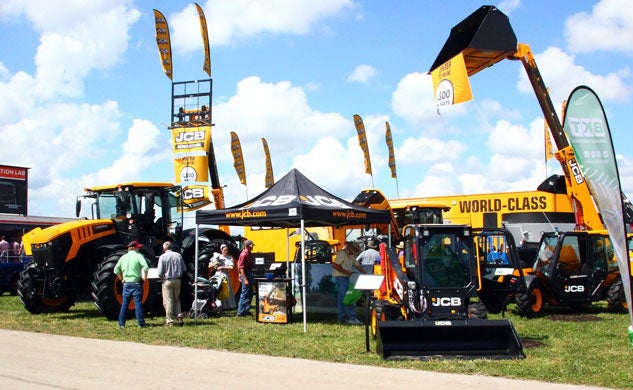 JCB continues to gain market share, a claim backed by 34% revenue growth in 2016, and 10.3% increase in machinery units. For the agricultural community, JCB telehandlers such as the 536-60 Agri Telehandler, are popular units with their unique side-entry cabs, stable high capacity lift capacities of 5,500 lbs to 12,000 lbs depending on model, three selectable steer modes (2WS, 4WS and crab steer), and 500-hour service intervals. The Fastrac lineup now has power ratings to 348 hp/1440 lb-ft torque, with travel speeds to 43 mph. Current incentives on Ag machines include 0% 36 months and 0.9% 48 months.
Claas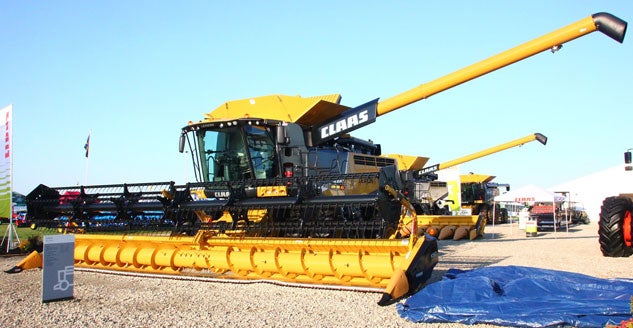 The Claas booth was a popular stop, with products such as its Xerion 4500 tractor and Rollant 620 baler on display. The new Lexion 700 series combines come with either Mercedes Benz or Caterpillar power, Gen II Terra Trac drive for lessened compaction and more traction in tough conditions, auto slope fan cleaning, dynamic cooling, and auto crop flow compensation. Model 780 from the Harsewinkel, Germany manufacturer is a full Class 10 combine.
McCormick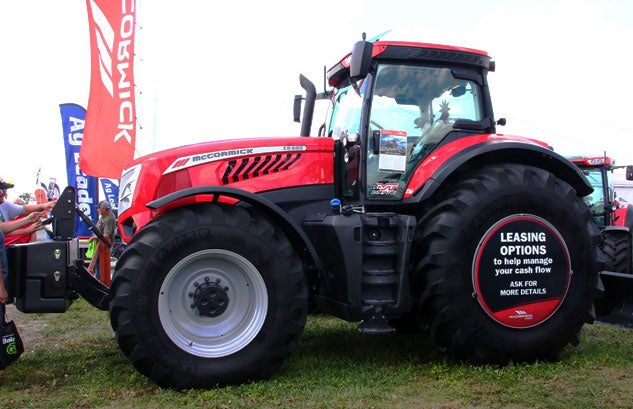 The McCormick booth seemed to have fewer tractors on display than in previous years, but what was on hand was impressive, including a flagship X8.680 tractor. The X8.680 is powered by a 6.7L, six-cylinder engine delivering 310 hp. A four-stage VT-Drive transmission delivers finite control over the speed range which can be 40, 50 or 60 km/hr. depending on the country it is shipped to. Hydraulic output is robust, with the optional high-capacity system flowing 56 gpm and supporting up to 10 electro-hydraulic valves (six rear, two mid, two front). The pressurized cab sports automotive-fit and finish, fingertip control over all major tractor functions, and comes with an air suspension seat that includes a backrest with ventilation.
Hagie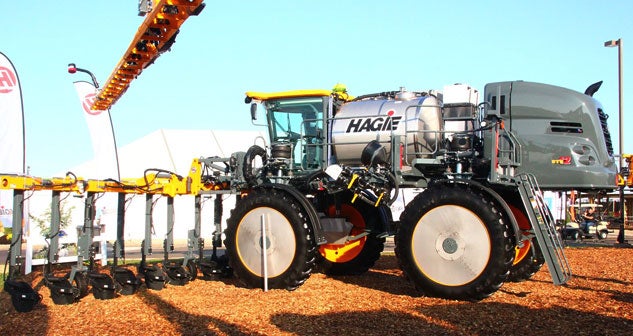 Hagie, fresh off a 2016 joint venture with John Deere with the all-new STS16 a direct result, offers a five-sprayer lineup with engine power from 225 to 375 horsepower and booms to 120'. On display was an STS12, as a limited number of STS16 orders were accepted for 2017. Specs on the STS16 are 9.0L John Deere power with 375 rated horsepower and a 413 horsepower bulge, 1,600 gallon capacity, 150 gallons fuel, new wheel hubs generating a 15% increase in torque for the toughest field conditions, a decal pedal to aid end row management control, and 76" underframe clearance. For added versatility, the night spray package packs a lot of illumination. Look for more good innovations to come from the Hagie/John Deere joint venture.
Wrap Up
On Wednesday, U.S. Secretary of Agriculture, Sonny Perdue, and House Agriculture Committee Chairman, Mike Conaway visited the Farm Progress Show, to check out the latest in farm technology and equipment. Later in the day, promises for an unwinding of cumbersome farm regulations followed but fell short on what impact the NAFTA renegotiations might have on farmers. Later that evening, attendees were treated by a free concert by country singer Easton Corbin.
Look for Part 2 coverage next week to include highlights from manufactures such as John Deere, AGCO, Kubota, Woods and Case, to name a few.
Buyers Guides
Our Partners