2017 Lawn Tractor Comparison
We explore six affordable lawn tractor options for first-time buyers
By Geof Fowler, May 12, 2017
Tractor.com reviews generally cover subcompact, compact utility, utility, and larger tractors and their like-sized implements and attachments. On occasion, we review lawn and garden tractors, since our readers also mow lawns and some have need for a machine to fit in tighter spaces. After our review of the John Deere X730, a member on our sister site, Mytractorforum.com, suggested an article aimed at first time buyers who are on a budget but don't feel comfortable purchasing a used machine. For this article, we identified six tractors that a budget-conscious buyer might consider and talk about some of the tasks these tractors are capable of handling.

Comparing lawn tractors is a little like mattress shopping – it's hard to do an apple to apple comparison. For this article, the six tractors picked have similar spec sheets, are priced in the $1700 to $2200 price range, and have competitive warranties. Some are available at box stores, but our recommendation is to purchase from authorized dealers, and of that the ones that are neat, organized, friendly and knowledgeable about their products. The tractors covered range from 18 to 22 horsepower with full-pressure lubrication, have mowing decks sized from 46" to 48", and have hydrostatic transmissions with the sole exception of one that comes with a CVT.

Craftsman T3300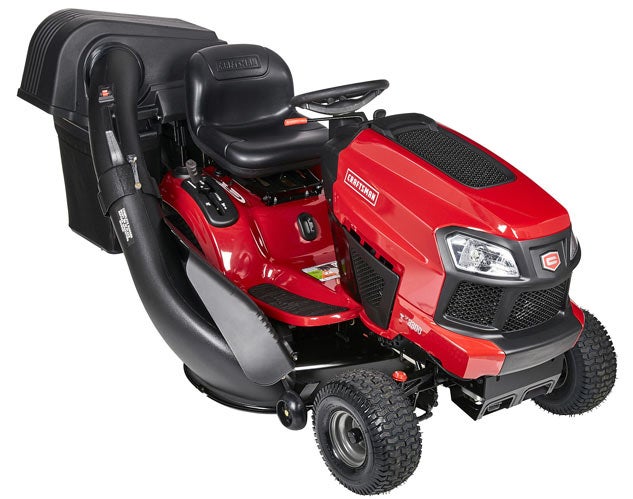 The well-known Sears brand has manufactured or rebranded tractors for many years. Chances are that our readers have a fond memory where they somewhere, sometime were exposed to a Craftsman mower. Check out their website, though, and be prepared to sift through a confusing lineup of a lot of models. We counted 17 tractors on their first page alone. The model that best fit our article criteria is the T3300, which is powered by a Briggs & Stratton V-Twin making 20 horsepower. A 2-blade 46" stamped steel deck does the cutting duty. As with most tractors in this price segment, the transmission is a Tuff Torq K46 hydrostatic unit (more on this later), but unlike the other tractors in this comparison, the T3300 uses a right fender control lever. While we prefer floor mounted hydro controls which free up a hand, the T3300 lever control modulates the 0-5.2 forward and 0-2.9 mph speed range effectively. Cruise control, cup holder, hi-back seat and headlamps are standard, as on every tractor in this comparison. Turf tires, size 16x6 front and 20x8 rear, are also common to all the tractors but one. Onboard fuel is 3.0 gallons. Engaging the power take-off (PTO) is accomplished using a manual lever. Turn radius for the T3300 is a class-leading ultra-tight 6.0". Craftsman touts its Smart Lawn Bluetooth technology as an advanced way to get up-to-date information about important tractor functions, but another app to stay informed about things any attentive operator should know seems more why-tech more than high-tech. Warranty for the $2,049 MSRP T3300 is two years.
Husqvarna YTH18K46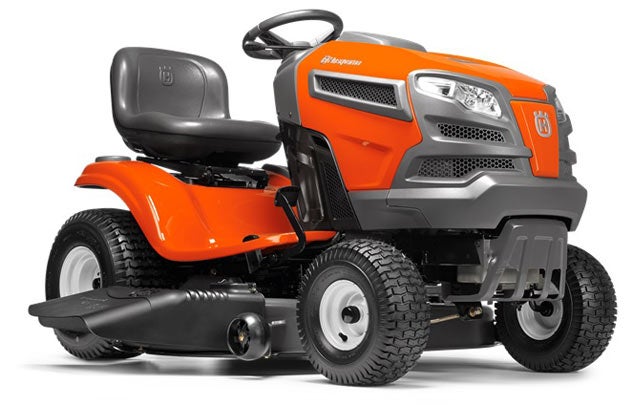 Husqvarna's roots date back to 1689 as a weapons foundry. Along the way, sewing machines, chain saws, motorcycles, commercial kitchen equipment, and lawn tractors were added to its product lines. We chose model YTH18K46, which is the only Kawasaki-powered tractor in this comparison. And while the Kawasaki V-Twin may seem down on power compared to the other engines used (18 horsepower), it certainly is the quietest of the pack. For homeowners with hills and/or unable to keep up with mowing duties, a more powerful powerplant might be a better choice. A Tuff Torq K46 transmission controlled by floor-mounted hydro pedals frees up a hand. For added mower deck life, the leading and trimming edge are reinforced with added steel flat stock. Onboard fuel is 2.5 gallons. A nicety found on only one other tractor in the comparison is the electric PTO engagement. Warranty for the $1,999 MSRP YTH18K46 is three years.
Troy-Bilt TB2246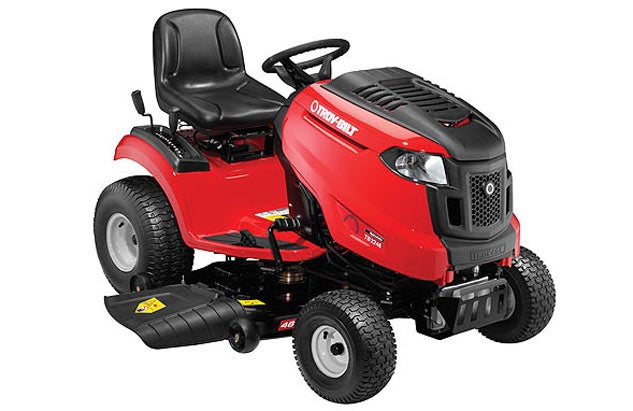 Troy-Bilt began by producing rototillers in 1937. Now a business unit of MTD Products, company resources are shared over the Cub Cadet, Yard-Man and Bolens brands, as-well-as tractors produced for other manufacturers such as Massey Ferguson and Murray. We chose model TB2246 for this comparison. Power is by a Briggs & Stratton V-Twin rated at 22 horsepower. A Tuff Torq K46 transmission controlled by floor-mounted hydro pedals drives the rear wheels. PTO engagement is through a manual lever. The tractor seat sits higher up than the other tractors, making for improved visibility, though the higher center of gravity may give some a sense of increased tippy-ness on slopes. Top forward speed is 5.2 mph. Onboard fuel is 3.0 gallons. Warranty for the $1,699 MSRP TB2246 is two years.
Cub Cadet XT1 LT46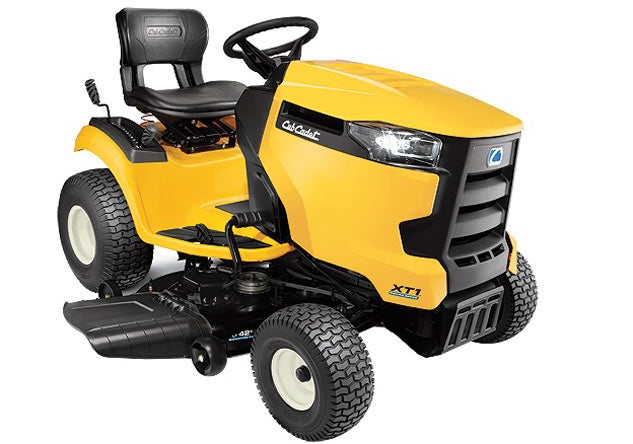 Since 1961, when International Harvester began selling the IH Cub Cadet Original, the name has been synonymous with small premium tractors. Firsts include shaft drive, hydrostatic transmission, rear PTO, turning brakes, hydraulic deck lift, power steering and three-point hitch (3PH) all on a small tractor. But don't look for those firsts on today's comparison. The current Cub Cadet lineup is over three platforms with a number of models and options. We chose the XT1 LT46 from the XT1 platform. The XT1 LT46 is powered by a Kohler V-Twin rated at 22 horsepower and running through a Tuff Torq K46 transmission controlled by floor-mounted hydro pedals. Speed range is 0-5.5 forward and 0-3.1 reverse. The XT1 seat can recline up to 10 degrees for added operator comfort. We also liked the LED headlamps, which are a nice addition to a tractor of this class. PTO engagement is through a manual lever Cub Cadet calls "smooth lever engagement". Warranty for the $1,699 MSRP XT1 LT46 is three years.
Poulan Pro PP22VA46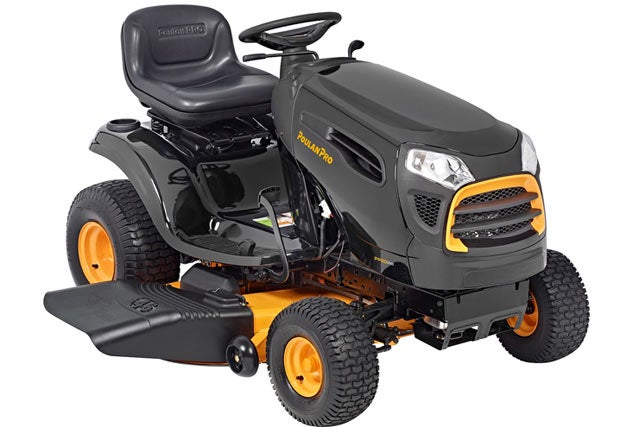 Founded in 1946 by lumberjack Claude Poulan to make chain saws, some so large and heavy that two operators were required, today Poulan is a business unit of Husqvarna. We chose model PP22VA46 for this comparison, which also relies on Briggs & Stratton V-Twin power to the tune of 20 ponies. The transmission is an Element V constant velocity transmission (CVT) made by General Transmission that Poulan calls "Fast CVT". The Element V does away with the pumps, motors and hydraulic fluid associated with hydrostatic power. A belt using two variable pulleys does the work and operates much the same as a hydrostatic transmission, with the operator pressing further down or lifting up on the foot pedal to control speed. No maintenance is required by a CVT, though the belt might need to be replaced at some point, depending on the usage and operating conditions. Backing up the belt life, Poulan gives 10 years of coverage for this component. A 46" two-blade deck does mowing duty. Speed range is rated at 0-6.2 forward and 0-2.1 reverse, but the Poulan literature claims a top speed of up to 8 mph. Warranty for the $2,119 MSRP PP22VA46 is three years.
John Deere D140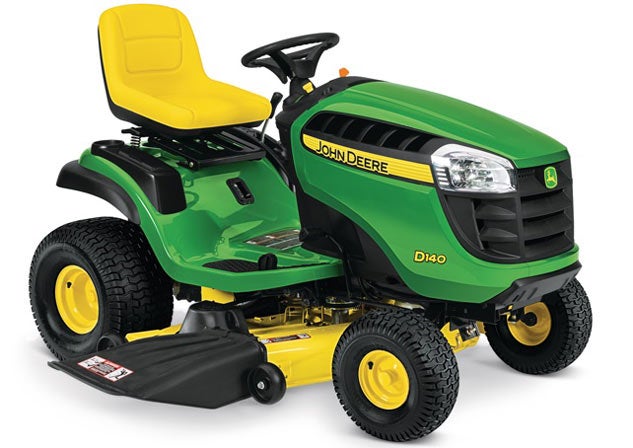 Most folks are aware John Deere began by manufacturing polished steel plows that were more effective in the heavy, sticky soils of the Midwest than what had previously been available. Of all the manufacturers in this comparison, John Deere is the only one with a lineup that extends from entry-level lawn care all the way up to the highest horsepower farming machinery. We chose the D140 model over the D130 due to the latter only coming with a 42" deck. For a hundred dollars more, the deck size is increased to 48", the widest of this comparison. Power is by a Briggs & Stratton V-Twin making 22 horses. Output from the engine goes to a Tuff Torq T40J transmission. Exact specifications for the T40J aren't readily available, but after some digging we were able to learn it is a design very similar to the K46, though slightly less powerful. Rated axle torque is 176 Nm, which is about 20 Nm less than the K46. Two other features on the D140 stand out, the electric PTO engagement, and the use of 20x10 tires on the rear of the tractor (15x6 front). Warranty for the $1,999 MSRP D140 is two years.
Lawn Tractor Capability
What can these tractors do? Well, they can mow, and quite nicely at that. Can they tow a cart, or push a plow? The answer is yes, in most cases – mostly due to the transmissions used. With the exception of the CVT used in the Poulan Pro, the hydrostatic transmissions are not serviceable. This means there is no hydro filter, and the fluid level is fixed by the factory and deemed good for the expected life expectancy. This also means that the harder usage encountered, the more likely that transmission and hydrostatic fluid reservoir will be stressed. Add the stress of hilly terrain, and the more likely that life expectancy will be reduced. Anyone doing a search on K46 transmissions will find horror stories of early failure. In truth, there are many, many times the number of happy owners who have gotten much more than the expected life of 250-500 hours out of their K46-equipped tractors. But if your plan is to tow that 5000-pound boat to and from storage, then those adjusted expectations should dictate an commensurate adjustment of tractor size and power, which ultimately comes with increased cost.
Buyers Guides
Our Partners