2017 Mahindra Dealer Meeting: Part 1
Mahindra moves into the #3 slot and has sights set on #2
By Geof Fowler, Oct 13, 2017
The 7th annual Mahindra National Dealer Meeting (NDM) was held October 4th Ė 7th in Indianapolis, Ind. where 1300+ attendees representing some 10 countries gathered to hear about the year's progress, incentives, goals, tools to help achieve those tools, and new products. And while not having the Baseball World Series happening in the area as was the case with the 2015 NDM in Kansas City, Mo., Indianapolis has no shortage of great sporting venues, including with the Indianapolis Colts football team and, of course, the Indianapolis Motor Speedway. More on the Speedway below.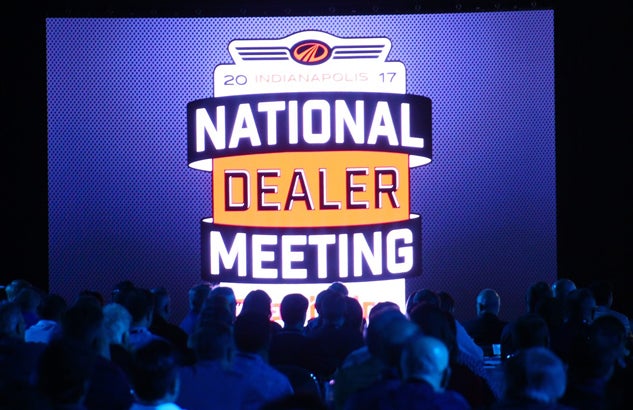 As with Mahindra NDMís in the past, the meeting began with a prayer, and was followed by the national anthems of America, Canada, Mexico, and Brazil. The theme that ran throughout was Mahindra: Ready to Run, Born to Rise. As expected, there was a lot of rah, rah that ensued, but with Mahindra overtaking Case-New Holland in total global sales and moving into the #3 slot, celebration is certainly warranted. Chairman Anand Mahindra spoke to attendees through a video feed, mentioning the significance of the Indianapolis NDM setting, and how at the 2016 Indy 500 race, rookie Alexander Rossi had won by channeling the resources of his team to stretch fuel consumption to the point he crossed the finish line essentially on empty, while fellow competitors were in the pits refueling. Mahindra spoke enthusiastically of the inspiration to win, and told those in attendance to start their engines.
With a goal to become the most respected North American brand of 0-100 horsepower tractors, attendees were told of new and/or improved tools that would help capture that status, including working with the Dealer Advisory Committee (DAC) to improve dealer satisfaction, simplifying processes and bettering responsiveness, increased range of tractors, attachments and implements, increased range of utility vehicles, 0% up to 84-month financing, loaner program for circumstances such as when a part isnít readily available, the best warranty in the business, and no diesel particulate filter (DPF) on any model. Furthermore, attendees were told the 2017 NDM would be the kickoff for the largest product launch in Mahindra history. Largest product launch? Tractor.com had heard rumors a new subcompact tractor would be introduced, but nothing about anything of this scale. What did Mahindra have up its sleeve?
Mac Payne, Dir. of Business Development, began by introducing the new eMax 20S subcompact. Powered by a Yanmar 19 hp diesel with a 54" drive-over deck, new comfortable seat, skid-steer bucket couplers, factory cab option, and a seven-year/3000-hour powertrain warranty with no deductible. Exact pricing has not been set, but attendees were told it would make the industry take notice. Payne told attendees the eMax 20S would be joined by the eMax 22L and eMax 25L, with the S and L designations standing for Small and Large, and that there would also be a Max 25XL and Max 26XLT. Payne also promised attendees that at the ride and drive scheduled for the following day, all would be on hand.
The current 1500 series, from which the 1526 has been the most popular Mahindra tractor, will be replaced by the 1600 series. This new series will have three tractors, the 1626 (HST and shuttle), 1635 (HST, shuttle and HST cab), and 1640 (HST, shuttle and HST cab), and can be ordered in the spring with deliveries beginning in mid-2018. As with the eMax and Max tractors, a new, comfortable, and brand distinguishable seat will be standard.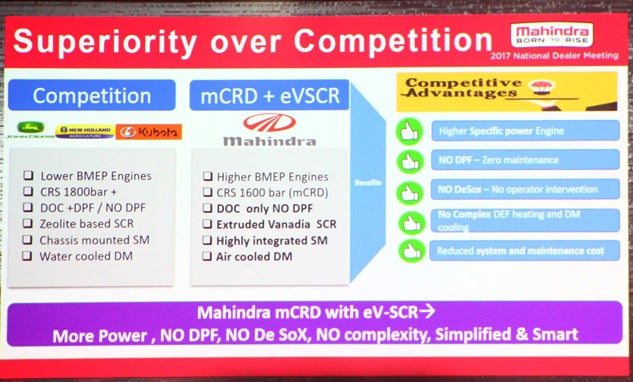 The 2500 series, which is a value price tractor lineup, will continue to be so with upgrades in the new 2600 series. These tractors will sport a new grille and headlamps, new seat, and integration of the joystick into the fender cowl. This new series will have three tractors, the 2638 (HST and HST cab), 2645 (shuttle and shuttle or HST cab), and the 2655 (shuttle, shuttle cab, HST, and HST cab).
Gita Rao spoke of the 3500 series, which has been refreshed and will now be known as the 3600 series, with 40 and 50 horsepower models available with HST or powershuttle transmissions, and in open station and cab configurations. The 4500 series remains unchanged with 40, 50, and 65 horsepower models available in 2WD and 4WD. The 5500 series is narrowed to 45 and 55 horsepower models with shuttle transmissions and in 2WD and 4WD. These tractors will now come with standard draft control and a five-year/3000-hour powertrain warranty with no deductible.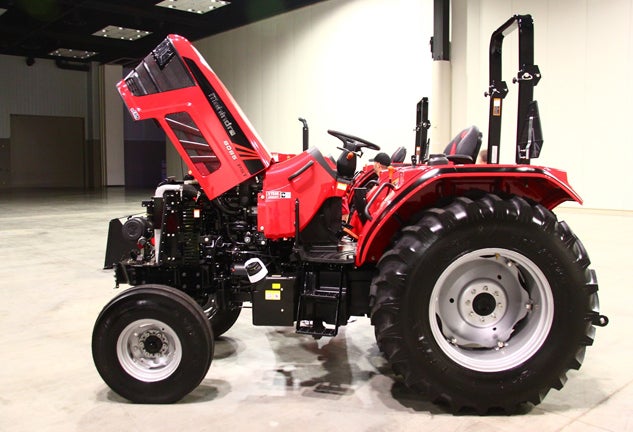 The mPower 75 and 85 tractors will be replaced by the 6000 and 7000 series. In the 6000 series lineup, 65 and 75 horsepower tractors, in open station and cab configuration, will now come with 15 x 15 speed electronic powershuttle transmissions. Only the 6065 model can be ordered as a 2WD tractor. The new 7000 series will be a two-tractor lineup with the 7085 available in open station form and the 7095 with a cab. Both get 15 x 15 speed electronic powershuttle transmissions. A new 8000 series is also added to the lineup with the 8090 and 8100 available only in cab configurations and with the 15 x 15 speed electronic powershuttle transmissions. 8000 series tractors boast more weight, larger wheelbase and a five-year/3000-hour powertrain warranty with no deductible.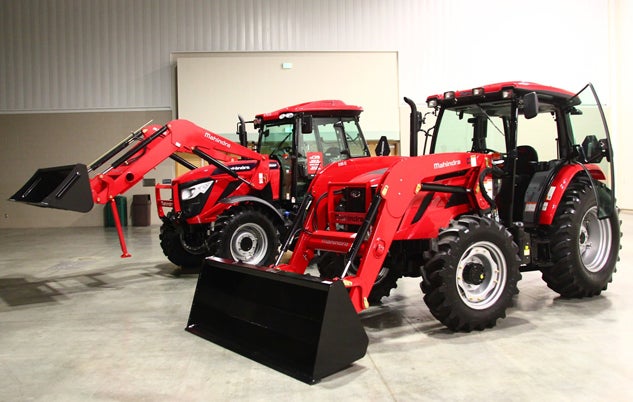 At the top end, the m105 gets new designations, the M105XL S and M105XL P. While once the range and Mahindra lineup topping models, these tractors are now joined by the 9000 series, which come with 110- and 125-horsepower engines in cab-only configuration with two trim levels (S & P). These are heavy-duty utility tractors with standard radial tires, 12 x 12 power shuttle transmissions (S) or 24 x 24 + 8 creeper (S), and standard air ride seats that swivel and have adjustable headrests.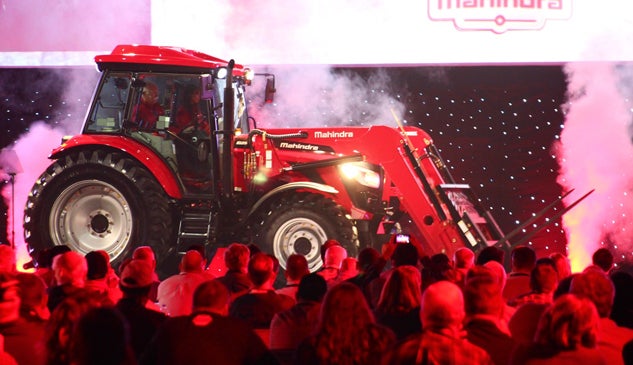 More big news came with the announcement of new additions to the utility vehicle business segment, including a new name: Retriever, and new engine option: 83 horsepower. The name, a result of focus groups, represents the best of reliability, usefulness, trustworthiness, and loyalty. The top-of-the-line Retriever 1000 will have 2520 lb tow capacity, and will be CARB compliant.
After the open session, revealing highlights of the new products being launched, attendees were bussed to the Indianapolis Motor Speedway for a cocktail reception, dinner and ride-along. Tractor.com was one of the first to arrive at the speedway, and weíll never divulge how many laps we were able to run, but on an early lap with driver Jimmy Simpson and the track still mostly dry, we were able to hit speeds near 140 mph. Later, as the rain/mist came in, speeds naturally dropped. As the evening wound down, we really enjoyed the drive-along and reception, but were anxious to get behind the wheel of the tractors the following morning and see how the new models stacked up. Stay tuned for part 2 where we detail some of what we learned.
Buyers Guides
Our Partners