2017 National Farm Machinery Show Report: Part 1
What we learned at the 52nd edition of the NFMS
By Geof Fowler, Feb 24, 2017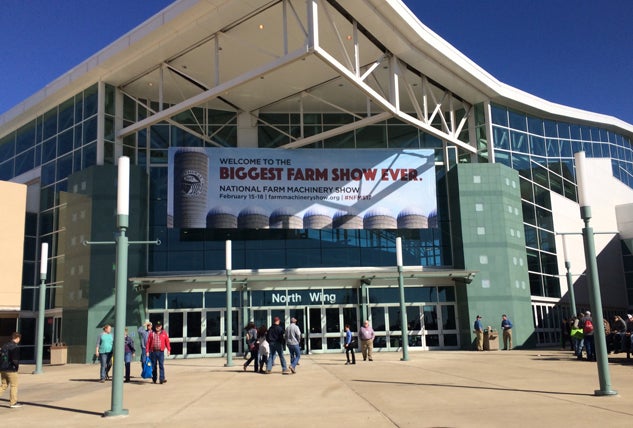 The National Farm Machinery Show (NFMS) opened for the 52nd year at the Kentucky Expo Center in Louisville, Ky. Billed as the largest indoor agricultural show in America, over 200,000 attendees over four days wove their way through the 860 booths showcasing the latest in agriculture today. Long-term readers will recall our intent to attend the World Ag Expo (WAE) in Tulare, Calif. this year and then alternate subsequent years with NFMS, but a scheduling conflict shuffled things around. Next year it is our plan to attend and bring you WAE coverage, returning again to NFMS in 2019. For 2017 we found enough new news to make this a three-installment series.
Case IH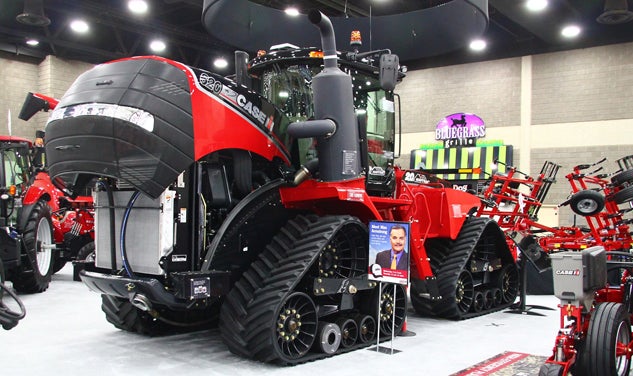 The Case International Harvester booth had a lot to showcase. For seedbed prep and planting it was the Early Riser 2150 planter and the Tiger-Mate 255 field cultivator. For fertilizer application it was the High Speed Low Disturbance (HSLD) coulter option for the Nutri Placer 930 with speeds of up to 11 mph, translating to 500+ acres in a 12-hour day. And fresh off the University of Nebraska Tractor Test Lab results where the Steiger 620 set new records for drawbar fuel efficiency, drawbar horsepower and maximum pull.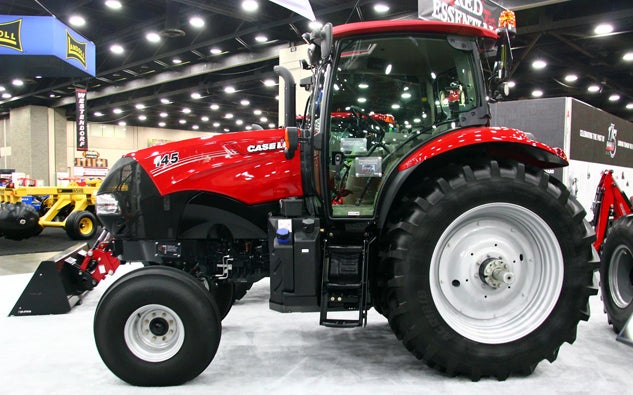 But it was the updated for 2017 2WD Maxxum lineup that had our attention. A five-tractor lineup ranging from 116 to 145 engine horsepower, these tractors lower the upfront cost by deleting the mechanical front wheel drive (MFD) system while still delivering the necessary dedicated horsepower to get the job done. Power is by EPA FT4 four- and six-cylinder engines mated to several transmission options including a 16 x 16 speed, 19MPH, semi-power shift unit. Pressure-flow compensating hydraulics are available. 2WD tractors get a non-suspended front standard duty axle and are ideal for hay and forage, dairy, municipal work as well as small acreage mixed farms.
JCB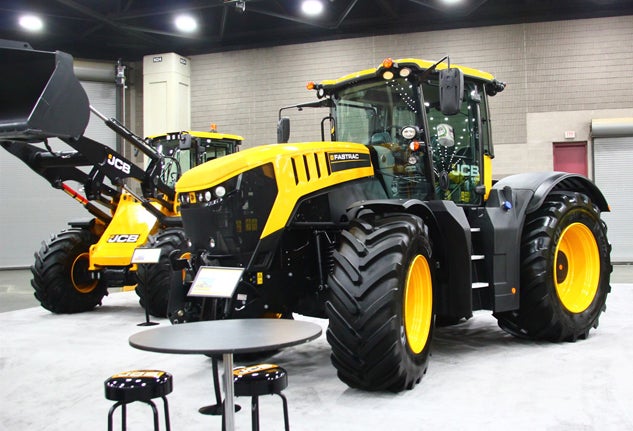 JCB, the company founded by J.C. Bamford in 1945 and now headquartered out of Rocester, Staffordshire, UK, is the world's third largest construction equipment manufacturer. The Fastrac lineup, first introduced in 1991, has found a strong following in the agribusiness sector. New for 2017 is the Fastrac 8330 which is powered by an EPA FT4 8.4L SISU six-cylinder engine making 335 horsepower, and up to 348 horsepower under full load. Torque rating is 1440 Nm at 1500 rpm. These tractors have an ideal 50/50 weight split for maximum traction and come with a number of industry leading features that add to the machine performance and capability. With a 26,005 lb. operating weight, front coil spring and rear self-leveling suspension, outboard disc brakes with ABS (keeps heat and brake dust outside axle for longer life), 47 gpm hydraulics, CVT transmission with JCB Activ Traction (helps the CVT retain grip during heavy draft conditions), Command Plus cab with seat that swivels 50 degrees right and 20 degrees left, optional front three-point hitch (3PH) and power take-off (PTO), electronics that are auto steer ready, and a 43MPH transport speed, the Fastrac 8330 is well-suited for all the tasks the Fastrac 4000 series is known for with added performance and capability. As soon as these tractors make their way to North American shores, we look forward to getting behind the wheel and bringing our readers a full review.
Zetor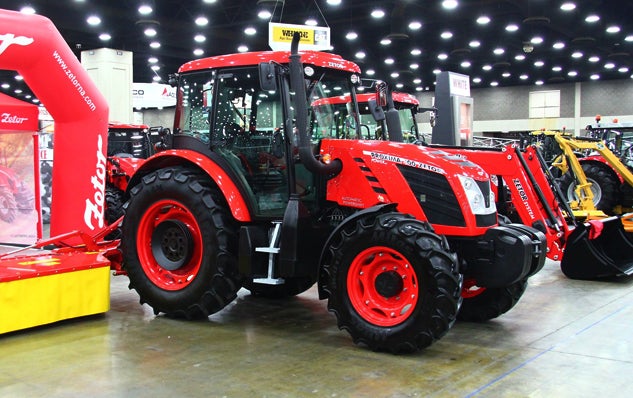 Zetor has been manufacturing tractors in the Czech Republic since 1946 with a reputation for providing simple, solid value. None of the testers at Tractor.com, mostly due to a sparse but growing dealer network in our immediate geographic area, have spent time behind the wheel of a Zetor machine. For 2017 we hope to change that. At NFMS, Zetor had several machines on hand. One model that caught our eye was a Proxima 100 cab tractor with automatic powershift transmission. Powered by a four-cylinder 4.0L turbo diesel making 96 net and 89 PTO horsepower, the Proxima 100 comes with a nice, spacious cab, a Cat I or II 3PH with lift capacity of 9300 lbs (at ball ends), 40 gallons of onboard fuel, three loader options, open center hydraulics flowing 14 gpm (17 gpm option), and though nicely outfitted in standard fare, an impressive list of options including an air ride seat. Zetor warrants its machines with two-year bumper-to-bumper protection and five-year powertrain protection.
McCormick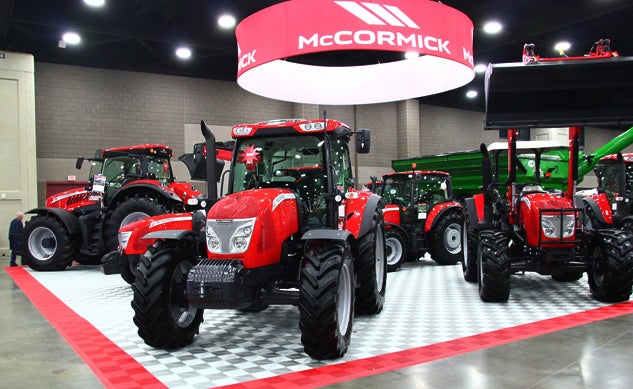 The modern-day McCormick brand is a result of a Case IH divesture to gain European Union regulatory approval to merge with Hew Holland Ag. Tractors bearing the McCormick badge are manufactured in Italy alongside their Landini and Valpadana siblings, all of which since 2007 fall under the ARGO brand. Big news for 2017 are the introduction of four new tractor lines to complement the existing McCormick lineup. The designed in-house X4 standard series now has three models ranging from 64-79 horsepower running Deutz four-cylinder engines and equipped with 12-speed shuttle transmissions. The larger chassis X6 standard series consists of two models, 121 and 130 horsepower, using four-cylinder Betapower engines. All X4 and X6 standard series tractors are open station machines. The X6 VT-Drive series consists of a single cab tractor, the X6.430, which also uses a Betapower engine coupled to a CVT transmission. The X8 VT-Drive series is where big power starts to come in. Also powered by six-cylinder Betapower engines, the three models have horsepower ratings from 264 to 310. Along with that additional power come closed center hydraulics flowing up to 54 gpm, hydraulic front axle suspension and cab suspension, and a 0-32 mph speed range. McCormick has extended Tractor.com an invitation to visit its Deluth, Ga. factory and get acquainted with its entire lineup. An invitation we fully intend to take advantage of.
AGCO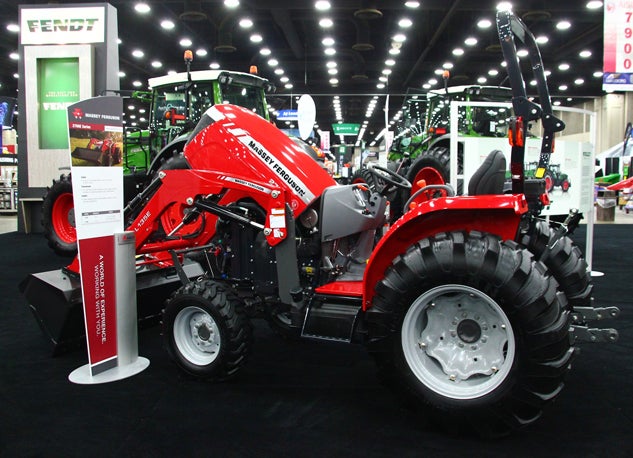 Our first stop at the AGCO booth began with Cody Light, Strategic Marketing Manager FUSE Technologies. Light talked about an exciting wayline converter AGCO has been working on that had just received approval for public announcement at NFMS. The system is able to convert straight A-B waylines and field boundaries from third party software (John Deere, Case New Holland, Trimble and TopCon). The exclusive internet-based system will be available to AGCO customers on a trial basis beginning in March. We saw a demo using a tablet and can just tell our readers how easy it is going to be to use their thumb and forefinger to establish the field boundaries and then in just moments import and convert the A-B waylines into AGCO brand useable data.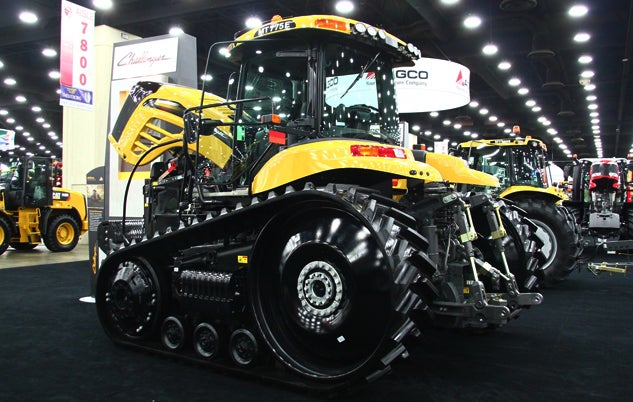 Next stop at the AGCO booth was with Richard Kohnen, Director Tactical Marketing, who talked of the AGCO/Asmark partnership for applicator training which will be conducted in a new dedicated building in Bloomington, Ill. The 3.5-day training course will be geared for first time users as well as those with a few years experience under their belts. The course will focus on topics such as maintenance, safety, calibration, verification, nozzle drift, droplet size with behind-the-wheel sessions. Courses are scheduled to begin the first week of June and will run for 20 weeks with class sizes of 20-22/week. Cost will be $495 with online registration beginning in April.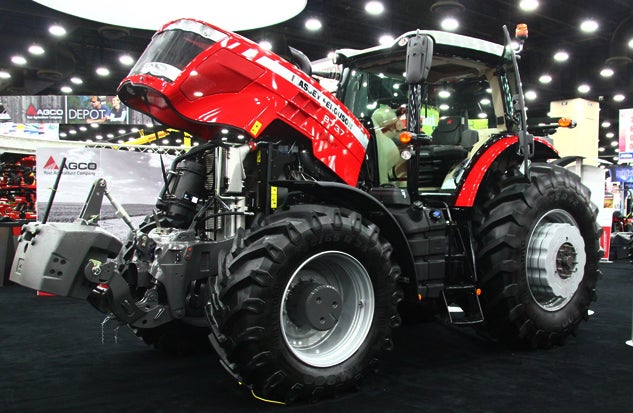 Finally, Eric Zimmerman, Tactical Marketing Manager HHP Tractors, walked us through the upgrades to the 8700 series. Zimmerman explained that though the changes might seem minor, behind the incorporation of the improvements was far more than just window dressing. The new flagship is the Massey Ferguson 8737 which is powered by an 8.4L AGCO Power 8.4L six-cylinder engine making 370 gross and 290 PTO horsepower at 2100 rpm. A Dyna-VT transmission with Power Management (31 MPH) allows for an 0.02 to 17 MPH forward and 0.02 – 10 MPH forward field speed range. The new 9" touchscreen will have four cruise speeds and the entire 8737 package will cost about the same as the old series. Other niceties include a 71 dBA cab sound level, closed center 54 gpm hydraulics at 2900 psi, and the ability to support up to six auxiliary valves. Lift capacity for the rear Cat 3/4N 3PH is 20,345 (at link ends) and 10,970 for the optional front Cat 3 3PH. Production begins in September with a projected ship to dealer date of mid-November.
An Enormous Show with Much to See
Walking the 1.2 million square feet of exhibit space, seemingly several times over, we found so much of interest that it wasn't until dinner time that anyone mentioned anything about aching feet. For those unable to attend, we'll spare you those aching feet – though we can't imagine anyone attending NFMS complaining that it wasn't worth it. Coming up in installment two and three will be news from manufacturers such as John Deere, Kioti, Bush Hog, LandPride, Kubota, New Holland, Mahindra, Yanmar, Rhino, Woods. Stay tuned for more.
Buyers Guides
Our Partners