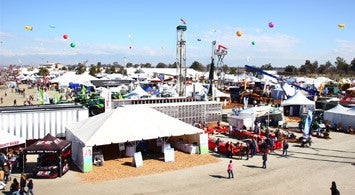 Last week, Tractor.com covered new products from the 2018 World Ag Expo from AGCO, Kioti, JCB, Case IH, Yanmar, Claas, and Tuff-Bilt, as-well-as World Ag Expo Top 10 Award winners. In this week's edition, new products from seven additional manufacturers are covered.

Kubota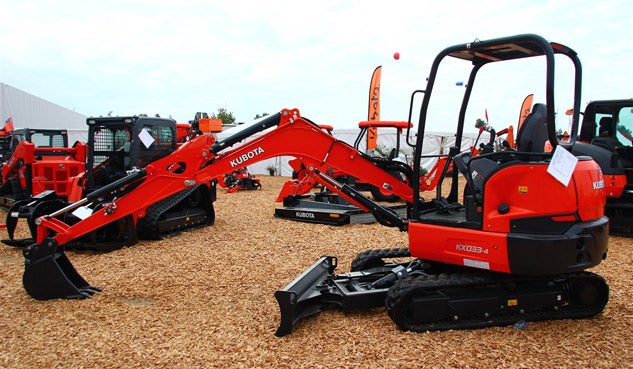 Kubota pulled out all the stops with a full product lineup, including the new RTV-X1120 series of diesel-powered utility vehicles. RTV-X1120 UTVs have a top speed of 29 mph, plenty of hill-climbing power, and a MSRP that begins at $13,999. In addition to interesting tractors such as the M5-091 with rear tracks, M7-151 Premium, and GR2120 with diesel-power, glide-steer, and 54" mowing deck for under $10K, the new KX033-4 excavator caught our eye. Now available with an extendable (31") dipper arm, a so-outfitted KX033-4 brings all the advantages of a 3-ton class machine with the capabilities of a heavier weight excavator. Think dig depth of 12'2" and a reach of 18'3". Other niceties include auto idle, which after four seconds of non-use, drop the engine speed, but bring the rpm back up as soon as any lever is touched. Add auto downshift from high to low, a larger entrance area, more legroom, enhanced ergonomics, a deluxe suspension seat, and new digital display, and the end result is a high productivity excavator that's easy on the operator.
McCormick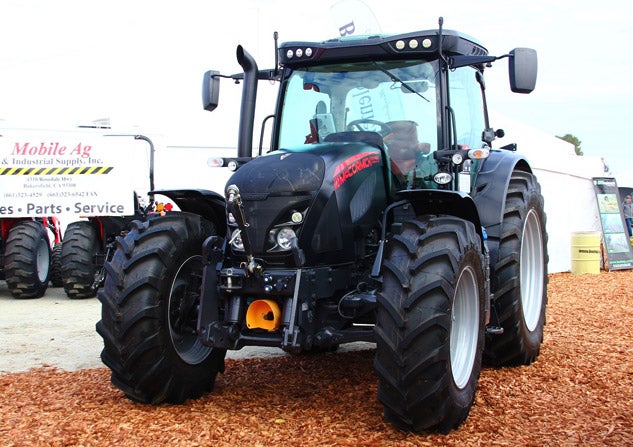 McCormick, readying for the next Xtractor excursion leg, this time moving to South Africa where four tractors with combined horsepower in excess of 1000 will explore terrain ranging from the valleys of Cape Winelands to the mountain ranges of Drakensberg, brought to WAE a sampling of new offerings from their X4, X6 and X8 series. The new X8 series now has power ranging from 264 to 310 engine horsepower, CVT transmissions with 0-32 mph speed range, hydraulic axle suspension, closed center hydraulics with up to 54 gpm flow, and a large cab with suspension and packed with technology and comfort.
Krone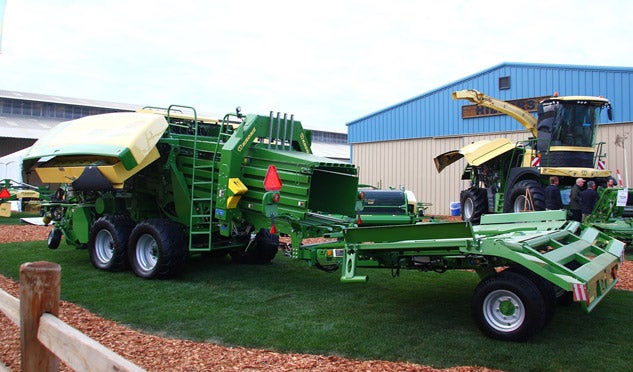 Krone impressed with its Big X Forage Harvester, which over the two model groups can have horsepower ranging from 490 to 1100. Talk to anyone who has used a Krone Corn Head and you will find a loyal base impressed by the butt-end first collection and end cut accuracy. In addition to the Big X, Krone also had on display a Big Pack Large Square Baler with BaleCollect accumulator. Big Pack balers are known for dense, high-quality bales with sizes ranging from 2'-7.5" x 2'-4" to 3'-11" x 4'-3". When mated to the BaleCollect, the system will collect and deposit three bales up to 3'-11" wide in a variety of patterns to suit conditions and available labor.
John Deere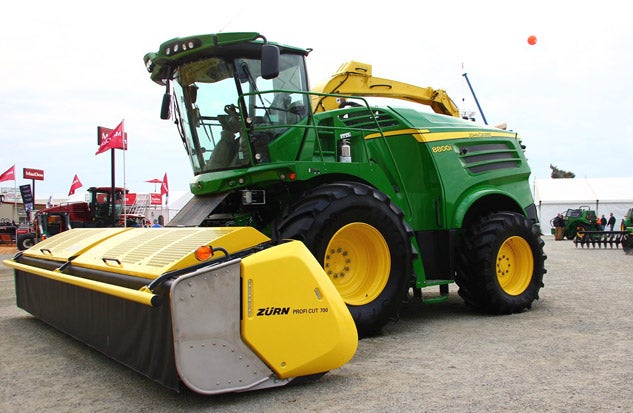 Celebrating 100 years of tractor manufacturing, John Deere brought a wide range of product to WAE, including tractors as small as the E100 and as large as the 14.9L 570-hp tracked 9570RX. New low-profile 5ML tractors were of interest to fruit tree and nut growers, while the CP690, a 590 hp cotton picking behemoth, wowed growers of that crop. With so many models and product lines on display, it was the 8800i self-propelled forage harvester that we kept circling back to. The 8800i is the top-of-the-line model from the series that includes five standard body widths ranging from 375 to 577 horsepower and three wide body widths ranging from 616 to 832 horsepower. The range-topping 832 hp 8800i gets power from a Cummins 19.0L engine and can handle a variety of headers and drapers, including the 24-1/2' wide big drum 770 corn head. Look for 6, 7, 8, and 9 series tractors manufactured in 2018 to come with a commemorative badge paying homage to the 100th year anniversary.
Mahindra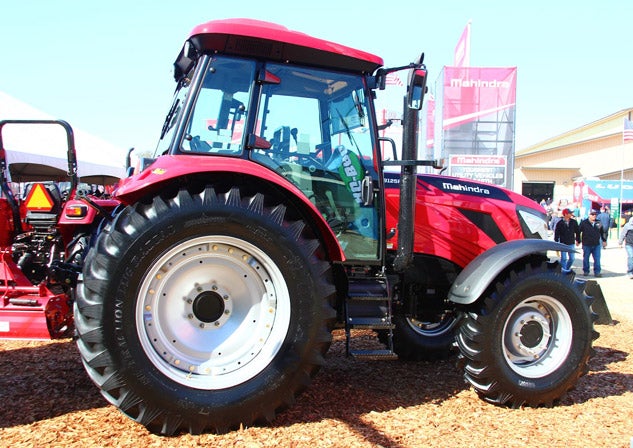 The Mahindra booth showcased a number of new models including the $10,920 eMax 20S, 1640 shuttle, and 6065 PST tractors. This after the major lineup revamping announced at the National Dealer Meeting in Indianapolis, Ind. last October. Other new models then included the 2600 series, 6000 series, and changes to the M105 tractors. The range topping 9125P tractor on display at WAE comes with impressive specifications, a 32F/32R power shuttle transmission with eight creeper speeds from 0.4 to 0.8 mph, a 21.5 gpm system hydraulic flow resulting in a 7628 lb three-point hitch (3PH) lift capacity 540/750/1000 rpm PTO, mComfort air ride seat, and no diesel particulate filter (DPF) while still achieving EPA Final Tier 4 (FT4) emissions compliance.
Caterpillar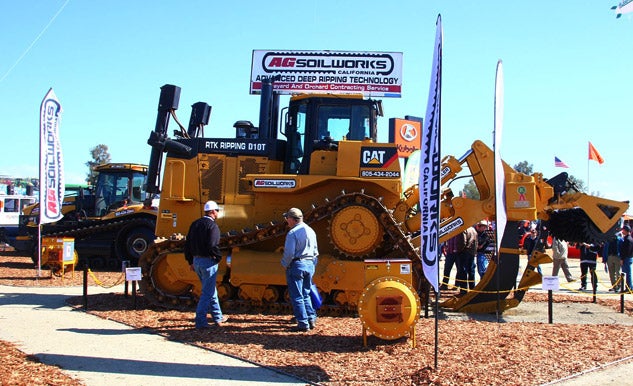 Caterpillar brought out a D10T outfitted with GPS-controlled ripping posts. The 154,700 lb D10T makes 608 hp at 1800 rpm and has a hydraulic system flowing 100.4 gpm. These models are often used to create roads and level tough terrain, but when outfitted with a slip plow, can rip soil to depths of 6' which is perfect preparation for growing walnut trees. Bringing up soil from those depths and mixing it with soil from other depths to the surface provides a bed that allows for formation of great, deep roots – a formula especially successful for growing trees.
New Holland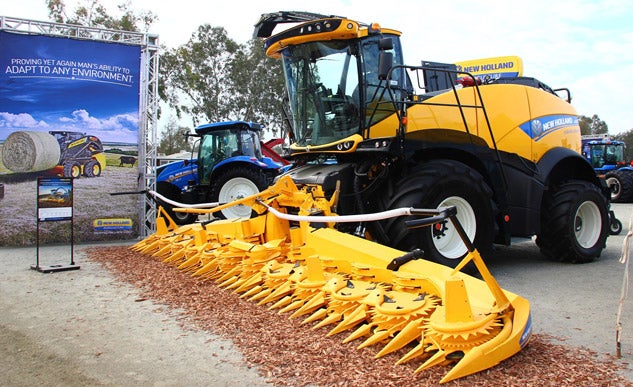 Big Blue (or yellow) depending (sometimes) on ag or construction use, also brought a wide range of product, including a new autonomous tractor which we'll detail in an upcoming piece. A lot of attention went to the new Workmaster 25S subcompact, which has promise to be a big seller when they begin hitting dealer stocks in the near future. Also on display at WAE were wheeled and tracked versions of the T9.600 tractors. These 4×4 articulated machines get power from FPT Cursor 13 engines rated to deliver 605 horsepower. Closed center hydraulics output 42 gpm in standard configuration with options for 57 and 113 gpm systems. T9 tractors can also be outfitted for scraper-specific use. But it was the FR920 that caught out eye. This new Forage Cruiser model is powered by an FPT V20 engine outputting 911 horsepower and matched to a number of high-performance technologies that equal big processing power. Some of those technologies include the HD Terralock axle that automatically engages/disengages 4WD depending on steering angle, Intellifill automatic trailer filling, Durashredder spiral cut crop processing rolls, and Duracracker crop processor. Available with a 12-row big disc maize header that folds for transport, the FR920, billed as delivering "massive performance," certainly lives up to that billing.
2018 World Ag Expo – Part Two Wrap Up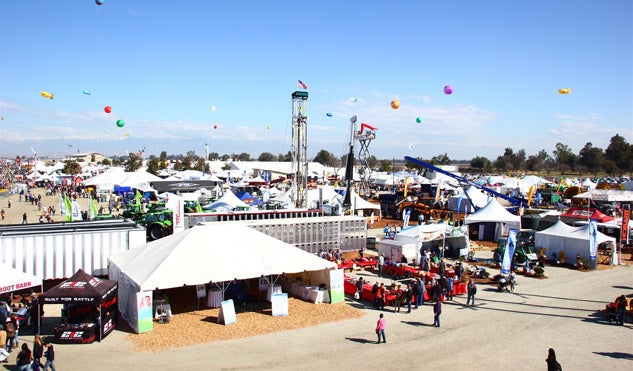 With so much to see and so many new products and technologies being offered, our coverage this year extends past this second of two overviews and will include "spotlight" coverage of Orchard/Vineyard Specialty Machines, Massey Ferguson Global Series, Autonomous Technologies, Balers, Horsepower Wars, and an introduction to Deutz-Fahr. Stay tuned for coverage from the 2018 World Ag Expo.