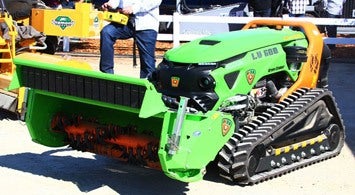 It no longer matters whether our feelings or thoughts are pro or con regarding the use of autonomous (operator-less) machines; the march towards the replacement of the human quotient is already well underway. Autonomous cars are no longer futuristic transportation interpretations of movies like Total Recall, I Robot and Minority Report. Tesla cars and SUVs come with an autonomous mode called Autopilot. Other automakers are not far behind. Companies such as Uber, Lyft, Waymo, and Google are all beta testing autonomous use.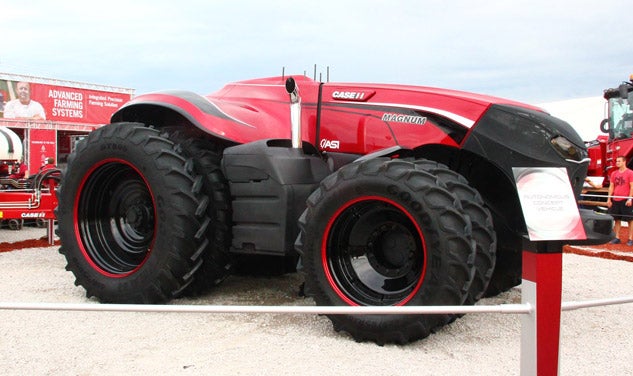 At the farm, according to University of Nebraska-Lincoln, some 80% of farmers today already use GPS technology. With many of the tractors being used in the U.S. equipped with auto steer systems benefitting the owner with additional control in even low-visibility conditions, the move to greater automation over the machines functions and operation becomes a natural progression. The only question is in the exact form this automation will culminate and the exact degree of supervision that will ultimately be required. Not waiting for the limitations of liability and obstacles of end-user trust to be answered, many companies – ranging from small start ups to the largest corporations – are pedal to the metal deep in R&D development.
Read: Autonomous Tractors
On display at WAE were a number of amazing new technologies associated with autonomous use; some designed to lead towards, support, showcase, and test the unchartered waters, while others are already in use and navigating the way. Below we'll highlight a cross section of what we saw and thought interesting.
MDB Green Climber LV600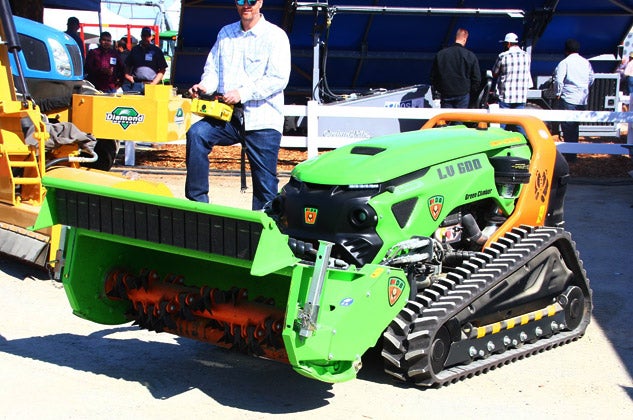 While not truly an autonomous machine, the LV600 manufactured by MDB in Lanciano, Italy, is remotely controlled at a range of up to 100m, and one would think, not all that difficult to automate more fully. Powered by a Kohler FT4 diesel engine making 54 horsepower and 225Nm torque, the LV600 when in its widest track setting (70") can safely access slopes in all directions up to 60 degrees. With a low center-of-gravity 43" working height, the LV600 can perform underneath a range of obstacles such as orchard trees all the way to solar panels. The LV600 lineup of attachments include a 51" flail mower, 82" finish mower, snow plow, snow blower (which will never have windswept snow blown back into the face of the operator), forestry winch, stump grinder, hydraulic trencher, tiller, and front bucket.
AgAiRobot AAR-S200 and Gibbon5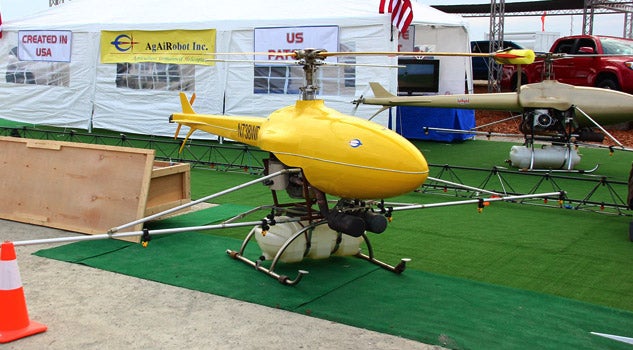 AgAiRobot is the vision of Dawei Dong, a 60-something year-old Chinese émigré and aeronautical engineer. The AAR-S200 he has developed is a snowmobile-sized 50hp helicopter with a 4.26m rotor that can carry up to 80kg of load. In the case of the AAR-S200, that load is pesticides, which can be applied at heights as low as 5'. Compared to the traditional crop-dusting method which can cost as much as $25/acre while missing as much as half the crop, the AAR-S200 with a cost of $100-150K, is a more accurate, cost-effective methodology. Unfortunately, the AAR-S200, which can operate fully autonomously, currently must operate by remote control due to FAA drone regulations.
Read: World Ag Expo 2018 Report – Part One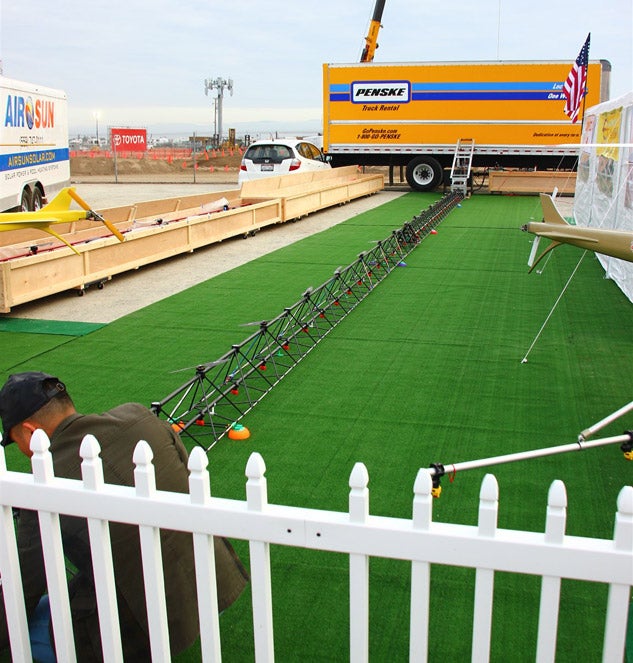 A second AgAiRobot product displayed at WAE was the Gibbon5, which is a propeller-lifted, boom truss, modular spray system. This half-fly, half-walk boom sprayer does not require FAA permitting.
Motivo Harvest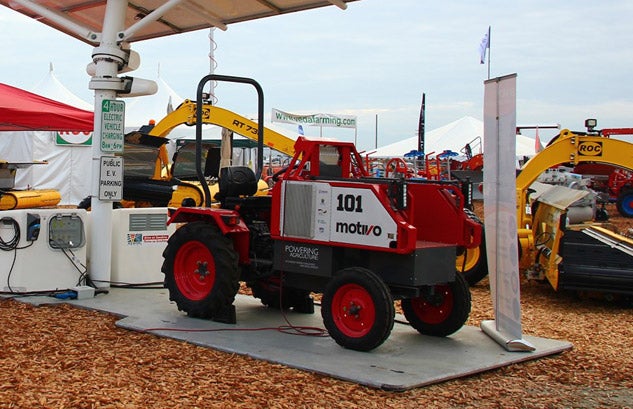 Motivo Engineering is a Gardena, Calif. based company whose website under the Mobility & Energy heading lists projects that include flying cars, autonomous vehicles, electric boats, 3D printed supercars, and lithium-powered learning trikes. The Harvest tractor is electric-powered, about the size of a John Deere 2-series machine, with roughly the same 25hp equivalence. While not truly economical when compared to a diesel tractor, the Harvest has the added capability of being solar-powered, is a stand-alone power storage unit (lithium-phosphate), and can power an auxiliary system such as a water pump. Since the tractor is electric, no fumes are emitted, and the unit is whisper quiet – ideal for work around sensitive animals such as horses. Totally electric in design, the Harvest is built to be autonomous.
GUSS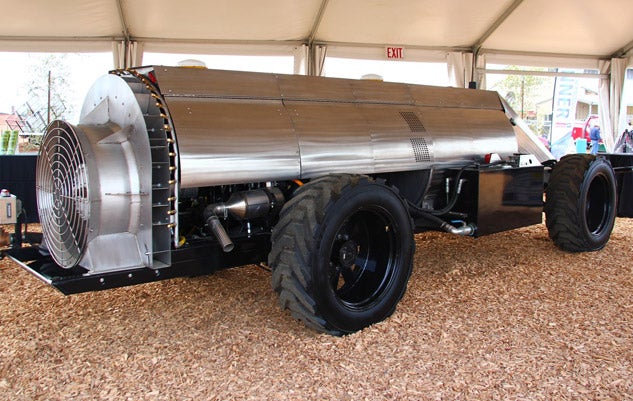 GUSS stands for Global Unmanned Spray System and is the result of experience gained in a spraying business first established in 1982. Crinklaw Farm Services, LP (CFS, LP), headquartered in Kingsburg, Calif., sprays an average of 5,000 acres a day in peak season, first began having driverless thoughts around 2007 but it wasn't until 2015 that technology caught up. Today low-profile GUSS sprayer(s) with shapes designed to minimize tree damage or dislodge fruit operate autonomously monitored by a single individual inside a mobile van unit. One of the limitations CFS had to overcome was that GPS doesn't work well under tree canopies. The GUSS sprayer adds a laser that stops the unit immediately when it detects a person or object in front, a touch-sensitive bumper that shuts down the vehicle if tripped, an on-board camera with remote shutdown from the mobile van unit, and a virtual fence that once crossed automatically shuts down the vehicle. Economical for mid to large scale tree farms, the 4WS GUSS with its tight 17' turn-radius is autonomy in use, today.
Read: World Ag Expo 2018 Report – Part Two
New Holland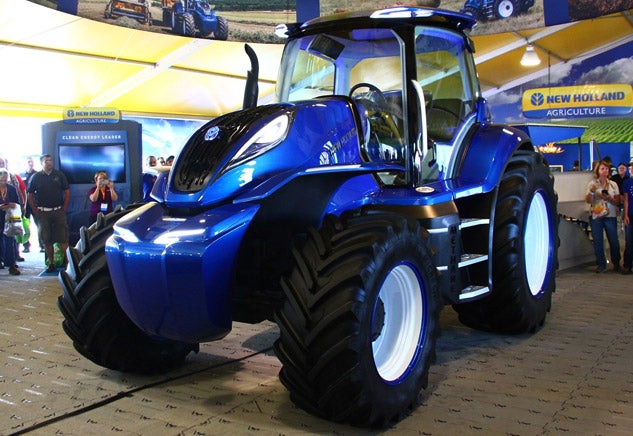 New Holland and sister division Case-IH have been following parallel paths towards tractor autonomy. Beginning with the T8 and heavy-duty T7 tractors, the mention was that the technology would be compatible with smaller machines. At WAE, New Holland unveiled a T4.110F (fruit) vineyard tractor equipped with autonomous control that will join two others at the E&J Gallo Winery. The intent is to test and gather agronomic data along with operator feedback on the use of autonomous technology in everyday vineyard activities. At first, two operator-driven tractors will work in tandem with one autonomous tractor, hopefully transitioning to one operator-driven tractor working in tandem with two autonomous machines. These tractors are ready to run in three autonomous modes: Operator Assisted Autonomy where the NHDrive system supports the operator in the cab, Supervised Autonomy where the operator is in the field and supervises the unmanned vehicle(s), and Full Autonomy with no local supervision.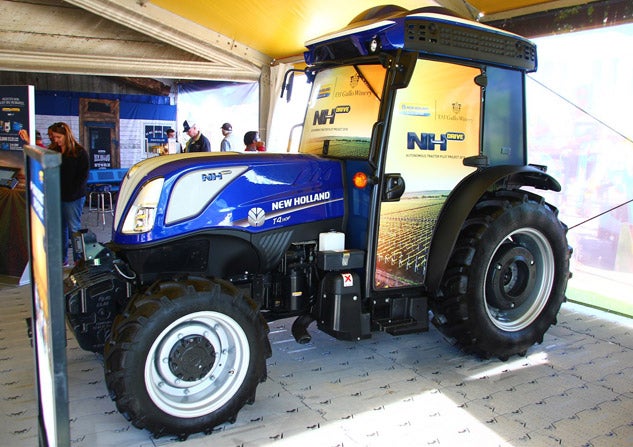 The T4.110F is not very different than the T4.110 it is based on and most would have to see them side-by-side to notice the 3" higher cab roof housing much of the electronics necessary to be autonomous. Those electronics include radar, LiDAR, and RGB cameras to detect in-field obstacles and send alerts to the operator or supervisor to decide if and how the tractor will avoid or bypass. Look for more data and autonomous fine tuning to come from this collaboration as well as the similar Case-IH venture with Campbell Soup's Bolthouse Farm.
Wrap Up
Though completely autonomous tractors are not yet fully approved for use in the field, it cannot be long before use, perhaps first in limited conditions and situations, will begin and then snowball forward. The driving force is, of course, economics. But add in the difficulty of finding and keeping good operators, as well as minimization of human error by a precisely calibrated machine, and the demand for autonomy will continue to grow. Tomorrow – like it or not – is indeed here today.