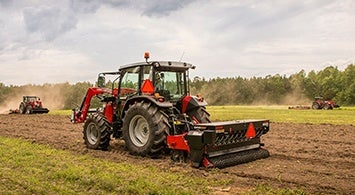 Imagine what would be possible with a clean-slate design, six plus years of research and development, go-ahead for over 90% new componentry, and a budget in excess of $350MM. That's exactly what AGCO made available to the Massey Ferguson team in their largest capital investment yet in a single tractor line. Throw in more than 36,000 hours of lab and field testing in the toughest locations in Africa, Asia, Europe and the Americas, and the end result is tough, heavy, capable tractors designed for sale worldwide with nearly undetectable changes for specific markets. Meet the three platform Massey Ferguson Global Series.

4700 Series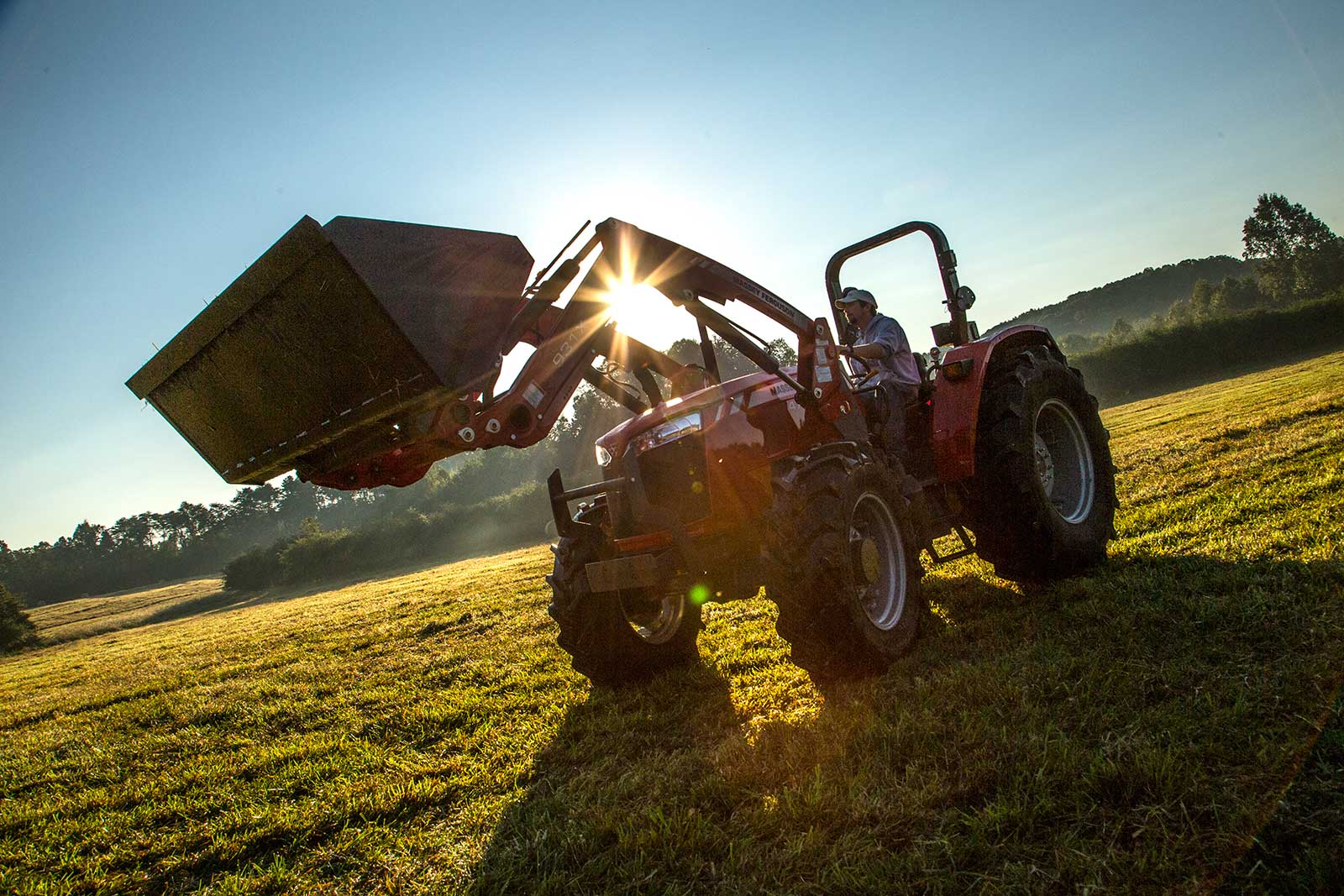 First announced in 2015, with the 4700 series, then a three machine lineup, but now expanded to four models, these tractors get power from AGCO 3.3L 3-cylinder engines. Using selective catalytic reduction (SCR), high pressure common rail (HPCR) and diesel oxidation catalyst (DOC) technologies, these engines achieve EPA Final Tier 4 (FT4) compliance only using diesel exhaust fluid (DEF) without the need for costly, heat-generating, unnecessarily complex diesel particulate filters (DPF).
4700 Series tractors ride on 88" wheelbases, and range in horsepower from 75 to 100 with power take-off (PTO) output ratings from 58 to 88. Available in open station and cab configurations, there are two trim levels: Classic and Deluxe. Three transmissions are available: an 8×8 mechanical shuttle for 4707, 4708 and 4709 classic trim tractors, an 12×12 synchro mechanical shuttle on 4710 classic trim tractors, and a 12×12 synchro power shuttle (SPS) available on 4700 deluxe trim tractors. For tractors outfitted with the SPS transmission, electronic shuttle reactiveness control along with easy shift control are included. Easy shift control is just that, press button to clutch, shift gears, and then release button to engage drivetrain.
Available in 2WD or 4WD trim, 2WD tractors come with adjustable front axles while 4WD tractors get cast steel fixed front axles with center driveline and combination bevel gear planetary final drives. Classic models come with AutoLock front axle differential lock while Deluxe models get HydraLock axles (more on this below).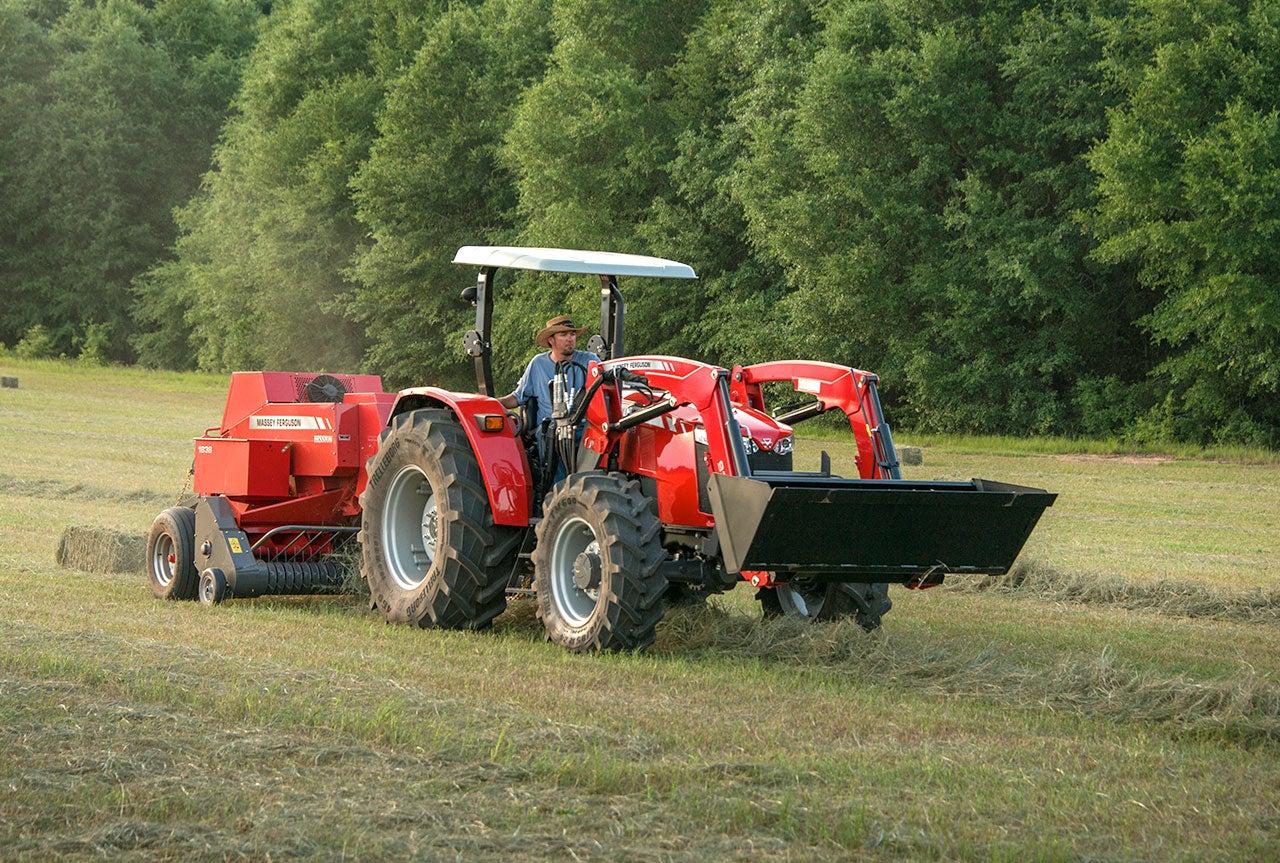 Hydraulics are through an open center system flowing 17.7 gpm that gives the Cat-II three-point hitch (3PH) a lift capacity of 4,850 lbs. measured 24" behind ball ends. Telescopic lower stabilizer arms are optional on classic tractors and standard on deluxe, as are extendable lower ball ends. Classic tractors have one valve standard with the option for a factory installed second. Deluxe tractors come with two valves with a third available as a field-install option. Standard independent, electro-hydraulically engaged PTO speed is 540/1000 rpm with classic tractors having the option for 540/540E.
Base weights for 4700 series tractors range from 7,478 lbs. (2WD open station) to 8,644 lbs. (4WD cab). Minimum width is 60.3" when equipped with 420/85R30 rear tires. Of note, all Global Series tractors come standard with Trelleborg radial tires.
4700 series tractors use the existing 931 non-self-leveling (3420 lb. lift capacity to 136") and 936 mechanical self-leveling (2770 lb. lift capacity to 136") loaders.
5700 Series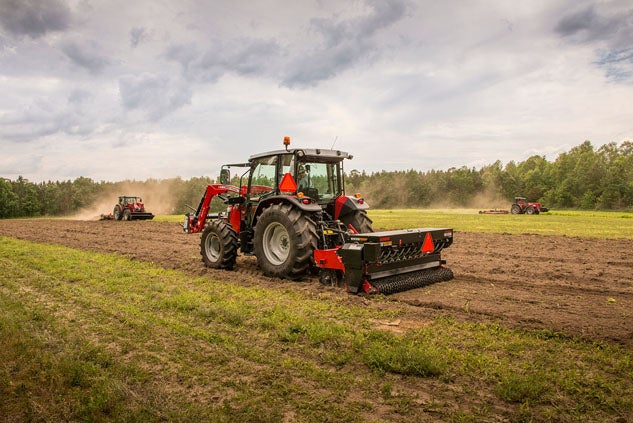 There are two models in the 5700 series: the 100 horsepower 5710 (83 PTO @ 2200 rpm/90 PTO @ 2000 rpm) and the 110 horsepower 5711 (93 PTO @ 2200 rpm/99 PTO @ 2000 rpm). These are AGCO 4.4L 4-cylinder engines that achieve FT4 compliance only requiring DEF but no DPF. Base weight for these tractors range from 8,845 lbs. to 10,011 depending on model, 2WD/4WD (5711 tractors are 4WD only), and open station/cab configuration. Wheelbase grows 7.7" over 4700 series machines and is 95.7". Standard rear tire size is 460/85R34 making the minimum tractor width 64.8".
Classic trim tractors come with 12×12 synchro mechanical shuttle transmissions while deluxe trim models get 12×12 SPS power shuttle transmissions.
Hydraulic flow from the main pump is 15.1 gpm measured at rear remotes for classic tractors with deluxe models getting an auxiliary pump flowing 10.8 gpm (25.9 gpm total). This translates to a Cat-II 3PH lift capacity of 7,710 lbs.
6700 Series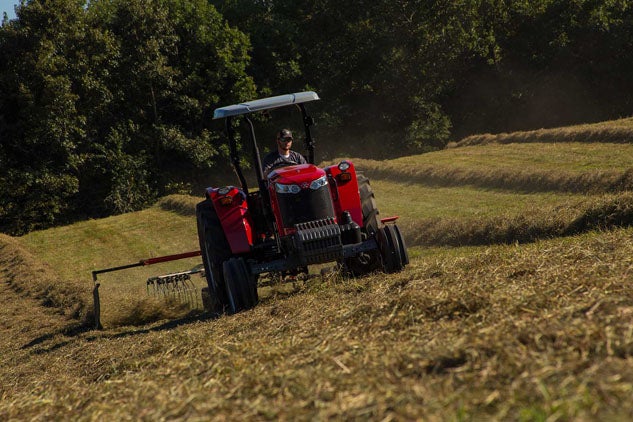 The 6700 series also consists of two models: the 120 horsepower 6712 (99 PTO @ 2200 rpm/106 PTO @ 2000 rpm) and the 130 horsepower 6713 (109 PTO @ 2200 rpm/114 PTO @ 2000 rpm). As with the 5700 series, these are AGCO 4.4L 4-cylinder engines. Base weight for these tractors grows to 9,021 to 10,187 lbs. depending on configuration, though all 6700 series machines are 4WD and come with 12×12 SPS transmissions. Wheelbase grows 2.7" over 5700 series and is 98.4".
The hydraulic system is identical to the 5700 series, but in the case of the 6700 series, the Cat-II 3PH lift capacity is increased to 9,390 lbs.
5700 and 6700 series tractors share the new FL series loaders: FL3723 and FL3819. The numeric significance relates to the capacities with the first two numbers the lift height (3.7 and 3.8m) and the last two numbers lift capacity (2.3 and 1.9 metric tonnes).
Commonalities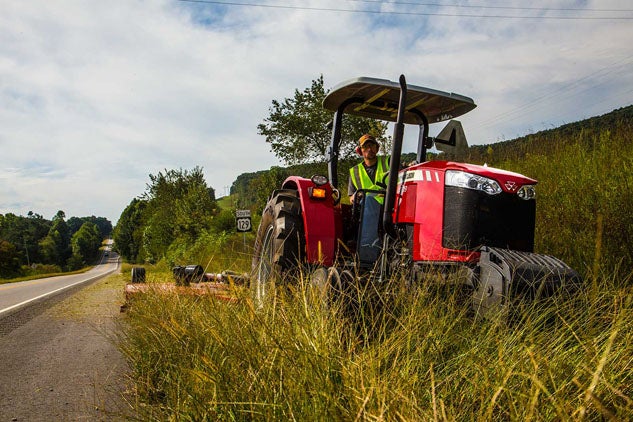 The cab used on Global Series is identically sized across the three platforms, is the largest in class, and is 75 dBA quiet. The standard seat is spring suspension mounted, adjustable fore and aft, and has a mechanical weight adjustment. Classic platform tractors have a fixed steering column, while classic cab and deluxe open station tractors have tilt capability. Deluxe cab models have tilt/telescope adjustability and 5700/6700 deluxe models come with a swivel seat. For the ultimate in comfort, an air ride seat that swivels is an option.
Mentioned above is the HydraLock front axle available on deluxe 4WD 4700 models, 5710 and 5711 tractors and all 6700 machines. HydraLock begins with HD Dana 740 componentry that is not limited slip but full locking and will automatically disengage at 19 mph, or at a 25-degree turn angle, and reengage at 23-degrees.
Classic and Deluxe Differences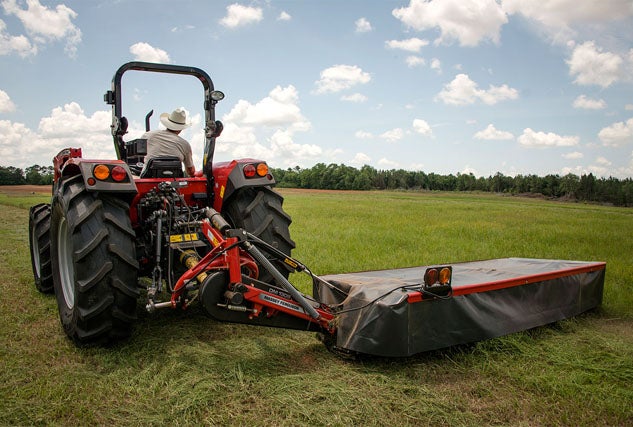 Other differences between classic and deluxe model not listed above are: All tractors come with a combination of analog and digital instrumentation including DEF and fuel levels, and temperature, however, deluxe models add a performance monitor that includes things like acres/hr., and fuel consumption by hour or by acre. On the 3PH, all tractors come with position control, but draft control is optional on classic models and standard on deluxe. Valves on classic tractors are double acting (DA) with float (F), while valves on deluxe tractors add kick-out (KO). All are spring return to neutral (SRN). Other niceties on deluxe tractors include auxiliary electric outlet, mid-mounted front work lights, fender extensions, and fuel tank guard.
Wrap up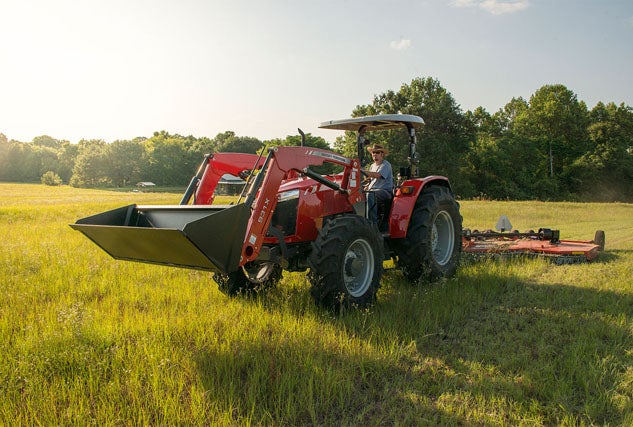 The Global Series is a milestone achievement for Massey Ferguson, combining a fresh design, efficiencies of scale, and worldwide compatibility. Ideal for marketplace segments seeing growth such as hay, dairy, farming, municipal, and general loader work, it will be a surprise if the AGCO investment is anything but a big success. For an agribusiness in the market for a heavy-duty 75 to 130 horsepower workhorse, the Global Series would be well worth checking out.