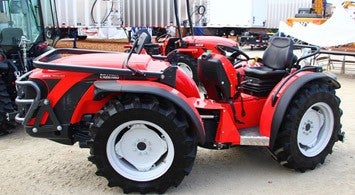 California agriculture is a $47bn (2015) industry producing a third of vegetables sold in the U.S. and more than two-thirds of the country's fruits and nuts. No wonder then that the world's largest annual agricultural exposition is held in Tulare, Calif. each year. Few would be unaware that almonds, grapes, walnuts, figs, olives, oranges and many other food types are California staples. But anyone from outside the Golden State visiting, would have to wonder then, what the many Is Growing Food Wasting Water? signs are about. The answer to that would have to delve into the exploding state population, severe drought conditions, a reshuffling of water priorities at the Central Valley Water Project, and California politics. We'll save that for another article in another publication, but suffice to say, Golden State agriculture is a threatened and very difficult industry.

Getting the most out of harvesting those important crops combined with often unique topography requires specialized equipment. Row spacing that once was generous has given way to tighter and tighter spacing, with 6' now the norm and 4' becoming less and less an anomaly. Once a marketplace dominated by small, custom manufacturers, those from European countries, and shops who modify existing equipment, this specialty niche has seen interest from large manufacturers such as John Deere, Kubota, Massey Ferguson, and New Holland. For this article, we'll highlight some of the equipment that caught our eye at World Ag Expo 2018.
Antonio Carraro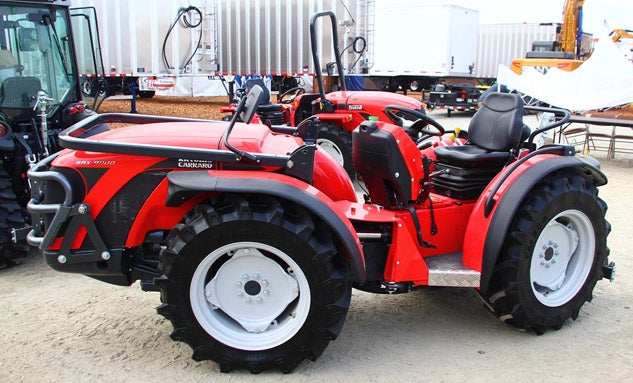 Antonio Carraro has been manufacturing specialty agricultural machinery since 1910. Headquartered in Campodarsego, Italy, some 380 employees design and build for a product line that has more than 30 tractors in a 120,000 m2 facility. Power comes from a variety of engine manufacturers including Yanmar, Kubota, VM and Kohler. At WAE, a SRX9800 powered by an 87 hp Yanmar engine was on display. The SRX9800 is an isodiametric reversible steering tractor with longitudinal oscillation ability of up 15 degrees. Isodiametric means having diameters of the same size. In the case of the SRX9800, and most Antonio Carraro products, the isodiametric system allows for an extremely tight turning radius with the rear wheels passing exactly over the track of the front. The reversible steering of the SRX9800 adds more versatility, with the operator station able to be rotated 180-degrees in just a few seconds.
World Ag Expo 2018 Report – Part One
Massey Ferguson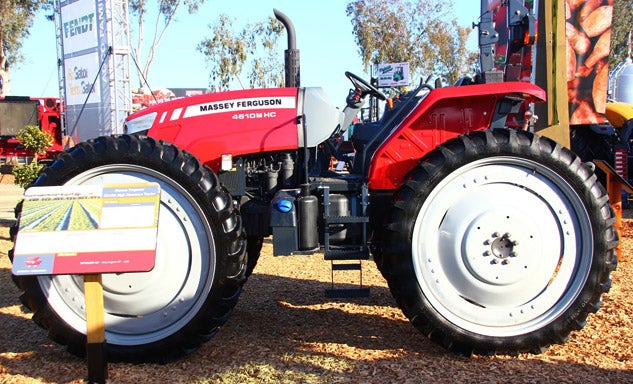 The AGCO brand brought to WAE several specialty tractors including a 2606, 4707, 6712 and a 4610M HC. The latter is a tractor where the HC stands for high clearance – some 31 inches of ground clearance – and comes with 60" and 80" track setting options. Aimed at growers of crops such as berries, broccoli, potatoes, vegetables, tobacco and sugar cane, power is by an AGCO 3.3L engine making 100.6 hp. Mated to a 18×18 speed power shuttle transmission with creeper gears and hydraulics flowing 17.5 gpm to implement demand, the show 4610M HC was shod with appropriate 230/95R48 front and rear R1 Row Crop tires.
Kubota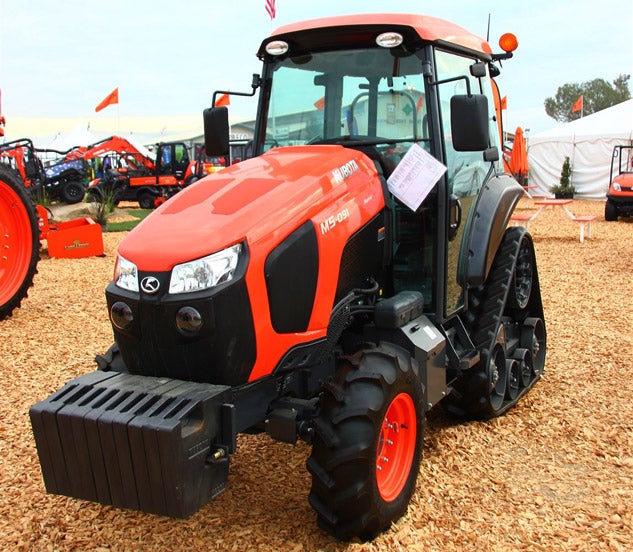 Fresh off the announcement of four new specialty ag utility tractors designed specifically with the needs of orchard and vineyard growers, Kubota showcased its commitment to this growing segment by bringing a M4N-071, M5N-091, M5N-111 and M5L-111 to WAE. Eye candy was the M5N-091 (N for Narrow) equipped with rear tracks. This tractor gets power from a Kubota 3.8L 4-cyl engine rated at 87.5 gross and 78 PTO horsepower that is mated to a 12F/12R (two range over six speed) transmission with hydraulic shuttle operation. With 23 gpm of hydraulic flow (16.7 gpm to implement) and a 3307 lb 3PH lift capacity, the M5N-091 as displayed at WAE retails for $59,221.
World Ag Expo 2018 Report – Part Two
Braud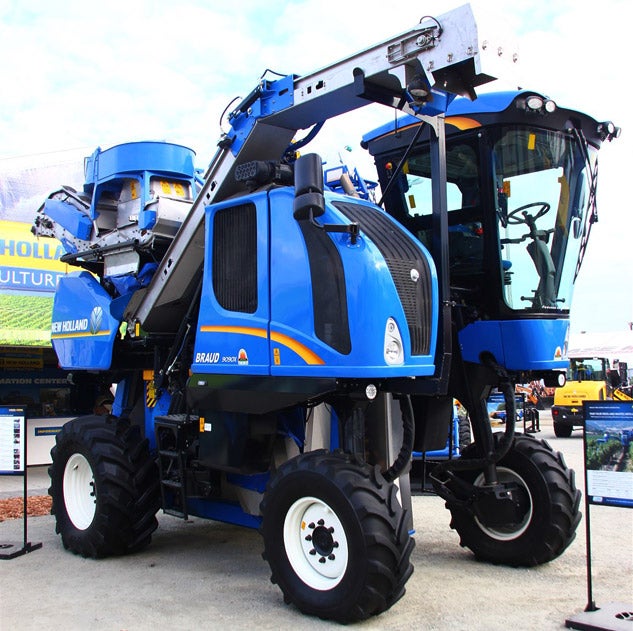 Braud, a French manufacturer headquartered in St Mars La Jaille, has been around since 1870 when it began producing threshing machines. In response to changing market condition, production was shifted to grape harvesting in 1975. In 1984, 75% of Braud was acquired by Fiat Trattori, and now you know the New Holland connection. Braud has a market share in France of more than 60% and a worldwide market share of over 50%. New for 2018 is the 9000 series of self-propelled grape harvesters. This four-model (9070M, 9070L, 9090L and 9090X) lineup builds on the good stuff Braud is known for (Noria basket crop transportation system, Shaking Dynamic Control, and Opti-Grape cleaning system) and adds increased efficiency with tools such as a sidearm conveyor with destemmer that allows the harvester to work continuously without having to stop to unload the hoppers. The SOCMA patented destemmer eliminates 99.56% of harvest impurities, known as MOG (material other than grapes). Powered by a FPT Tier 4B (FT4) HI-eSCR common rail engine rated at 182-hp, the emissions system is a no-EGR valve solution that is equivalent to higher horsepower engines that use EGR valves. With a spacious cab with filtration system designed specifically for vineyard and orchard safety, an ergonomic multi-function handle, Bluetooth radio, and auto-A/C, the 9090X flagship model displayed at the New Holland WAE booth was definitely a popular show stop.
Flory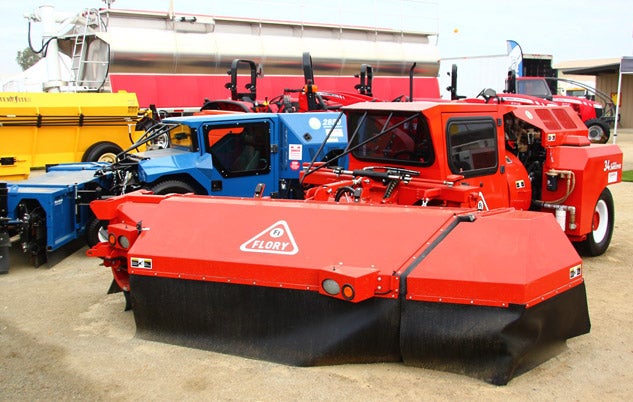 Flory is a family-owned business that is an outgrowth of a family farm that transitioned in 1936 from growing to building and repairing farm machinery. Now considered the world leader in nut harvesting equipment, Flory manufactures a wide range of product at their Salida, Calif. facility, including: sweepers, conditioners, harvesters, carts, shuttle truks, elevators, blowers, and dusters. On display at WAE were several Flory products, including the Flory 34 Nut Sweeper. Powered by a John Deere FT4 4.5L engine requiring no DEF that makes 74 hp, the 58" tall sweeper has a trunnion rear axle and auto leveling head that maintains desired pickup height no matter the terrain encountered. What the sweeper doesn't pull into the windrow is blown into the next row(s) by blower(s) at the rear.
Pellenc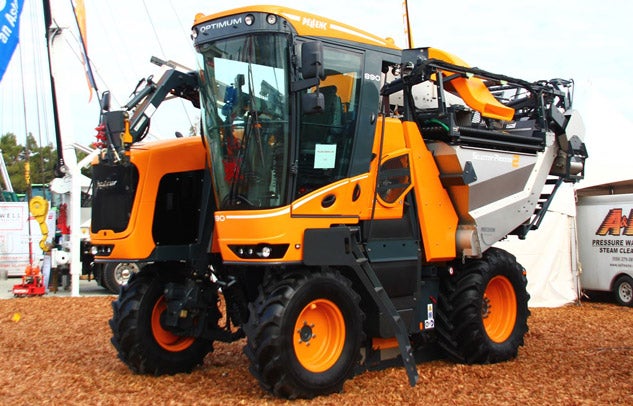 The Pellenc Group was founded in 1973 and has seen its product line grow from cutter bar trimmers, to hydraulic shears, pruners, harvesters, shaker rakes, leaf removers, sprayers, lithium batteries, and battery-powered hand tools. Employing more than 1100, the Pertuis, France-based manufacturer's Optimum 890 harvester was the recipient of the VINITECH Gold Medal award in 2014. The Optimum 890 is powered by a Perkins six-cyl FT4 engine making 175 horsepower. Pellenc likes to identify their technical advancements in two words, with the first being EASY. Thus, we get EASY SMART the gentle shaker that collects the grapes, EASY DRIVE the joystick control, EASY TECH the steering control with 95-degree turn angle, EASY TOUCH the 12.4" touchscreen display, and EASY POWER the automatic engine speed control. The Optimum 890 requires a minimum 1.7m width between vines and can work on a 30-degree max slope.
John Deere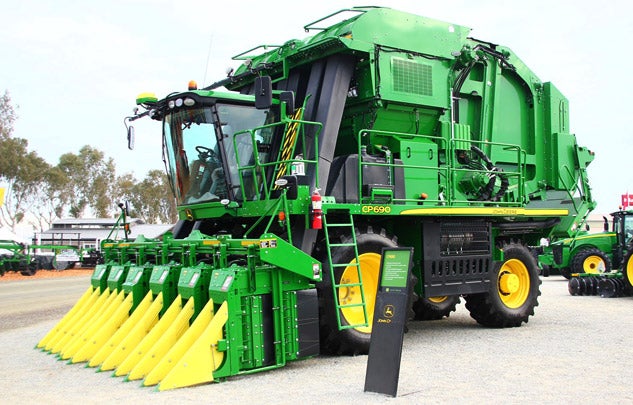 Big Green's history dates back to 1837 when John Deere began making polished steel mold board plows. Through good times and bad, the Moline, Ill. based company has flourished, growing to be the near $30bn giant it is today. No stranger to the manufacture of specialty machinery, some of the milestones have included the No. 8 Cotton Picker in 1950 which was the first self-propelled two-row machine of its kind, and the first cotton picker to build round cotton modules on-the-go in 2009. On display at WAE, was the new CP690 cotton picker. The CP690 is powered by a John Deere 13.5L engine making 590 horsepower and handles six rows at a time at a speed of 4.4 mph. Each ~480 lb cotton bale is wrapped three times with low-density polyethylene film (LLDPE), with the first wrap non-tacky and the subsequent two tacky. Module weighing is part of the package and, if so equipped with GS3 2630 display, the bale weight is documented. Six bales fit on a 48' flatbed or seven on a 53' for efficient transport to the gin yard. The CP690 converts in a minute or less from harvest mode to transport mode and can travel at speeds of up to 17 mph.
Wrap Up
The 2018 WAE showcased a wide range of equipment, products and associated support technologies. With orchards and vineyards requiring specialized equipment to process those crops, and California a major producer state, it was no surprise to find many manufacturers who support those industries exhibiting at WAE. For orchard and vineyard growers, our coverage is just a small taste of what is available, but for others more familiar with traditional crops, we hope this was an interesting eye-opener to what is required for this highly specialized agriculture.