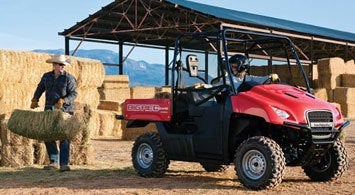 It may not seem like it at times, but ATVs and UTVs have long been closely associated with farmers and landowners, and for good reason. While modern high-powered, sport-specific machines seem to dominate the headlines of most off-road publications, this industry can thank much of its growth to four wheelers that help get the work done.

Sure, it's cool to see the Moore Brothers flinging their sport quads 30-feet into the air or a sport-tuned UTV tearing up the dunes, but to ignore the utility of these machines is to miss half the picture.
Some of the blame for the shift in focus to the sport side of the industry falls on us media types. Manufacturers invite us to ride the latest and greatest machines in interesting locations and that rarely involves doing any heavy lifting. It's mostly trail riding and having fun. To help rectify this, we're putting together a four-part series showing just how useful ATVs and UTVs can be for people who've got work to do.
This Horse Doesn't Get Tired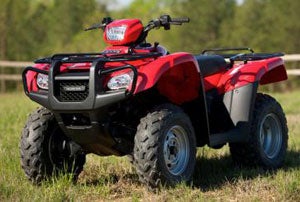 When the idea of this series was first presented to me, the first thing that came to my mind was my uncle who has a fairly large farm in rural southern Alberta, just a stone's throw away from the Montana border. We had talked about a year ago about ATVs and he ended up buying used Honda Foreman 4×4. I had a chance to visit him on his property a few months back and I asked him if he was happy with his purchase. His reply was enthusiastically in the affirmative.
He now uses the Foreman where he used to use a horse. Whether it's checking the fence lines or looking in on his cattle, the Honda Foreman has proven a better option. As he puts it, the horse gets tired – the ATV doesn't. It's also quicker to use, as you don't have to throw a saddle on the ATV before you get going. One look at his now round-around-the-middle horse shows exactly how much use it's getting. I hope he's enjoying his early retirement.
Carrying The Load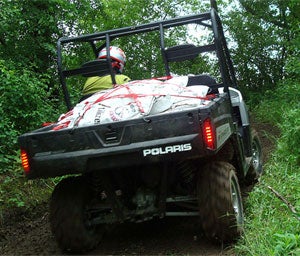 Anybody's who's ever had to move a pallet of soil or feed one wheelbarrow at a time probably wished they had an ATV or UTV to carry the load. Most modern ATVs can tow north of 800 pounds or hold more than 100 pounds on the racks. UTVs offer even more utility, as they can take anywhere from 300-1000 pounds in the bed and tow even more. Some, like the Honda Big Red and Polaris Ranger XP 900, can even fit a full pallet in the bed. These machines also move quickly, so if you've got a long way to go you'll get there faster than you ever could on foot or in a tractor.
Think of all the applications. Building a rock wall, carrying a load of firewood, hauling spools of fence line…the list goes on and on.
Another thing to consider is that ATVs and UTVs can go where most vehicles can't. If a tree fell down in a heavily wooded portion of your property and you wanted to move it out and turn it in to firewood, these machines can get you there. Try dodging trees with your tractor or pickup truck.
People Mover
Whether your family is helping you out or you've got employees on the payroll, if people have to get from one part of your property to the other all day you're wasting valuable man hours if they're walking. UTVs can carry anywhere from two to six people, depending on the model, not to mention being able to hold all their gear and supplies.
Clearing The Way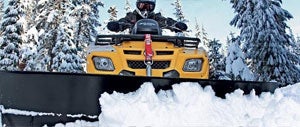 I can't begin to tell you how much I would have loved an ATV with a plow when I was a 10-year-old kid with a shovel in my hand – and we only had a small driveway big enough for two cars. If you own a lot of property in a northern climate, you've no doubt got a whole lot more snow to clear than I ever did.
You can install a plow on any ATV or UTV and get the job done quickly and cost-effectively. However, if you really want to work in comfort you can install a heated cab system on your UTV. Throw in a stereo system and clearing snow has never been this fun.
Tractor Replacement?
Can an ATV or UTV replace your tractor? Not in most cases, but there are some exceptions. A well-equipped UTV could do a lot of the work of a sub-compact tractor. Like tractors, accessories and implements can be purchased and added. We'll get more in depth on accessories in a future article, but cultivators, disc plows, box scrapers, loaders, mowers, wood splitters, augers, and many more helpful tools can be added.
While UTVs and ATVs might not be able to replicate the heavy duty work a big tractor, there's no doubt they can be invaluable tools for farmers and landowners. In some situations, a well-equipped ATV or UTV may be all you need.
Related Reading
Choosing a Work Vehicle: ATV vs. UTV
Implements and Attachments for Your ATV and UTV
Choosing the right ATV or UTV