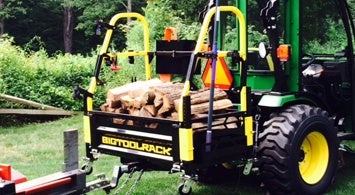 Right from the first time Tractor.com saw the Big Tool Rack, we could see this was a cleverly thought through unit our readers would appreciate learning about. Review? Heck, we wanted one as well. So it was off to the Morris, Conn. workshop where each "proudly made in the USA" Big Tool Rack is carefully assembled, packaged and shipped.

Big Tool Rack is founder Tim Descoteaux's answer to the age old question: "I move boulders, firewood, and mountains of snow with my tractor. Why can't I have it carry my tools, too?" And that is exactly the dilemma every tractor owner with any property has faced, until now. Sure the loader bucket, if so equipped, is utilitarian, but there are many limitations. A grapple addresses some of those limitations, but at the expense of added cost and hydraulic complexity, reduced flexibility, and more machine weight. A tow-behind trailer likewise ups the carry capability, but the added length and reduced maneuverability lessen the practicality. A separate ATV or UTV is always nice to have, but does nothing to consolidate the work vehicle with the tools needed to get the task demanded done.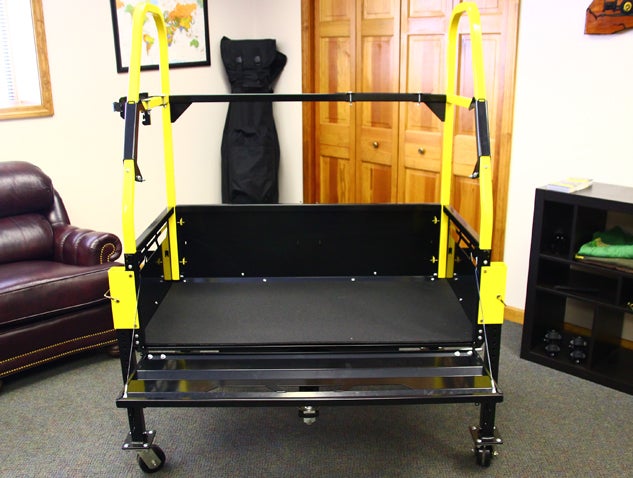 As necessity is often called the mother of invention, the answer to those tool carrying challenges first took shape with a wood carry all Descoteaux fabricated and used on his property for several seasons. The basic design went through a series of modifications and revisions, each aimed at increasing functionality and practicality. Neighbors and others who saw the development began to express an interest. This interest combined with Descoteaux's professional work experience – he's a Vice President of a 300+ person customer service driven organization – brought the Big Tool Rack as developed to a local design firm where manufacturability, functionality and cost constraints were funneled into the high quality product we cover today.
Hillco Single Pass Round Bale System Review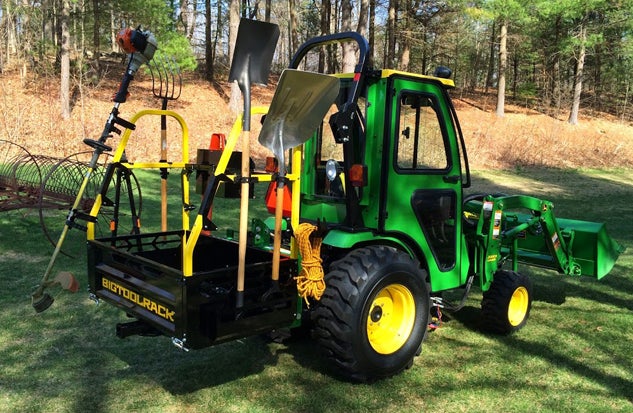 Each Big Tool Rack begins with a heavy duty 13-gauge corrugated steel bed. The bed box is strengthened by a sturdy frame that incorporates a two-inch male trailer hitch to connect to tractor or vehicle hitch. A removable three-point hitch (3PH) adapter is included, so tractors or ATV/UTV vehicles so equipped can utilize system hydraulics to raise/lower and position the Big Tool Rack for a variety of tasks ranging from transportation to worksite use. Below the beefy tailgate, which can easily be removed if so desired and is sturdy enough to double as a work bench, is a second two-inch female receiver so a trailer, wood splitter or some other attachment can still be towed behind.
Curtis Industries Aftermarket Cabs
The entire unit is coated with electrostatically bonded powder paint (currently black and yellow) designed to give years of protection in the field. High quality fasteners with easy attachment/removal in mind deliver a wide range of flexibility. Backward compatibility is maintained so purchasers can always add attachments/accessories later on. For example: all it takes to add a storage bin is one bolt as the locating tabs are already built in.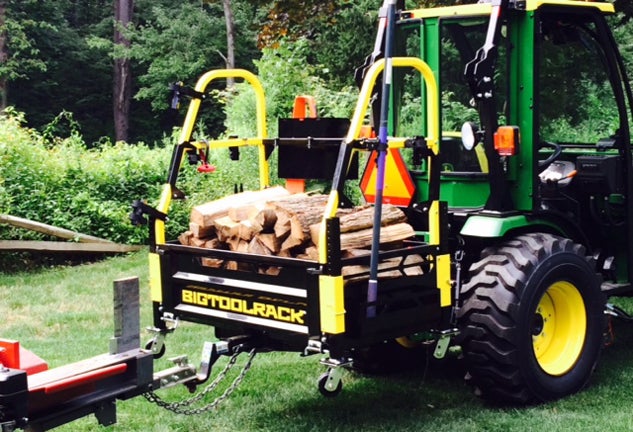 The Big Tool Rack is available as a Base unit (bed with fold-down/removable tailgate, 3PH bracket and receiver tubes front and back, and side hoops to contain split logs or other cargo) and is currently on sale for $999. Go for the Pro Series model for an additional $500 and you get adjustable legs with wheels so the Big Tool Rack can be a stand-alone jobsite work station or easily wheeled to a storage location, two tool holders with rubber securing straps, two side-mounted storage bins, and two drop down fence post/lumber carriers.
Bush Hog 296 Rotary Cutter Review
Inexpensive options you'll want to consider are the chainsaw holder, four-hole long handle tool holder, weed wacker holder, suitcase weight bracket, rubber floor liner, and rope/cord/hose hooks that fold out of way when not being used. Descoteaux gives the Big Tool Rack a 600-pound carry capacity, though those numbers are no doubt conservatively arrived at. Inside cargo space is 45 in. x 25-1/2 in. with a tailgate height of 14 in. With the side hoops that rise to a height of 47 in., the bed has the capacity for approximately a quarter cord of stacked wood.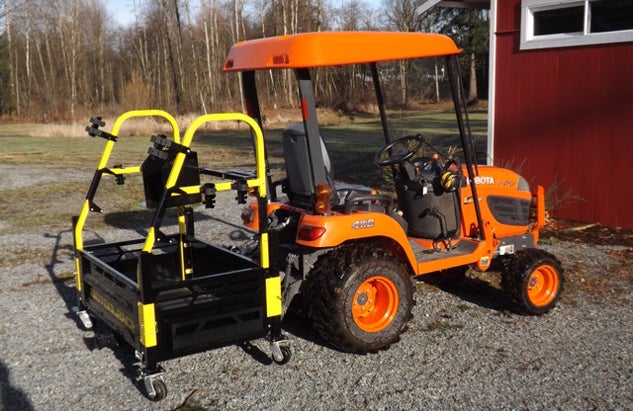 The Big Tool Rack weighs 200 lbs. and if delivered to a commercial address, freight is included (residential delivery $75). Most subcompact and compact utility tractors won't notice that weight, but lawn and garden tractor owners might. For those with smaller machines desiring the convenience of the Big Tool Rack, Descouteaux already has a lighter duty unit in the works. Contact http://www.bigtoolrack.com/ for more information.