Broadleaf Weed Control
Tackle those dandelions
By Geof Fowler, May 29, 2014
Taraxacum officinale, the dandelion, officially a genus of the Asteraceae family. For many, the dandelion conjures up sniffly memories of pollen-laden springtimes. To the environmentally conscious, redefining the dandelion from a weed to a wildflower has become a movement to rally behind. To the homeowner looking for that perfect lawn, the dandelion becomes another nuisance to deal with. But for the farmer, dandelions and other broadleaf weeds equal yield busting trouble. The good news is that 100% weed free is not practical or sensible but that there are different levels of dealing with broadleaf infestation which at some level can appeal to all the above.

Broadleaf weeds are easy to identify by their relatively broad leaves, compared to the leaves of grasses and sedges which are bladelike. Leaves of broadleaves also have one main vein from which smaller veins branch. They also most usually stand out in stark contrast to the landscape setting. Agronomists have given them technical names such as the Taraxacum officinale mentioned above, but common names are what most folks identify with. Alligator Weed, Alsike Clover, Sowthistle, Asiatic Hawksbeard, Coltsfoot, Ground Ivy, Knotweed, Marestail, Milkweed, Morning Glory, Ragweed, Bull Thistle, Violet and Yellow Rocket are just a few many will recognize.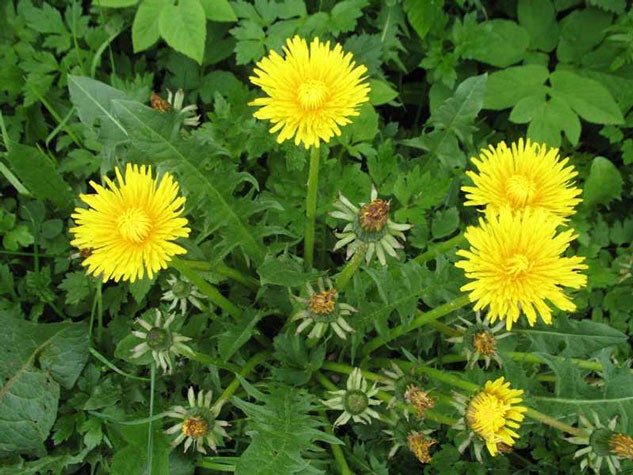 Broadleaf weeds occur in all soils and can persist there for decades. Germination occurs in a variety of ways, from when the ground cover is thin or unhealthy, when weed seeds are brought to the surface by human, pet or animal traffic, to drought and disease damage.
MANAGEMENT STRATEGIES
Hand digging and/or spot treatments are the most topical and least invasive methods of control. For smaller plots (or for those with a lot of time), forked hand tools can be used to dig down and cut off the root. Spot treatment with Glyphosate (Roundup, Kleenup) containing products can be brushed onto weeds, though one will have to consider accidental spread to plants, grass or crop that would also be killed.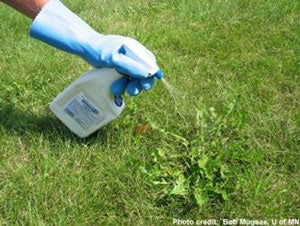 Chemical herbicides such as 2,4-D, MCPA, MCPP and Diacamba are more commonly used, especially to cover larger areas. Since there are geographic differences in weed types and germination times, it is best to consult manufacturer labels for exceptions. Usually spring, when the weed is actively growing, and fall, when the weed begins to store energy resources for the winter in its stems and roots, are the best times for herbicide applications. During the summer, herbicide applications are usually ineffective. It is important to recognize that a single application may be insufficient for certain types of weeds. Again, it is important to be familiar with all manufacturer directions and warnings.
Another simple and environmentally friendly way of dealing with broadleaf weeds is to shade them out by covering the affected areas with materials such as plastic sheet or felt paper. For larger areas this method probably isnít practical and it will also kill other non-weed plants and grasses that one might not want killed.
HERBICIDES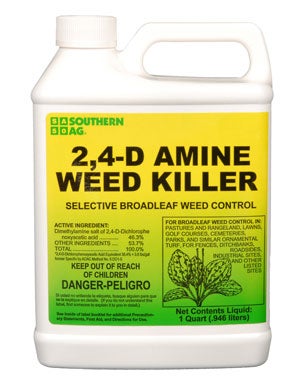 Most common herbicides are mixtures of two or three if the following herbicides and active ingredients: 2,4-D, MCPP (Mecoprop) and Dicamba (Banvel). Mixtures of these control weeds better than use of a single active ingredient. Application is also important. Herbicides should be applied on calm days when the air temperature is between 50F and 85F. If rainfall is expected within twelve hours of application, wait until a rain free window of that time is forecasted. The same goes for irrigation. It is best to wait twelve hours before irrigation is restarted. Some herbicides will also attack nuisance grasses such as Barnyardgrass, Crabgrass, Foxtail, Fountain Grass, Sandbur and Goose Grass. Some will have limited effectiveness for certain weeds such as Yarrow, Violet, Speedwell and Oxalis. Again, read the manufacturer label.
Generally, liquid herbicides are better to the environment and wonít have as damaging effects to groundwater supplies or the roots of trees and shrubs as granular weed-n-feed that contain Atrizine. Herbicides containing Amine as opposed to Ester are less prone to volatilization. And if a granular herbicide is used, a drop spreader as opposed to a spinning, rotary type is preferred.
LAWNS
Since 100% weed free lawns are not practical or sensible, good cultural practices go a long way in reducing weed infestation in the first place. Maintaining a proper mowing height along with proper mowing frequency, sensible fertilization and adequate irrigation are all important ingredients. To maintain a proper mowing height (different grasses in different geographical locations may have different, specific requirements) we like to see the 1/3 rule employed. For example, if a 2Ē mowing height fits your grass species and locale, donít let the grass get taller than 3Ē. Mowing too short, mowing infrequently, fertilizing too much (or too little), fertilizing at the wrong time of year, and, under watering are all weed-encouraging practices.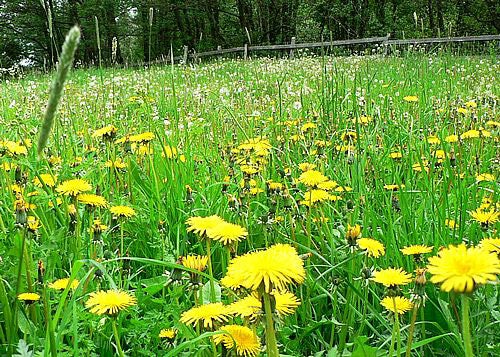 Cheap seed often contains unwanted weed seed. If weed seed percent is anything other than 0%, buyer beware. Quality seeds will always be 100% weed free. And the same goes for topsoil and compost. Purchasing from credible sources able to ensure those products are weed free will always be preferred.
If herbicides are introduced, donít mow for two days before and two days after application. And if the lawn is freshly sodded, wait until the sod is firmly established which is usually 4-5 weeks. If a pre-emergent herbicide is used to control crabgrass and other weeds, a good rule-of-thumb time for application is when the Forsythia blooms drop.
RANGE & PASTURE
Range and pasture weed control often brings with it more specific requirements. Chemicals such as Chaparral can provide weed control for Wild Carrot, Wormwood, and Goldenrod that other mixtures often miss. Chaparral doesnít contain 2,4-D so there are no grazing restrictions for livestock (consult manufacturer label for exceptions). Chaparral is also tank mix compatible, meaning it can be combined with other herbicides for one-pass control.
FIELD CROPS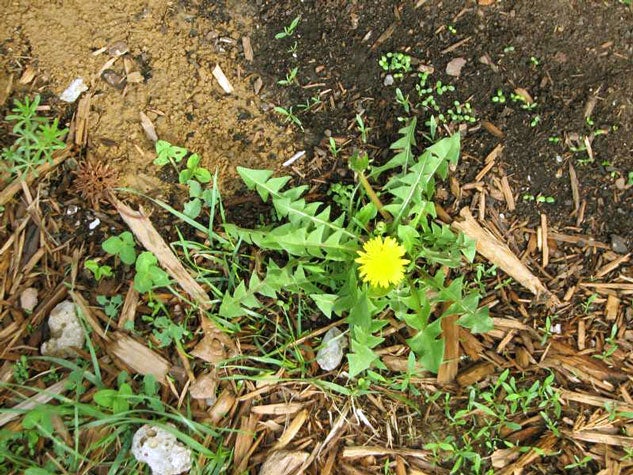 It has long been known that field crops are susceptible to big reductions in crop due to infestation by vines such as Field Bindwood, Milkweed, Trumpet Creeper and Morning Glory. In wheat crop, Field Bindwood can cause reductions of as much 30%, and in sorghum, those numbers can creep up to as much as 75%. Cultivation and/or use of herbicides before vegetative buds are formed is important but tilling after buds form can spread weeds. For fields used to produce crops that are no-till, it may be prudent to deep till every 3rd or 4th year. Use of Glyphosate can have an 80-100% surface kill, but below the ground the percentages will be much less, and in some cases will be as low as 40-50%. Therefore, below ground treatment will require a several year program of treatment and in general, will need to be done in conjunction with some tillage to reduce weed seed to acceptable levels. And for preventative control, alfalfa fields should be cut at least three times a year.
DRIVEWAYS
Driveway weed control can be achieved using Glyphosate containing products. A cheaper and more environmentally-friendly mix is a solution containing ½ white vinegar and ½ water with a little dish soap added to help the mix stick to the leaf. Some even add a little Epsom salt to the mix for added effectiveness.
PREVENTATIVE CONTROL
Practicing preventative control by using seed that is weed free; cleaning tractors, implements and combines before moving them from infested to clean fields; keeping un-cropped areas (fence lines and borders) weed free; not allowing livestock to move from infested to clean areas; and screening irrigation water when using canal systems are all factors to consider and should become defensive tools as part of your preventative practices. And for more geographical information for your locale, check with your state university and agricultural resources, they should be able to help tailor a program specific to your needs.
Buyers Guides
Our Partners