Getting To Know Ventrac
We visit Ventrac's manufacturing facility
By Geof Fowler, Jul 16, 2015
Ventrac is a new name to the pages of Tractor.com, so when we were presented with the opportunity to visit Ventrac's Orville, Ohio manufacturing facility, meet members of the management team, and get some seat time on Ventrac equipment, we quickly agreed.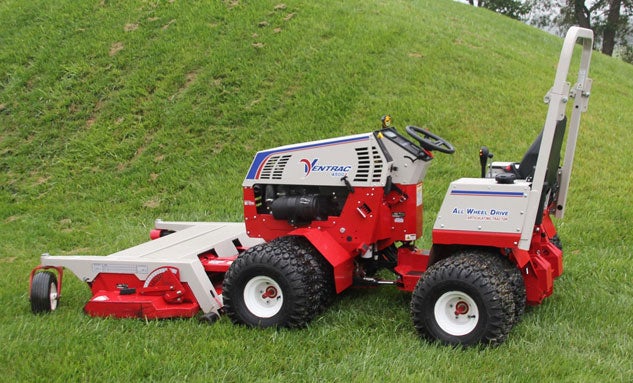 Ventrac has a storied heritage that dates back to 1941, when Marvin Steiner started building custom farm machinery. In the mid 1970s, seven Steiner brothers formed Steiner Corp. and over the next 14 years saw their business grow. In 1988 the Turf Equipment division was sold to Ransomes and the Agriculture Equipment division was bought by a group of employees. In 1996, the Agriculture Equipment division was renamed Venture Products, Inc. and the new brand name Ventrac was launched. Since then, Ventrac all-wheel drive compact tractors, along with an extensive lineup of easy-to-use attachments, has carved out a niche with contractors, landscape professionals, municipalities, churches, golf courses, schools, and homeowners alike.
COMPARISON: Read our review of the Inside UTV Hitchworks
Orrville is a quaint town located about 20 miles southwest of Akron and is home to a number of recognizable companies, including J.M. Smucker, Smith Dairy Products, and JLG Industries (an Oshkosh Company). The 150 or so Ventrac employees work two shifts and produce more than 1,200 all-wheel drive compact tractors each year. While this is relatively low volume compared to some industry giants, when you factor in the number of implements manufactured in the facility to accompany those machines, what Ventrac delivers is quite impressive.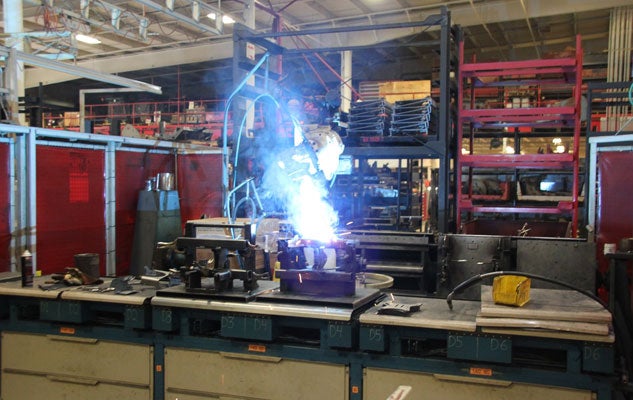 Arriving at the 116,000-square-foot Venture Drive facility (there is a second facility at East Water St.), Ventrac hosts, Isaac Roth and Aaron Graber, spoke of the company history and its V3 Principles: Venture, Vision, and Values. Before beginning the plant tour, Lydell Steiner joined the meeting and wet our whistles with a video presentation of a new, game-changing piece of equipment in development that would soon be brought to market. We got a chance to see the new piece of equipment and get behind the wheel, but can't say much else until its official market release. But trust us – this is big news.
Moving out into the plant, we found the facility neat, organized and clean – and not just the kind of clean whipped up for a visitor's benefit. There were areas for R&D, fabrication (the Mazak Super Turbo-X510 Mk II laser cutting machine running lights out was impressive), welding (robotic and manual), assembly, testing, crating, and shipping.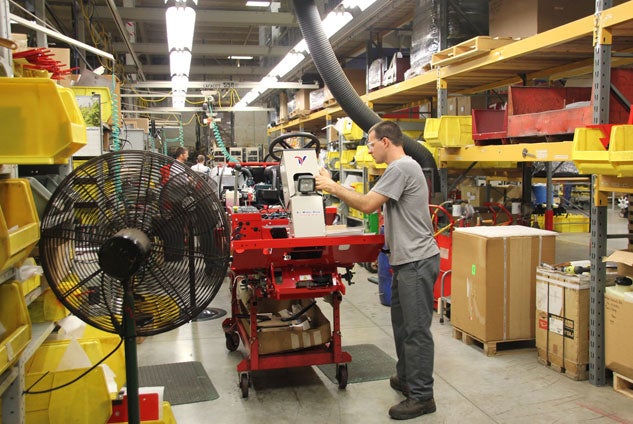 Ventrac's product line is divided into two series and six models. The two-model 3400 series might be likened to zero-turns on compact utility steroids. They come powered by either a Briggs & Stratton M38 two-cylinder, air-cooled, Vanguard gasoline engine that pumps out 20 hp and 34 lb-ft torque or a Kubota D902 three-cylinder, liquid-cooled, diesel engine that produces 22 hp and 41 lb-ft torque.
COMPARISON: Read our review of the Curtis Industries Aftermarket Cabs
Ventrac's four-model 4500 series is built on a larger platform and can be powered by a Briggs & Stratton M54 two-cylinder, air-cooled Vanguard (31 hp/47.4 lb-ft torque), Kawasaki FD851D DFI two-cylinder, liquid-cooled gas (31 hp/47.1 lb-ft torque), Kubota D902 three-cylinder, liquid-cooled diesel (25 hp/42 lb-ft torque), or a Kubota WG972-GL three-cylinder, liquid-cooled gas or optionally propane (32.5 hp/50.6 lb-ft torque) engines.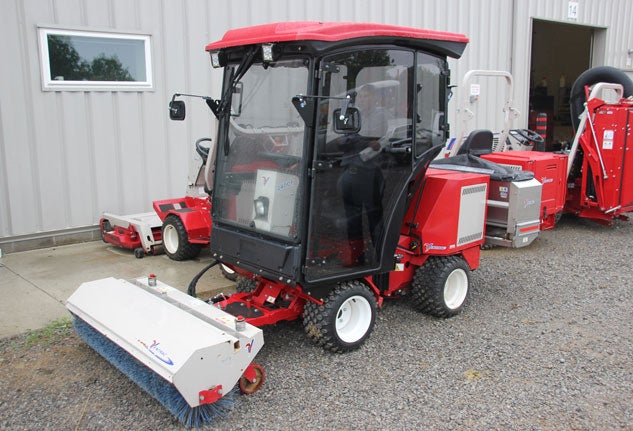 Both 3400 and 4500 series machines articulate on a center pivot that also oscillates, keeping all tires in constant ground contact for superior stability, traction, and maneuverability. Turf disturbance is minimized as the rear tires follow the path of the front, while the speed of the inside tire turning circle is nearly the same as the outside tire turning circle.
Climb into the optional comfort operator seat, which allows adjustment of the backrest, lumbar support and weight distribution, and the operator is treated to an ergonomically configured station. Its configuration is quite different for a first time operator, but is intuitive and quickly mastered. The first thing to discover is the right hand control lever, which sports a new acronym, SDLA (Speed, Direction, Lift, and Auxiliary control). Pressing the lever forward or pulling back modulates ground speed and direction in much the same way as a traditional hydrostatic control. Canting the lever to the left lifts the front implement, while nudging it to the right lowers the implement. Push it all the way to the right detent and the hydraulics go into float mode. Auxiliary control runs through a second lever located just behind the SDLA lever. This added control can be used to handle an additional hydraulic circuit, such as one to angle a dozer blade or rotate a snowblower chute.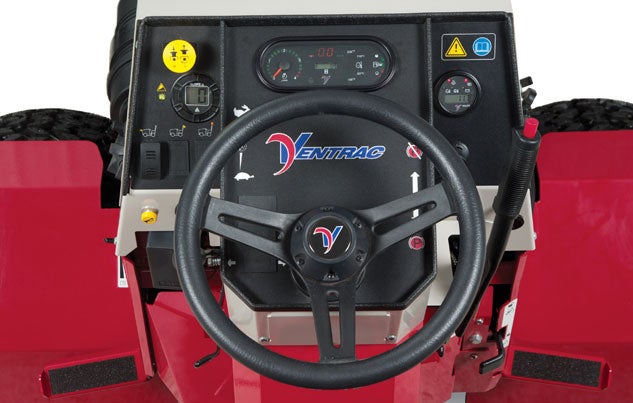 The dashboards on the 3400 and 4500 series are slightly different, but both layouts are plain and simple while giving the operator exactly what he or she requires. We spent most of our time on a 4500Z, which has an oval gauge above the tilt steering wheel with digital readouts for speed, engine hours, fuel level, and temperature. To the left is secondary pad housing a digital slope meter, yellow PTO knob, switches for front and ROPS lighting, throttle lever, and a pushbutton horn. The ignition switch is next to the horn, so owners of certain sports cars hailing from Stuttgart will definitely feel right at home. A secondary right pad is home to a digital volt meter, parking brake, and weight transfer (more on this later) controls.
COMPARISON: Read our review of the Tractor Safety Tips
The Venture Drive facility is situated on 20 plush Ohio acres, which include a mound on the north forty with some impressive slopes – ones we wouldn't dream of driving a traditional tractor on. We also dealt with a steady drizzle of rainfall for most of the time we spent behind the wheel of the 4500Z. One extreme slope, that Roth and Graber assured me was scalable when dry, proved not to be while soaked. Driving up a lesser slope (not by much) led to a descent on the extreme slope without fanfare. Later it was determined weight transfer wasn't active, so the 4500Z might have been able to scale the slope even in the wet.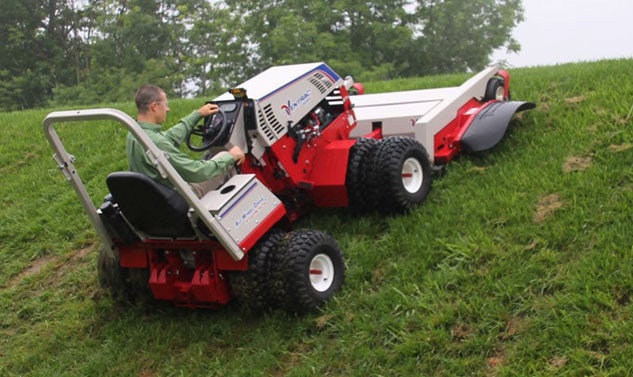 Weight transfer is a feature standard on most models and as an option on those where it is not. Using a spring to add degrees of resistance, as much as 250 lbs of the front implement weight is transferred to the front wheels. This results in increased traction, but also more resistance to an implement, such as a heavy front mower drifting/sliding sideward while mowing a steep bank.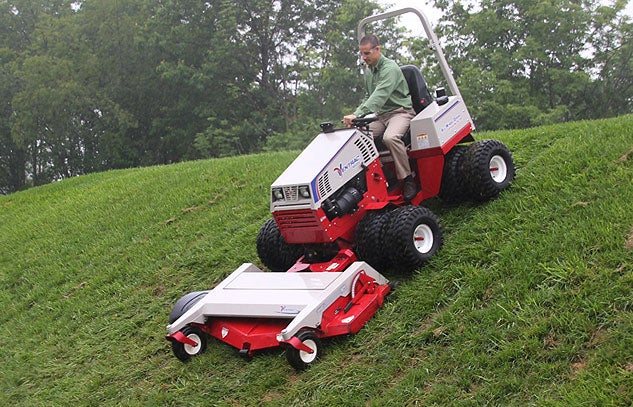 Too soon our half-day visit was over, but we will bring you the full test results of the 4500Z, including running some neat implements such as a trencher, followed by a local test of a 3400 series machine. And don't forget to stay tuned for when Tractor.com can bring you an exclusive test of the game changing piece of equipment we were briefly exposed to. Welcome Ventrac.
Buyers Guides
Our Partners