Inside the Cyclone Rake
Fall yard clean-up made easy
By Geof Fowler, Photography by Woodland Power Products, Nov 11, 2016
While the colors of fall are magnificent for all to see, what soon follows can equate to a lot of work. It's not quite clear when the rake was invented, and though definitely an improvement, it is also time-consuming and can be hard on your back. Likewise, leaf blowers work, but are tedious to use over any distance – and you still need to have someplace to blow the leaves to. To find out what other solutions are available when the trees begin to drop their leaves, the eastern pines lose their needles, and the oaks drop their acorns seemingly buckets at a time, Tractor.com visited Woodland Power Products in West Haven, Conn. to learn more about the Cyclone Rake lineup. President Matthew Coz took time from Woodland's busiest time of the year to answer our questions and handle factory tour duties.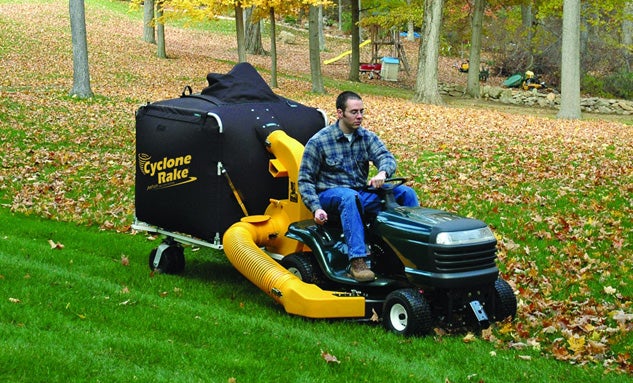 Woodland Power Products is the vision of founder Jim Whitney, an engineer by trade, who almost 20 years ago decided there had to be a better way to handle fall clean-up. Since then, the Cyclone Rake has gone through a number of itinerations, but the original design it's based on has proven to be sound and effective, so-much-so that parts are still supported for those early models and all in-between. Currently there are five models, sized to fit small yards to large estates. Customizable upgrades and accessories are available that can be purchased at order time or even at a later date.
Big Tool Rack XP and ATV Sport Rack
While the different Cyclone Rake models are designed to handle specific duty usage, they all share long-life features and quality workmanship. For power, each Cyclone Rake is powered by a Briggs & Stratton Vanguard premium commercial gasoline engine designed for 2,000 hours of run life. Though these engines typically start on the first pull with little effort, an electric start (key) option is available on the two largest models. Electric start models come with a built-in alternator that maintains the charge while being used and for the off-season come with a conditioner/charger that extends battery life and makes sure all is ready to go for the next season.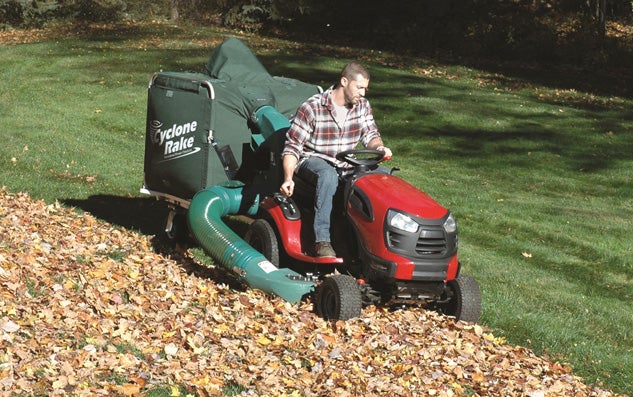 A steel-lined molded blower shell (a hardened alloy steel liner is available at a minor charge) and molded impeller handle the air-handling duties. Molded components are used, both for the high dimensional tolerances that process yields and for the ability to ingest objects without damaging the blower unit and likely placing damaging loads on the engine. The smaller Cyclone Rake models come with four-blade impellers while the larger models have five blades. Each model's componentry is sized for optimum performance, meaning the engine, blower housing, impeller, and intake hose are all engineered as a system and able to handle less-than-optimum conditions such as wet debris. The blower also has a trapezoidal tube that runs perpendicular to the output chute sending shredded material to the collector unit. We asked Coz if that was for strengthening, to which he laughed and told us when the collector is full, debris blows out the sides, indicating to the operator that it is time to empty the unit.
The collector itself is made from a tough fabric, tapered and vinyl-lined to help dumping duty, with two-finger clips and Velcro holding everything in place. A steel frame holds it rigidly in place, but allows the collector unit to collapse and fold flat for space-saving storage. The collector also mounts directly to the tractor using a two-pin mount and turns on a pair of 360-degree swiveling pneumatic wheels. In the case of small tractors, the included mount attaches to the drawbar plate. For tractors equipped with three-point hitches (3PHs) a Cat-I adapter is available for $99. A major advantage of the mounting system is that it allows the collector to be fixed to the tractor so that it cannot jackknife as a traditional pulled trailer can. This makes it easier to backup, less likely to block rearward view of objects while reversing, and fixes the hose length running from the tractor mower deck to the blower for max efficiency. The mount system is also compatible with zero-turn mowers.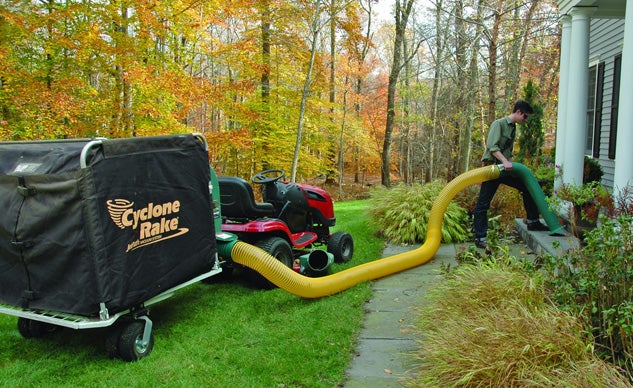 For tractors equipped with baggers, the fixed length hose can often attach to the bagger boot running off the mower deck. A better way is the molded MDA boot that Woodland sizes from their vast database to fit your particular tractor/mower deck combination. The standard hose is made from PVC with an industrial-grade urethane hose upgrade for $25 (standard on XL and Z-10 models).
What Tractor Features Do You Really Need?
Available accessories are many with the electric start, urethane hose, alloy blower liner, mower deck adapter, and 3PH adapter already mentioned. Also available are dual swiveling wheels to lessen ground compaction and rutting, a 17' or 32' vacuum hose pickup (PVC or urethane), a power unloader that uses the vacuum hose to blow the collector contents to wherever it can reach, a roof carrier perfect for carrying the extension vacuum hoses, an electrical power-lift unloader, and a wall mount kit perfect for storing it all.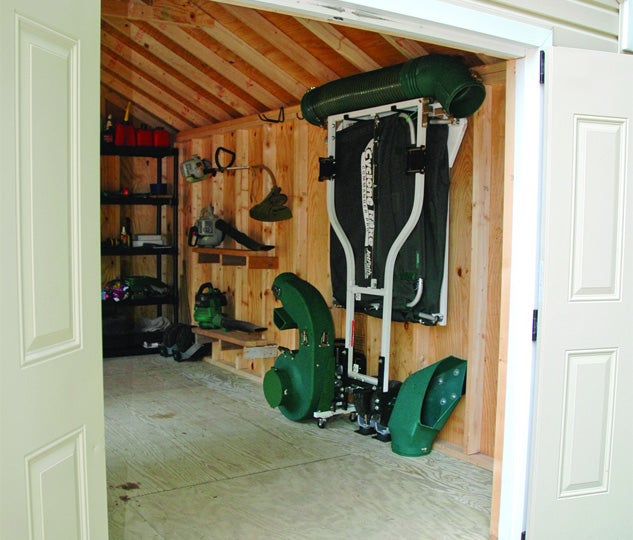 The Classic model uses a 5.5 hp engine mated to a 7" diameter vacuum system and has a 200-gallon/20-bushel capacity. The Commander model uses a 6.5 hp engine mated to an 8" diameter vacuum system and has a 285-gallon/32-bushel capacity. The Commercial PRO model uses a 6.5 hp engine mated to an 8" diameter vacuum system and has a 415-gallon/44-bushell capacity. The XL model uses an 8 hp engine mated to an 8" diameter vacuum system and has a 415-gallon/44-bushel capacity. The Z-10 has a 10 hp engine mated to a 10" diameter vacuum system and a 415-gallon/44-bushel capacity. Base unit MSRP pricing ranges from $1,195 to $1,945 (check for fall discounting) with flat-rate FedEx shipping that domestically runs $175.
Cyclone Rakes are not sold by a distributer/dealer network, but directly by the factory. Every model comes with a 12-month risk-free trial where the entire purchase price can be refunded (including shipping both ways) and a three-year warranty (residential). A referral program allows a prospective purchaser to talk to an owner that is near to their location. Typical ship time between ordering (an experienced representative will help you chose the right model for your needs) is one to two days. The Woodland call center (at the manufacturing facility and not farmed out to someone in another country) is a breath of fresh air. Due to the peak fall ordering time, you might have to wait a bit or even leave a message, but Coz assured us that every call is returned the same day, to the point where he admitted even taking calls himself.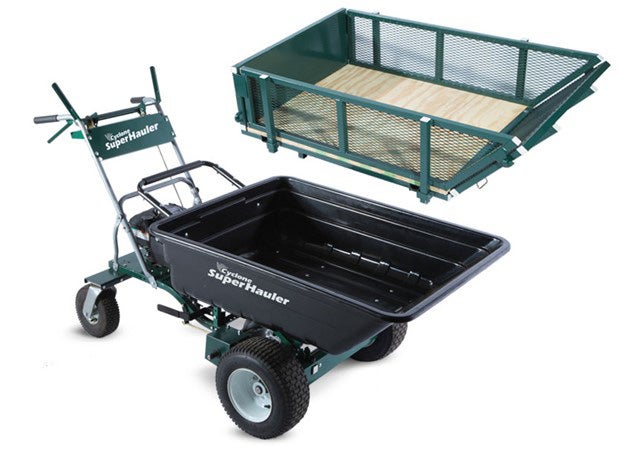 On the way out, Coz showed off their latest product, the Cyclone SuperHauler, which is essentially a compact powered transporter for those not needing a tractor, but wanting to haul material a wheelbarrow cannot. The SuperHauler runs on an electric-start Vanguard engine, has a Hydro-Gear hydrostatic drive, high-capacity pneumatic tires (all-terrain or turf), and has an interchangeable cargo system that in seconds can go from a bin-style bed to a flex-deck. With an 800-pound capacity (flat ground) and 500 lbs on up to 15-degree slope, the SuperHauler fills an interesting niche, and is competitively priced from $1,999. For more information, visit the Woodland Power Product http://www.cyclonerake.com/ website or call 1-888-531-7253.
Buyers Guides
Our Partners