Michelin Tire Technology
A walk through Michelin's Innovation Zone
By Geof Fowler, Oct 06, 2017
Tires, the tractor component that actually contacts the ground, is oftentimes an area of consideration overshadowed by performance specs such as horsepower, torque, gearing, and gross vehicle weight. But it shouldn't be. The tire, its design, contact area, and pressure, all combine to create a balance between traction, floatation, and compaction. At the recent Farm Progress Show held in Decatur, Ill., we caught up with Michelin's Laurent Le Dortz, who highlighted some interesting tire concepts and how that has led to exciting products soon to be available.

LifeBIB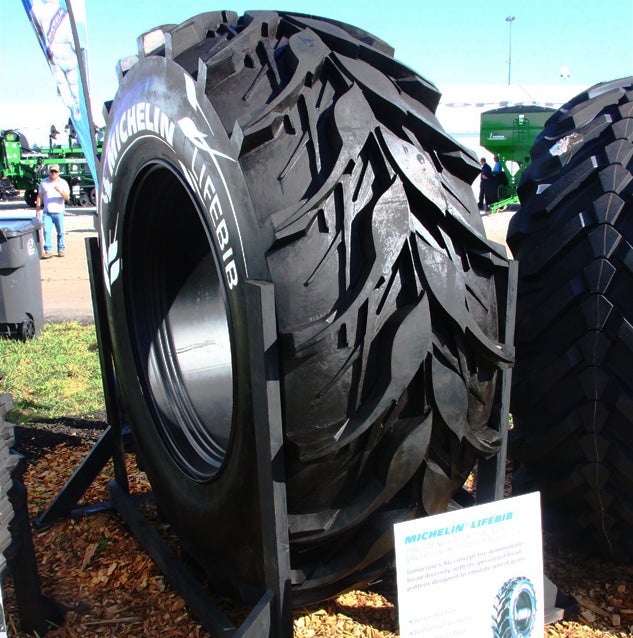 The LifeBIB concept tire is one that will never see production, but is a design that much was learned from. Sized 710/70 R42 and of a VF (Very High Flexion) construction, the concept varies from the traditional herringbone or "V" lugs by going to a wheat ear-shaped pattern. The design strove to bring all the qualities (traction, treadwear, guidance precision and endurance) today's farming demands into a single tire. Testing and evaluation of the LifeBIB has led to a number of soon-to-be-available tires, some of which we detail below.
AgriBIB 2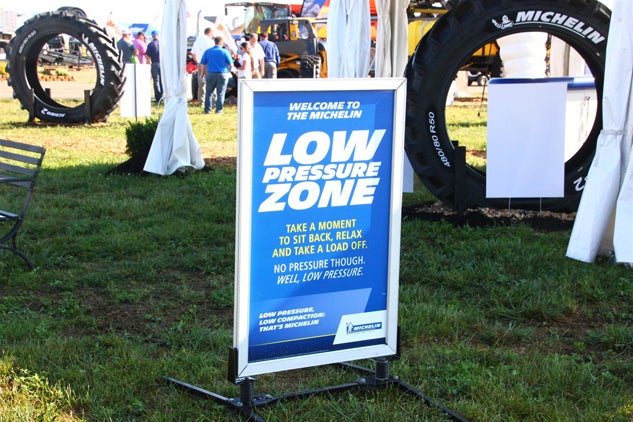 The AgriBIB 2 tire is an affordable premium tire coming in about 10% less than the AgriBIB while still offering high traction due to its 45-degree lug pattern and a tread depth that is 8% deeper than competing R1W tires. Another design plus is better protection against stalk strikes and the enhanced ability to keep stover off the tread. Available now in 380/80 R38 142A8/139D and 480/80 R50 159A8/159B sizes for tractors from 60 to 170 horsepower and up to 500 horsepower when outfitted as duals, the lineup will be joined in 2018 by 13 additional sizes.
EvoBIB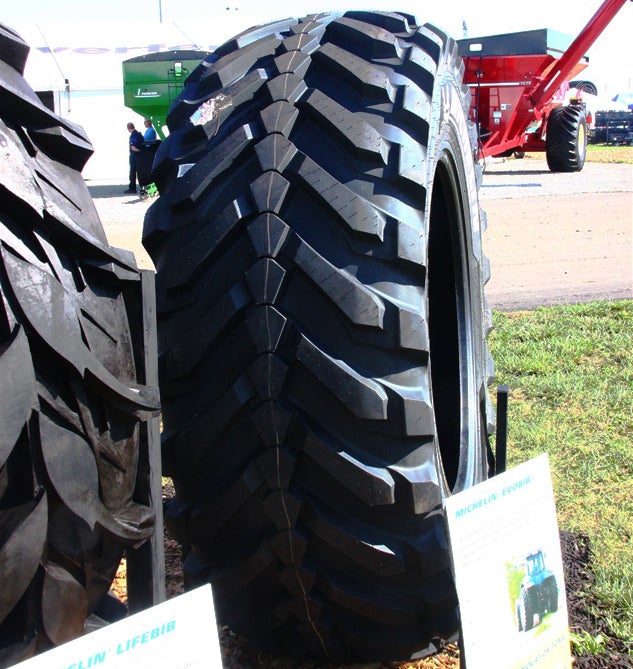 The EvoBIB tire is a 2-in-1 design perfectly suited for tractors with central tire inflation systems. Inflated to road configuration, the outboard shoulders don't touch the ground, but deflated to field configuration, the shoulders contact the ground to effectively increase the length and width of the footprint by about 20%. Two sizes (VF600/70 R30 165D and VF 710/70 R42 179D) will initially be available beginning mid-2018. The EvoBIB is a long-lasting tire that offers improved traction (up to 20%), better soil protection while decreasing fuel consumption, and up to 40% more load capacity.
RoadBIB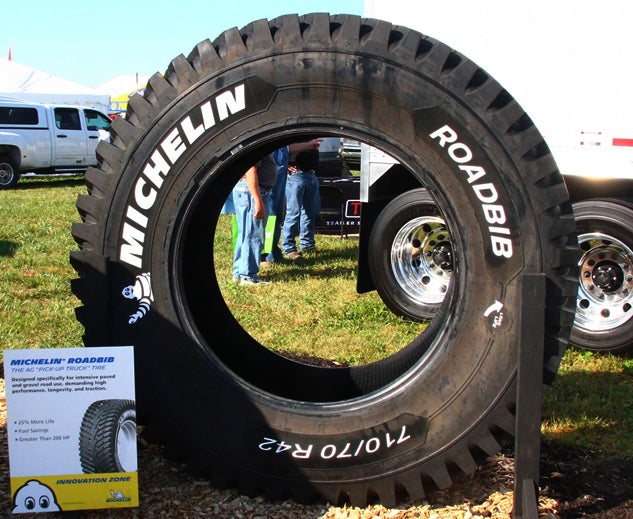 RoadBIB tires are designed for tractors 200 horsepower and above and that see extensive paved and gravel road use. 25% more rubber equates to as much as 25% better tire wear life. An added benefit of the design is a reduction in vibration, which equates to a smoother ride. RoadBIB tires can be used on snow. Initial sizes will be 600/70 R30 front and 710/70 R42 rear and available beginning mid-2018.
Crossgrip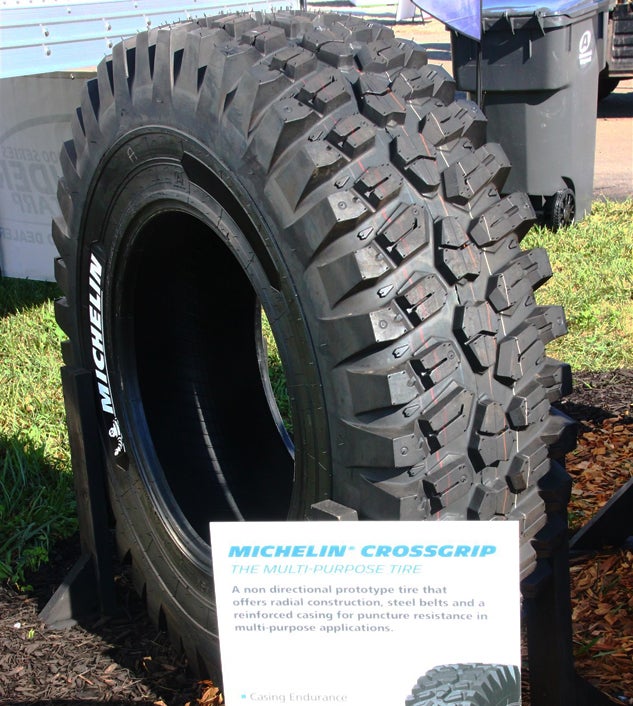 Crossgrip tires are industrial non-directional radials with steel belts and a reinforced shell for puncture resistance that can also accept studs. Designed for use on hard, wet and even snow-covered surfaces, the loader tire will be available mid-2018 in a range of sizes from 18" to 42".
Loadster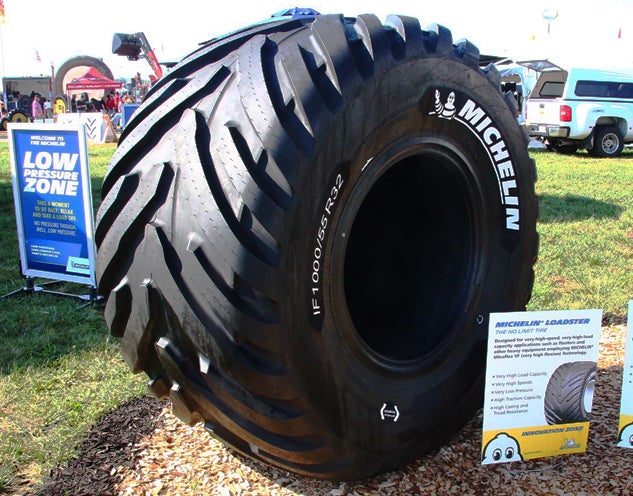 Loadster VF tires are extra-wide, double-lug tires designed for high-speed, high-load heavy equipment such as floaters used to apply fertilizer and chemicals under tough, changing conditions. Running at 10-psi max, the Loadster with its 3' wide by 6' tall profile, can carry loads from 8.5 to 17 tons while minimizing soil compaction. The high casing design has a built-in resistance that provides endurance for intense road usage. Loadster tires are slated for a 2019 year launch.
X Tweel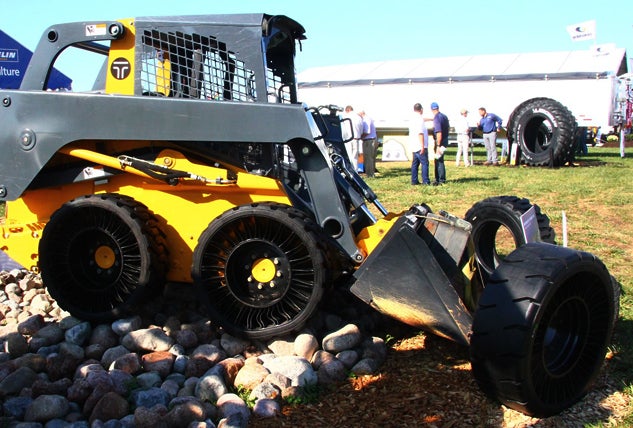 Tweel is an airless radial combination tire and molded wheel that is available today for use in a wide variety of applications. Tweel provides a constant footprint and strong wear life that is as much as 2-3 times that of an equivalent sized pneumatic tire with equal tread depth. The molded poly-resin spokes reduce "bounce", making for a smoother, less-energy sapping ride for the operator. Tweels are maintenance free and can be retreaded up to five times. Look to see X Tweels outfitted on all-terrain vehicles, skid-steer loaders, material handling vehicles, turf mowers, and even golf carts.
Wrap Up
Michelin manufactures a full-line of agricultural tires for use with tractors, harvesters, sprayers, trailers and tankers, and material handling vehicles. Tractor.com appreciated the time Le Dortz spent with us walking through the Michelin Innovation Zone and detailing the new products soon-to-be-available. But as exciting as these new innovations should prove to work in the field, technology cannot override some basic tire dos and don'ts that we'll leave our readers with.
Do
• Check tire pressure often. Daily is best. Too many agribusinesses skip this important step that can lead to expensive, premature tire failure and damage to equipment as well as the soil itself.
• Use a calibrated tire pressure gauge. Daily tire pressure checking with an inaccurate gauge can lead to expensive, premature tire failure and damage to equipment as well as the soil itself too.
• Check tire pressure cold. Morning is a good time. Air is a gas that expands as it heats up, ballooning pressure upwards as much as 2-3 psi.
• Re-ballast at each implement change. Weigh tractor with implement on a grain or truck scale and weigh each axle to get the exact axle load. If a three-point hitch (3PH) implement is used, weigh the front axle with the implement down and the rear with the implement up to get the exact max axle load. Adjust ballasting accordingly.
Don't
• Put fluid in radial tires. Fluid-filling radial tires will prevent the sidewall from flexing.
• Underinflate. Underinflation can damage the sidewalls and lead to premature failure.
• Overinflate. Though there may be times overinflation is needed, overinflation stiffens the sidewalls and reduces the tire resistance to impact.
Buyers Guides
Our Partners