New Holland 120-Year Anniversary Media Event
A host of new products gets unveiled
By Geof Fowler, Jul 24, 2015
How does an organization celebrate 120 years? Through a black tie dinner event? By pulling out all the stops for a weekend party? Both work, but are kind of anticlimactic once the day or weekend has passed. New Holland took that into consideration, deciding to celebrate the entire year, with each month a focus on a core competency. For January, the highlighted subject would be Today. In February, Biomass. In March, Tier 4B emissions compliance (across all New Holland platforms). In April, Construction. In May, Baling. In June, Harvesting. In July, New Products. In August, Hay Tools. In September, Combines. In October, Tractors. In November, Technology. And in December, Tomorrow. The New Holland Media Event took place on July 15th-16th and the focus was on new products.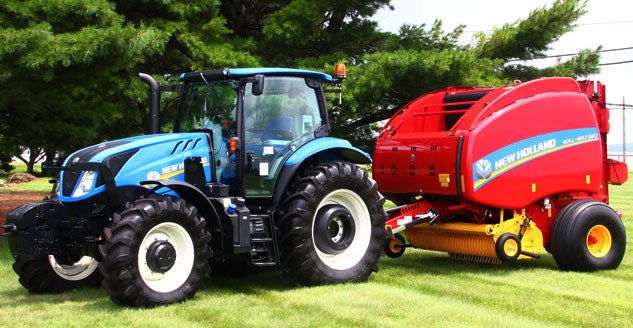 The event began with lunch at the newly opened New Holland Historic Museum, where an entire permanent section is devoted to the New Holland Machine Company and its history. On display were pictures, artifacts, signs and banners spanning the 120 years, beginning with pictures of the New Holland founder, Abe Zimmermann, who opened an equipment repair shop in 1895 and soon gravitated to manufacturing feed mills powered by hit and miss engines. Newly appointed Vice President Bret Lieberman mentioned how special it was to be standing just two blocks from the plant where the first small balers were made.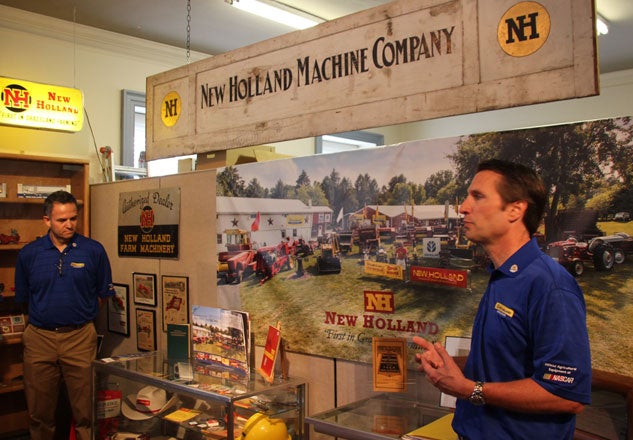 2015 New Holland Boomer 54D CVT Cab Review
After lunch, we headed to the New Holland campus for walk around info sessions followed by a ride and drive. First up was the new T4 series, which are EPA Tier 4b (final) compliant, and range in power take off (PTO) horsepower from 73 to 99. Available in ROPS and cab configurations, as well as in Utility, Standard, Custom and Dual Command packages that offer the most tractor for the best value. Can we say bundle? For example, order a T4 in Utility configuration and you get a 12F/12R transmission, 655TL loader, bias tires, and Command Arm Console which places the most used controls closest to the operator's fingertips. Price, depending on tractor and options, ranges from $53K to $100K.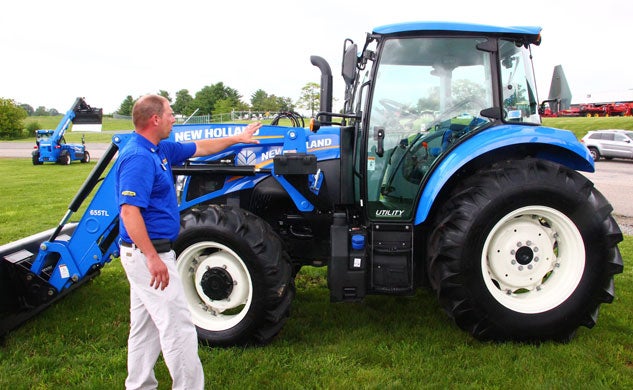 Next we learned about the all-new T6 series, which was jointly introduced last February at the National Farm Machinery Show in Louisville, Ky. and the World Ag Expo in Tulare, Calif. The T6 was the first tractor showcasing New Holland's new styling, which will soon cover the entire tractor lineup. Built in England, T6 tractors range from 95 to 125 PTO horsepower and come with boost – meaning T6 tractors can be used for row crop work. All T6 tractors feature four-cylinder engines (except the T6.180, which has six-cylinder power) and come with the Horizon cab, which is rated to be as quiet as 69 dBA inside. The standard transmission is a 16F/16R semi power shift, but option up for the AutoCommand transmission and it comes with the Sidewinder console that moves with the seat. All T6 tractors run on a 104" wheelbase, which makes fitting a range of loaders easier, results in a better ride. This setup also has the ability to turn sharper than the previous generation machines. Other improvements include LED lighting, ISOBUS connectivity and AutoGuidance integration. About half of all T6 tractors shipped are equipped with loaders, speaking to wide acceptance by dairy and livestock operations, mowing, mixed farms and field work. Price range, depending on tractor and options, runs from $98K to $165K.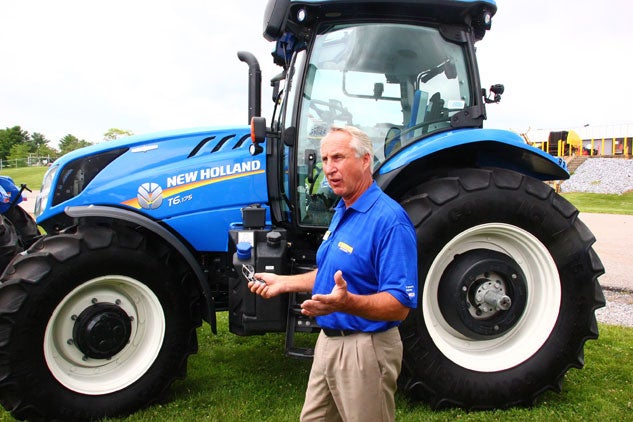 2014 New Holland Workmaster 40 Review
Boomer compact utility tractors were covered next, including the 54D CVT we tested in February. New for 2015/2016 are the Boomer 37/41 and 47, which we look forward to reviewing in the near future. Also new were Workmaster models 33/37 and 70. The Workmaster 70 sports a new look and comes with a three-cylinder turbo engine that has 28% more torque rise over the model it replaces. An 8F/8R mechanical gear transmission with four synchronized gears, two constant mesh ranges, and a synchronized shuttle that doesn't require a full stop for directional change is standard. Equipped with the 600TL loader, the Workmaster 70 can lift up to 2733 lbs. MSRP for a 4WD machine starts under $32K.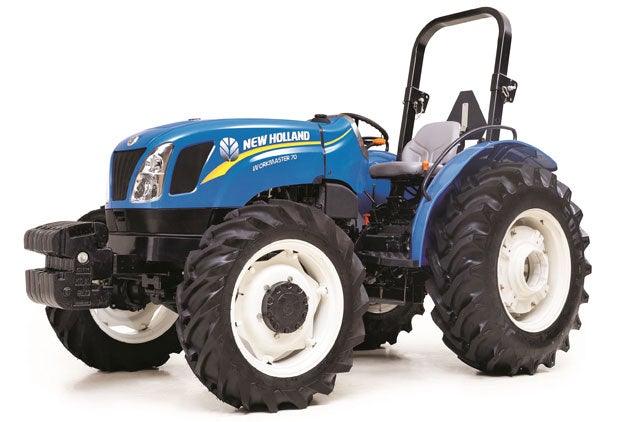 PLM Connect is an evolving technology that keeps farm managers connected to their fleets. Using a cellular network, PLM Connect receives real-time information from each machine (even those from mixed manufacturer fleets), so decisions can be made to keep productivity at a peak while reducing downtime. While we were in the technology tent, a signal was sent to a self-propelled windrower to have it start, and then we were able to visually monitor statuses such as engine rpm, physical location, and travel speed. Similar systems may be offered by competitors, but one of the niceties of PLM Connect is that it is not only compatible with both GSM and CDMA cellular networks, but it will seamlessly search and connect to the strongest signal.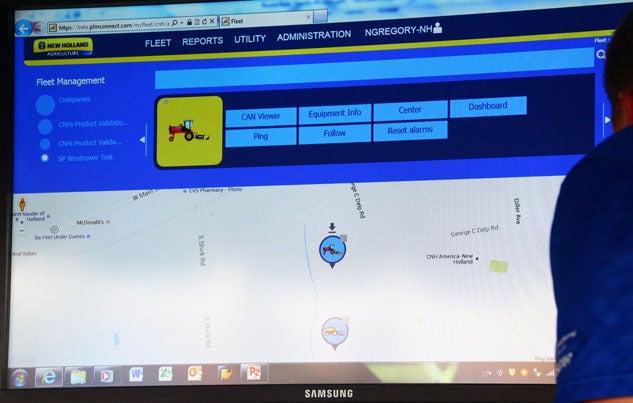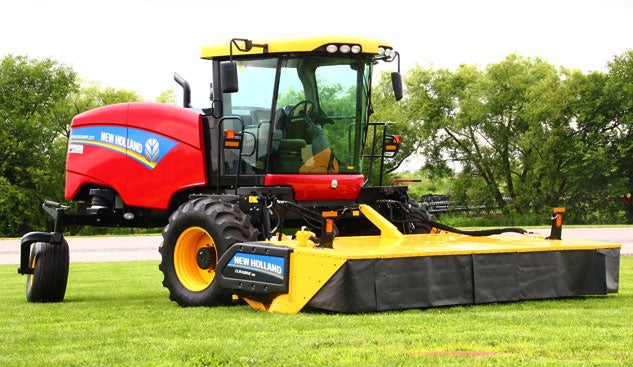 After some seat time with the abovementioned machines, as well as a SP300F front boom sprayer, FR650 Forage Cruiser, CR9.90 Combine, and a really neat Braud 9090L Grape and Olive Harvester – all of which we will soon review in detail – it was off to dinner. There we learned some trivial facts, such as what the New Holland logo signifies: with the leaf pointing to Fiat Agri, New Holland the Pennsylvania birthplace, and the blue for Ford Tractor (or Black for Strength, Durability for construction machines).
2013 New Holland T6.140 Review
The presentation soon moved on to trends effecting business, such as the growth in ethanol production and how gas stations such as Sheetz are actually custom blending at the pump. Jaarod Angstadt, Manager, Growth Initiatives, Biomass & Specialty Products, spoke of the growth of American Ethanol, expected to rise from $7.2bn in 2013 to $9.6bn in just a few short years. Agribusinesses selling corn stover can see as much as $46 per acre value added. In Torin, Italy, La Bellotta is a nod to the future today, where New Holland operates a true energy independent farm. An exciting component of La Bellotta is a NH2 hydrogen powered tractor that is based on the current T6 and is a true zero emission vehicle. How soon such technology will filter down and be widely accepted is not known, but it sure appears that the future is already here.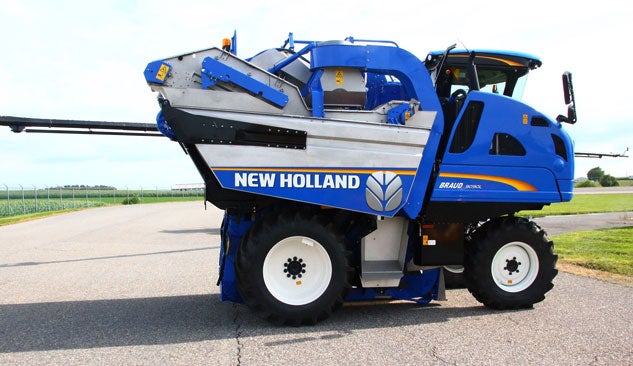 Thursday began with a visit to the New Holland tech center, highlighted by a demonstration of engineering and design possibilities accelerated through the use of virtual reality. Much of what we saw was confidential, but it was amazing to view a tractor, open the doors and view what the operator would see, then back away and pull out the engine and view individual components.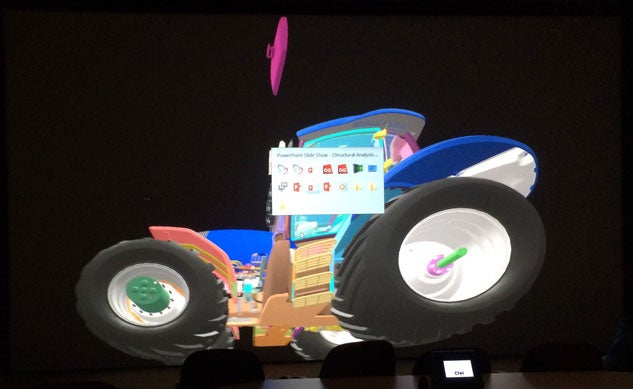 After the tech center tour, we were bussed to nearby Hershey, Pa. for lunch at the Hotel Hershey's Harvest Room with Rob and Amy Hess. The Hess family operates Bow Creek Farm, suppliers of Red Angus beef to Hotel Hershey. One word describes what we were treated to: delicious!
With the weather shifting overnight from rain to sun, the next stop was to Bow Creek Farm, where we would be allowed to run a new T7.270 mated to a BigBaler 340 Crop Cutter. What was especially interesting with this combination was the true ISOBUS Class 3 integration. Whereas previous ISOBUS iterations would have the tractor controlling the baler, Class 3 integration actually allows an unlocked tractor to be controlled by an unlocked baler (or implement). What's important about this technology is that the field conditions are able to dictate the best operating parameters, which in the case of a baler means the highest quality hay at the highest level of productivity allowed by the conditions. In our case, that meant firing up the T7 (we measured 69 dBA inside the cab), engaging the PTO and throttling up to 900 rpm.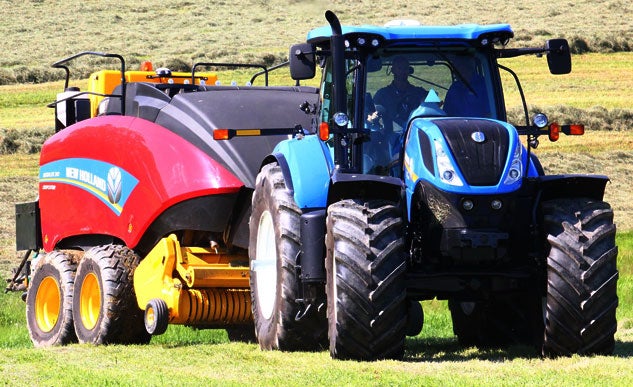 Turning into a windrow at 6 mph, the baler sensors detect crop input and the ISOBUS link turns control over the tractor to the baler. All the operator has to do is steer and follow the windrow. Production of 7-1/2' long bales weighing 1200 lbs takes less than three minutes. Hess said that he's baled as much as 24 tons of hay in an hour.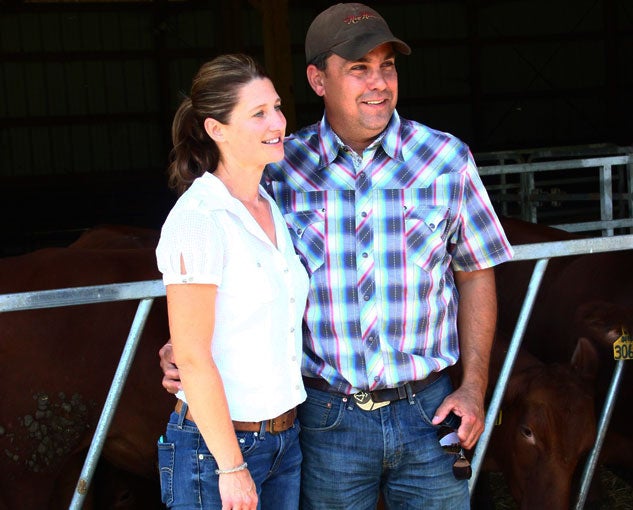 ISOBUS Class 3 will come standard in all New Holland Machines shipped after July 1, 2015. The cost to unlock the system runs about $650 for the tractor and implement. Class 3 standards have not really been set, but New Holland is right there on the cutting edge and leading the way. The T7.270 and BigBaler 340 combination we drove carries an MSRP of just over $400K. Not inexpensive by any measure, but for an Agribusiness baling 2500-3000 bales a year, the payback can be substantial. In the coming weeks, you can expect much more from New Holland on Tractor.com.
Buyers Guides
Our Partners