Shopping at Farm Shows
A great place to gather information and make a deal
By Howard J Elmer, Photography by Howard J Elmer, Mar 24, 2011
You're in the market for a tractor, so where do you go? Internet sites like ours? Of course. Dealers? Obviously. But where can you cross-shop a wide variety of tractors in one place? Well that would be at any Farm Show.
Throughout North America farm shows offer up the widest range of equipment in one place at one time; and while you might think we're stating the obvious, we think it's important to point out right off the top that Farm Shows are not just for Farmers. This can't be stated strongly enough; as an example of the changes coming to these shows consider that Green and Alternative Energy displays make up a large component of the shows we've been going to. These appeal to anyone outside the City who is interested in supplementing the grid.
Now you will be rubbing elbows with the sons of the earth (and that's fine), but also with people from every other land-related occupation and hobby. These of course include the horsey folks, landscapers, hobby farm people and those land owners who just can't force their kids to do the yard work anymore (we fall into the last category and we only farm trees).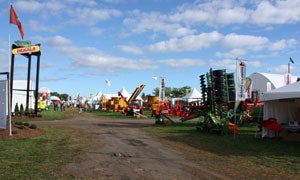 We were at one of Canada's largest outdoor Farm Shows just this past fall and found fantastic displays from all the major manufacturers, and a few we'd never heard of before. Also on hand were company reps who really knew their product.
These guys (and some ladies) weren't only informed on all aspects of the equipment they were selling but were also full of thought provoking suggestions for their application. We particularly appreciated that most of these reps started a conversation by inquiring (in detail) about our property and about our intended use of the equipment. In each case we could see the gears cranking as said rep considered what line to suggest. In more than one case these fellows came up with suggestions (and cautions) that were new to me. Actually there was one or two purchase criteria that we'd already settled on that by the end of the day landed in the discard heap. You know the ones; they come under the heading of "it seemed like a good idea at the time." Fact is for those of us who are looking for a machine to cut grass (at the least) or to move manure and hay bales we really are just part-timers; so getting advice from someone who does this day in and day out is often invaluable.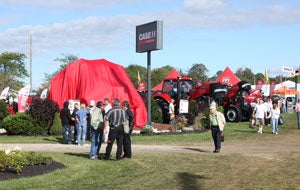 This brings us to a concern that often comes up when talking to tractor owners like us – brush-off anxiety. If this hasn't happened to you then you're lucky. For us (and many, many others) this comes most often at the parts counter of some dealer. You wander in with a busted part in your hands, not really sure of what it's called, and stand there as the clerk jaws with some overall wearing, sunburned farmer. Nothing against those guys, but when they finally glance your way they invariably start laughing.
"So, how did you manage that?" they laugh.
The fact that we're already embarrassed about breaking this thing is lost on them.
We tell them a little of our story; they bang the counter and laugh in response. But the worst is when the guy finally says: "Yeah that framblejammer sure is wrecked, why don't you get a real tractor that uses haboweeblers?" Of course neither man offers any real helpful advice, like what to do about the busted framblejammer.
Finally we manage to ask the question (which of course is obvious to Mr. Parts counter guy – yet he doesn't offer the information on his own). "Do you have a replacement part for our framblejammer?" (At least now we know what it's called).
"No," is his response.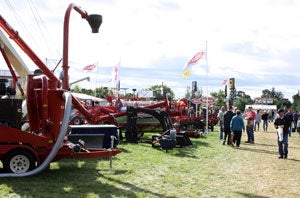 At this point he turns away, answers the phone or goes back to talking to Mr. Sunburned farmer.
Now we feel like the idiot these guys take me for. Leaving the parts store we resolve to sell everything and move to a Condo.
Yes, sadly this stuff happens, however we've found that at a Farm Show, where you find marketing guys, the playing field is levelled. They treat you like the potential customer you are, even when you ask questions that make them grin just a bit.
So, once again, why is it worth the drive? You can cross-shop brands on one site. You can collect a variety of product literature in one place. You'll have a chance to talk to informed product reps that (really) will treat you with respect. These guys will also offer as much new info as what you think you already know about your needs.
In fact the best part of a shopping day like this comes when you have an 'ah ha' moment; meaning that something was said or pointed out that twigs a new need or want you never knew you had. That kind of advice and information is worth money – often saving you real money by not buying the wrong equipment for your needs.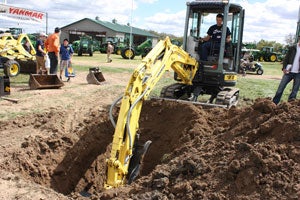 Shows are also where manufacturers often put their best sales foot forward. Show prices, bonuses and extra warranty offers (not to mention on-site financing packages) are often as good as it gets.
The other function of the Farm Show is to show off (and often live demo) attachments. As all tractor owners know, it's the attachments that make a tractor the valuable asset it is. So, if you already own a tractor, the Farm Show has plenty to offer you. Every manner of implement and attachment is on display. Major manufacturers are represented, along with a host of smaller aftermarket producers – some of which have absolutely slick and innovative attachments for a wide range of tractors.
We often revel in the fact that we can find equipment with uses we never even dreamed of. The Farm Show is where you'll find all of it; just take comfortable shoes (work boots if you want to fit in) as the walking is intense.
Buyers Guides
Our Partners