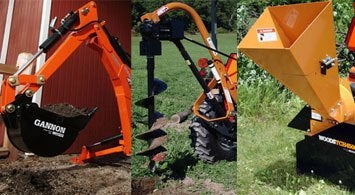 So you've purchased that first subcompact utility tractor (SCUT) and been amazed at what it can do and are now ready to add additional implements to utilize those newly discovered capabilities. At this point you have two choices: go to your dealer and pay a premium for their color paint or look to an aftermarket company and save. But does the latter quality measure up to OEM standards? Read on to learn more.

Woods Equipment Co. has manufactured aftermarket implements and accessories for the agriculture, landscape and light construction industries since 1946, when the three Woods brothers built the first tractor-mounted rotary cutter. Today Woods is a subsidiary of Blount International (NYSE: BLT) and distributes products through nine locations in the U.S. Formerly called the "Estate Series", Woods offers twelve must-have (all right, nice to have) attachments sized perfectly for your SCUT tractor. We highlight some of the uses and features of each.
GBC48 Box Scraper
A box scraper or box blade is the perfect implement to break up and level hard-packed soil or maintain a gravel drive. A SCUT has plenty of power to run a box blade but most have limited three point hitch (3PH) lift height. The 48" wide GBC48 addresses this issue with a smaller profile. But while the profile may be smaller, Woods hasn't lessened the use of quality construction materials. The end plates are 3/16" steel and are built around a reinforced steel A-frame that tips the scales at 285 lbs. The four scarifiers are reversible and can be adjusted from 0" – 1-1/2" digging depth. And it is those scarifiers that do most of the digging work. Lower them down to dig out rocks, or in the case of a gravel drive, dig out the potholes. When the site is graded to your satisfaction, raise the scarifiers and let the box smooth things out. The GBC48 is available painted orange or black.
LRC60 Landscape Rake
Landscape rakes excel at tasks from getting soil ready for seed to light grading of gravel drives. Like the GBC48, the LRC60 is designed to make the most of a SCUT tractor's inherent limited lift height. Measuring 60" wide, the LRC60 does its work through 30 heat-treated spring steel tines. The unit can be angled in five positions facing frontwards or back. The construction is heavy-duty and designed to yield many years of use. A parking stand is standard but the gauge wheels are not. But don't make the mistake of skimping on this option. Without gauge wheels the depth of the blade cannot be controlled and you will get a washboard effect. Gauge wheels add cost but will make the landscape rake one of your best performing implements.
PHD25 Post Hole Digger
Post hole diggers (PHD) work well for digging holes for the planting of trees and shrubs or for digging of deck and fence posts. The PHD25 is sized to match a SCUTs limited lift height and comes with 6", 12" or 12" diameter augers that are 30" long. A 12" extension is available to get the auger below northern frost levels but you'll most likely need to dig the hole, stop the tractor and add the extension while the auger is in the ground. All of Woods PHD line use an auger with a fish tail center that helps pull the bit into the ground, but in hard soil conditions you may want to consider the optional hydraulic down force kit (requires an auxiliary hydraulic outlet).
RCC42 Rotary Cutter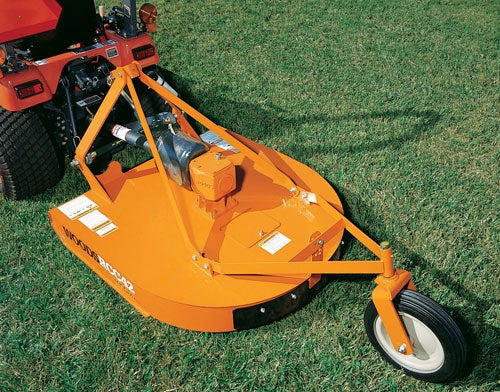 A rotary cutter works well in situations where you wouldn't want to chance damaging your expensive mid mount mower (MMM). The RCC42 is a 42" single spindle light brush cutter with twin blades that are designed to swing away from an object such as a rock and not damage the cutter spindle or the tractor driveline. The RCC42 won't yield that perfect finish cut, but for tall grass, weeds and brush up to 1" it's the ticket to reclaiming that let-to-go field. The blades rotate at 11,400 rpm in a CCW direction and are made from heat-treated alloy steel for long life. A laminated tailwheel is standard and along with your tractor's 3PH adjustment can yield a cut height range from 1" to 9" but if you don't have position control on your 3PH you may want to rig up a chain arrangement so the cutter returns to the same height each time. The 11 gauge deck is strengthened by the welded A-frame and side bolstering and is sloped to shed rain and debris. Woods warranties the gearbox for five years.
RBC60 Rear Blade
Rear blades are useful for tasks from grading to snow removal. Sharing the same 3PH mainframe with the LRC60 rake, the 59" wide RBC60 blade can rotate a full 360 degrees and has the same five front and five rear detents for adjustment of the angle. With an operating weight of 190 lbs, the RBC60 is perfectly suited for your SCUT, yet its solid construction will yield years of service life.
TSR60 Tiller
Woods has three tillers designed for SCUT tractors, the TSR44, the TSR52 and the TSR60. We chose to review the 60" wide TSR60, with the R designation standing for reverse rotation (standard rotation is also available). The TSR60 weighs 435 lbs and can be shifted 15.5" to the right to help cover tire tracks. The aluminum gear box has a drain plug for easy servicing (try turning over a competitor's tiller without a drain plug to service the gear box) and the tilling action is put to the ground by seven flanges and 28 tines. Tractor gearbox protection is through either a slip clutch or a shear bolt. Remember, in most conditions a reverse rotation tiller will till deeper and faster than a forward rotating tiller, which has advantages in loose or wet soil.
RDC54 Rear Discharge Finish Mower
Your SCUT may have come with a MMM but if you find there are times you wish you could back a mower under a tree or fence or you long for the easy attach/detachability of a 3PH implement, then the RDC54 may just be the implement for you. A rear finish mower yields a finer cut than the RCC42 and with the deep 4.6" depth deck design and rear discharge, the RDC54 clips grass as neatly or better than a MMM. But weighing 401 lbs and hanging out over 51" behind your tractor, you'll want extra ballast or the loader installed on the front. The RDC54 comes with a one-year residential warranty with the gearbox covered for three years and is available in orange, blue, green and red. We highly recommend the optional chain shielding and you may want to consider optioning up for the solid rubber casters.
THC4500 Chipper
A chipper reduces branches and limbs to semi-fine mulch that can be used in flowerbeds and around trees. If that brush is piling up around the homestead or you've experienced some storm damage, then the THC4500 is perfectly matched for your needs. Able to chip branches up to 4.5" in diameter, the 392 lb. THC4500 with its 49 lb. two-bladed rotor is big enough to do some serious work but sized to work with SCUT tractors and their PTO outputs. We especially liked the hinged feed chute over the fixed designs found in competitive models. The hinged input chute makes access to the blades easy and makes for more flexibility in storage configurations (the THC4500 measures 56.5" x 51.5" x 36.5" with the chute extended). There is an optional discharge chute for directing the chips into a trailer or truck.
TPR5 Power Rake
While we'll admit the TPR5 and the 20A148 pulverizer that follows are most definitely commercial-minded attachments, it is fun to review what these capable implements can do. A power rake is especially suited to reclaiming a let-go lawn but it also can be used to remove rocks and debris from construction sites as well as recondition baseball diamonds and walking paths. The TPR5 weighs 575 lbs and requires an auxiliary hydraulic outlet for angling, so it is on the edge of SCUT capability, but what a job it does getting a lawn leveled and ready for seed. The 13 x 5 pneumatic tires function much as the gauge wheels on the LRC60 and are the key to getting that perfectly level site.
20A148 Pulverizer
Whereas the TPR5 uses the tractor PTO to power the soil reclamation, the 20A148 does much the same through pure mechanical action. Weighing in at 480 lbs. and using a pair of 150-pound compression springs to force the roller pins into the soil, the 48" wide 20A148 can break up even hard-packed soil. Self-aligning bearings and the lack of a power driven gearbox make maintenance a breeze.
LS72 Groundmover-X Loader
A loader may well be the most used or underused attachment in your garage or shed, but it is the one implement your back will thank you for over and over after the purchase. The LS72 is well-matched to a SCUT size and hydraulic flow and offers competitive lift capacities to 650 lbs. The curved boom is both stylish and offers better visibility of the work being done and the whole unit is designed to be compatible with your MMM—which means you can operate the tractor with both installed. When it comes time to remove the loader, the design is wrench-less and only takes a few minutes with the stand self-contained. The LS72 is available in orange, blue, green, red and yellow.
BH6000 Groundbreaker-X Backhoe
A backhoe addition to your stable of implements will bring out neighbors and friends (and their projects) like no other attachment. The BH6000, with its curved boom design, easy tool-less on/off mounting system and up to 74" digging depth won't disappoint. Able to dig out stumps, trench for plumbing or electrical, or dig a hole for a tree, the BH6000 is available with 9", 12" and 16" construction grade buckets. Though the Woods easy on/off mounting system is standard, allowing attachment or detachment in about three minutes, there is an option for a 3PH mount to fit an even greater range of SCUT tractors. And the BH6000 is available in orange, blue, green, red and yellow.
So Does the Aftermarket Quality Stand Up to OEM Standards?
From what we saw, we believe so, and the posted experiences of owners we see on the Internet forums seems to back that up, but the most telling affirmation might just be the colors you see available. Woods furnishes many of these implements for OEM resale, in their color and with their labeling.
Related Reading
2011 Wallenstein BX32 Chipper Review
2011 Bush Hog 296 Rotary Cutter Review