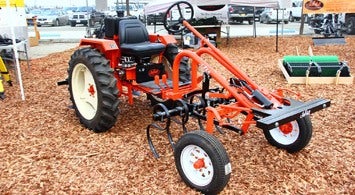 The World Ag Expo (WAE), billed as the world's largest annual agricultural exposition, is a tradition that dates back to 1968. Located in Tulare, Calif., a city of 59,000 (2010 census) located in the San Joaquin valley, which is named after the currently dry Tulare Lake that was once the largest freshwater lake west of the Great Lakes. Situated some 45 miles south of Fresno and 60 miles north of Bakersfield with the ports of Los Angeles and San Francisco just 200 miles away, Tulare is a hub for product movement and the perfect location for an Expo drawing more than 100,000 visitors from over 50 countries each year.

On display over the three show days from February 13th to 15th were more than 1400 exhibits showcasing the latest cutting-edge agricultural technology and equipment spread out over some 2.6 million square feet of show grounds. Special thanks goes to the 1000+ volunteers who planned and organized the event, as-well-as law enforcement who efficiently managed the immense traffic flow.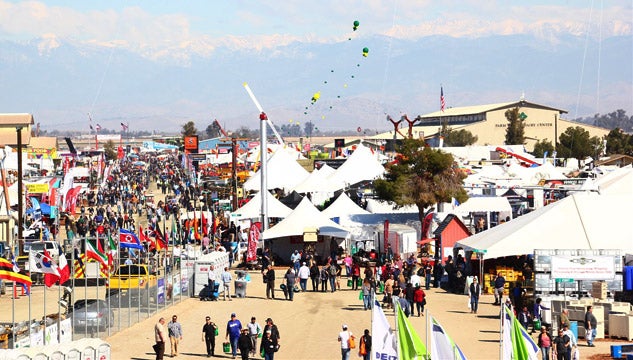 World Ag Expo Top 10 Awards
As in the past, Top 10 Awards for new products were handed out by a panel of judges that included farmers, ranchers and industry professionals. For 2018, those Top 10 winners were:
• GUSS (Global Unmanned Spray System). The world's first fully autonomous, driverless orchard sprayer.
• ANDROS MegaBinder LRV. The fastest and most efficient Ag film recycling system on the market.
• MetalCraft of GA TILT. TILT-equipped scrapers utilizing sensors and GPS controls are able to create precision slopes without the need for expensive bulldozers or motor graders.
• Lindsay Corp. Pivot Control Lite. A cost-effective system for monitoring and controlling almost any electric center pivot watering system.
• Cargill Animal Nutrition Reveal Analysis. Lab quality forage analysis in the field from a handheld device and smartphone app.
• Hydrox Technologies Solar Shrink Mulch Film. A mulch film that shrinks in the heat of sunlight that prevents the sheeting from flapping in the wind and allowing an earlier start to the planting season.
• Sweco Produts Orchard Master. A single three-point hitch (3PH) implement that incorporates weeds and harvesting debris into the soil, doing the work of what used to be four implements, leaving a final product that has been tilled, leveled and rolled.
• Truck Claws Quick Connect. An all-season traction aid to help drivers of almost anything wheeled to get unstuck.
• Environmental Technologies Thymox Footbath 1p. A highly concentrated footbath based on food-safe thyme oil that is effective for controlling hairy heel wart infection plaguing dairy farms.
• Eno Scientific Well Watch 700. A non-contact well water management system that allows the user to make intelligent water usage decisions.
The Expo opened Tuesday morning with attendees and exhibitors, their hats off and hands over their hearts, to the Star Spangled Banner with nary a knee taken anywhere in sight and followed by a prayer. This was a theme that would play out over each day at the Expo. With so much to see, loyal Tractor.com readers will find our 2018 Expo coverage spread over a series of articles.
AGCO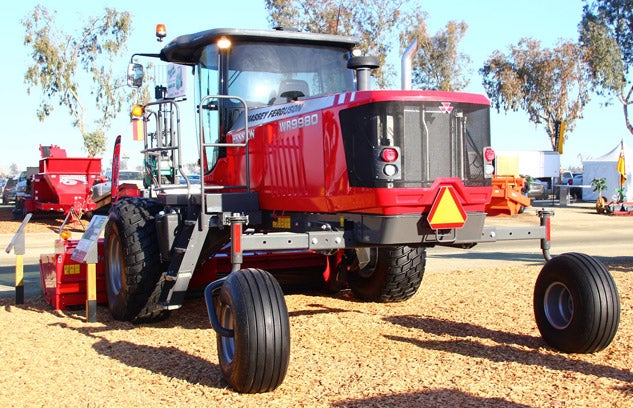 The first scheduled stop for Tractor.com was at the AGCO booth, where a number of new innovations were on display, including five significant enough to have received AE50 awards by the American Society of Agricultural and Biological Engineers for 2018. An entire article could be devoted to any one of those awarded products, but two we'll highlight: the all-new 2370 Ultra HD baler (more details to follow in the upcoming World Ag Expo 2018 Spotlight: Balers) and the all-new Hesston by Massey Ferguson WR9900 series self-propelled windrowers that Shaun Allred, Tactical Manager, Hay and Forage walked us through.
Allred told Tractor.com that the WR9900 series is built on the best features incorporated by the outgoing WR9800 series. Power is up, now ranging from 160hp in the WR9950 to 265hp in the WR9980. Hydraulic power has been increased by 20% along with a commensurate increase in hydraulic cooling. The increased horsepower and hydraulic capability allows for better performance and throughput, especially in heavy crop conditions.
Operator comfort and vision are improved by a new, larger cab with 130 cubic feet of curved glass and a HVAC system (auto climate control standard) with 50% increased capacity. Other niceties include: foot pegs on the steering column, increased cabin storage, new user interface that includes a 12" touch screen, larger instructor seat, 12V ports, tinted back window, pull-down front shade, cab suspension, programmable CommandArm joystick control with six user profiles, 0.6 mph speed jog, and Bluetooth connectivity. Options include: LED lighting, electric outside mirror adjustment, and rear steer (ordered by ~ 15% of purchasers).
Technical advantages include: in-cab hydraulic pressure adjustment of conditioner roll on RazorBar, Auto Knife Speed control, and Auto Load control which slows or increases ground speed to the conditions encountered. WR9900 series production began in November with windrowers being delivered to dealers today.
Kioti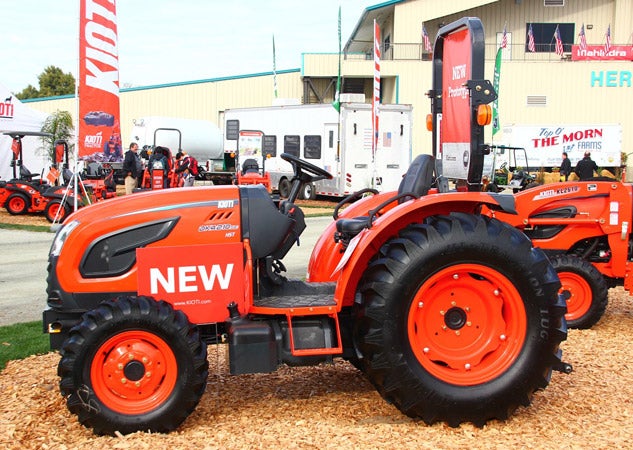 The Kioti booth contained a few surprises. Hot off introduction of the 93 – 110hp PX utility tractors and CS subcompacts, we really didn't expect to see much new. Maybe additions to their Mechron UTV lineup, but that was about it. At WAE, though, a CK3510SE with short, fixed rear ROPS and a larger mid ROPS caught our eye. Yes, this was California, and home to a host of orchard and vineyard operations. Standard model tractors modified to fit narrow row planting along with protective covers to protect against both tractor and trees in that region are commonplace, though more specialized customization from the factory has become more than just a cottage industry. Was the CK3510SE the former or later? We'll let prospective purchasers decide. Circling the Kioti booth, we came to a DK4210SE HST that we didn't need to see the sign it wore identifying it as a new product to know it was. Talking to the sales representative, we learned it was a prototype, but one we should see at dealerships in the not too distant future. When this occurs, Tractor.com readers can be sure a review of this new model will be forthcoming.
JCB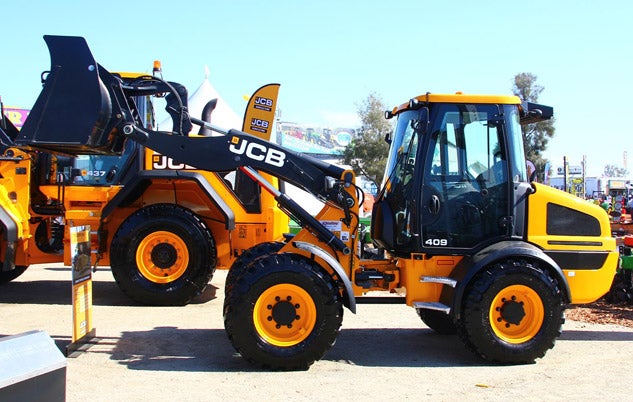 JCB, the company founded by Joseph Cyril Bamford, brought a number of new products to WAE, including a pair of Fastrac tractors. The 8330 comes with a 335-hp engine making 1440 lb-ft of torque at 1500 rpm, hydraulics flowing 47 gpm, and a top speed in high range of more than 43 mph. In addition to its versatile lineup of Telehandlers, the new Teleskid skid-steer features a lift height of more than 13′ 8″ of forward reach, and a dig depth of 3′. The Teleskid, requiring no diesel particulate filter (DPF) or additions of diesel exhaust fluid (DEF) to achieve EPA Final Tier 4 (FT4) compliance, also boasts easy side access to the cockpit avoiding the front entry of conventional skid-steer design which is considered a drawback by many.
Case IH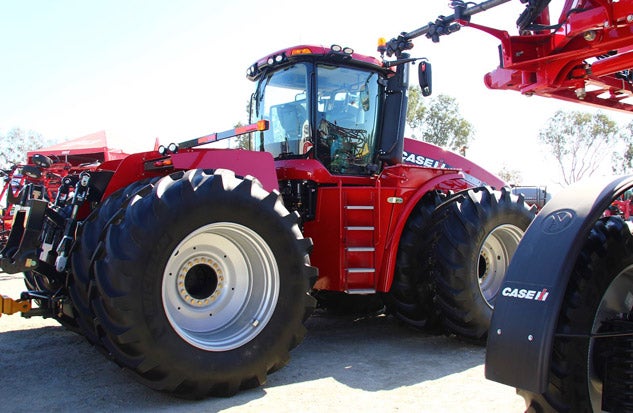 Case IH also brought out tractors intended for orchard and vineyard use, such as its Farmall V, along with well-known performers such as the WD2504 windrower, and Optum 300 cab tractor, but it was the Steiger 620 Quadtrac that was a magnet for many attendees. Boasting the highest horsepower of any Ag tractor (682 gross/473 PTO), the 620 was recently named "Machine of the Year" at Agritechnica 2017. Want one? Better have the wherewithal to cover purchasing a machine with a base price that begins at $612,713.
Yanmar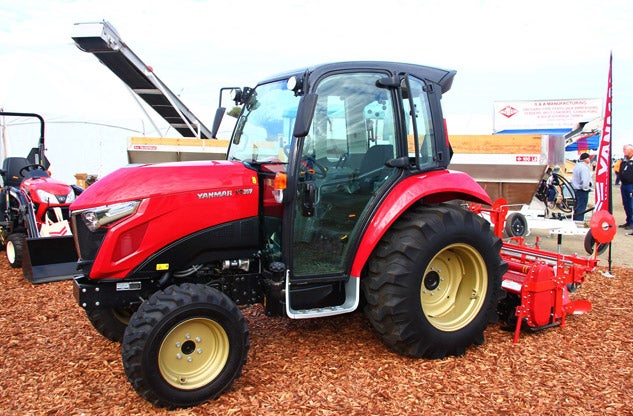 The Yanmar booth wasn't one of the show's largest, but it did showcase a great deal of the Osaka, Japan manufacturer's impressive lineup of tractors and UTVs. A favorite of Tractor.com since its introduction just a few years ago is the YT series, including the YT359 cab tractor on display at WAE. The YT359 boasts 58.9 gross and 52 PTO horsepower, an i-HMT (integrated hydraulic mechanical transmission) that operates just like an automatic transmission in any car or truck, fuel-saving and comfort-enhancing auto-throttle, 14.7 gpm hydraulic flow contributing to a three-point hitch (3PH) lift capacity of 3086 lbs and an infinitely variable speed range of 0-18 mph forward and reverse.
LS Tractor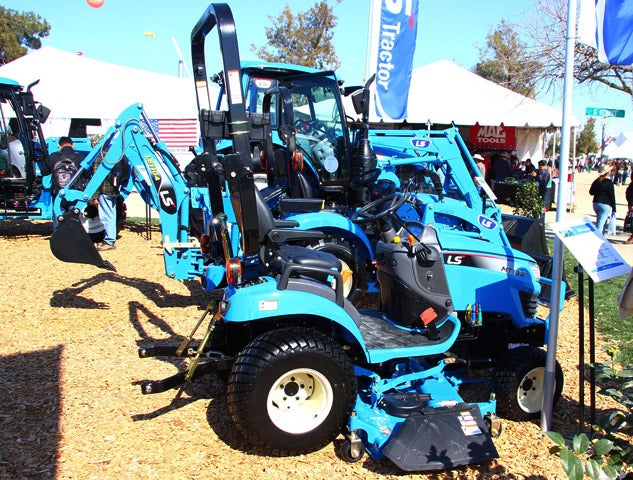 While we have to admit we've never gotten behind the wheel of a LS tractor other than at agricultural shows, we do have experience testing some of its excellent tractors rebranded for other marques. Represented at WAE were its MT122/125 tractors, which are the basis of the latest New Holland Workmaster 25S, a subcompact we overviewed a few weeks ago and one we're looking forward to getting behind the wheel of, just as soon as they hit dealer stocks. LS manufactures subcompact, compact utility and utility tractors to 100 horsepower.
CLAAS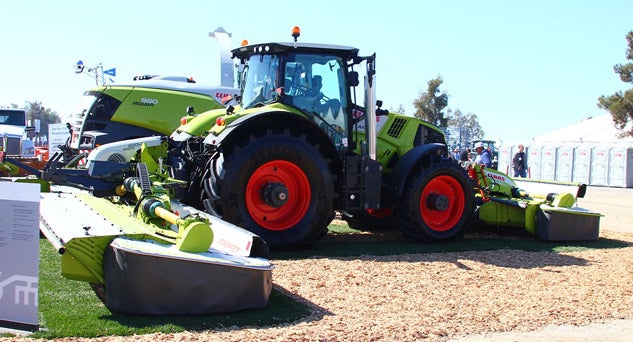 At any Ag show, the CLAAS booth is always an impressive stop. WAE 2018 was no exception with the latest high-horsepower Jaguar 980 self-propelled forage harvester front and center for all to see. Powered by a gargantuan 24.2L MAN V-12 making 884 horsepower at 1800 rpm, the 980 now has a variable speed header drive, and an all-new front axle with three-mode differential lock. What caught our eye, though, was the migration to North America of the Axion 800 series tractors. This six-tractor lineup gets power from six-cylinder FPT engines with outputs ranging from 200 to 280. Initially available to selected dealers, a full Axion rollout is expected by 2019.
Tuff-Bilt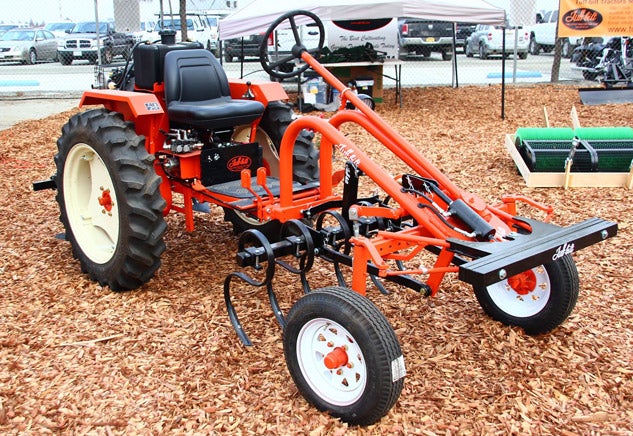 The Tuff-Bilt history dates back to 1974, when Cumming, Ga. native Bud Thomas designed and built tractors under the Thomas-Bilt name. These early tractors had electric front lift, 14hp Tecumseh engines, and three-speed transmissions. Over the subsequent years, production would stop and then restart under a number of different owners. In 2015, a new group of owners began manufacturing tractors in an ISO-9001 certified facility in Nebraska under the Tuff-Bilt name. Available today in 44" and 60" width with either Kohler EFI V-Twin or Hatz air-cooled diesel power and hydrostatic transmissions.
World Ag Expo Report – Part One Wrap Up
With so much to report, we've decided to run a two-part overview followed by a series of spotlight articles covering: Orchard/Vineyard Specialty Machines, Massey Ferguson Global Series, Autonomous Technologies, Balers, Horsepower Wars, and an introduction to Deutz-Fahr. Stay tuned for more WAE 2018 coverage.