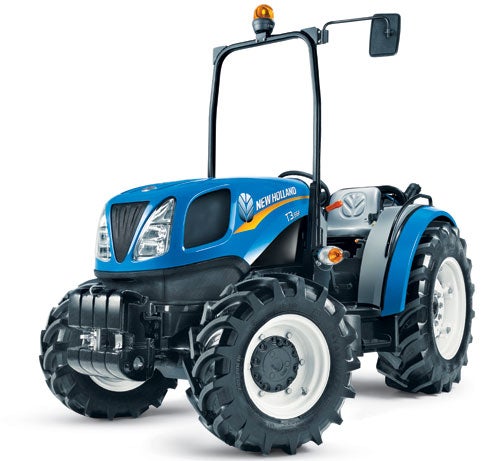 While specialty tractors by their very definition are not for everybody, New Holland clearly feels its new four-model T3F series of compact tractors will entice enough buyers to make it a worthwhile investment. Designed to meet the needs of professional fruit growers, New Holland says the T3F series can "move with ease between rows, offering excellent performance for spraying, cultivation and road transport."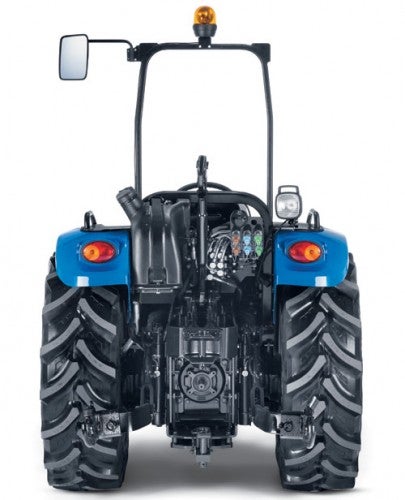 "This ground-breaking concept is set to revolutionise the way small and mid-sized orchard and viticulture businesses operate," says Luca Mainardi, head of Tractor and PLM Product Management. "Operations will no longer have to trade off size for power: the new T3F will satisfy their power demands in intensive applications. The impressive hydraulic offering is perfect for specialist tasks, and the compact package will protect valuable crops against potentially damaging rubbing and brushing."
In addition to fruit growers, New Holland believes the T3F series will be popular with professional and part-time farmers, especially market gardening operations thanks to its foldable ROPS. As well, New Holland hopes municipalities will be interested due to the T3F's "exceptional manoeuvrability and overall operating economy."
The T3F series (T3 50F, T3 55F, T3 65F, T3 75F) will be available in the second half of 2013.
What makes the T3F ideal for fruit growers? Its compact dimensions are a good place to start. It sits just 53.1 inches wide with a 73.2-inch wheelbase, leading to a turning radius of only 11.2 feet.
When working in vineyards and orchards, valuable fruit can be easily damaged as the tractor brushes past. The T3F is 2.4 inches narrower than the T4000F, which will help operators to pass between narrow rows without damaging precious crops.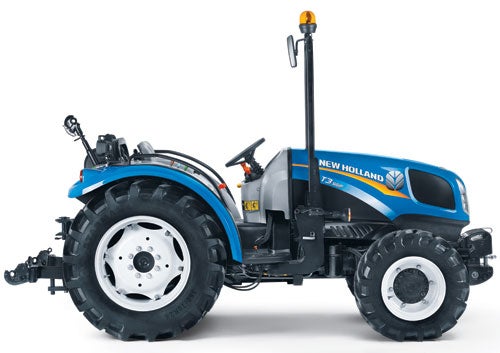 At the heart of the T3F series is New Holland's three-cylinder, 2.9 liter, turbocharged and intercooled S8000 engine, which develop between 50 – 72hp. Maximum torque of up to 217.6 ft-lbs. is available together with up to 34% of torque backup. As well, engines are fully compatible with B100, 100% biodiesel.
Power is nothing without a user-friendly transmission, so the S8000 is coupled with a standard 12×12 Synchro Shuttle 18 mph transmission – a 24 mph option is available. A dedicated 20×20 Synchro Shuttle Creeper variant can be specified with speeds as low as 0.068 mph, perfect for hand planting.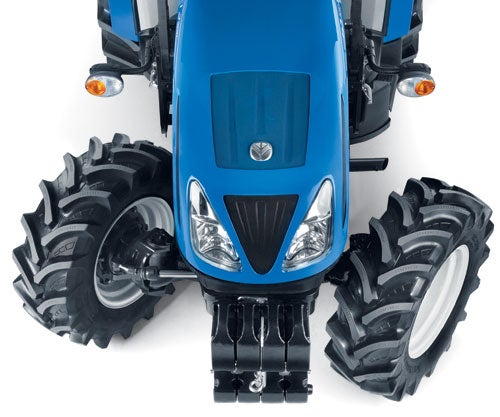 A column-mounted mechanical shuttle lever further enhances operating safety and comfort. New Holland says the gear lever, precision placed on the right hand console, falls naturally to hand. The differential lock and four-wheel drive are both electro-hydraulically engaged at the touch of a button.
The T3F benefits from two fixed displacement hydraulic pumps delivering a total of 22.2 gpm of flow. A 13.7 gpm pump is dedicated to the three remote values and the trailer brakes and an 8.5 gpm service pump helps ensure that the steering remains light and responsive.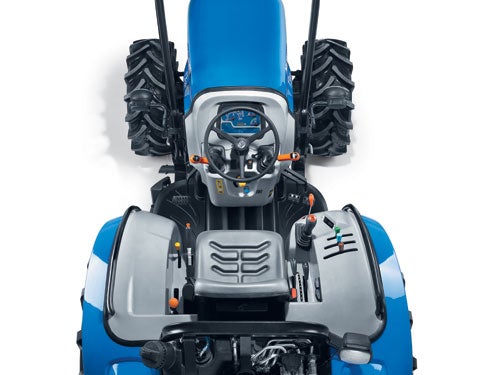 New Holland's renowned Lift-O-Matic system is standard throughout the entire range, which enables operators to lift and return rear mounted implements to a pre-set height by using an ergonomic rocker switch. Furthermore, the drop rate of the implement is independent of its weight, ensuring that when even the full 5020 lbs. of lift capacity are exploited, the implement will be returned softly and smoothly to work. The rear linkage also features external cylinders which enable the operator seat to be closer to the ground.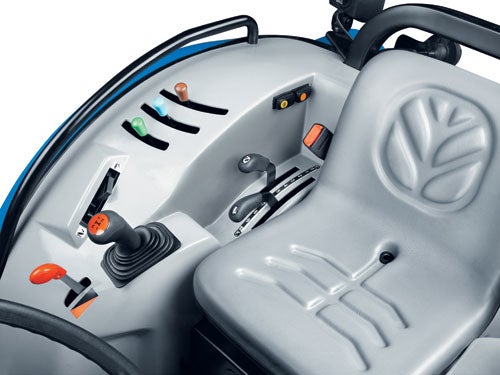 The three remote values are located on the right hand console, close to the Lift-O-Matic and rear linkage controls. According to New Holland, all of these controls "fall perfectly to hand for intuitive operation and banish twisting and turning to find controls scattered around the platform to the past."
With operator comfort in mind, New Holland has suspended the operator platform on isolation mounts to cushion the operator from the harshest shocks. Also cushioning the ride is a fully adjustable seat with 2.4 inches of suspension travel and 10 degrees of back rest adjustment. The telescopic steering column is paired with what New Holland calls an easy to see instrument cluster.
The T3F is fitted with hydraulically assisted PTO actuation, which offers "near-effortless PTO engagement." Furthermore, when the tractor is turned off, the PTO will automatically. Two PTO speeds are available: both 540 and 540E, the latter achieved at a mere 1592 erpm for quieter operation.