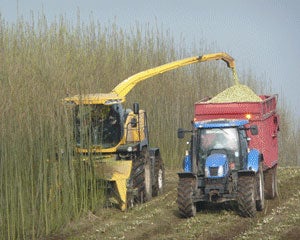 New Holland is celebrating 50 years of producing self-propelled forage harvesters.
According to New Holland, the history of self-propelled forage harvesters began in 1961 when New Holland decided to transform its famous pull-type forage harvester into a unit with its own engine and controls.
"From that moment on, the pioneering and innovative spirit that has always marked New Holland has been expressed uninterruptedly," New Holland says in a release. "Giving rise to a series of real inventions that have revolutionised the sector, New Holland's self-propelled forage harvesters enable farmers and contractors to increase productivity, quality, efficiency, safety and driving comfort."
To help celebrate this golden anniversary New Holland is launching a FR9000 50th Anniversary Limited Edition model.
A list of New Holland innovations including in the equipment of the FR9000 can be found below the jump.
New Holland Innovations:
• Metaloc System for detecting and ejecting metal objects from the forage. Active protection for the machine and for livestock.
• Adjust-O-Matic System for sharpening knives and automatically regulating the knife-to-shearbar clearance. Better fodder quality and reduced power requirement.
• Variflow System for automatically adapting the blower position versus the cutterhead in relation to the use of the crop processor. Optimised blower performance.
• Power Cruise II System for adapting the engine speed and ground speed in relation to the crop load. Fuel saving of up to 15% on the field and up to 20% on the road.
• IntelliFill System with 3D camera for automatic trailer filling. No waste of time or product, better operator concentration on harvesting. Winner of the 2010 EIMA Innovation Award and of the Gold Medal at Agritechnica 2009.
• IntelliView III touchscreen monitor and CommandGrip multifunction handle. Maximum intuition and simplicity of operation, for one of the most successful control and regulation systems on the market. Now also adopted on new tractors in the New Holland Series T7 and T8.
• HydroLoc feed roll drive system to provide instant and on-the move chop length adjustment to suit specific requirements.
• Double Drive independent attachment speed adjustment particularly useful for large attachments in demanding crop conditions. The attachment speed can be adapted independently from the feed rolls optimizing crop cutting and collection.