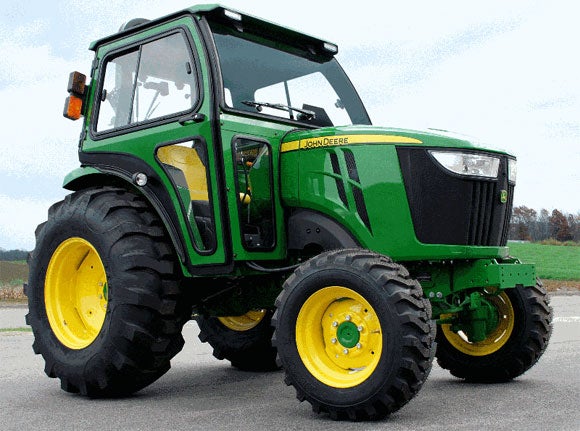 Curtis Industries, LLC has released a new cab system for John Deere 4 Family compact tractors.
The cab frame, doors, and roof are constructed of powder-coated, commercial grade steel. Features include a venting tempered safety glass windshield, lift-up rear panel, and dual sliding glass windows.
Curtis says the doors are designed with extra wide dual sliding windows, and lower glass panel. The total seal doors are pin hinged and remove in seconds without tools for open air operation in warmer weather.
The rear glass panel lifts and is held open on two gas shocks for quick conversion to backhoe operation. Operators can control the throttle from the driver seat during backhoe operation.
Curtis' new cab is fully compatible with John Deere 4th and 5th Selective Control Valve (SCV) hydraulic outlet, allowing the operator to easily add a variety of implements and attachments. The cab fits power reverser models.
The cab includes a wiper and key controlled wire harness for the wiper and one accessory. The wiper has a 172-degree sweep arm. Factory fender lights can be relocated for unobstructed lighting. Finally, the cab is color matched for a factory look.
Curtis is offering a number of accessories for the cab, including a 20,000 BTU heater, work and strobe lights, and mirrors.
According to Curtis, the cab mounts independently of the existing factory Roll-Over Protective Structure and installs in under four hours. Visit CurtisCab.com for more information.