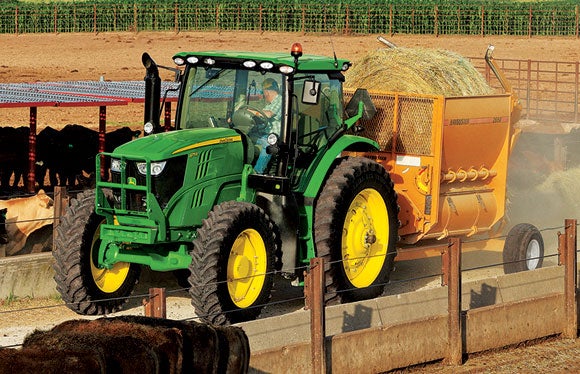 John Deere has made improvements to the 6D and 6R Series Tractors for 2015. The four 6D Series Tractors (6105D, 6115D, 6130D and 6140D) come with two new transmissions: a 12/12 PowrReverser or optional 24/12 PowrReverser Hi/Lo to provide more speeds within each working range.
According to Brad Tolbert, marketing manager for 6 Family Tractors for John Deere, these new transmission options allow operators to shift on the fly to match changing field conditions and keep engine RPMs constant for PTO-driven equipment such as rotary cutters and balers.
For 2015, the 6D Series Tractors will continue to be offered with a single fluid Interim Tier 4 engine.
2015 John Deere Tractor Lineup Unveiled
John Deere also has made improvements to its 6R Series lineup by adding five extra horsepower to the current 6R models (the 6170R, 6190R, and 6210R) to create three new higher horsepower models – 6175R, 6195R and 6215R. These higher spec machines feature Final Tier 4-compliant engines with Intelligent Power Management, which automatically provides up to a 40 HP boost when the load calls for it, especially during transport and PTO-driven implements.
Other enhancements include a new hydraulic valve stack with up to six SCVs for increased hydraulic capabilities; improved visibility to rear SCVs; new remote rear couplers like those found on the 7R and 8R Tractors to make it easier to attach and detach implements; and the popular IVT transmission with new overdrive that maintains transport speeds at lower RPMs to reduce fuel costs and noise.
Inside the cab, customers will notice a new CommandARM with a standard 7-inch (10-inch optional) Generation 4 CommandCenter touch-screen display consistent with that used in the 7R and 8R models. A 30-degree right hand swivel seat also has been added to increase operator comfort, especially when using rear implements.
"We've given the 6Rs many of the same features and platforms as our larger tractors to make it easier when switching between different machines. That way operators don't have to relearn the controls or adjust implement hookups," says Tolbert. "With its full frame design and largest tires of any tractor in its class, the higher horsepower 6Rs deliver exceptional power and productivity in the field."