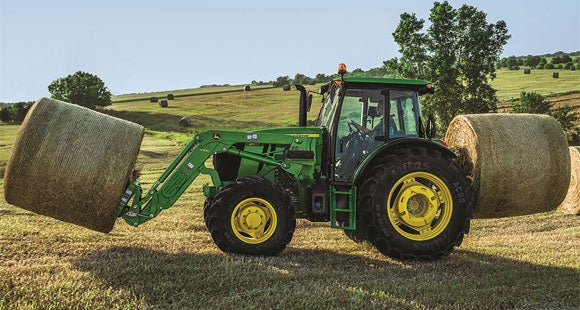 John Deere has added a new branch to the 6 Family Tractor lineup – the 6E Series of high-horsepower utility tractors. The three 6E Series Tractors range from 105, 120, and 135 horsepower.
According to John Deere, the design on the new 6E Series initially began with upgrading the pre-existing 6D line.
Read our 2016 John Deere Lineup Review
"We took a solid, simple workhorse in the 6D and made it even better with upgrades, like easier operating functions," says Kory Ross, product marketing manager for John Deere. "We improved it and added so much value that we felt it earned a whole new name – the 6E Series.
"The 6E Series improves producers' cost of operation by saving money on fluid costs and maintenance, thanks in part to the PowerTech engine's reduced fluid consumption. The 6E Series saves fluid by handling regeneration automatically while working, which when combined with reduced fluid consumption can add up to $2,000 per year of savings when matched to comparable models on the market."
Two PowrReverser transmissions are available for 6E Series tractors:
A 24/12 Hi/Lo option gives operators eleven working speeds in the 5- to 13-mile-per-hour haying range, allowing drivers to shift on-the-go to match changing field conditions.
The standard 12/12 transmission gives operators six working speeds in the haying range.
Visit JohnDeere.com/Ag for more information.