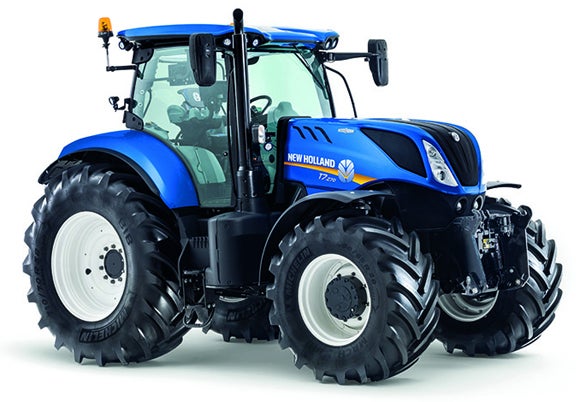 New Holland has introduced its new tractor styling with the new T7 Series featuring its ECOBlue HI-eSCR technology for compliance with Tier 4B emissions standards. The new eight-model range includes a new standard wheelbase model with 225hp.
"The new T7 offers the best of New Holland's technologies and features," says Luca Mainardi, head of Tractor and Precision Land Management Product Management. "Great attention to detail has been devoted to provide farmers with a powerful and highly versatile tractor that will enable them to achieve the highest levels of productivity with ease while enjoying ultimate comfort."
Housed in the new engine hood are New Holland's trademark cat eye lights that now include LED signature lighting. Extended blue side panels provide improved protection from dirt and debris from entering the engine compartment while new side vents add a further styling element.
The new T7 Series features a six-cylinder engine and ECOBlue HI-eSCR technology developed by FPT Industrial that meets Tier 4B emissions standards without the need for Exhaust Gas Recirculation or Diesel Particulate Filter.
New Holland increased the upper power levels of both wheelbase versions of the T7. Rated power of the long wheelbase increases by 5% while the standard wheelbase climbs by 9%. To maximise the potential of this package, tires as large as 710/70R38 are now available on the standard wheelbase.
Increased productivity comes with easy to use automation. A new second generation Headland Turn Sequencer II has been developed. Controlled through the now standard IntelliView IV touch screen, HTS II enables complex headland turns to be created by recording a turn 'live' or creating one by selecting actions and trigger points from a menu. Everything from selecting the target speed of the Auto Command transmission to switching to an implement camera view is programmable and editable. It's then placed under the control of a single button.
Further additional features include adjustment of the power shuttle clutch engagement time and Remote Valve Management. This allows any two hydraulic remote valves to be assigned to the quad switch on the CommandGrip multi-function handle.
At the front end the long wheel base models get a new integrated front linkage with a higher capacity PTO, while the standard wheelbase front end loader option features a wider frame loader for improved visibility and stability.