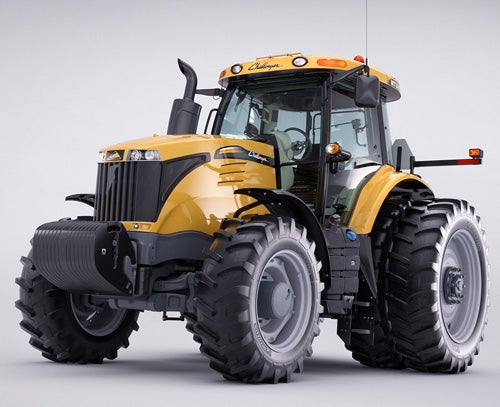 Challenger has recently introduced the all-new MT500D Series High Horsepower wheeled row crop tractors to North American professional producers.
The Challenger MT500D Series tractors, made up of four entirely redesigned models ranging from 170 to 225 engine horsepower (140–180 PTO HP), feature new comfort features designed to help producers handle the most challenging jobs. Optional factory-installed auto-steering and telemetry technologies available on these new models offer what Challenger calls a never-before-seen level of control.
"These new tractors from Challenger boast some of the most innovative features as they relate to emissions compliance, versatility, work management and operator comfort," says Mike Alvin, product marketing manager, high horsepower tractors. "When there's work to be done, professional producers need a tractor they can count on to finish a multitude of jobs, and that's what we've created with the MT500D Series. These are tractors with the power and technology to work long and hard, helping their operators meet the intense demands of farming today."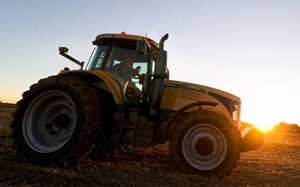 The Challenger MT500D Series tractors are powered by Tier 4-interim emissions-compliant AGCO POWER diesel engines with e3 selective catalytic reduction (SCR) clean-air.
New features available direct from the factory The MT500D Series can be outfitted with System 150 auto-steering technology and the AGCOMMAND telemetry system which provides real-time tractor-performance information to help producers monitor and further increase tractor performance, productivity and efficiency.
Shifting on the MT500D Series is handled by an innovative TechStar continuously variable transmission (CVT), which delivers true clutchless, stepless shifting, the convenience of a 1200-hour service interval and limited moving parts for long life. Power Management (PM) continuously monitors the load on the engine, adjusting the engine and transmission to deliver optimum power and improved fuel efficiency. An AutoPower VI (partial-powershift) transmission also is available.
In addition, these tractors feature redesigned cabs that offer a wide-angle view and superior operator comfort.
The MT500D Series are powered by 6.6L or 7.4L AGCO POWER six-cylinder engines with Generation 2 e3 SCR technology that incorporates enhanced emissions components to meet Tier 4-interim emissions requirements. The catalytic converter and diesel oxidation catalyst work with the tractor's engine to maximize efficiency and simplify maintenance.
Challenger says SCR technology allows these AGCO POWER engines to run better, stay cooler and last longer. The MT500D Series comes with larger 114-gallon capacity diesel fuel and 11-gallon DEF tanks to allow longer periods of work between refueling.
"Time is a valuable commodity for today's producers, and we designed these tractors with that in mind," says Alvin. "By creating an all-around tractor that incorporates new technology with versatile performance, we've built an innovative machine that lives up to our customer's expectations, as well as EPA standards."
A new feature of the MT500D Series is the OptiRide Plus hydraulic cab suspension system. This unique cab suspension system relays information through an electronic control unit to automatically adjust the cab suspension to control bounce, rolling and pitching for a comfortable ride in the field or down the road.
Inside the cab, a more advanced Datatronic tractor management center (TMC) offers greater performance and functionality and increased legibility so producers can accurately monitor and adjust tractor and implement settings. A right-hand control armrest, new multipad control and new multi-function joystick provide easy-to-reach, fingertip control and ergonomic design that are comfortable for the operator to use.
For more information about the new Challenger MT500D Series, visit http://www.challenger-ag.com.