2012 John Deere 2320 HST Review
An entry-level compact utility tractor without entry-level sacrifices
By Geof Fowler, Photography by John Deere, Oct 12, 2012
With the separation of the subcompact tractors (1000 Series) from the 2000 Series, the 2320 is now John Deere's entry-level compact utility tractor (CUT). But don't let that fool you, the 2320 comes with niceties you might not expect from a tractor with a MSRP beginning at $13,877.
The 2320 begins with an updated Yanmar 3TNV76 liquid-cooled three-cylinder "Clean and Silent" diesel powerplant that is EPA Tier-4 compliant. The 68 ci (1.115L) engine is isolated for quieter operation and less vibration. Using indirect injection, the rated gross horsepower is 24.1 with 18 horsepower available at the power take off (PTO) – both accomplished at the rated engine speed of 3,000 rpm. Torque is rated at 40.27 ft. lb. – plenty enough for the toughest of tasks. The 3TNV76 uses glow plugs for quick cold weather starts down to 0#F. For colder temperatures an optional coolant heater is available.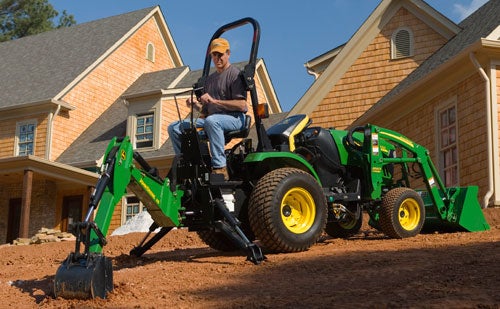 Power from the engine is sent to a two-range hydrostatic transmission manufactured by Kanzaki that utilizes a large forged one-piece trunion shaft with large support bearings. The heavy-duty HST unit also features pressure side filtration with a fine 10-micron mesh screen offering better filtration than the suction tube systems used by some of the competition. A separate hydrostatic oil cooler keeps temperatures within range and is an improvement over systems which use fans that are prone to damage by sticks. Control over the hydrostat is by side-by-side pedals – an arrangement we usually prefer. However, John Deere has modified its slick pedal arrangement to one where the inside forward pedal is higher than the outside reverse and, at least to this 5'-11" tall tester, makes for more lifting of the heel which is less comfortable. Oh well, at least the system is intuitive and offers good modulation over the infinitely controllable forward and reverse speed ranges. Rear 540 rpm and mid 2100 rpm PTOs are standard.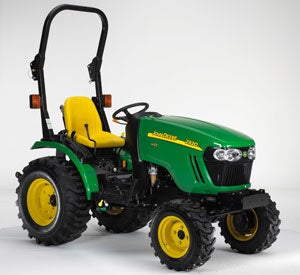 Prospective purchasers of a tractor of this size and class will be pleased to learn the 2320 Category-I three-point hitch (3PH) comes standard with position control. Adjustable detents allow implements to be returned to a precise height each and every time and with no leak down. Hydraulics flow through an open-center dual pump outputting 3.4 gpm for implement use and 2.2 gpm for hydrostatic power steering use (5.6 gpm total). Long-time readers might recall the 1026R subcompact (SCUT) we tested in Sept. 2011 came with hydraulics that flowed 6.3 gpm and wonder why John Deere saw fit to outfit the 2320 with lesser hydraulic capability, but that is not the case as the 1026R system runs at 2000 psi and the 2320 2421 psi. 3PH lift capacity benefits from this extra oomph and is rated to lift 1150 lbs at the industry standard of 24" behind lift arms (the 1026R is rated to lift 681 lbs at the same distance).
John Deere is known to have some of the best designed operator platforms in the business and the 2320 is no exception. Starting with a molded polymer deck covered by a thick sound- and vibration-dampening rubber mat, the 2320 platform is surprisingly roomy – perhaps even more so than the bigger 2720 we tested in August. The automotive-style instrument panel is easy to read with a large tachometer that is clearly marked where 540 PTO rpm takes place, electric fuel level indicator, digital hourmeter; lights for 4WD, oil pressure, alternator, PTO, parking brake, and coolant temperature.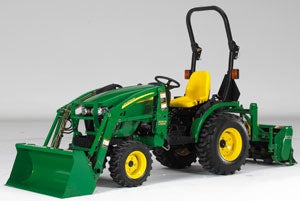 On the right floor are the abovementioned hydrostatic control pedals, to the left are the split brake pedals which give the 2320 a 6.7' turning radius (7.7' without brakes). The operators left heel actuates the differential lock and right next to that pedal is a hand control for 2WD/4WD selection which can be engaged/disengaged on the go. The selective control valve (SCV) lever for controlling loader and other hydraulic implements is nicely integrated into the right fenderwell where the 3PH position control lever and a cup holder are also located. The left fenderwell gets levers for PTO and transmission range selection. The rollover protection system (ROPS) is foldable and measures 89" high extended and 67.9" folded. Operators will find the updated high-back seat with suspension has good back support and is more comfortable. The hood is of a sloping design for good forward visibility. Mechanical cruise control is standard.
Our test tractor was equipped with the 62D On-Ramp mid-mount mower (MMM) which can adjust from 1" to 5-1/2" cut height using a rotating knob with install and lock (6") positions . Standard MMM lift and lower control is by a bracket that overlaps the 3PH. This means that if the operator wishes to operate a 3PH implement at the same time as the MMM, the rotating knob must be set to lock or the mower deck will raise and lower with the implement. Optional is an independent lift using two ports of the SCV which isolates the MMM from the rear implement, but if the loader is on at the same time, the operator can only lift/lower the bucket. Either way there are sacrifices, but to us, if you are using an implement, why keep that $3,000 mower on as an expensive skid plate?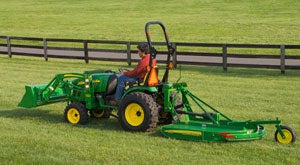 The 62D mows as well as any large deck we have tested, due in part to the stamped shell that is rumored to require the highest tonnage press in the world to manufacture in one piece. One thing we noticed is that the gear spacing between ranges is very different than in the 2305 which shared many components including the same engine. High-range really scoots along and low-range is much faster than on the 2305. That said; the 2320 is pulling taller tires and more weight. Mowing flat to slight inclines, the 2320 handles it fine in high-range. But up the ante with greater slopes and its low-range all the way. This may not be an issue for potential purchasers but it is something to be aware of: mowing in low-range might not be as productive as desired.
Two loaders are available, the 200X and 200CX. Our test tractor came equipped with the 200CX, but a special note to prospective buyers who have had experience with the 3x20 and 4x20 series tractors which offer 300X/300CX and 400X/400CX loaders with the CX versions having greater lift capacity, the nomenclature for the 2000 series is quite different: the 200X and 200 CX have the same lift capacity, but the 200X does not have a quick park stand built in. Our 2320/200CX came with a medium-duty 53" bucket (49" and 61" options are available) which is also a quick attach design but is not skid-steer compatible. Rated maximum lift height is 78.7" and with the bucket in full dump it clears 58.5". Raise time is 4.73 seconds, lower is 2.88 seconds, dump 4.73 seconds and rollback is 2.88 seconds.
Our test tractor came with 23x8.5-12 R4 front and 31x12-16.5 R4 rear tires (industrial tread) which ride on a 63" wheelbase. The 2320 is 109.2" long by 51" wide and weighs 1660 lbs. Front axle ground clearance is 12.5". John Deere backs everything with a three-year/2000-hour limited warranty.
John Deere compares the 2320 to the Kubota B2320, New Holland Boomer 25, Bobcat CT122, Montana T2334 and Mahindra 2415. For someone in the market for a tractor of this class and size, the 2320 features John Deere did not skimp on such as 3PH position control, the use of HD components, larger tires and wheels, and enhanced ergonomics should make it a mandatory must-look-at.
Related Reading
2012 John Deere 2720 HST Review
2011 John Deere 2305 4WD Compact Tractor Review
2011 John Deere 2520 4WD Compact Tractor Review
2012 New Holland Boomer 25 HST Review
2012 Bobcat CT122 Review
Buyers Guides
Our Partners