2012 John Deere Select Series X749 Review
The ultimate lawn and garden tractor
By Geof Fowler, Photography by John Deere, Jun 14, 2012
The John Deere X Series is comprised of 20 models ranging from the thrifty but surprisingly capable performing X300 (MSRP $3105.75), multi-terrain offerings from the X500 series, to the X700 series where the most expensive model tops out at a wallet-stripping $14,529.00 (X748SE outfitted with the acclaimed 60" 7-iron deck). Mention the X748SE—the SE standing for special edition—to a proud owner or forum dreamer, and you'll fast appreciate the cachet of being the top-of-the-line heavy duty lawn and garden tractor the latter would like to have and the former takes pride in having shined up and parked in their garage or shed. While we wouldn't disagree, the slightly less-pricey X749 (MSRP $14,099 when equipped with a 62X deck) was the tractor we've been most anxious to get our hands on.
The X749, like the X740, X744 and X748, comes with Yanmar's 55.2ci liquid cooled 3-cylinder diesel (Tier 4 emissions compliant) delivering 24 gross horsepower along with a linear torque curve that it's hard to imagine would ever leave you starving for more power. The X740, X744 and X748 come in four wheel drive (4WD) or all wheel steer (AWS) versions, but it is only the X749 that comes with both (the X729 does too, but is gasoline powered).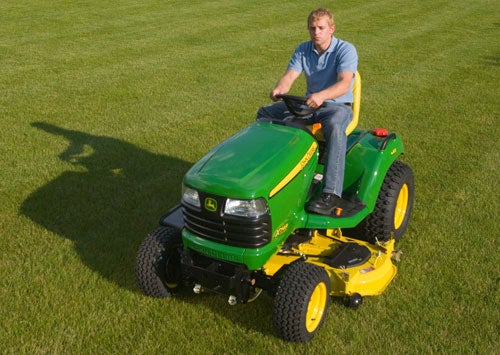 For this series of heavy duty lawn and garden tractors Deere begins with a robotically welded frame made from .18" thick steel that is strong enough to accept automotive-style hitch and ball receivers' front and rear. The front hitch alone has a built-in weight bracket that can accept 168 lbs of suitcase weights. You get the idea; this is one heavy duty tractor. At the rear, a Tuff-Torq K-92 hydrostatic transmission is driven via shaft and through a hydraulic clutch powers the mid-power take off (PTO) which is also by shaft. AWS and individual motors at each of the wheels help keep slippage to a minimum and deliver an astonishing nimble 6" uncut circle with the 62X deck (48" and 54" versions are available).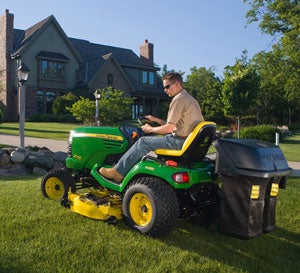 Let's take a little time to talk about those decks. Though the 7-iron available on the X748 rightfully gets rave reviews, it is not an option on the X749 as there are interference issues with the gauge wheels. That leaves the Edge Extra 48X, 54X and 62X decks which are side discharge, mulch and material collection system compatible, offer ¼" incremental control over a cut height ranging from 1" to 4-1/2" and also deliver superb cuts. Blade overlap with the Edge Extra decks is excellent and we noticed no evidence of windrowing, even in overdue conditions. After mowing removal was simple and fast with spring-loaded mower wheels that rotate 90 degrees and a bracket lift system that requires no tools. Grease fittings on the mower spindles and wheels are standard, as is a leveling gauge that stows conveniently in the right hand fender toolbox. A washout port is also included, but if this were our machine it would be the least used feature (think never).
Climbing into the wide open cockpit, you get a feel for how substantial the X749 is. The rubber-isolated floorboard is flat and roomy and the twin hydrostatic pedals are nicely situated. Deere puts an emphasis on ergonomics and it shows: everything seems to land where you instinctively expect it to. Differential lock is on the left footrest, the parking brake on the right. Turn signal stalks control the hydraulics and are located just under the comfortable steering wheel, which tilts six positions, and the power take off and cruise control is just below. The gauge cluster is well lit, even in daylight, and gives you accurate readings of fuel, temperature and hours, with indicator lights for warnings and everything else. The high-back 18" seat is comfortable and supportive and sure to be appreciated after a long day.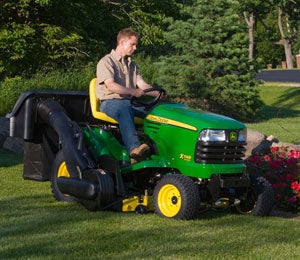 Firing up the diesel, its powerful clack muted and well-isolated, you know there is plenty of power to spare. Hydraulic whine from the K-92 is also at a minimum, and as you steer the X749 towards the north forty, you're already thinking this is a tractor you could get permanently used to. Deere says the uncut circle is only 6", so you know this is a nimble machine, but as you traverse over challenging slopes and abrupt changes in topography, the X749 handles those conditions like a billy goat. We don't know what degree of slope the X749 can safely handle, nor do we expect Deere to publish specifications with those capabilities, but you will be hard pressed to find a more capable combination. Chalk it up to the tractor's wide stance and fulltime 4WD and AWS. Top speed is 8.5 mph forward and 6.0 mph reverse and pedal modulation from the twin pedals is excellent.
Stopping after 45 minutes or so of mowing, grass build up on the console front where the radiator sucks in cool air and draws hot away from the operator was minimal. Flipping up the one-piece painted hood – easier to touch up than a molded-in colored one – we found maintenance access points easy to get to. The hood also removes without tools for big servicing needs. As dusk settled in, the 37W halogen headlamps provided plenty of illumination and we were impressed with the tail and back-up lights. Deere has definitely done its homework here. But that brings us to the only negative we could find; the cursed reverse implement option (RIO) that has to be engaged each time you back up when the blades are turning. While we applaud safety, who thinks pulling up a switch is going to ensure the operator looks rearward before backing up?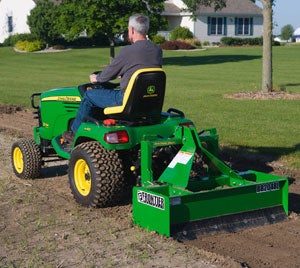 On the specifications side, the X749 carries 6.5 gallons of fuel and is conveniently topped off using the wide mouth filler tube located on the left fenderwell. The tractor measures 51.2" high, 75" long, and rides on a 55.7" wheelbase. Tires are heavy duty all purpose (HDAP) 8" x 8.50" – 10" front and 26" x 12" – 12" rear and an X749 equipped with the 62X deck will tip the scales at 1424 lbs.
Options include a rear PTO and a limited category-one three-point hitch (3PH), along with a raft of easy to attach/detach implements we've come to expect from John Deere, including a loader, blower, sweeper and tiller. The warranty for homeowners is 4 years/700hours and we're told creative financing and dealer incentives are available. If you're considering that once-in-a-lifetime heavy duty lawn and garden tractor, you owe it to yourself to check out the X700 Series. If you have challenging slopes and/or lots of obstacles, make it the X749. We think you'll be glad you did.
Related Reading
2011 John Deere X748 Review
2012 John Deere Select Series X324 AWS Review
2011 John Deere Select Series X304 4WS Review
Buyers Guides
Our Partners