2013 John Deere X739 Signature Series Review
Deere crams every feature possible into this lawn and garden tractor
By Geof Fowler, Photography by John Deere, Jun 28, 2013
John Deere recently gave us the opportunity to test out the X739 lawn and garden tractor. It's safe to say that John Deere owns this segment. True, Simplicity and a few others have fine top-of-the line offerings. But when it comes to ergonomics, options, models, appearance and that refined feel from behind the wheel, John Deere has no peers.
First introduced in 1983 as the 420/430 and followed by the 425/445/455 in 1992, the series then split in 2002 to the X4x5/X5x5 models that were powered by 20-25 HP gasoline engines or a 24 HP diesel with the X4x5 models having 2WD and/or all-wheel steering and the X5x5 models 4WD. No sooner had followers of this segment, with demographics averaging 60 years old, gotten used to this numbering system, John Deere shook things up by changing to the X7xx nomenclature.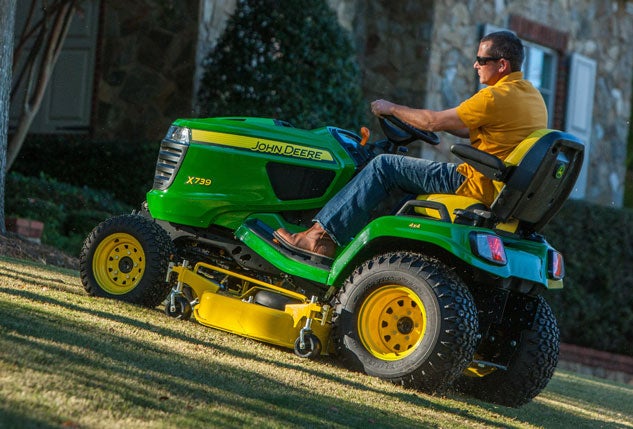 The lineup in 2006 went like this: X700 23 HP gasoline 2WD, X720 27 HP gasoline 2WD, X728 27 HP gasoline mechanical 4WD, X740 24 HP diesel 2WD, X748 24 HP diesel mechanical 4WD. In 2008 AWS models were added (X724 & X744) along with the addition of full-time 4WD (X729 & X749) which also combined AWS. Got that? Whew!
And that brings us to the all-new X700 Signature Series beginning with the 22 HP gasoline 2WD X710, 25.5 HP 2WD X730, 25.5 HP gasoline AWS X734, 25.5 HP gasoline 4WD X738, 25.5 HP AWD full-time 4WD X739 subject of this test, 24 HP diesel 2WD X750, 24 HP diesel AWS X754 and the 24 HP diesel 4WD X758. Of note is that the diesel variants are all EPA Tier IV final compliant while the gasoline powerplants are all CARB compliant.
VIEW: Read our review of the John Deere X748
The X739 we chose to review is a middle of the pack model within this new series. With a MSRP beginning at $12,999 ($13,699 with a 60" mower deck) it is by no means an inexpensive offering, but to someone looking for a competent, comfortable, no-feature-left-out machine that is sure to be the envy of the neighborhood, this tractor does it all.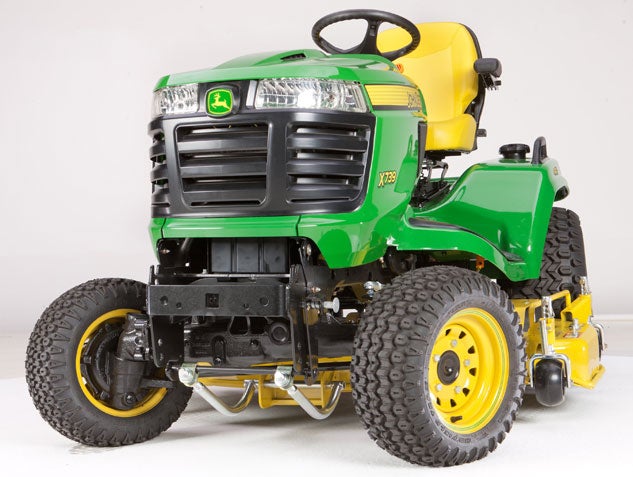 Powered by a Kawasaki EFI liquid-cooled V-Twin displacing 45.5 cubic inches, this is a quiet, smooth running powerplant that is capable of ground-engaging activities and yet still fuel efficient. Rated to deliver 25.5 HP at 3600 RPM, and sending that power through a single-range hydrostatic transmission with full-time 4WD modulated by one of the best twin pedal arrangements in the business, infinite control over the 0 – 8.5 mph forward and 0 – 6 mph reverse speeds is achieved. Add to that AWS, and this is one maneuverable machine. Turning radius is 21" and the uncut circle just 6" when equipped with the 60" mower deck. As expected, power steering is standard and quite effortless, but we couldn't figure why there was almost a full turn less to-lock when turning left vs. right.
Hydraulics are thorough an 8cc pump actuated by twin turn signal-like stalks just right of the steering wheel which tilts in six positions for operator comfort. And speaking of operator comfort, we'd be amiss if we didn't mention the deluxe 21" tall suspension seat with adjustable back angle – it's superb. 1000 Series owners would due well to figure out how to adapt these to their machines. With 7" fore and aft travel adjustment thick padding, it's surely the place for proud owners to spend time in unabashed comfort.
COMPETITION: Read our review of the Simplicity Broadmoor 2052
From behind the wheel, the X739 feels substantial. It's doubtful any owner would ever think John Deere scrimped in any way – and since they are paying a premium for these machines, this is a good thing. The dash has a high end automotive feel, while controls are color coded and ergonomically placed. 37W halogen headlights illuminate what's ahead and reverse lighting (that can also be manually turned on) enhance night visibility from the rear. Other interior features include a covered toolbox with a switchable 12V outlet (extra useful for DC powered implements such as a sprayer), fender grab handles and a cup holder.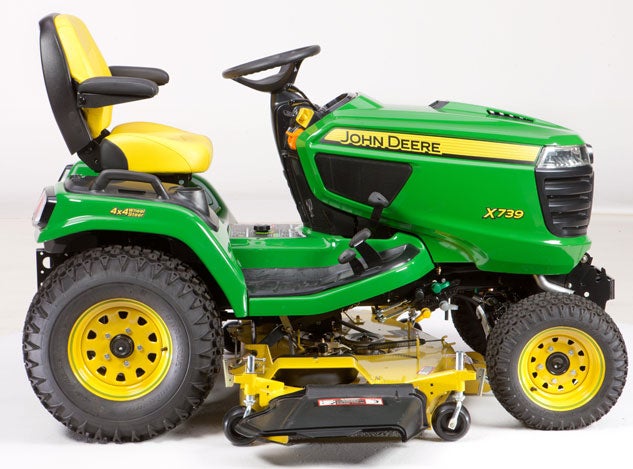 Cruise control is standard, as is reverse implement option (RIO) – a system best described as fallout from the lawsuit hungry crowd. The switch that must be depressed before reversing the tractor with the power take off (PTO) engaged may be an improvement in design, but common sense tells us that pressing a switch doesn't mean the operator is going to turn his head to see if anyone is behind him. Kudos to the operator platform that is mostly flat with just a slight transmission tunnel hump in the middle covering the engine to transmission driveshaft.
Mower decks also receive power to their gearboxes via shaft drive, so slippage in wet conditions is virtually eliminated. The X739 can be outfitted with a 54" Edge drive-over deck that is manufactured by a one-piece stamped process and then reinforced by a bent and welded bar profiling the perimeter. Our test tractor was outfitted with a 60" deck manufactured in the same manner with four anti-scalp wheels that at first glance were reminiscent of the nice swivel assemblies used in the 55 and 70 series compact utility tractors (CUTs). We say at first glance because the assemblies do not swivel, though they do rotate for easy removal using a spring-loaded keeper pin.
COMPETITION: Read our review of the Craftsman CTX 9500
Cut height is adjustable from the operator's seat using a rotary dial. John Deere literature states cut height is adjustable in ¼" increments from 1" to 5.25" but we found, and have found on other John Deere machines, that the ¼" increment is really from 1" to 3" and that the space between increments from 3" to 5.25" is really greater. The dealer we talked to, Farmington Valley Equipment in Farmington, CT, mentioned that it has been able to modify the height assembly for its customers, gaining better adjustability in the cut height range most likely to be used. Perhaps John Deere will take notice and come up with a similar improvement to the design. Other than that, power is delivered to the deck through a hydraulic power take off (PTO) clutch with functions with a soft, modulated engagement.
Though the standard decks are of a drive-over design, purchasers might want to opt for the $270 auto-connect option that makes hooking up the driveshaft a snap. The system is even compatible with front-mounted implements, such as snow blowers and rotary brooms, and does not need to be removed when they are used. A deck leveling system is standard equipment and uses a hex wrench (stored in the covered tool compartment) along with a plastic side-to-side height indicator. One feature we'd ditch: the autowash port. Adding water to metal just seems a recipe for disaster, but even past that, the location of the port is exactly where we would step on the deck to climb aboard the tractor.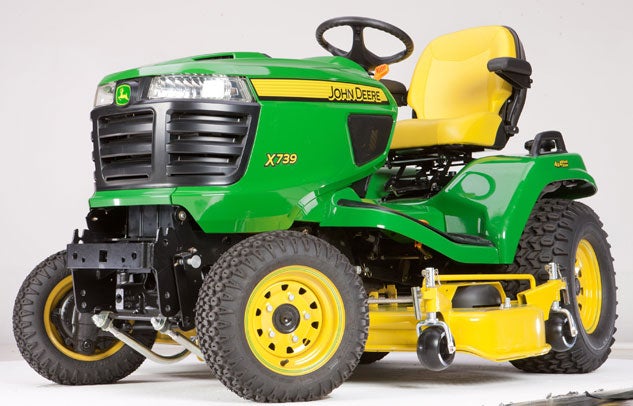 Driving the X739 is quite effortless, though we did note the AWS system required more attention to maintaining a line. One tester described the handling and "skitterish," while another said "nervous." All agreed, however, that this is one nimble set up. That said, if we were in the market for a machine of this size and class, we would probably lean towards the X738, which is the same tractor sans the AWS and in the process saving 87 lbs and $800. Another feature built into the X739 we wondered about was the full-time 4WD. Would it scuff and cut into the turf during tight turns? The answer is no. With the X739 4WD system the inside wheel turns slower than the outer and damage is no more than with a similarly sized 2WD tractor. Though we'd prefer having the option to engage the front-wheel drive when only actually needed, the full-time system works well.
Options include a rear 540 RPM PTO and a limited Cat I three-point hitch (3PH), but the addition of these will push an X7xx tractor pricing past the purchase point of a 1000 Series tractor and still with no factory loader option. Measuring 51.2" high by 75" long and weighing 1045 lbs (tractor only), the X739 rides on a 55.7" wheelbase and comes with 18 x 8.5-10 front HDAP (heavy-duty all-purpose) and 16 x 12.00-12 rear HDAP tires.
With a four-year/700 hour residential warranty backed up by one of the oldest manufacturer's in the business, if you are in the market for a heavy-duty lawn and garden tractor that is incredibly maneuverable and puts power to the ground in any and all conditions, check out the X739. Along the way, you just might prove that marketing demographic right or wrong.
Buyers Guides
Our Partners