2014 John Deere 2032R Review
New compact utility tractor offers typical John Deere quality
By Geof Fowler, Photography by John Deere, Nov 15, 2013
John Deere's simplification of product lines continues with the renumbering and consolidation of compact utility tractor (CUT) models.
It started with the 1000 series where the 2305 was separated from the 2000 series models and replaced by two new models, the 1023E and 1025R. Next Deere began calling that series the 1 Family. Now the 2000 series receives similar attention, being re-designated as the 2 Family with two new models, the 25 hp 2025R and the 32 hp 2032R. The subject of this week's test is the higher horsepower 2032R, which replaces the previous series 2520 and 2720 models.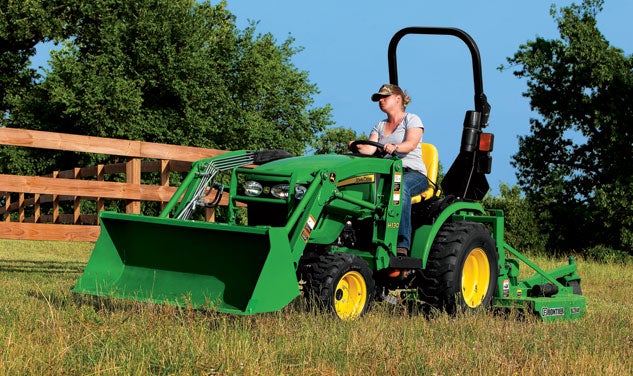 Powering the 2032R is a Yanmar 100 ci three-cylinder 3TNV88 engine. Using direct injection, and operating at 2500 rpm, power take off (PTO) horsepower is rated at 23.5 while still meeting EPA Tier 4i emissions requirements. Cold weather starting (to 0-degrees F) is accomplished through an air intake heater system with an optional coolant heater available for use in more extreme climates. Yanmar uses this same powerplant in a number of industrial applications and rates the output as high as 36 hp at 3000 rpm, so you know there is plenty of power in reserve. Torque output is 79.5 lbs-ft.
COMPARISON: 2012 John Deere 2720 HST Review
A two-range Kanzaki transmission is used to deliver power to the ground and is modulated by a twin side-by-side pedal arrangement that our testers describe as ergonomic and intuitive. As on the 2720 we reviewed in August of 2012, John Deere has modified the arrangement with the forward pedal higher and farther forward than the reverse pedal. The setup works great and offers well-modulated control over the entire speed range, but we long for the days when directional change required less foot movement.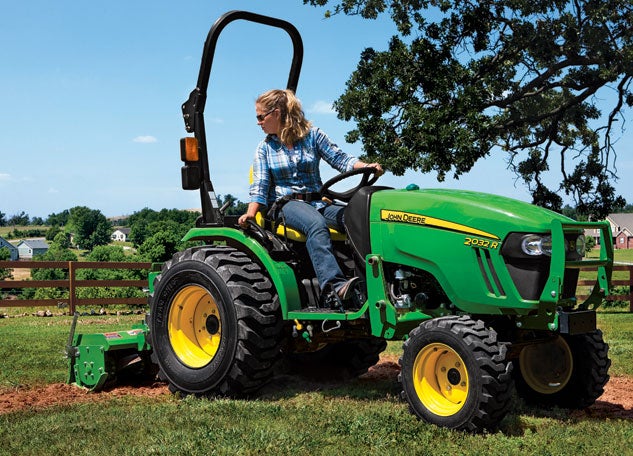 Hydraulics are open center but unlike the 2025R's shared pump arrangement, the 2032R has two separate pumps that are rated to deliver 5.5 gpm to power steering needs and 5.0 gpm to implement requirements (10.5 gpm total). This translates into snappy hydraulic performance and a Cat I three-point hitch (3PH) lift capacity of 1250 lbs at the industry standard of 24". Position control is standard, with operator selectable adjustable stops so an implement can be returned to the same position time and again. Draft control isn't available, though this is no surprise in a tractor of this size and class, and the lower link arms do not telescope, so heavy 3PH users may want to opt for John Deere's excellent iMatch system. If the optional power beyond kit is ordered, implement control possibilities such as a hydraulic top link can be added, as well as the ability to equip the 2032R with Deere's model 46 backhoe. Both mid and rear fully independent PTOs are standard fare.
COMPARISON: 2013 Mahindra 3535 4WD Shuttle Review
For purchasers with need for a front end loader (FEL), the optional H130 (replaces the model 200CX loader) is available for both the 2025R and 2032R. Lift capacities are slightly different between each model due to their different geometries, but a 2032R with a 61" bucket can lift 1027 lbs to a max height of 78.5". Breakout force is 2363 lbs. As mentioned above, hydraulic performance is snappy, and loader cycle times reflect this with full raise taking 3.19 seconds, full lower 1.95 seconds, full curl 1.95 seconds and full dump 3.19 seconds.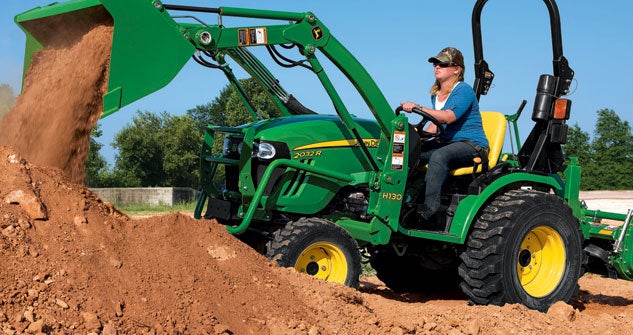 Climb up into the operator platform and a familiar, ergonomic layout is revealed. Knobs and levers are color-coded with controls such as loader joystick, 3PH position adjustment, and differential lock in black; PTO controls in yellow; throttle, gear range and 2WD/4WD selectors in orange; and brake and cruise control in red. The seat is a high back suspension design but does not have an adjustment for operator weight. Grip handles are right where you expect and need them to be. High praise goes to the incorporation of the loader joystick into the fender console. And those familiar with John Deere products will immediately recognize the black and yellow mower height adjustment located on the floor. Left side located brakes pedals can be split and be used to improve turning radius or to help work ones way out of a tough, muddy spot.
The operator presence system, unlike the one on the 2025R, will allow the PTO to run while the operator is out of his or her seat. This is especially desirable when running a PTO implement such as a post hole digger (PHD), chipper, log splitter, or generator.
COMPARISON: 2013 Kioti CK35 HST Review
Other niceties included with 2035R tractors are a one-piece molded hood, offset hood location of the fuel filler cap (remember the hood is 47.2" from the ground), and folding ROPS. Convenience options include On-Ramp Drive Over Decks (up to 72"), iMatch Quick-Hitch with Auto-Hitch PTO shaft connecting, QuikPark H130 loader, additional rear and front lighting, and rear fender extensions great for those extra muddy conditions.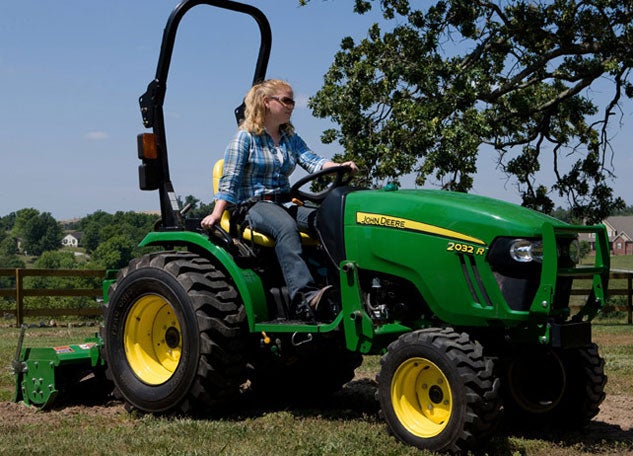 Tire options include R3 turf and R4 industrial. If R4s are selected, the fronts are 23x8.5-12 6PR and the rears are 14-17.5 6PR. If R3s are selected, the fronts are 24x8.5-14 4PR and the rears are 36x14.00-15 4PR. For backhoe users, some interference can be expected with the front loader tubes – though only in the tightest of turn angles. Our dealer mentioned that this condition is worse with R3 tires than with R4s.
The 2032R measures 108.9" long by 47.1" to 55.6" wide (depending on the rear rim orientation), and rides on a 65.2" wheelbase. Curb weight is 1973 lbs, which translates to a ratio of 61.66 pounds per horsepower as opposed to the lower weight but lower horsepower 2025R which works out to 66.4 pounds per horsepower. We mention this as the gearing range of these tractors is such that in situations with mild to severe slopes, low-range may be needed for tasks such as mowing. While low-range moves right along, the loss of high-range productivity may just be the reason to shell out that extra $3991 and move up from a 2025R to a 2035R (MSRP $15,348 and $19,339 respectively). With a three-year, 2000-hour warranty (non-commercial) and available incentives, if you're in the market for a quality 32 hp CUT, make sure the John Deere 2032R is on your list.
Buyers Guides
Our Partners