2016 John Deere 6120E Review
An economical utility tractor
By Geof Fowler, Dec 04, 2015
John Deere's three-model 6E series is a natural progression of the 6D series, building on what that time-tested series offered and adding improvements – some not so synonymous with machines bearing the value-spec moniker. The 6105E, 6120E and 6135E have 105, 120, and 135 horsepower ratings respectively, and are all built on the same sized platforms. Each model is outfitted with a 4.5L 4-cylinder John Deere PowerTech engine that is EPA Final Tier 4 (FT4) compliant, using high-pressure common rail injection, waste gate turbocharging with air-to-air aftercooling, and cooled exhaust gas recirculation (EGR). The 6120E subject of this review has a power take off (PTO) horsepower rating of 102 and makes 494 lb-ft of torque at 1600 rpm. Normal operating rpm range for the stroker mill (bore 4.17" x stroke 5.0") is 1800-2200 rpm.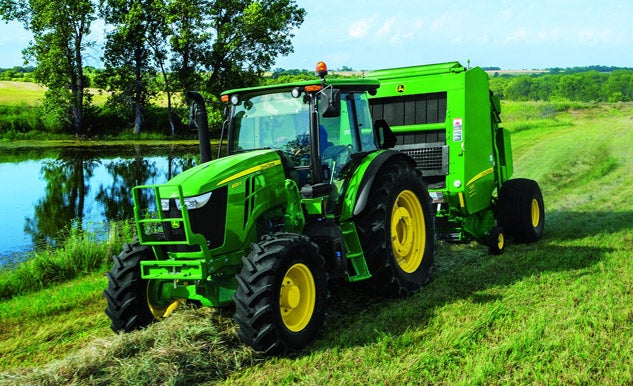 Available in 2WD, 4WD, open station and cab configurations, the 6120E cab tractor with 4WD of this review was also equipped with the optional 24F/12R PowrReverser transmission. Tractors so-equipped have 11 speeds in the critical 5-13 mph working range with a max transportation speed of 25 mph. The shift pattern, resembling an upside-down lowercase "h" is first and third forward, second rearward and can be shifted on the fly. The range selector is in a traditional uppercase "H" with A and C ranges forward and B and D ranges rearward and offers synchronized shifting between B-C, C-D and D-C ranges. This means the only time the tractor needs to be stopped for a range change is when moving from A to B or B to A. Forward to reverse is accomplished using a left hand turn signal-like stalk and does not require use of the clutch. A high-low feature actuated by thumb buttons on the gear shift lever produces the extra forward speeds, which do not require clutching to toggle between.
COMPARISON: Read our review of the 2015 John Deere 6195R
Hydraulic power comes from a triple pump system, segregating power steering, hydraulic power shuttle, and implement demands. The system uses a common reservoir but can supply up to 20 gpm at 2828 psi. for implement requirements, while at the same time allocating 7.9 gpm to power steering and the same amount to the power shuttle function. To save fuel and reduce component wear, output drops when not needed. Lift capacity for the standard Cat II three-point hitch (3PH) is 5500 lbs measured 24" behind hitchpoint. Lower link ends telescope to aid in attachment, while the standard outboard stabilizers are sway chains with turnbuckle adjustment (hitch sway bars are an option). If more 3PH lift capacity is demanded, there is an optional hitch package that ups the capacity to 7300 lbs. Two rear remotes are standard with an option for a third, which can have flow control. There is also a seven-pin ISO trailer connector.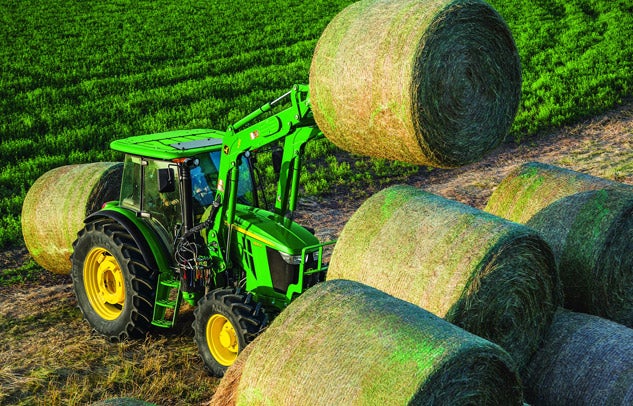 Both 540 and 1000 rpm PTO speeds are supported using a reversible 1-3/8" diameter shaft that due to the dry sump PTO housing can be switched in 30 seconds or less, requiring just the removal of a snap ring. The PTO is independent and engaged or disengaged by a pull or push of a button on the right console. 540 PTO rpm is reached at 2085 engine rpm and 1000 PTO rpm at 2067 engine rpm.
COMPARISON: Read our review of the 2016 New Holland TS6.120 Open Station
The cab on 6E tractors is fully isolated, including the floor which is flat and the steering column, making for a low vibration, low noise operating environment. A mechanical suspension cloth seat is standard fare, but many purchasers will want to opt up for the more deluxe air ride package, which includes a reclining seatback and the ability to swivel 15 degrees to the right. For even more versatility, there is space for an optional instructor's seat. The right-hand console houses controls for the rear remotes, which have four positions (neutral, raise, lower and float), 3PH position control, 3PH draft sensing (optional), the throttle (there is also a foot throttle), PTO, and MWFD. 6E tractors equipped with the loader package get a two- or three-function mechanical joystick, which is positioned just in front of the remotes, right where one's hand falls.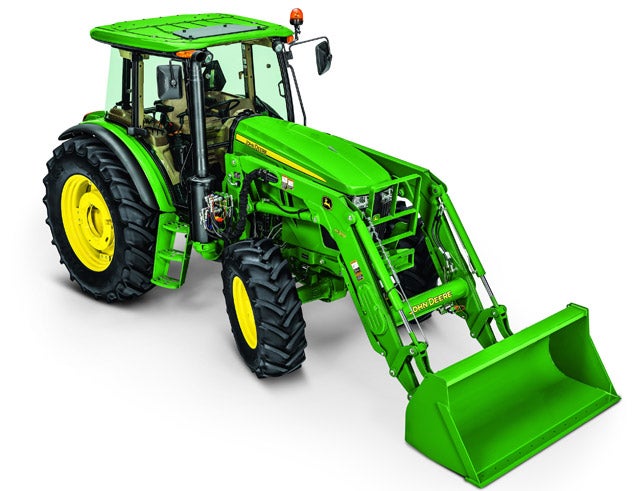 Other features found in cab tractors are two opening doors, sun visor, two cup holders, 12V outlet, dome light, A/C and heat, and inside and right and left outside rearview mirrors. For operator comfort and better view of the LCD instrument cluster (includes displays for engine coolant temp, ground speed, engine rpm, fuel level, oil pressure), the steering column tilts and telescopes. AutoTrac Universal guidance is possible using the optional ATU200 kit which combined with the 12-degree Caster/Action front axle makes for a tight turning radius when making headland turns.
6E owners using tractors in cold weather conditions will appreciate the slow idle warm-up function where the engine idles at 900 rpm for two minutes. 6105E and 6120E engines have intake heaters while the 6135E uses glow plugs to assist cold weather starting. To keep the diesel exhaust fluid (DEF) required to meet EPA FT4 requirements from freezing when used at temperatures below 12°F, an integrated tank heater with temperature sensor is included. The system also has a pump that reverses when the key switch is turned off and sends any remaining fluid in the lines back to the tank. 2.88 gallons of DEF are onboard along with 44.4 gallons of fuel with both tanks easily accessible under the entry steps and guarded underneath by an 1/8" thick sheet metal plate.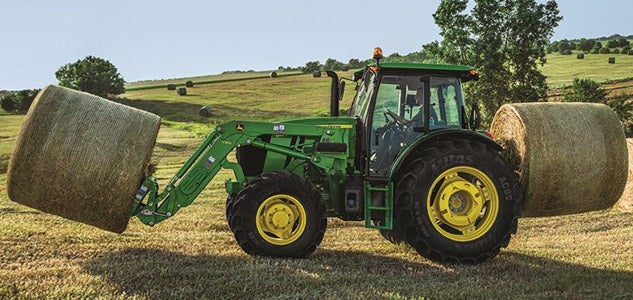 Several loaders are available in both non self-leveling and mechanical self-leveling variations. Choose a H130 loader and lift capacity is 3946 lbs and with plenty of hydraulic flow, work devouring implement extras such as grapples are easily accommodated.
COMPARISON: Read our review of the 2015 McCormick X4.70 Cab Tractor
When it comes time to maintain a 6E tractor, the one-piece hood opens high for access to the coolant tank, radiator, two-stage air cleaner, and battery. The hood rises on two gas struts and has a tether cord hooked to the radiator, which can be unhooked allowing the hood to rise almost 90 degrees. Oil levels can be checked and oil can be added without having to raise the hood. Oil change intervals when using John Deere Plus-50 II oil and John Deere filters are every 500 hours. Transmission service requires a new filter every 500 hours and fluid change every 1000 hours. Transmission fluid level can easily be checked using a sight gauge, which replaces the traditional messy and often dirt-inducing dipstick.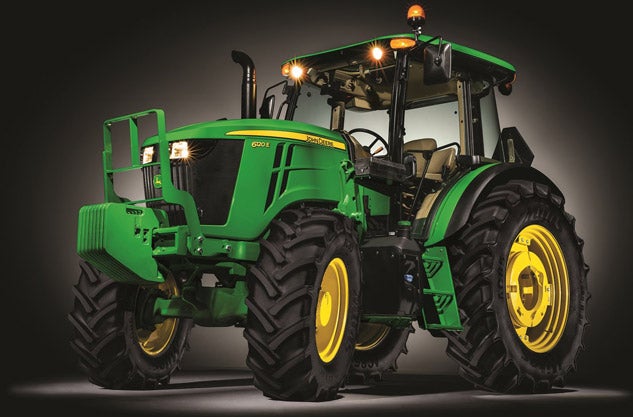 In MFWD guise, the 6120E rides on a 96.5" wheelbase and can be ballasted to 14,250 lbs. with a max payload capacity of 17,636 lbs. Radial tires, sizes 308/85R24 front and 460/85R38 rear (all R1W and 8 PR) are standard. John Deere stands behind 6E tractors with a two-year/2000-hour warranty. MSRP of a 6120E Cab tractor with MFWD begins at $79K. For a work on the farm, ranch, roadside or worksite requiring a 100+ horsepower utility tractor, the 6E series might just be well worthy of consideration.
Buyers Guides
Our Partners