2017 John Deere New Product Reveal
Performance that pays
By Geof Fowler, Sep 08, 2016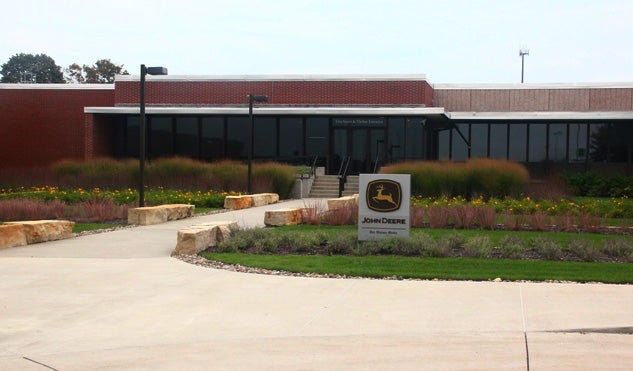 This year, the John Deere new product reveal, entitled Performance That Pays, was held at the John Deere Des Moines Works facility in Ankeny, Iowa. For Tractor.com, the timing just one day before the Farm Progress Show was to begin in nearby Boone, Iowa could not have been more convenient. And though the volume of new products introduced was not anywhere near what was unveiled in 2014 in Milwaukee, there was certainly enough for readers to take notice, including some new additions to the compact utility tractor lineup. Read on to learn more.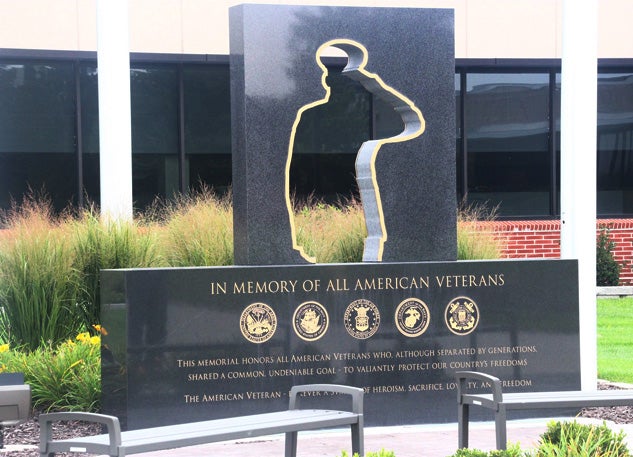 The Des Moines Works facility began life as the Des Moines Ordinance Plant, making 30 and 50 caliber ammunition in 279 buildings for the WWII effort. In 1947, John Deere purchased the industrial area, acquiring some 598 acres of land and 37 acres of buildings. In April 1948, the first piece of agricultural equipment rolled off the lines, a model 226 corn picker. Employment at that time was 570. Today, the Des Moines Works facility employs more than 2000, producing self-propelled sprayers, cotton pickers, tillage equipment, and grain drills.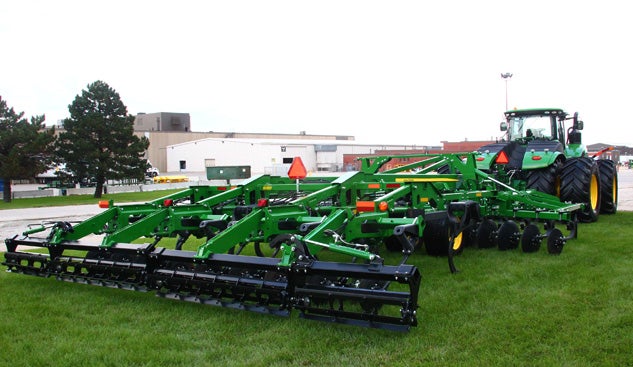 The new product reveal began with a not-so-new product, the 2730 combo ripper, to which John Deere has added TruSet precision farming technology. Nathan Kramer, Product Line Manager, spoke of the ability to adjust the 2730 to field conditions in just 6-seconds to an accuracy level of 1/10". Feedback from farmers has been that they need to better handle heavy residue along with the ability to vary the amount of residue. Changing field conditions, a short window to do tillage and not having to fuss with time-consuming adjustments are also important considerations. Using a GreenStar 3 2630 display, operators from the cab can adjust disk, ripper and closing disk depth, along with pressure settings for the active hydraulic rolling baskets. TruSet allows for four memory set points for the most common field conditions, while allowing fast on-the-go field fine-tuning. The 2730 has a working width of up to 26' and has been compatible with John Deere 8/9x30 and newer series machines when equipped with a GreenStar 3 2630 display. New for 2017 is a compatibility kit that allows earlier John Deere and competitor machines to run the 2730 combo ripper and capitalize on the TruSet capabilities. All that's needed is power beyond and a steady hydraulic flow.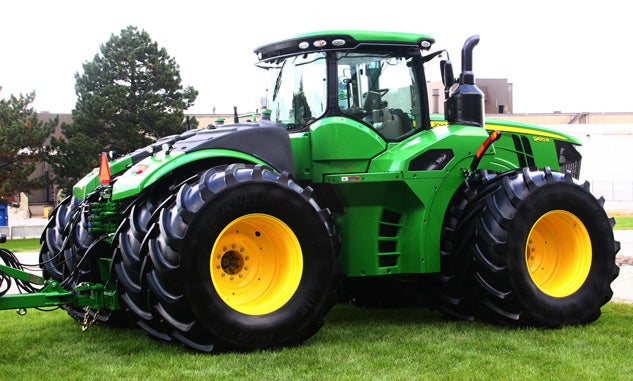 Jason Karnei, Product Marketing Manager, spoke of changes to the 9R series tractors, including a redesigned composite fuel tank with filling access from either side, and how the new StarFire 6000 receiver can improve accuracy and uptime for precise field operations. The new composite tank gives the tractor a sleeker look and improves rearward visibility for the operator. For 9370R and 9470R tractors, the capacity is now 320 gallons, and for 9529R and 9620R tractors the capacity is 400 gallons.
The new StarFire 6000 receiver offers a full range of differential correction levels, from the base SF1 satellite-delivered signal to a premium RTK option. RTK stands for real time kinematic, a signal technology that enhances GPS precision. With the StarFire 6000, SF3 correction level is now offered, delivering a 40% increase in pass-to-pass accuracy, in-season repeatability, and faster pull-in time over the previous SF2 correction level. The StarFire 6000 in conjunction with SF3 gives customers RTK-like accuracy without having to invest in a RTK network. Repeatable accuracy to 1.2" is possible. StarFire 6000 with SF3 will be available for 2017 model year sprayers, combines and tractors.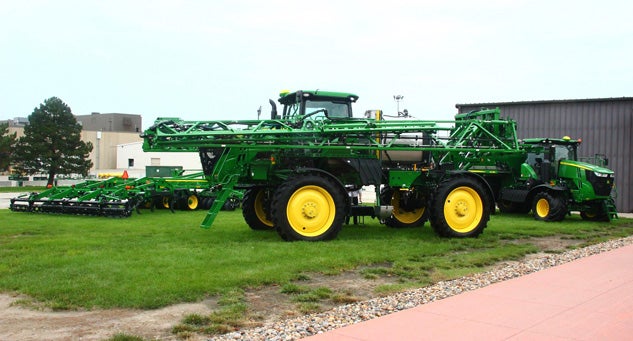 Doug Felter, Product Marketing Manager, told attendees that John Deere has been in the sprayer business since the 1930s. How far has that technology come along in that time? For one, sprayer tanks then were made from cyprus, a far cry from today's stainless steel tanks. Today, a long married list of technologies are involved, including AutoTrac, AutoTrac Vision and RowSense (new), BoomTrac, AccuDepth, JD Link Connect, JD Section Control, SpreadStar, Mobile Data Transfer, Mobile Weather, SprayStar, AgLogic, GreenStar Rate Control, Direct Injection, RavenAccuFlow, and Active Implement Guidance. What a list. But such is the demand of crop protection today, where identifying the pest, handling the blends, and getting the application down in the needed time-frame window while delivering superior coverage is critical. AutoTrac Vision uses a camera system to precisely identify where the application needs to be delivered and is used for early season post-emergence applications. AutoTrac RowSense is used in later season applications where a camera view is blocked and uses feelers to identify where the application needs to be delivered.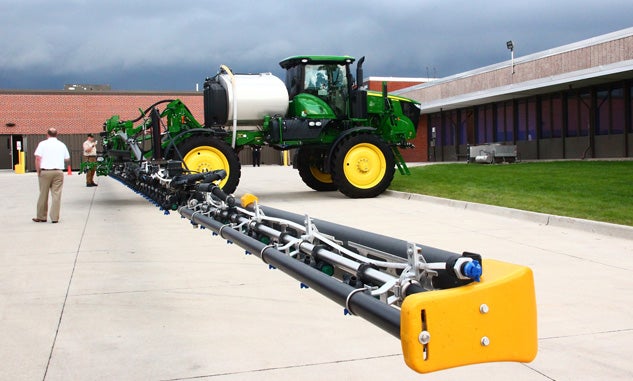 On the liquid delivery side, Elydia Thomas, Product Manager, spoke of the new ExactApply intelligent nozzle system. ExactApply offers A/B nozzle switching, pulse width modulation, and higher rates of speed and more accurate delivery of product. A neat video showed a sprayer coming to a diagonally-angled waterway drain and the nozzles individually shutting off, then redelivering product as the waterway is crossed. Later, we would get a view of a R4038 sprayer with ExactApply on a 120' carbon Fiber boom. No cost was offered, but we can just imagine a farm planting gold would be necessary.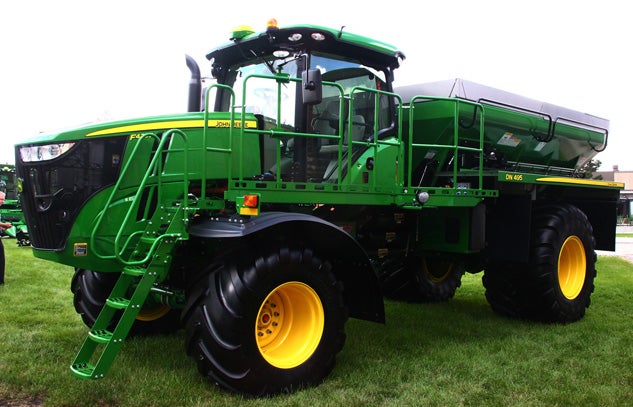 On the dry application side, more information on the F4365 hi-capacity nutrient applicator previewed last year was offered. All F4365s are powered by 9.0L Final Tier 4 (FT4) engines that have 365 rated and 400 peak horsepower. Onboard capacities include 150 gallons of fuel and 7.8 gallons of diesel exhaust fluid (DEF). Using an infinitely variable transmission (IVT), the F4365 can apply nutrients at up to 30 mph, and have a max transport speed of 46 mph. Partnering with New Leader, a 330-cubic-foot dry spinner is part of the package and able to apply fertilizer at rates up to 1100 lbs per acre, and lime at rates of up to 6600 lbs per acre. An important feature is that the package is able to deliver variable rates of up to four products during a single pass. Coverage is variable from 60' to 90' widths.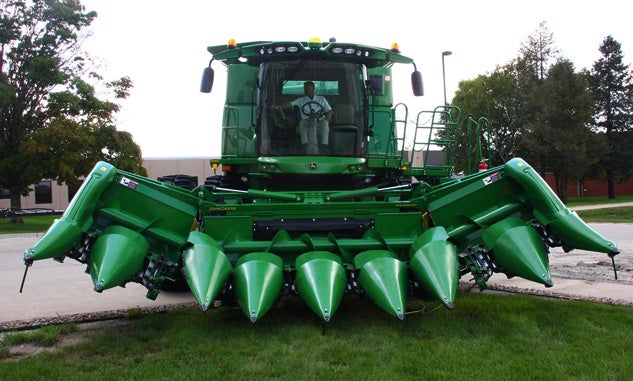 Following on last year's introduction of a 12-row folding corn head, corn growers using John Deere 6 and 7 series combines now have the option of using an 8-row folding head to harvest their crops. The 608FC has 30" spacing and can quickly fold to a narrow 10.9' width, making it ideal for customers with narrow roads to travel in between fields. Attendees were able to view the 608FC folding and opening on a S670 combine. Interestingly, our handy dBA measured just 66-70 dBA from approximately 25' away while in operation. Such is the quietness of FT4 technology.
As popular as the John Deere 3E series has become, there has been a need for customers that want the platform and performance capabilities but are able to work with reduced horsepower and are in search of a more economical solution. The 3025E addresses that need. Still offering the series 2-range hydrostatic transmission controlled by a twin side-by-side pedal arrangement and a fixed D160 loader, the 3025E comes in under the EPA horsepower range mandating additional, cost-adding technologies, and should deliver a high degree of performance at an affordable price.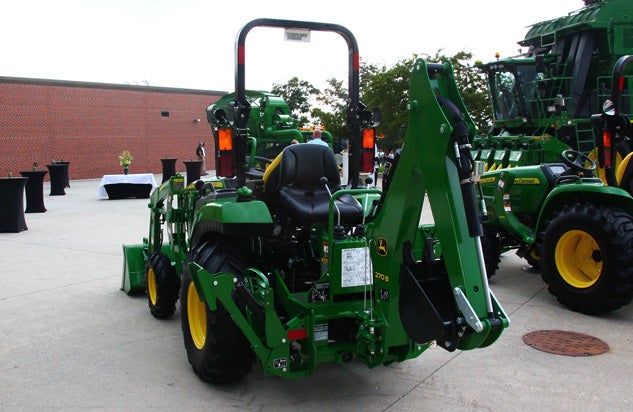 Tractor.com has been working with John Deere to have a tractor delivered for a long-term test. Suggestion was for a 3R series tractor in tractor-loader-backhoe (TLB) configuration, though delays had pushed back the testing. Our thoughts had been for just-in-time production backorders, but at the Des Moines Works tour, emails were exchanged, alluding to substituting the 3R with a new 2R machine. It was then that we ran into Jared Lowe, marketing manager for compact utility tractors, who privately walked us through the features of two new models, 2032R and 2038R, that were on hand.
These new tractors have a wider stance (wheel spacers) and longer wheelbase, and have 32 and 38 horsepower respectively. Being "R" series machines, deluxe features are expected and what we saw did nothing to dim those expectations. A premium suspension seat, tilt steering wheel, cruise control, optional LED lighting package (front headlamps are still halogen owing to winter use where LEDs don't throw off enough heat to keep from icing over), CommandCut electric mower deck lift with a digital height reading on the dashboard, eThrottle which matches engine rpm to pedal position, front-mid-rear implement compatibility, 270B backhoe which can be used with 3PH arms installed, and drive-over mower deck with AutoConnect. An interesting kicker was the front 3PH option. We can only hope our next John Deere long-term test machine will be a 2R tractor. If it's not, you can expect we will be ready to review the first tractor arriving at our local dealer's docks.
Buyers Guides
Our Partners