2017 John Deere 2038R Review
The 2R family gets two new tractors
By Geof Fowler, Jun 30, 2017
Ever since John Deere announced two all-new large-chassis tractors replacements for the 2R family late last year, Tractor.com has wanted to get behind the wheel of one. Tractors began arriving at dealers in February and March, but were already sold with owners-to-be anxiously waiting. When we received a call from Charlie Luke of Farmington Valley Equipment (FVE) asking if we would like to kick the tires of a 2038R that had just arrived and was not pre-sold, we didn't waste time altering our test queue.

The two new tractors are the 31.2-horsepower 2032R (ground-up redesign) and the 37.3-horsepower 2038R (all-new), which join the 23.9-horsepower 2025R. The 2025R, which hasn't changed since our 2014 review, is currently being redesigned (still small-chassis) with a release date expected later in 2017. FVE arranged to have the new large-chassis 2038R next to a 2025R for size comparison. Our pictures couldn't really capture the size differences, but the larger chassis 2038R definitely had a wider, more planted appearance. More on this below, but first some specs.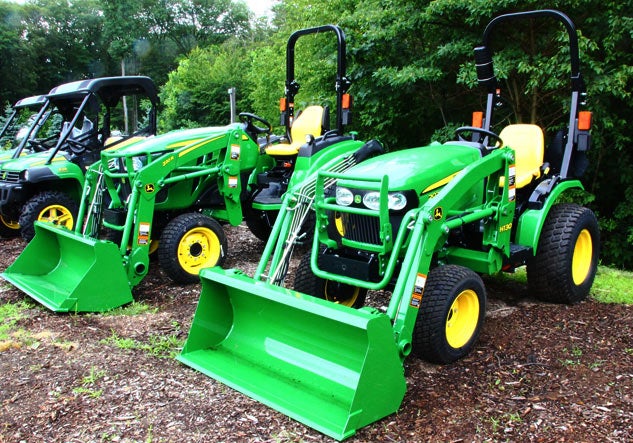 Powering the 2038R is a three-cylinder Yanmar TNV88C-NJT engine displacing 95.8 cubic inches with forced induction (turbocharging) and high-pressure common rail injection. EPA Final Tier 4 (FT4) compliance is achieved using a diesel particulate filter (DPF) and diesel oxidation catalyst (DOC), which reduce harmful pollutants to carbon dioxide and water. Gross output is 37.3 ponies at 2500 rpm with a power take-off (PTO) rating of 30.4 horsepower. Torque is 74.8 lb-ft at rated rpm. Onboard fuel is 8.6 gallons with the filler tube now more conveniently located on the left rear fender.
Engine output is sent to a two-range hydrostatic transmission (HST) with directional and speed control by the familiar John Deere side-by-side pedal arrangement. Hydraulic fluid change interval is now 1200 hrs., though transmission filter replacement should take place at 400 hr. intervals. As expected, transmission cooling duties are by a dedicated radiator. An independent 540 rpm rear- and 2000 rpm mid-PTO are standard and can be operated separately or in concert.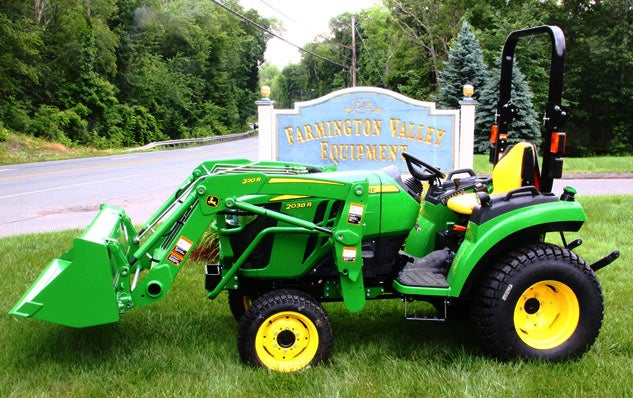 Hydraulic output is 9.3 gpm total with 4.0 gpm going to the power steering pump and 5.3 gpm to implement demand. System pressure is 2500 psi. Up to three rear remotes are supported (optional) with two continuous flow to run hydraulic motors such as used on rotary brooms or log splitters. The full Cat 1N three-point hitch (3PH) is rated to lift 1,356 lbs at the industry standard of 24" behind link arms. Ball ends are a fixed design (not telescopic) with turnbuckles mounted outboard of the link arms to cinch up implement slack. Position control is standard, so an operator can consistently return an implement to a set height.
Maintenance access is improved with the fuel filter shutoff accessible from the left side without having to remove the side panel, and the dipstick accessible from the right, again without having to remove the side panel. The two-stage air filter, radiator screens, and battery can all be accessed by just opening the hood which is supported by dual gas struts. And to open the hood, a neat mechanism located on the right side (just below the headlamp) requires just a push with a small object to unlock the latch. We used the ignition key. For full servicing, the side panels can be quickly removed using quarter-turn fasteners.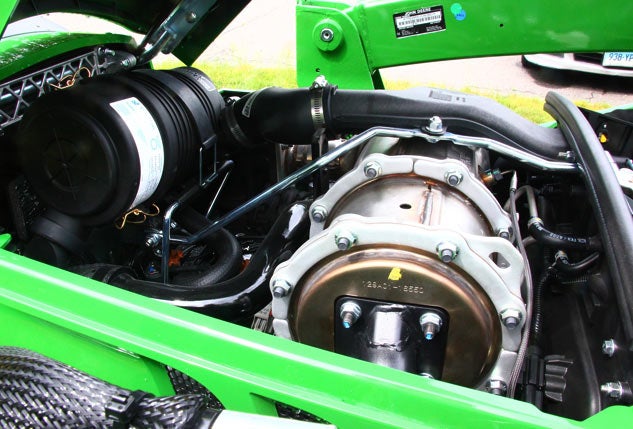 Climb up into the operator cockpit using the single left-side step, and you'll find a modern, ergonomic layout. We found the one-piece high-back seat with armrests to be thickly padded and quite comfortable. For comfort and safety there is a retractable seatbelt and folding ROPS, multi-position tilt wheel, thick rubber floormat, grab handles on both sides, cup holder and multiple storage compartments. On the left fender is a roomy, covered toolbox with a 12V outlet. In between the seat and left fender are levers for the PTO selector, L – N – H, range selection, and a ratcheting parking brake. Below the parking brake lever is a heel differential lock pedal and a push-pull 2WD/4WD selector.
The right fender console houses the 3PH position control lever, the joystick that is nicely integrated and positioned, the electronic PTO switch, and the automotive-style cruise control switch. Our test tractor was outfitted for loader work and not mowing. If it had been set up for mowing, there would have been a 0 – 6" rotary cut height dial and an electronic up/down lever, with the system not using tractor hydraulics for height control. Combined with the available drive-over, auto-connect 60" or 72" deck, and we can't imagine mowing getting any easier. And when equipped with a mower, cut height is also displayed on the dash.
There is a small transmission hump on the floor center, but the area doesn't have a cramped feel at all and access to the left brake (split) and right hydro pedals plenty roomy for this 5'-11" tester. The dash gets high marks as well. The backlighting is bright and the color contrasting easy to read in any light. Turn the ignition key and the glow plugs cycle, while a bright welcome LCD screen displays JOHN DEERE. Turn the key to the start position, and if the transmission is in gear (L or H) the display will read: Shift to Neutral. On-board diagnostics (OBD) are also part of the system, which is John Deere Service Advisor compatible. In addition to the tachometer which indicates full PTO speed at 2500 rpm and economy PTO at 1900, there are warning indicators for an array of functions and warnings including one for air filter restriction.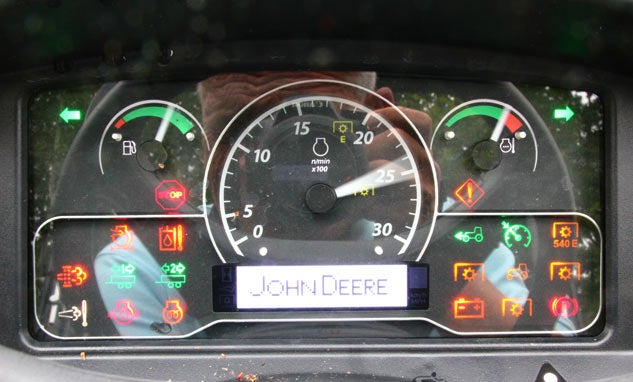 A six-button pod above the light switch located on the left side of the dash controls the LCD display readout and turn signals. The right side of the dash has the throttle lever and eThrottle switch. eThrottle ties the engine rpm to the pedal position and is a really nice feature for tasks such as loader work and a real fuel-saver. For bumpy conditions or when using a PTO implement requiring a steady rpm, eThrottle is easily switched off. John Deere recommends while doing loader work that the operator set the throttle to 50%+ so that when driving into the pile the eThrottle will increase throttle to demand, much the same as a tractor with power boost does.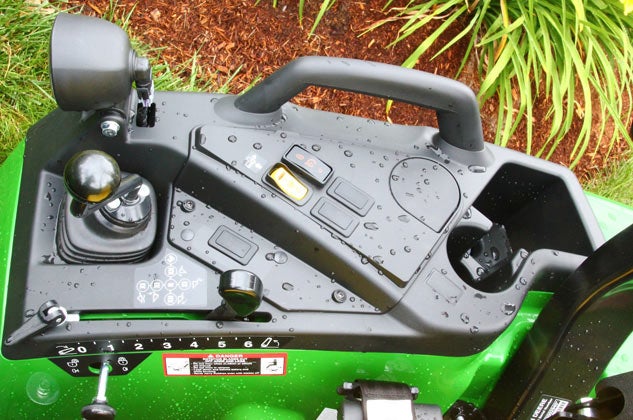 Our test tractor was outfitted with the curved-boom 220R quick-park loader and 57" bucket. The non-self-leveling (NSL) loader is rated to lift 1,120 lbs (pivot point) to a max height of 85". Dump clearance is 66". Cycle times are 3.19 seconds full raise, 1.94 seconds full lower, 4.76 seconds full dump, and 2.91 seconds full curl. Roll back angle is 35 degrees and dig depth 6". A single point coupler is available. Unlike tractors from some of the competition, the loader cycles nicely (albeit slowly) even at idle. Two-direction movement (i.e. dump/lower or curl/raise) is slightly restricted.
For prospective owners requiring a backhoe, John Deere matches their model 270B to the 2038R. The 270B is compatible with a mid-mount mower, does not require the lower 3PH arms to be removed (top link needs to be removed) and can come with 8", 12" and 16" buckets. A mechanical thumb is a field-install option. Dig depth is 7' and the reach is 9'-9". The seat is separate from the tractor and tips up for storage and transport.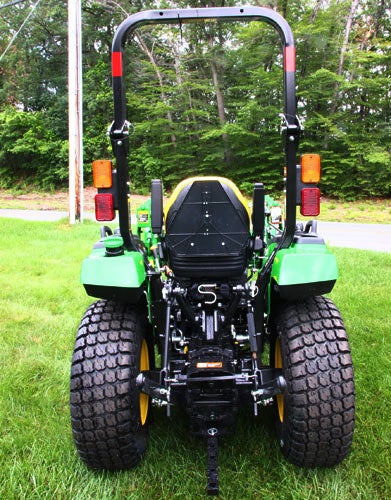 The 2,436-pound 2038R is 115.2" long by 92.3" high to the top of the ROPS. The 67.9" wheelbase is 4% greater than the model it replaces with the 55.1" width a 17% increase. Wheel spacers (2.4") are available for the rear and boost the width to 59.9". Turn radius using brakes is 9.02' and 9.84' without. Ground clearance is 6.5" at the drawbar and 9.8" at the front axle. Tire choices are R1 (Ag) 7.00-12, R3 (turf) or R4 (industrial) 23x8.5-14 front, and R1 12.4-16, R3 or R4 14-17.5 rear. Our test tractor was outfitted with Galaxy Mighty Mow R3 tires, but discussing tire choices with FVE, we learned there is a turf radial option that has a neat tread pattern for ~ $764 more. For those familiar with the John Deere X700 series tractors, the tread pattern is a lot like the HDAP tires used on machines. Turf radial sizes are 200/60 R15 front and 300/70 R20 rear.
John Deere powertrain warranty is for six years or 2,000 hours. Incentives through July 2017 include 0% 60 months with $2,250 in bonuses. MSRP for the 2038R is $23,958. In our test configuration with loader, the MSRP would be $28,484.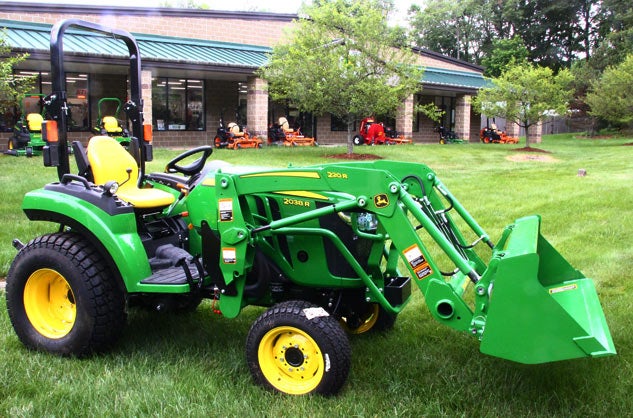 So how does it all work? Very well. The wider, planted appearance carried over to the feel climbing into the high-back seat, and extended to drivability and loader work. Sound readings at idle were 77-84, 1900 rpm 81-90, and 86-93 at full PTO rpm which is a definite plus owing to the FT4 compliance. The eThrottle works exactly as billed, and is a bigger tractor nicety that has found its way into the 2038R.
For a homeowner, agribusiness, landscaper or municipality in the market for a fully-developed 38-horsepower CUT with lots of versatility, nimble footprint yet planted feel, the 2038R would be well worth consideration. And for those in the vicinity of Farmington, CT, FVE, with its friendly staff, neat, clean shop, and impressive inventory would be a good place to start.
Buyers Guides
Our Partners