2017 John Deere X730 Review
A Signature Series tractor with a lower up front cost
By Geof Fowler, Photography by John Deere, Apr 21, 2017
The John Deere X700 Signature Series is well-known for delivering high owner satisfaction through the models' substantial capabilities, near-ergonomic perfection and comfort, ease of use, and durability. It is a class of heavy-duty lawn and garden tractor that has few peers. Price though, puts Signature Series tractors well into, and in some instances exceeding, that of subcompact tractors.

The Signature Series has gone through a number of refinements over the years, resulting in the current eight-tractor lineup which comes with 22 or 25.5 horsepower gasoline engines or 24-horsepower diesel power. In addition to engine power choices, purchasers have several drivetrain combinations to choose from: two-wheel drive / two-wheel steering, two-wheel drive / four-wheel steering, full-time four-wheel drive / two-wheel steering, and full-time four-wheel drive / four-wheel steering. MSRP for the series ranges from $10,059 (X710 / 48" deck) to $14,379 (X758 / 60" deck).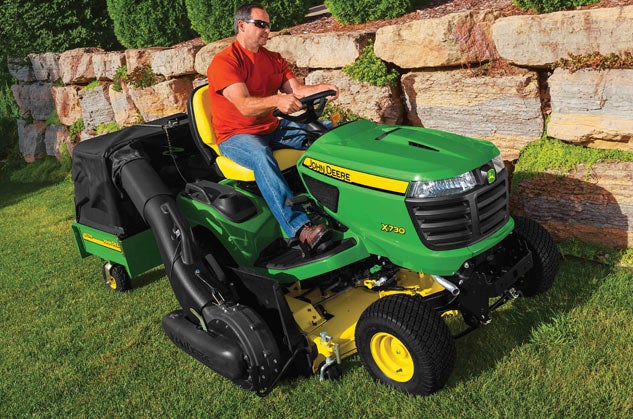 Longtime Tractor.com readers might recall our reviews of the 25.5 hp gasoline four-wheel drive / four-wheel steer X739, 24-hp diesel four-wheel drive / two-wheel steer X758, and 24-hp diesel two-wheel drive / two-wheel steer X750. Each covering a range of power, efficiency, and terrain-tackling capabilities. In the lower end-middle of the lineup sits the X730, a tractor with MSRP ranging from $10,739 to $11,539 depending on mower deck selected. This is a tractor an owner might pick objecting to the added upfront cost of diesel power along with the need to inventory another fuel if all their other machines run on gasoline. It also might be selected for flatter terrain or southern climates, where four-wheel drive isn't needed.
All Signature Series tractors begin with a heavy-duty robotically welded frame with the side rails fabricated from 7-gauge (.1793" and weighing 7.5 lbs per square foot) steel and the front bumper of .375" steel – enough to support four 42-pound suitcase weights (168 lbs total). For those not so adept at backing up a pull-behind trailer or implement, a receiver hitch is built into the front bumper, though the receiver hitch and ball are optional. A heavy-duty front axle made from tough nodular iron is also employed.
The X730 gets power from a code FC750D 45.5-cubic inch liquid-cooled V-Twin gasoline engine with electric fuel injection (EFI) making 25.5 hp. The powerplant is efficient and environmentally friendly, meeting the emissions requirements of the U.S. Environmental Protection Agency (EPA) and California Air Resource Board (CARB). As expected, the lubrication system is full-pressure with a spinoff oil filter. And due to the EFI system, no choke is required, and fast starts under even cold weather conditions can be expected.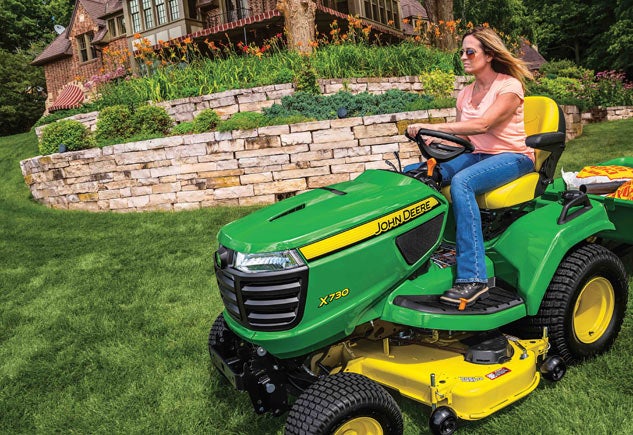 Output from the V-Twin is sent via shaft drive to a Tuff Torq K92 two-wheel drive transmission, which is cooled by a separate transmission cooler and has differential lock. Modulated by a pair of side-by-side hydrostatic pedals, the single-range transmission allows for infinite adjustability within the 0-8.5 mph forward and 0-6 mph reverse travel speeds. Internal wet disc brakes are utilized and cruise control is standard. Optional, and when installed in concert, pricey enough to push X700 tractor into subcompact territory, is a 540-rpm rear PTO and a limited (limited by lift height) Category 0 or I three-point hitch (3PH).
Step into the operator cockpit and settle into the two-piece professional high-back seat (21"), which offers 7" of fore/aft adjustment in 14 increments – or, if you shelled out the extra cash, the optional air-ride suspension seat with comfort settings just a switch push away – and the operator is treated to an uncluttered, efficient control layout. The 14" diameter steering wheel tilts in six positions for operator comfort. And the white-on-black digital dash with red and green highlights is easy to read under any condition and has a high-end automotive look. Real-time fuel level, engine temperature, engine rpm and best cut range, and PTO status are just some of the monitored functions.
As with all John Deere tractors up through the 4R Series, reverse implement option (RIO) is a reality. RIO prevents the tractor from mowing in reverse, unless the operator engages the RIO switch – ostensibly after looking rearward, but in no way guaranteeing the operator did so. To us, RIO supplants common sense, but realizing we are in a time of near endless lawsuits, understand why it exists. At least on Signature Series tractors there is now a front implement detection system which allows unfettered directional change while using an implement such as a snowblower or rotary broom. Just don't forget to look rearward first.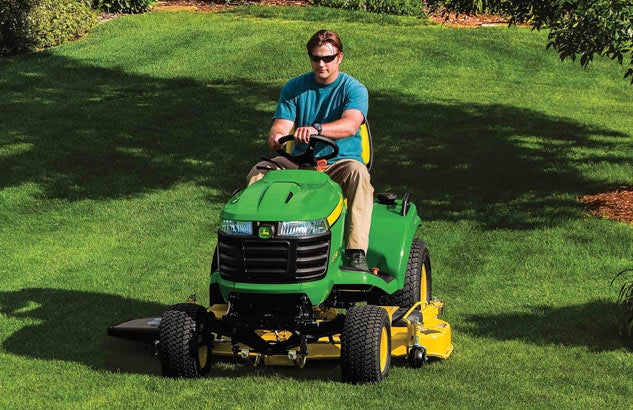 Other cockpit niceties are the lidded right fender storage box and 12V auxiliary outlet, cup holder, grab handles on both fenders, fender-height fuel filling cap (5.2-gallon tank), power steering, rubber isolated footwells, and the positioning of the tractor radiator between the dash and engine – allowing the cleanest air to enter the cooling system and directing hot air away from the operator.
Although X700 tractors are capable of heavy-duty ground-engaging use as long as the implement is correct sized for the machine, for most users, a high percentage of time will be spent on mowing. For this, John Deere offers three mid-mount mowing (MMM) decks: an all-new 48" Accel deck, a 54" high capacity deck, and a 60" also high-capacity deck. The all-new 48" Accel deck has been getting high marks for cut quality, but it is not a drive-over deck, and barely covers the 47" tractor width. For better edging ability, look into the 54" or 60" high-capacity decks which are drive-over capable and can be outfitted with AutoConnect, which brings effortless, never get-out-of-the-seat deck attachment ease.
High-capacity decks are made from nine-gauge stampings with welded bar reinforcements at deck edge for durability. Using the tractor hydraulics cut height can be adjusted from 1" to 5.25" in 1/4" increments. A one lever (requires the operator to get off the tractor for safety reasons) engagement/disengagement mulch attachment is optional, but allows the operator to switch from mulching to side-discharge or vice versa in just seconds. John Deere also offers several bagging systems, including the 19 bushel MC519 power flow cart.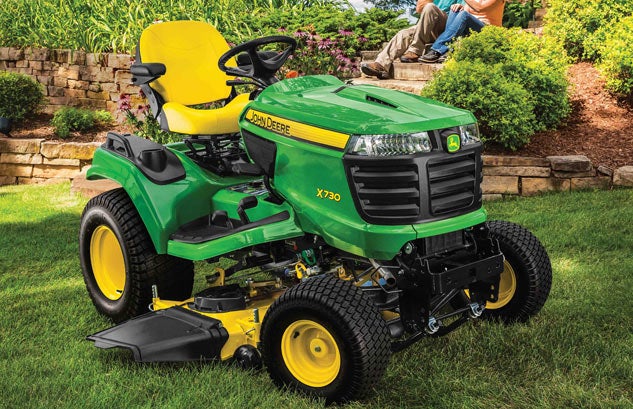 Turn radius for the two-wheel drive and steer X730 is 25" and if equipped with a 60" deck, the uncut circle left is 28". The X730 measures 51.2" high and 75" long and rides on a 54.5" wheelbase. Weight with a 54" high-capacity deck installed is 1088 lbs.
John Deere warrants X700 Signature Series tractors bumper-to-bumper for four years/700 hours. John Deere Signature Series may not be for everyone, but for a prospective purchaser looking for the ultimate in comfort and ease of use, X700 tractors truly fit that bill.
Buyers Guides
Our Partners