2016 Kioti CK3510 Cab Review
We get behind the wheel of Kioti's 35-horsepower value tractor
By Geof Fowler, Aug 26, 2016
The Kioti CK 10 Series consists of four models, branded as value tractors, and available with gear or hydrostatic (HST) transmissions. Horsepower, depending on model, ranges from 24.5 to 39.6. Our test tractor was equipped with a three-cylinder Daedong 3F-TH4-U diesel making 34.9 horsepower at 2600 rpm. The 111.4-cubic-inch powerplant uses common rail (CRDI) technology to achieve EPA Final Tier 4 (FT4) compliance without the need for a diesel particulate filter (DPF) or the additions of a secondary diesel exhaust fluid (DEF).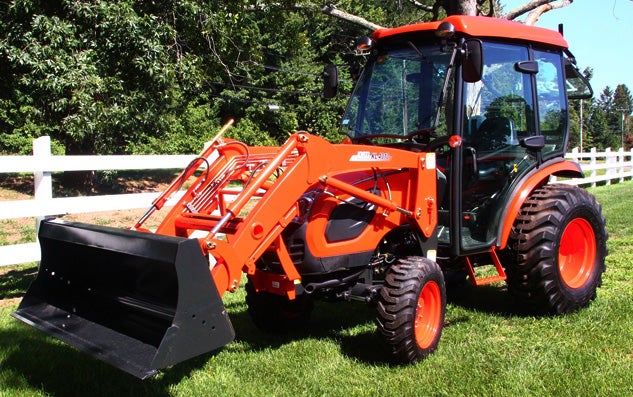 Hydraulics are through a gear pump system flowing 11.7 gpm, giving the Cat I three-point hitch (3PH) a lift capacity of 1631 lbs 24" aft of hitch. Lower link arm ends are fixed with outboard turnbuckle stabilizers and are controlled by position control, so an implement can be returned to the same operator selectable position time after time. Draft control is not available. Up to two rear remotes (optional) are supported. A live 540 rpm rear power take-off (PTO) is standard, with a 2000 rpm mid PTO available as an option. Rated output at the PTO is 30.8 horsepower for gear transmission tractors and 29.7 for HST models. Our test tractor was equipped with a three-range HST transmission controlled by a set of side-by-side foot pedals. The arrangement offers excellent modulation over the 0-15.53 mph forward and 0-15.83 mph reverse speed ranges.
COMPARISON: Read our review of the 2016 Kioti CS2210
Our test tractor began as a display model at the Empire Farm Days show in Seneca Falls, NY then later shipped to Lock Stock & Barrel in Bethany, Conn. who graciously opened their doors and fields for our review. The Kioti CK3510 was outfitted with a factory cab by the Kioti factory. Typically, the cab would be a field install option. We found the fit and finish quite nice for a tractor of this size and class. For ventilation, the front window swings outward a couple of inches, and locks open or close using a pair of folding openers which have a high quality feel. The rear window likewise swings open, but fully, and latches using a single center folding opener. Both doors open wide, but have fixed window panes. The rear quarter panel windows are fixed and do not open. Glass panels flank the engine cowl below the windshield and give good visibility to the loader arms and through to the front bucket. A heater with headliner controls (off, low and high) compliments the cab for cold weather use, but an air conditioner is not available. Insulation for sound and heat is provided; the pads covering the front and side fender cowls give the cab a nice finished appearance. A front washer/wiper is included in the cab package. Lastly, the cab is a ROPS certified cab that replaces the original structure without adding to the tractor height.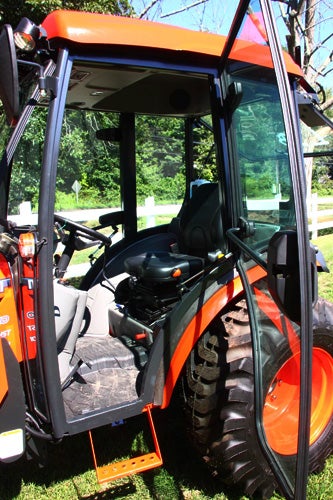 Climb into the cab, which is spacious, with a near flat floor (the transmission tunnel is slight and also flat), and you will be impressed at the near 360-degree view. The cab utilizes a six-pillar design, with the pillars enough to rate ROPS certification but minimal for visibility. Firing up the 3F-TH4-U mill resulted in a 76/85 dBA idle with doors open, increasing slightly to 78/87 dBA with the doors shut. Opening the rear window dispersed some of the sound pressure that the "tight" cab created and dropped the sound rating by a dBA.
COMPARISON: Read our review of the 2015 Mahindra 1538 HST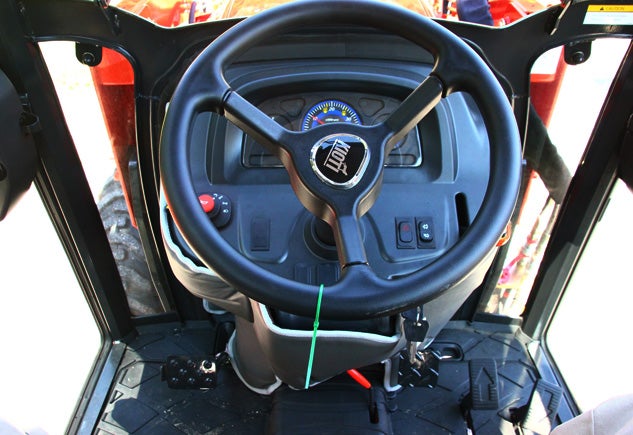 Our test tractor was outfitted with Kioti's KL4010 loader, which can lift 1835 lbs to a full height of 98.4". Dump clearance is 79.1", while at the other end of the spectrum, the setup can dig to a depth of 5.3". Breakout force is rated at 3464 lbs with the system operating at 2560 psi and using 6.9 gpm of hydraulic flow. A 60" bucket (skid steer compatible mounting system) is standard and felt well matched to the Kioti CK3510's size. Cycle times are 3.9 seconds full raise, 2.3 seconds full lower, 3.2 seconds full dump, and 1.9 seconds full curl. Hydraulic response was snappy, and the system allows two directional motions at the same time (lift and curl/lower and dump). At full lift, the bucket goes out of sight over the cab roof edge. Chalk this up the high lift capability of the KL4010.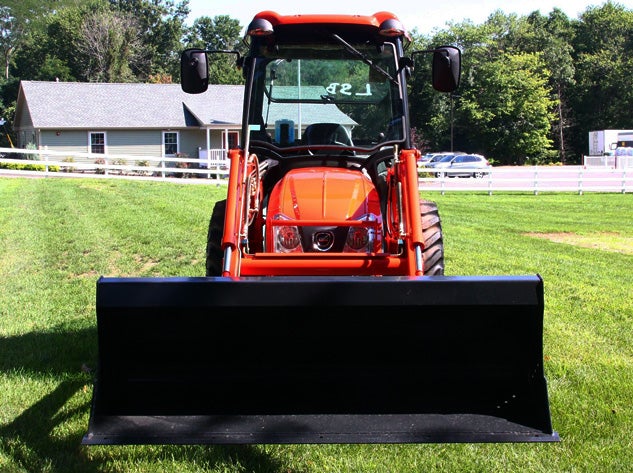 The 2734-pound CK3510 (tractor only) measures 120.9" long and 55.1" wide and is 99.2" tall to the top of the cab. 27x8.5-15 front industrial (R4) and 15-19.5 rear industrial (R4) tires ride on a 65.7" wheelbase. Turn radius is specified at 8' using brakes to aid in turning, but the position of the brake pedal inboard (left) of the hydro pedals makes operating both at the same time somewhat of an exercise in gymnastics. Realizing that this is a value tractor, we'd still like to see the removal of the clutch pedal and the relocation of the brake pedal to the left instead. We don't know what the added cost would be, but it certainly would make the system operation a bit more logical and practical.
COMPARISON: Read our review of the John Deere 3039R Open Station
Other niceties worth mentioning are the comfortable suspension seat, nice integration of the joystick into the space between the seat and fender cowl, positioning (and sealing) of control levers and switches, 9.0 gallons of onboard fuel (though the behind-the-cab at fender height filler neck might be a bit of a challenge for some to reach), 13.4" of ground clearance, wide view side view mirrors and cab radio readiness.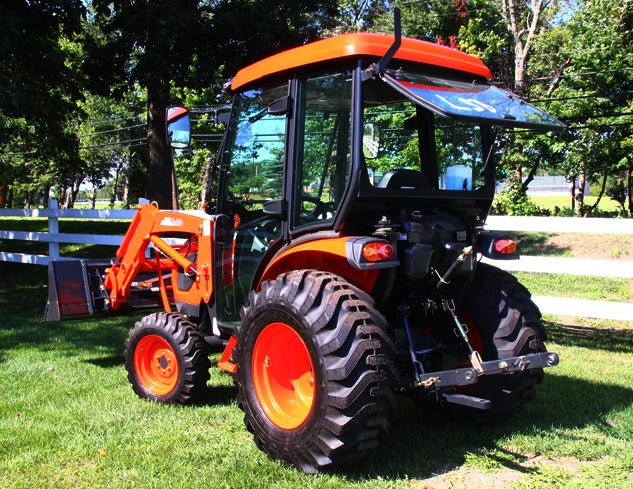 Kioti stands behind its tractors with a 24-month bumper-to-bumper warranty with extended powertrain coverage to 48-months. If a 35-horsepower cab tractor is in your future plans, the Kioti CK3510 would be well worth consideration. And, if you're in the vicinity of Bethany, Conn., a visit to the good folks at Lock Stock & Barrel would be a good place to start.
Buyers Guides
Our Partners