2016 Kubota M5-111 Review
A deluxe utility tractor loaded with creature comforts
By Geof Fowler, Photography by Kubota, Jun 24, 2016
The Kubota M series is a mid-size series that encompasses 25 tractor models ranging from 46 to 168 horsepower. Twenty-five tractor models? That's right, count them. From the Special Utility class, there are five models ranging from 46-68 horsepower. In the Deluxe Utility lineup there are seven models ranging from 52-95 horsepower. Under the Mid-Size Ag classification there are six models ranging from 95-135 horsepower. Need a Special Ag tractor such as a mudder or low or narrow profile? Kubota has four tractors covering those needs ranging from 62-108 horsepower. And for those ground-engaging tasks requiring even more can-do, there are three Ag Tractors with horsepower ratings from 128-168. For this week's review, we selected an all-new model from the Deluxe Utility lineup.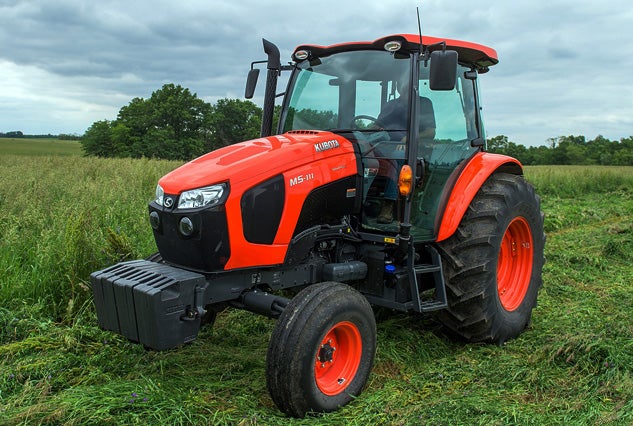 For 2016, there are two all-new M5 tractors, the 92.5 gross/76 power take-off (PTO) horsepower M5-091, and the 105.6 gross/89 PTO horsepower M5-111 subject of this review. Power for both models is by a K-CDS (Kubota-Clean Diesel Solution) V3800CR-TIEF4 four-cylinder engine displacing 230 cubic inches that is turbocharged, intercooled, has common rail injection, and uses selective catalytic reduction (SCR) technology which combined with a diesel particulate filter (DPF) and exhaust gas recirculation (EGR) achieves EPA Final Tier 4 (FT4) emissions compliance. The SCR system sprays the hot exhaust stream with diesel exhaust fluid (DEF), which transforms the exhaust into environmentally-friendly water vapor and nitrogen. For open station tractors, rated power is at 2400 rpm, but for cab tractors that power comes at 2600 rpm. Though these technologies come with added cost and complexity, the upshot is better fuel efficiency and less noise. Kubota has also figured out how to get the DPF and SCR system located under hood for better visibility.
COMPARISON: Read our review of the 2016 New Holland T4.90
Standard transmission is an 8F / 8R with an electro-hydraulic shuttle. This drive choice comes with four synchronized speeds and a hi/low lever. Next up is a 12F / 12R transmission with six synchronized speeds, also with a hi/low lever. Top of the line is a 24F / 24R transmission with six synchronized speeds, clutchless dual speed control within those speeds, and a hi/low lever. Twelve and 24-speed transmissions can be optioned with overdrive which keeps engine rpm around 2000 for better fuel efficiency. The electro-hydraulic shuttle also has an inching feature; especially useful for aiding in attaching implements and has a feel similar to that of a half clutch.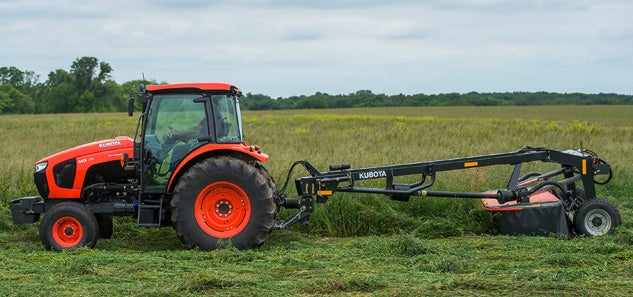 The hydraulic system used has a capacity of 15.9 gpm for open station tractors and 17 gpm for those with cabs. This gives the Cat II three-point hitch (3PH) a lift capacity of 4630 lbs at the industry standard of 24". For more lifting ability, there is an option that increases capacity to 6063 lbs. Lower link ends telescope for ease of attachment and the outboard stabilizers telescope for quick cinching up of slack. For 3PH control, position, draft and mixed control comes standard. Using position, an operator can select the height an implement returns to with repeatable accuracy. By switching to draft, the system senses implement load and makes depth adjustments by that load. In conditions where draft control can be oversensitive, mixed, a sort of hybrid of both control systems, can dial out some of that oversensitivity. A single rear remote comes standard and the hydraulic system can support up to three (two optional).
A hydraulic independent 540 rpm PTO is standard with an option for 540E or 1000 rpm PTO. For 8 x 8 transmissions, the switch from 540 to 540E (or 1000 if so optioned) is accomplished by a lever located inside the cab. For 12 x 12 and 24 x 24 transmissions, a switchable 540/540E PTO comes standard and while running in economy mode produces 540 PTO rpm at an engine speed as low as 1519 rpm with a max engine speed of 1772 rpm. Constant speed rpm management is standard with all transmission choices. When switched on, the system uses an electronic governor to maintain constant engine rpm and prevent drops in PTO speed.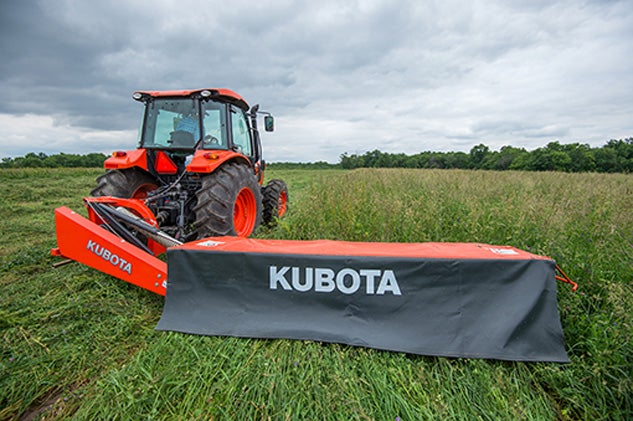 Up front, a bevel gear front axle provides increased durability and a tightened turning radius (13.8' without the use of brakes). The front differential also has limited slip for better traction and control in slippery conditions.
COMPARISON: Read our review of the 2016 Massey Ferguson 4710
Climb up into what Kubota calls its Ultra Grand Cab II (there are steps on both sides and wide opening doors) and you'll find a spacious cockpit with plenty of glassed area and near unobstructed 360-degree views. The floor is flat and the steering column adjusts for operator comfort as well as to move up and out of the way for easy egress. There is a glass sunroof, which if it slid open as with many automobiles, we would call it a moonroof. The sunroof gives great visibility of the loader bucket, even in the highest lift position, and comes with a sliding screen to shade from the sun's glare and heat. A high back bucket seat with head and armrests comes standard (air ride optional) and is adjustable for operator weight. All control levers and switches are found on the right side with the exception of the 4WD lever (24 / 24 transmissions get switch control) and everything falls an arm's length away. There is even enough room for an instructor seat (optional). And speaking of seats, Kubota has put the HVAC system under the seat for better headroom and improved cabin circulation.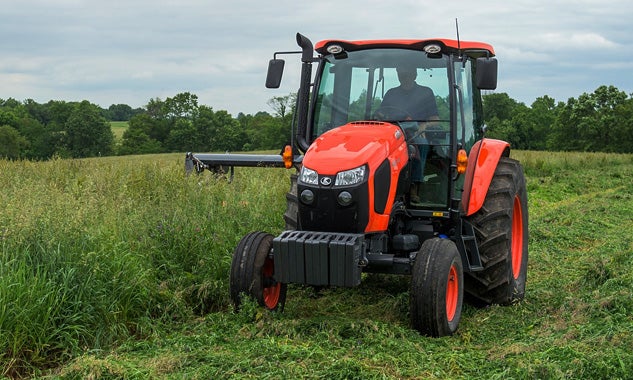 With many M5 tractors sized perfectly for loader work, the Kubota LA1854 loader is the perfect complement. Using a four-bar linkage to increase curl and dump angles, the quick-mount attach/detach loader can lift 3990 lbs to a max height of 145.7" with a dump clearance of 110.6" in the height position. In the power position, the loader can lift 4144 lbs to a max height of 131.9" with a dump clearance of 94.7". Bucket choices are between a 72" wide (19.4 cubic foot) or 84" (22.6 cubic foot) with skid-steer compatible coupling with a Euro-style quick coupler optional. Cycle times are 4.2 seconds to full raise, 2.9 seconds to full lower, 2.4 seconds full curl, and 2.2 seconds full dump. As many have come to appreciate, the loader can cycle in two directions (think curl and lift or dump and lower) at the same time.
The Kubota M5-111 measures 101.2" high by 79.1" wide and 155.9" long and rides on an 88.6" wheelbase. Ground clearance for the 7033-pound tractor (4WD) is 19.7". A 4WD M5-111 with 24-speed transmission and cab carries a MSRP of $67,910. Optioned as our test tractor (air ride plus instructor seat, dual speed PTO, rear wiper/washer, electronic rear defogger, LA1854 loader with 72" bucket, high capacity alternator, rearview mirror and mid mount lights), the MSRP creeps up to $77,043.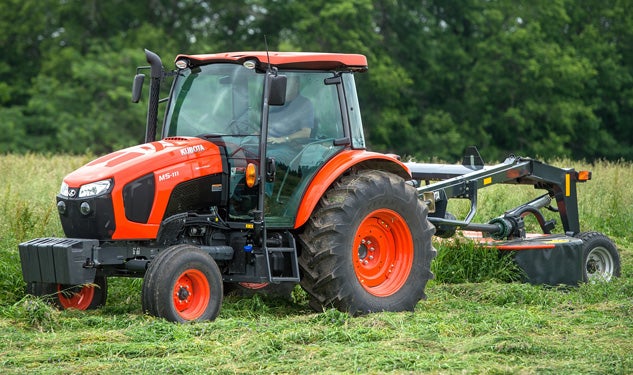 For an agribusiness in the market for a nimble and capable 105-horsepower tractor with deluxe creature comforts, the Kubota M5-111 would be well worth consideration.
Buyers Guides
Our Partners