2016 Mahindra 1538 TLB Long Term Review: Part 1
Early impressions of this capable Compact Utility tractor
By Geof Fowler, Sep 01, 2016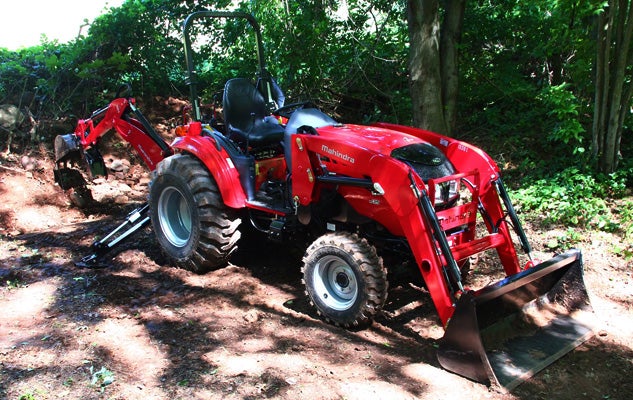 We received our long-term test Mahindra 1538 tractor-loader-backhoe early evening on a Thursday, having been prepped by the good folks at Ellington Agway, in Ellington, Conn., and with the hour meter reading 2.0. The combination of a near 40 horsepower tractor, loader with a 57" bucket and backhoe with a 14" bucket, on paper, seemed ready-made for getting out and getting some hefty work done.
When you consider that the manufacturer is Mahindra, who has earned a reputation as a marque producing reliable, heavy-duty tractors, often with heavier gross vehicle weights than the competition, we all the more looked forward to reporting how the combination might fare over several months.
Tractor.com first tested a 1538 in May of 2015 and came away impressed. That tractor was equipped with the same 1538L loader, but with a 60" bucket, which seemed perfectly matched to the tractor's capabilities. When our long-term test tractor was delivered, we immediately wondered if the smaller bucket, which only marginally covered the 55" front tire width, might hamper the completion of some of the tasks we had in mind. That will be one of the things we plan to watch during our time with the 1538. Our second thought was how physically big the 1538 TLB package was. Considering that this was a sub 40 horsepower machine, it had the presence of a much larger tractor. We measured overall length at 223", and after extending the 1538B backhoe boom and bucket, the combination came in just shy of 25' long.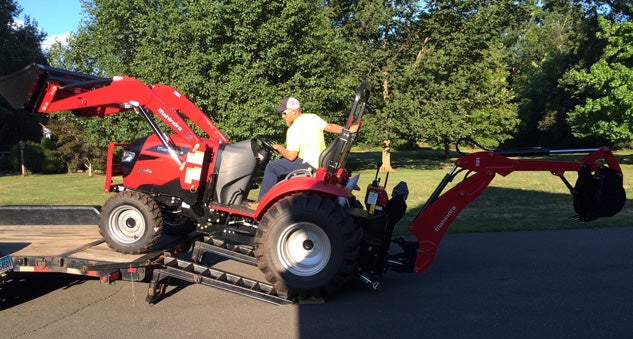 The 1538 is manufactured by Mitsubishi and shipped to Mahindra for engine installation. The Mahindra 166.7 cubic inch four-cylinder powerplant is rated to deliver 38.7 gross and 27.7 power take-off (PTO) horsepower at 2400 rpm. EPA Final Tier 4 (FT4) emissions compliance is through a diesel oxidation catalyst (DOC) after treatment system that doesn't require a diesel particulate filter (DPF) or bring with it the heat generating cycling of that system. The DOC system, which Mahindra calls mCRD, does not require the addition of diesel exhaust fluid (DEF), skipping the associated storage, contamination, and one-more-thing-to-deal-with issues associated with selective catalytic reduction (SCR) systems that require such additions. The upshot of the environment-protecting technology is an impressive 81.8 lb-ft of torque while running at quieter sound levels. We weren't quite able to match our previous test idle dBA of 76-77 (somewhat subjective and conditions-determinate), but our numbers were all still sub-80.
COMPARISON: Read our review of the 2016 Massey Ferguson 1739E
Hydraulic flow for the open center 1538 is 7.7 gpm to implement demand and 3.4 gpm to the power steering system (11.1 gpm total). This gives the three-point hitch (3PH) a lift capacity of 2,646 lbs at ball ends and 1,764 lbs at the industry standard of 24" behind. A single spool rear remote is optional, as is the power beyond circuit required by a backhoe. Position control over the hitch is standard, so an implement can be returned to a selectable point consistently. We look forward to removing the backhoe at some point and seeing how well the 3PH functions with a variety of implements.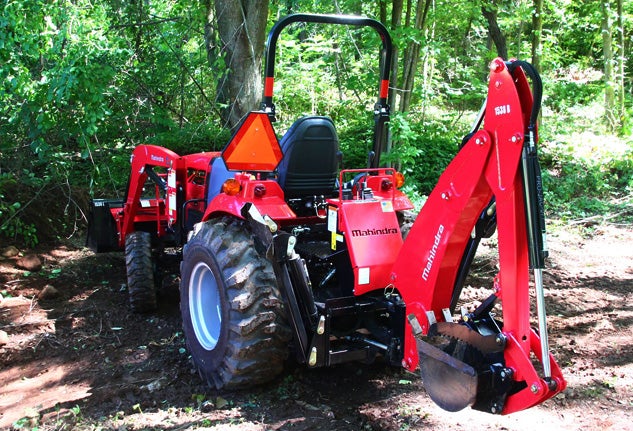 The 1538L loader is rated to lift 1,650 lbs (owner's manual states 1,850 lbs) to a max height of 99" (8'3") and uses a skid-steer compatible mount system that opens a variety of accessories and implements available from neighbors, contractors and rental centers. Initial impressions are that the loader cycles quickly, even at low rpm, and will cycle in two directions at the same time (raise/curl, lower/dump). With 5,222 lbs (TLB) behind it, the 1538 in low-range dug right into a pile of clay and rock and had no problem filling the bucket to capacity. We'll be reporting more on operating capability as we get more seat time.
The 1538B backhoe is rated to dig to a depth of 94" (7'10"), has an 180-degree swing arc, 127" reach, a transport height of 119", and is compatible with tractor models 1533 and 1538. Dig force at the bucket is 3,190 lbs and at the dipperstick is 1,980 lbs. Initial impressions are that the backhoe works well-enough at idle that a beginner can get used to the controls without risking collateral damage. The sweet spot for us seemed to be around 1700 rpm, where the hydraulic functions and power were there but engine noise limited. The 14" bucket and mechanical thumb so far seems to be a good match. The outrigger ends have a scalloped steel profile and no ability to reverse to a flat side. Taking the backhoe off the first time, we placed wood blocks under the ends so as to not leave an imprint in our asphalt drive. Since then, we've learned that there are bolt-on options suitable for different conditions.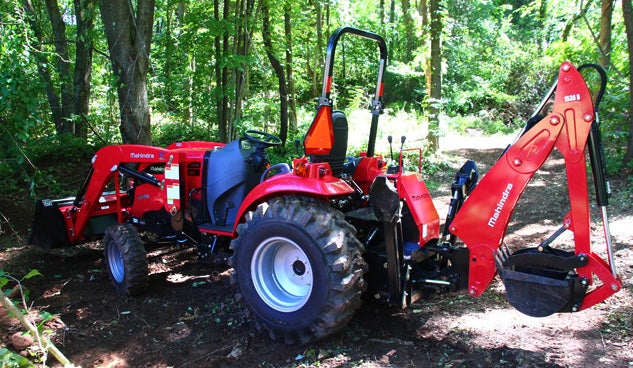 Not usually big fans of treadle pedals, and if it were our purchase we might be looking at the similar 2538 with side-by-side pedals and a little more hydraulic flow (imperceptible in rated performance), but admit within a few minutes to forgetting our preconception. Rated speeds in low range are 0-3.3 mph forward and 0-1.6 mph reverse. In medium range they are 0-6 mph forward and 0-3 mph reverse. In high range they are 0-13.7 mph forward and 0-6.8 mph reverse. On a flat surface the 1538 TLB will zip right along at max speed, but hitting an incline will bog down a bit. Think of high range as a pure transport range. Medium is where we suspect will get most of the use with our anticipated projects, though we did spend some time in low range rearranging some dirt. Low range definitely brings out the beast in the machine.
2015 John Deere 3038E Project: Part III
Likes were numerous and include the quiet EPA FT4 powerplant, hydrostatic transmission, integration of joystick and hand throttle into the right fender console, twin cupholders, dashboard cellphone slot, rubber isolated platform floor, tilt wheel and package stability (big tractor feel).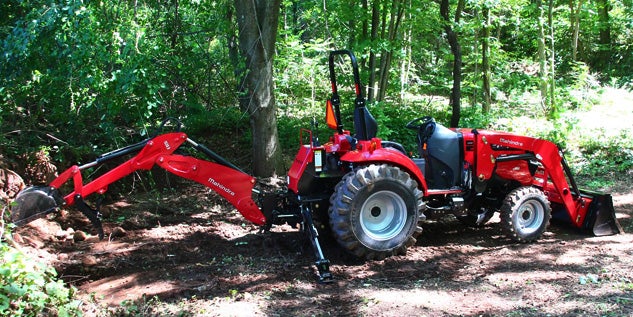 Nits were few and minor: awkward seat swivel (no doubt it will get easier to use as we get used to it and it breaks in, and besides who makes a really great swivel seat), awkward fuel fill location (hood) and positioning the brake pedal above the treadle pedal.
Our plan is to add to this initial impression piece a mid-way through review and then a wrap up piece. Over the several months we'll be learning the ins and outs of the Mahindra 1538 TLB package, and more able to bring our readers considering a like purchase a better idea of what ownership would look like. So far we give the experience a thumbs up.
Buyers Guides
Our Partners