2016 Mahindra 2555 Shuttle Open Station Review
A compact tractor with premium features at an economy price
By Geof Fowler, Dec 18, 2015
The new Mahindra 2500 series is a three-model lineup with six possible variants. The series' entry level model is the 2540, which comes only in open station configuration with a four-cylinder naturally aspirated engine rated at 40 horsepower and a shuttle transmission. The series' top model is the 2565, which comes only in cab configuration with a three-cylinder turbocharged engine delivering 65 horsepower and also with a shuttle transmission. In between is the 2555, which can be equipped with a shuttle or hydrostatic transmission in either open station or cab configuration. The 2555 has three-cylinder turbocharged power making 55 horsepower. All the powerplant variants are EPA Final Tier 4 (FT4) compliant using Mahindra's mCRD technology, which doesn't need a diesel particulate filter (DPF) or require the addition of diesel exhaust fluid (DEF).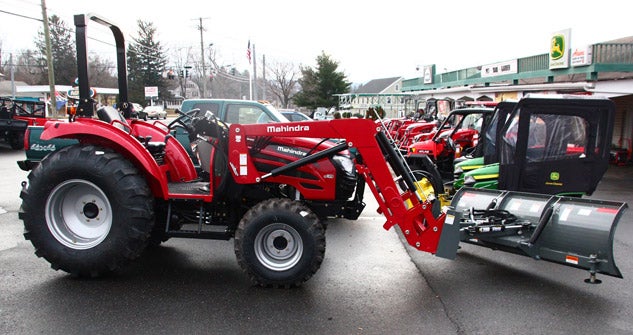 The engine powering Mahindra 2555 models displaces 161.5 cubic inches and makes max horsepower at a relatively low 2300 rpm. Power take off (PTO) rating is 44.5 horsepower (42.4 horsepower for tractors equipped with hydrostatic transmissions). Our test tractor was outfitted with a 12F/12R synchro shuttle transmission that uses a left-hand turn signal-like stalk to select directional travel. A right hand shifter conveniently positioned between the operator seat and fender has four gears arranged in a traditional "H" pattern, while the range selector positioned on the opposite side left has three ranges in a little "h" pattern. Engagement of the gears and ranges requires use of the clutch, as does the shuttle, and is accompanied by a positive click. Operators of this transmission will definitely not have to look down to see if the gear or range they select is fully engaged.
COMPARISON: Read our review of the 2016 Kubota L4701 HST
Hydraulics run through a twin pump open center system with 5 gpm going to power steering requirements and 9.5 gpm (9.7 for hydrostatic transmissions) to implement demands. This provides the Cat I three-point hitch (3PH) with enough flow and pressure to carry a lift capacity rating of 3,314 lbs. Lower lift arms have telescopic ends and the outboard stabilizers also telescope for ease of adjustment. A drawbar, single rear remote, and seven-pin trailer electrical connector round out the list of standard equipment at the rear that other tractor manufacturers consider optional, further blurring the line between value or economy tractors and deluxe models.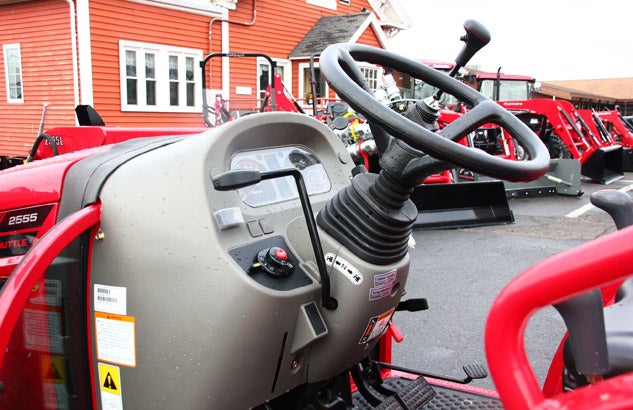 Climb up to the operator platform, which is flat and rubber isolated, and you'll find the layout neat, uncluttered and well thought out. The suspension seat is adjustable for operator weight and the steering wheel tilts for comfort. The left clutch, right split brake and foot throttle pedals (there is a hand throttle as well) are suspended, which makes a tight-fitting cab model possible while providing plenty of foot room. Control levers for the 3PH (position) and rear remote (literature states only one remote is possible though there are slots for two additional levers) are on the right side rearward of the shift lever and to the operator's thigh and hip. A push/pull lever for 2WD/4WD engagement is between the operator seat and left fender. A cupholder does not come standard, but we noticed plenty of space for a creative owner to add one.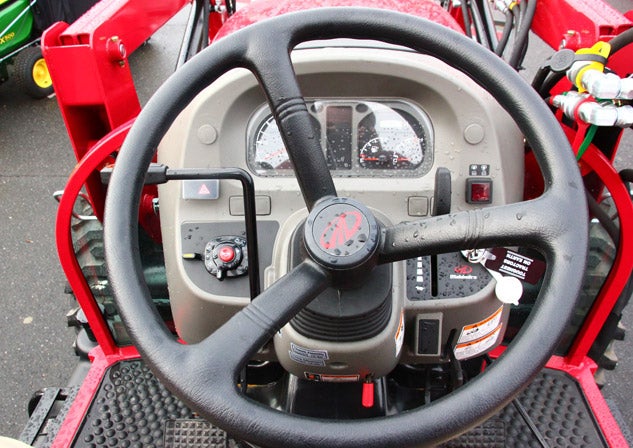 The dash has an analog tachometer to the left, warning lights in the middle and temperature, fuel and a digital hour meter to the right. Just below and to the right is a lighted push switch for the PTO, a three-position key switch (glow, off, and on), and the hand throttle lever. A multifunction switch controlling lighting, turn signals and horn is located to the left with a flasher switch just above. Grab handles and steps on both sides, a rear sight window for added rear hitch, PTO and implement visibility, left heel differential lock pedal, folding ROPS and non-retractable seatbelt are all standard equipment.
COMPARISON: Read our review of the John Deere 3039R Open Station
Our test tractor was equipped with Mahindra's model 2555L loader, which is rated to lift 3,122 lbs to a max height of 115.4". Standard fare is a 72" bucket which equates to a dump clearance of 82.3", so most pickup truck and small to medium height trailers will be within reach. Mahindra cycle times are 6.0 seconds to full raise, 4.0 seconds to full lower, 4.9 seconds to full dump and 3.2 seconds to full curl. Our test tractor was being readied for snow removal and was equipped with a heavy-duty Worksaver 6-1/2' plow, so we were unable to confirm cycle times, but at no time did the hydraulics feel anything less than responsive.
For operators with digging requirements, Mahindra matches its 75BL backhoe to the 2555. The 75BL can dig down 133" and can reach 173". Bucket rotation and swing arc is a full 180 degrees and with 9.5 gpm flowing at 2500 psi, the setup has a dig force of 5,676 lbs at the bucket and 3,056 lbs at the dipper. The 75BL is also compatible with 2555 and 2565 cab models.
COMPARISON: Read our review of the 2015 Yanmar 424 TLB
So how does it all work? In two words: quite well. Firing up the engine resulted in a quiet idle where we measured 69/70 dBA against an ambient background of 55 dBA. Smoke from the engine was nonexistent. Already mentioned above was the nice gear and range engagement that left you wanting to shift more often just to enjoy the preciseness. With the Worksaver plow hanging all the further out front – necessary to allow the needed range of rotation to the right and left – one could feel the mass. Accordingly, approximately 1500 lbs of RimGuard counterbalance (750 lbs per rear tire) was required, pushing the weight of the tractor, loader, ballast and plow to nearly four tons. We have no doubt that whatever end use, whether it be large parking lots or roads, this setup is ready to move some snow.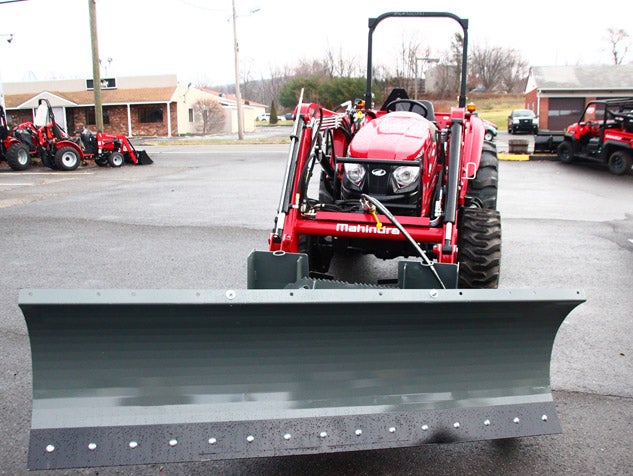 2555 tractors measure 134.1" long by 71.1" wide with an overall height of 102" (ROPS up). Turning radius using brakes is 11'. Tire choice (front/rear) is 9.5x16/14.9x24 R1 (Ag), 12x16.5/16.9x24 R4 (industrial), or LSW305-521/LSW570-648 golf. Carrying a tractor-only MSRP of $27,068 (gear) and with a five-year powertrain warranty, for a wide range of Ag-related, hobby farming, grounds maintenance, and municipal use, a 2555 might just be the perfect choice. If you're in in the vicinity of Ellington Agway Power Equipment in Ellington, Conn., who graciously walked Tractor.com through the nuances of this new model, be sure to stop in and speak to the knowledgeable and friendly staff.
Buyers Guides
Our Partners