2013 Massey Ferguson GC1705 HST Review
Subtle improvements make the GC series even better
By Geof Fowler, Photography by Massey Ferguson, Nov 09, 2012
Back in August we were invited by Broadhead Co, Massey Ferguson's marketing arm, to attend the 2012 Farm Progress Show in Boone, Iowa and check out the newly released GC1700 series tractors. The dates though proved to be problematic and since then, we have been anxiously waiting to have these hit dealer stocks so we could see for ourselves what was new.
The generation of Massey Ferguson subcompacts the GC1700 series replaces, the GC2400, GC2410, CG2600 and GC2610, have proven to be well-designed, ergonomically comfortable and reliable – we reviewed the GC2400 in June. There are those that think when you have a good thing going you should stick with it. But then designs stagnate and innovation comes to a halt. Massey Ferguson, in conjunction with Iseki who manufactured the last generation GC and the new, listened to customers and dealers and instead of a complete redesign, made subtle improvements that have made the GC series even better.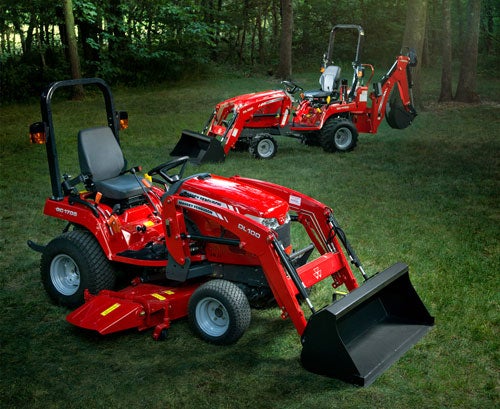 Starting with all new three-cylinder liquid-cooled powerplants that meet Tier-4 requirements, the GC1700 series is comprised of four models, the 22.5 gross horsepower GC1705 (tractor-only), the same horsepower GC1710 TLB (tractor, loader, backhoe), the 25 horsepower GC1715 (tractor-only) and the same horsepower GC1720 TLB. The GC1705 and GC1710 produce 18.7 horsepower at the power take off (PTO) running at 2600 rpm while the GC1715 and GC1720, using the same 68.5 c.i. engine make 19.6 PTO horsepower at a slightly higher 3000 rpm.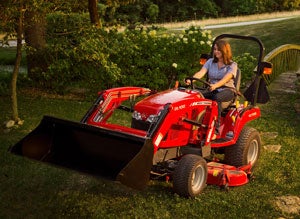 Power is fed to a two-range hydrostatic transmission that is modulated by a side-by-side pedal arrangement offering infinite control over the 0 – 9.1 mph speed range. Cruise control is standard, as well as a 540 rpm rear and 2000 rpm mid PTO.
Hydraulics are by an open center system with 4.3 gpm (GC1705 and GC1710) or 4.8 gpm (GC1715 and GC1720) available for implement needs and 2.0 gpm for power steering functions (all four models). Massey Ferguson gives the three-point hitch (3PH) lift capacity a rating of 1,190 lbs. at hitch point so you know this series is designed to do more than just look pretty. As on the previous generation GC series, position control isn't available, so if you are planning on running a rotary cutter or tiller, you will have to guess at the position when returning the 3PH to work height. This is by no means a game changer and certainly is not an uncommon accommodation in the subcompact market. Lower link arms are not telescopic and the stabilizers, while located inboard of the arms, are of a turnbuckle design.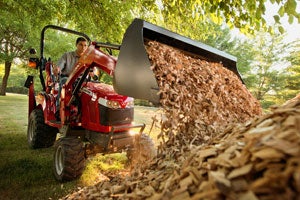 The GC1705 and GC1715 come with fixed-height roll over protection system (ROPS) designed to clear a standard garage door, while the TLB cousins get a higher ROPS for back hoe use that measures 86" extended but can fold. Seatbelts are automotive-style and retract out of the way when not in use. The GC1705 and GC1715 measure 97.6" long by 47.25" wide while the GC1710 and GC1720 are 177" long by 53.94" wide. All have 6.7" of ground clearance and ride on 57.1" wheelbases. Tractor-only weights are 1433 lbs. and TLB versions get up to 2670 lbs.
On Monday we got word that one of the super dealers that service Connecticut had gotten in a GC1700 tractor. We immediately contacted Tim Goff of Goff's Equipment Service in Litchfield and asked when we could see the tractor. His response was that he knew nothing about the arrival of any of the new GC tractors. That was at 10:30 am, but by 5:00 pm that evening we had an email from Tim telling us that a GC1705 had just arrived and though they wanted to familiarize themselves with the tractor and give it a bath, we were welcome to come in for a review on Friday.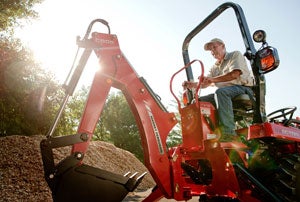 Connecticut was just recovering from the one-two punch of Hurricane Sandy followed nine days later by a Nor'Easter that dumped as much as 12" of early white snow. Goff's was up to the challenge, though, and not only was our test GC1705 freshly washed, but the entire outdoor inventory was showroom clean and ready. Goff's has a large inventory and a nice, neat and organized feel that says this is the kind of dealership you want standing behind your substantial purchase.
When we arrived, we asked Tim what was new about the GC1700 series. "Subtle improvements that added together make it even better than the series it replaced," we were told. The first change was the relocation of the loader joystick from the loader stanchion to the front side of the tractor instrument and steering console. Tim explained that though the joystick lever was longer than before, it still gave you good feel over the up/down, curl/dump positions. Relocating the joystick could have proved a challenge for a lockout, but Massey Ferguson engineers came up with a front console knob that twists to lock and prevent an accidental bucket dump. The hood is also an all-new, all-metal design with a nice latch incorporated into the top where a lot of manufacturers still put hard to access fuel filler caps. For the record, Massey Ferguson puts the fuel filler on the right hand fenderwell where it is far easier to hold a 5.0-gal. can at hip/waist level than chest/shoulder.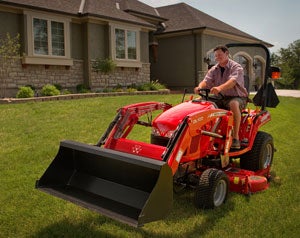 Other improvements include the relocation of the cruise lever from a slightly-awkward right fenderwell location to the dash face, a slightly wider separation of the side-by-side hydro pedals, consolidation of all electric light and flasher functions to a single location, and a really nice bracket that holds the 3PH top link in place when not being used, but that slips out of the way without tools or pins when needed.
Firing up the diesel powerplant made us immediately go for our dBA meter where we measured an outdoor (from the driver's seat) reading of 82.1/86.1 (min/max). Just for grins we did the same test on a GC2400 in the lot and measured 84.9/87.9, confirming our suspicions that the new Tier-4 powerplant was noticeably quieter. Similar differences were measured at 1500 and PTO rpm.
Our test GC1705 was outfitted with a DL100 loader and 48" bucket. This is a nicely sized compliment to the tractor and a capable performer able to lift 678 lbs. to 73". Breakout force is rated at 950 lbs. We found responsiveness a little slow at idle, but at higher rpm quite acceptable. Balance felt confidence inspiring, even at full lift height.
Backward implement compatibility is built in to GC1700 series tractors, so if you have an early GC2400 and want to trade up but keep your existing mid-mount mower, loader and implements, you can trade in the tractor-only and everything will work.
Backhoe-equipped tractors (GC1715 and GC1720) get the CB05 model with a 78" dig depth, 102" reach, choice of 10" or 12" buckets, 140-degree swing arc and a dig force rated at 1950 lbs.
Our test GC1705 rode on Titan R3 industrial tires, size 26x12-12 rear and 18x8.5-10 front (turf and Ag options are available). MSRP for a GC1705 outfitted as our test tractor is $14,417 (tractor/loader) and TLB packages start at $19,729 (MSRP). Along with the new design is more competitive pricing, putting a GC1705 neck and neck with Kubota's BX.
Right now, Massey Ferguson is offering rebates on GC2400/GC2600 tractors of $1000 to help move existing inventory. Massey Ferguson is also running a parts special through the end of the year offering 10% off lubricants and filters. If you're in the market for a subcompact with lots of attitude, check out the new GC series, we think you'll be as impressed as we were. If you're looking for a deal, the outgoing GC2400/GC2600 tractors wouldn't be bad choices either.
Related Reading
2012 Massey Ferguson GC2400 Review
2012 Kubota BX2360 HST Review
2012 Kubota BX 1860 Review
Buyers Guides
Our Partners