2013 Simplicity Regent EX Review
Entry level lawn tractor doesn't skimp on features
By Geof Fowler, Photography by Geof Fowler & Simplicity, Aug 19, 2013
It had been a while since we reviewed a tractor from Simplicity. In Dec. 2011 we tested a
Broadmoor 20/52
and in October of the same year we spent some time with a
Legacy XL
, in both cases coming away impressed at the combination of build quality, features, and overall ergonomic feel. In April of 2012 we got a chance to get a brand new
Craftsman CTX 9500 dirty
, which shares some Simplicity DNA. With that again favorable test of a high-end Briggs & Stratton machine in the can, we wondered how an entry-level model might fare.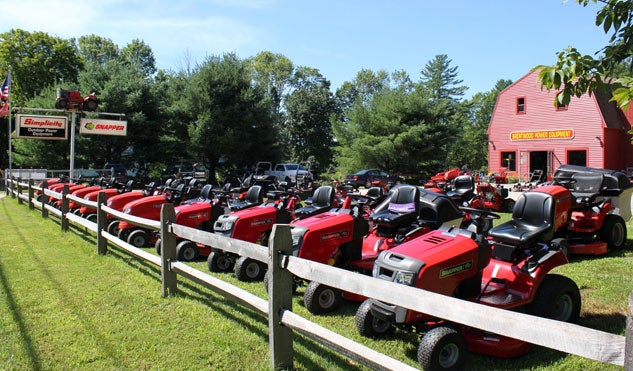 Vacationing in coastal New Hampshire this summer we came across Brentwood Power Equipment Center in Brentwood, NH and were immediately stuck at the large inventory outside on display. About the only nit we've had with Simplicity in the past had to do with the lack of inventory most dealers carried. With this dealership clearly bucking that trend, we were curious as to how and why and so stopped in, finding a neat, organized dealership that was bustling with activity. Nate Flagg was behind the counter and greeted us. We told him we were from Tractor.com and though we didn't want to take a lot of his time we were interested in doing a review. Nate readily agreed, and so, in between customer needs we got to talking about tractors, Simplicity, and the economy in general.
COMPARISON: Read our review of the Kubota ZG100 Kommander
We learned BPEC was a family-owned business and the largest Simplicity dealer in the state. And with such a busy dealership, the way the staff handled everything, always with a smile and in an unrushed fashion, told us a lot. At one point we overheard Nate talking to a commercial customer who was certainly familiar with machinery, though not the exact model purchased. Nate said, "Pull your trailer around to the side. We'll load you up and I'll show you how everything works." That's just a small sample of the friendly, warm and fuzzy feeling exuded at BPEC where you just knew this was the kind of dealership where the customer comes first and where one would always be well taken care of.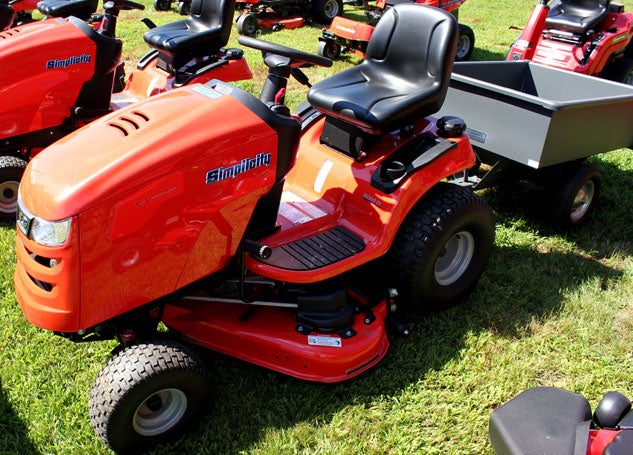 With the large inventory to choose from, the dilemma was which tractor to test. A Conquest? A Prestige? Or that entry-level tractor we had long wondered about? We eventually settled on the Regent EX.
COMPARISON: Read our review of the New Holland Boomer 25 HST
The Regent EX comes in three model variants: a 20 HP 38" cut, 23 HP 46" cut and 26 HP 52" cut, all with Briggs & Stratton Professional Series powerplants. Though all three variants were available for us to review, we selected the 20 HP EX model which comes with a MSRP of $2,399. This puts the Regent EX at a premium over many box store models, so the question is what more does a purchaser get?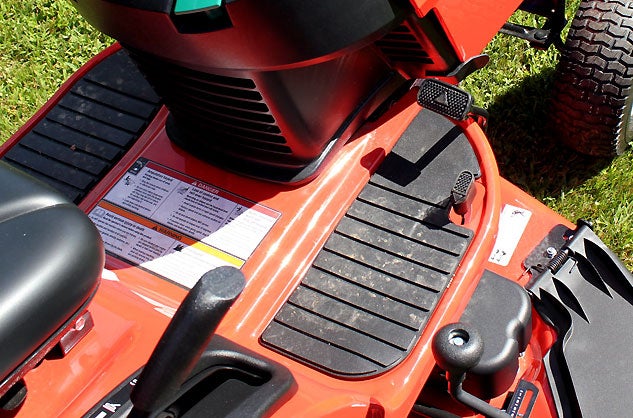 The Briggs & Stratton Professional Series powerplant is an air-cooled, V-Twin engine with full pressure lubrication and a spin-on automotive-style oil filter that displaces 656cc. Mated to a Tuff-Torq K46 transaxle, this is an obvious improvement over the hydrostatic transmissions used in many competing box store models.". Driven by belt, the K46 gives the Regent EX a 5.5 mph max forward and a 3.0 mph max reverse speed capability. Controlling the machine is done with a twin pedal arrangement. Though we didn't find it ergonomically pleasing as the more side-by-side set up used on other Simplicity models, the twin pedals offer finely modulated control over the infinitely variable range of speed and, in our opinion, is preferable over a treadle-style pedal.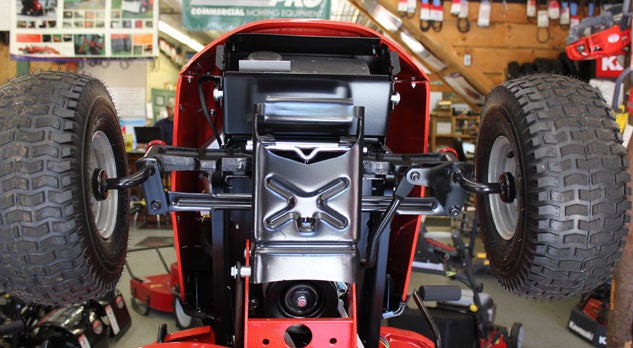 At the tractor front we find another feature separating the Regent EX from many box store models – the cast iron axle, which is an improvement over cheaper stamped units.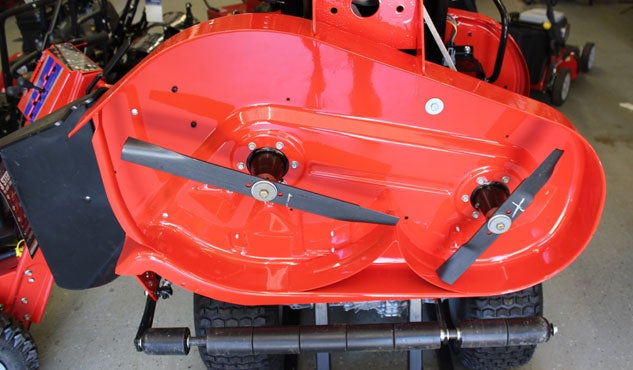 Simplicity decks are considered some of the best in the business. A free floating design utilizes two different length blades, the deck is stamped from 12-gauge steel and makes use of cast aluminum spindles. Infinite adjustment over the 1" to 4" cut height is accomplished by a hand crank, while the lift/lower control is a left side pedal in conjunction with a right hand fender mounted positioning lever. A full width roller keeps the deck from scalping in even the most extreme conditions and is what gives the cut that coveted striping effect. Removal of the deck for cleaning or to change over to a snowblower is made easy with a standard quick hitch removal system.
Climb up onto the mid-back 15" contoured seat and the operator is treated to an uncluttered, ergonomically laid out platform with the key start, power take off (PTO), reverse mowing key (more on this later), headlight, hour meter, throttle, parking brake and cruise control levers and switches all conveniently located on the instrument panel cowl. On the left fender is a cup holder and open storage tray for a cell phone or MP3 player. There is no mechanical or electric fuel gauge, but a sight level indicator below the seat gives a quick indication of the 3.5-gallon tank's status.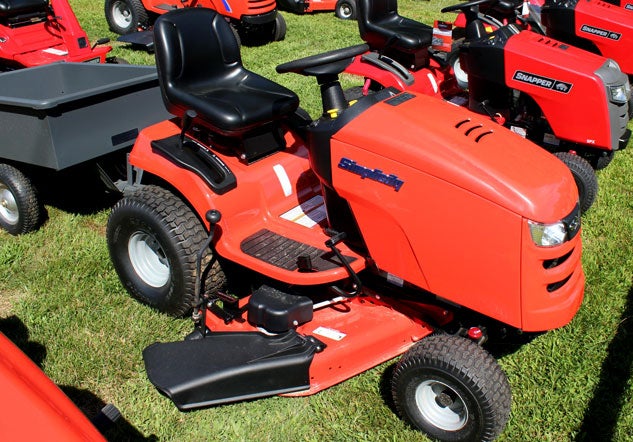 The Regent EX rides on 15 x 6 front and 20 x 8 rear turf tires and is 71" long by 50" wide and 45" tall. Curb weight is 530 lbs. Options include a turbo collection system, twin and triple bag clean sweep catchers, 42" and 48" dozer blades, 42" single-stage snowblower, soft side cab, weights, chains and dump carts. Consumers get a three-year warranty.
COMPARISON: Read our review of the John Deere D170
The Regent EX does come with a cost premium, but for that buyers get a Briggs & Stratton Professional Series powerplant, K46 transaxle, and cast iron axle. While most of the industry has gone to annoying reverse mowing switches that do nothing to prevent an operator from reversing without looking rearward, Simplicity uses a secondary yellow key to lock out the reverse mowing feature or engage it full time. To us, this alone might make the purchase price well worth it. Add in the all-steel hood, legendary cut quality, 14" turn radius, friendly and competent dealer network such as we found with BPEC, and this might be that perfect lawn tractor for your needs.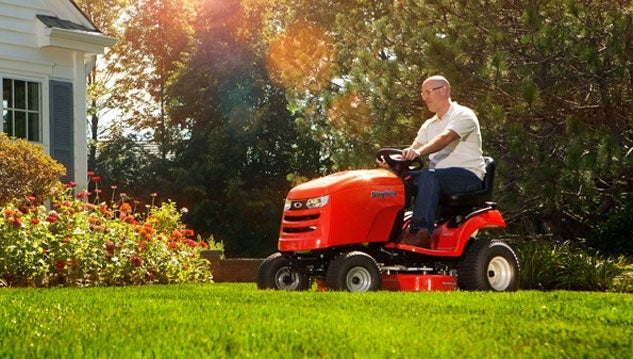 Buyers Guides
Our Partners