2013 Yanmar Ex450 Synchro Shuttle Review
A powerful tractor in a compact and quiet package
By Geof Fowler, Photography by Yanmar, Feb 07, 2013
The Yanmar Ex series is comprised of three models, the Ex2900 we tested in April of 2012, the Ex3200 we tested in Sept of 2011 and the Ex450 which has long been on our to-do list of tractors to check out due to its big power output that's shoehorned into a mid-sized compact utility tractor (CUT) package. We finally had a chance to see what the Ex450 could do.

Each Ex450 begins with a Yanmar 2.17L naturally aspirated 4-cylinder powerplant rated to deliver 45 gross horsepower at 2700 rpm. Utilizing direct injection, the 133.6 ci mill sends 37.5 horsepower to the rear power take off (PTO) and is surprisingly quiet for its output and size. A dual stage dry clutch engages/disengages the continuous live PTO and sends power to the 9F x 9R synchro shuttle transmission. This set up allows the operator to shift from forward to reverse in nine different speeds without stopping, using a left-hand turn signal stalk. Gear selection comes from a dash mounted three-speed lever located on the right side, while transmission range is controlled by a lever just left of the operator seat.

Hydraulics are run through an open center dual gear pump arrangement that flows 12.7 gpm with 8.2 gpm going to implement needs and 4.5 gpm to the power steering. This gives the Cat I three-point hitch (3PH) a lift capacity of 2,464 lbs at the industry standard of 24". Position control is standard, allowing the operator to return the 3PH to a precise operator selectable position time after time.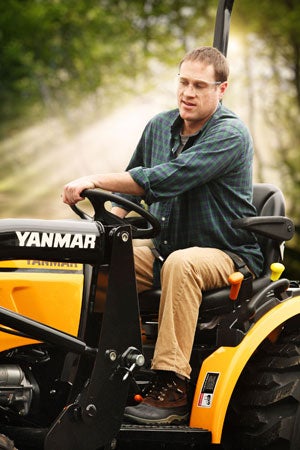 Climb up the dual steps and onto the spacious and flat operator platform, which is three-piece and made from metal, and you will find a molded high-back seat with suspension set in between tall metal fenders – think John Deere 990/4005, which is what the Ex450 is based on. The similarities stop with the underpinnings though, with the 990/4005 having 3.5 less horsepower, six less reverse speeds, no shuttle shift, and a fixed roll over protection system (ROPS). Controls on the Ex450 are color coded and ergonomically laid out. The throttle lever is just ahead of the transmission speed lever, while the 2WD/4WD lever is just below the transmission range lever and next to the PTO selector. To the operator's right side is the 3PH control, and the differential lock lever is actuated by the operator's right heel. Brakes are split and can be locked together or separated to aid in turning or getting out of slippery spots. Cup holders or toolboxes/trays, however, are nowhere to be found. This is a tractor made for and designed to do work.
Our test tractor was outfitted with the curved boom CL400 loader. Why Yanmar hasn't taken the opportunity to further distance the Ex450 from the John Deere 990/4005 by going to a sloped hood is something our testers all wondered about, but found visibility to the left and right of the hood quite good. The CL400 is rated to lift 1,692 lbs to a max height of 104.3". Breakout force at the bucket is rated at 2,728 lbs, with the pressure relief valve set at 2427 psi. We measured dump clearance at 82.7" and a dig depth of 5.9". With the standard 72" bucket (10.6 cf), the CL400 adds 935 lbs to the Ex450 tractor-only weight of 3,499 lbs. Responsiveness was quite good, with 3.3 seconds to raise to full height, 2.0 seconds to lower, 1.5 seconds to dump and 2.0 seconds to curl.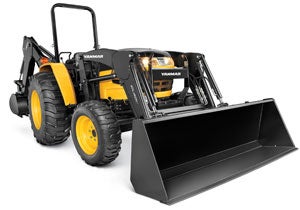 The Ex450 comes with four tire options: 10 – 16.5" front/17.5" – 24" rear R4 industrial, 8 – 16" front/14.9 – 24" rear R1 Ag, 27" x 10.5" – 15" front/44" x 18" – 20" rear R3 turf, and 27" x 12" – 15" front/44" x 16.1" – 22.5" Galaxy turf, which are great for golf courses or other places where turf damage has to be kept to an absolute minimum.
For those who require a backhoe, the Ex450 can be outfitted with Yanmar's CB85 backhoe which offers a dig depth of 103", 180-degree swing arc, and a 142" reach. With 3,730 lbs of dig force, this is a combination ready for some serious work. Bucket sizes ranging from 14" to 36" for a variety of light and heavy-duty use are offered. And the CB85 can be removed/attached in minutes without tools.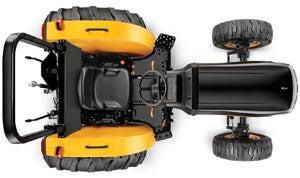 Other likes or dislikes? The taillight fender locations that lack metal hoop protection and are sure to catch on a branch or vine are our biggest nit, though the large grab handles on the same fenders get a universal thumbs up. Other than that, this is a powerful package with everything where you need it and factory-ready to get dirty.
The Ex450 rides on a 72" wheelbase and is 72.89" wide x 126.4" long. Ground clearance is 13.7". Yanmar gives each Ex450 a five-year limited warranty with the tractor covered bumper-to-bumper for two years or 2,000 hours and the powertrain (engine/drivetrain) covered for five years or 2,500 hours. MSRP for the Ex450 with the CL400 and one rear remote is $31,172 (the configuration as shipped by Yanmar), but a dealer can pare the configuration down to tractor-only for about $3,800 less.
So is the Ex450 for you? If you're looking for a big power tractor without real estate gobbling size in a time-tested and proven design package, then you owe it to yourself to check out the Ex450.
Related Reading
2012 Yanmar Ex2900 Review
2011 Cub Cadet Yanmar Ex3200 TLB Review
Buyers Guides
Our Partners