2016 Yanmar YT347 Cab & Open Station Review
Feature-laden deluxe tractors at a competitive price-point
By Geof Fowler, May 13, 2016
Tractor.com's first exposure to the Yanmar YT3 tractors was at the National Farm Machinery Show held in Louisville this last February. The two all-new models on display had our attention so-much-so that we would make three additional trips back to the Yanmar booth.

Feature-laden with an innovative transmission promising to deliver gear efficiency with CVT ease of operation, we were told models would hit dealer stocks spring of 2016. In March the first YT3, a YT359 model, was retailed and delivered to a dealership in Maine, but a scheduling conflict kept us from working out a test drive. When we learned Big Boy's Toys in Pomfret, Conn. had both a YT347 cab tractor and a YT347 open station machine in stock and would make them available for some fun, we weren't going let another scheduling snafu interfere.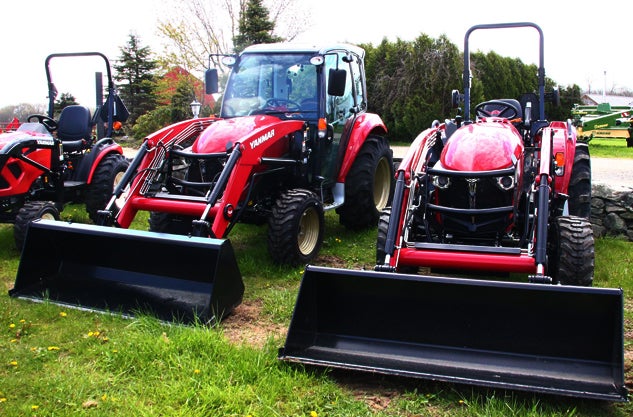 The Yanmar YT lineup as we know it today consists of one YT2 series tractor, the 35.5 HP YT235, and two YT3 series tractors, the 46.6 HP YT347 and the 59.7 HP YT359. A Yanmar YouTube video posted in January, teased watchful eyes with a YT490 running a rear flail mower with two batwing extensions. Our guess is that there will soon be a YT4 series with at least 90 HP on tap and elevating the already-impressive Yanmar lineup by a whole new class of machine.
COMPARISON: Read our review of the 2016 Mahindra 2565 Cab
The subject of this week's review is the YT347, which gets its power from a Yanmar designed and manufactured four-cylinder 4TNV88C engine that is naturally aspirated and displaces 133.6 cubic inches (2.19L). As mentioned above, gross horsepower is 46.6, which comes at 2800 rpm. Power take-off (PTO) horsepower is rated at 35.9. Final Tier 4 (FT4) emissions compliance is achieved without the need for a diesel particulate filter (DPF) or additions of diesel exhaust fluid (DEF).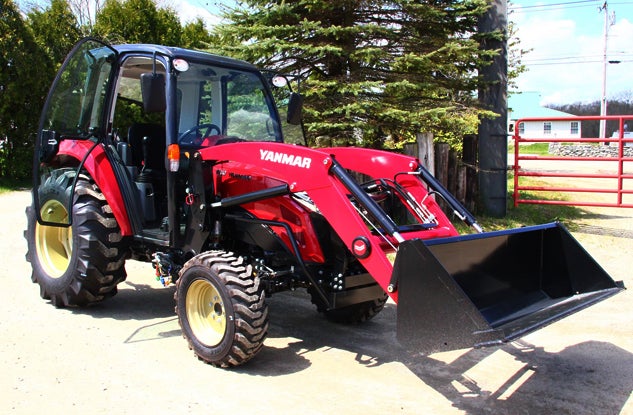 Twist from the 4TNV88C is sent to a three-range I-HMT transmission, which stands for Integrated Hydro Mechanical Transmission. While I-HMT may not roll off the tongue all that nicely, we can assure you how it works is everything nice. Driving impressions will follow below, but the I-HMT delivers efficiency, constant speed, stepless and clutchless main shifting, and vehicle stop without having to clutch. A left fingertip power shift reverser lever handles directional changes also without the need to clutch. Other nice features of this setup include auto throttle, which places control over engine rpm and travel speed in a single right foot pedal; joystick A-B buttons limiting engine and travel speed to preset levels; anti-stall functionality; cruise control; and motion control (sensitivity). Auto throttle can be turned off in range one and two but is always on in range three. Compared to a traditional hydrostatic or gear transmission, the I-HMT offers significantly more mechanical efficiency over a hydrostat – especially when increasing ground speed – while nearly mirroring the power delivery curve of a gear transmission. Speed range is infinitely adjustable from 0-18 mph.
Hydraulics run through a tandem, open center system flowing 5.7 gpm to power steering requirements and 10.1 gpm for implement demand (15.8 gpm total). This gives the Cat I three-point hitch (3PH) a lift capacity of 2756 lbs at the industry standard of 24" behind. Position control is standard, so an implement can repeatedly be returned to the same operator-selectable position. Two rear remotes are included with an option to add a third. A rear 540 rpm PTO is standard, but there is no mid-PTO option. There is, however, a front PTO option. A hydraulic multi-disc clutch along with mechanical wet disc brakes round out system mechanics.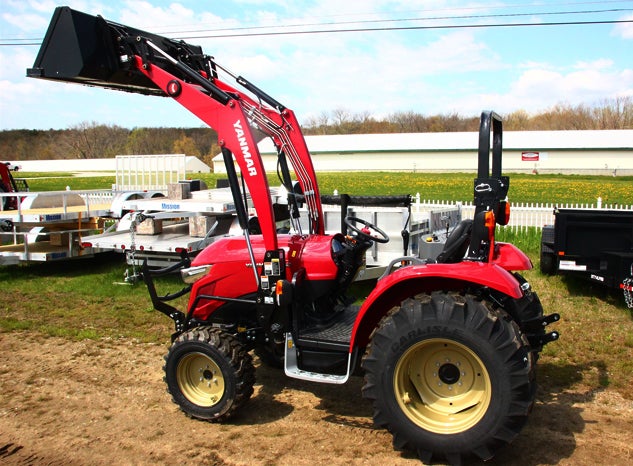 Both of our test tractors were equipped with Yanmar's YL610 loaders, which can lift 2500 lbs to a max height of 113". Dig depth is 7.5" and the dump clearance is 88". Breakout force is 3969 lbs. Yanmar rates the full raise cycle time at 4.6 seconds with a full lower time of 3.1 seconds. Full dump takes 1.6 seconds and full curl, 2.8 seconds. A 72" bucket (10.9 cubic foot) is attached using a traditional two-lever skid-steer attaching system. A grille guard is standard.

Yanmar matches its B90 backhoe to YT347 tractors, which delivers a dig depth of 109", 180 degrees of swing arc, a dig force at the bucket of 4911 lbs, and a dig force of 2809 lbs at the dipperstick. Buckets are available in 12", 16", 18", 21" and 26", along with an optional hydraulic thumb.
COMPARISON: Read our review of the 2016 Kubota M5660SU
Cockpit space for both cab and open station variants is identical and spacious. The seat is adjustable fore and aft and comes with foldable armrests, a retractable seat belt, weight adjustment knob, and along with a steering wheel that tilts, makes for a comfortable operator platform. The floor is flat, with suspended pedals (split brake and clutch), but the aluminum "go" pedal is floor mounted. The joystick is nicely integrated into the right console and has a thumb A-B switch and a third function switch along with single trigger boost switch to rev up rpm without increasing ground speed – especially useful during loader work. Between the seat and right side console is the position control lever with six marked gradients but unlimited adjustability. On the right console is a yellow electro-hydraulic PTO switch, rotary controls for motion sensitivity and A-B settings, levers for the rear remotes, cup holder, storage tray and 12V outlet.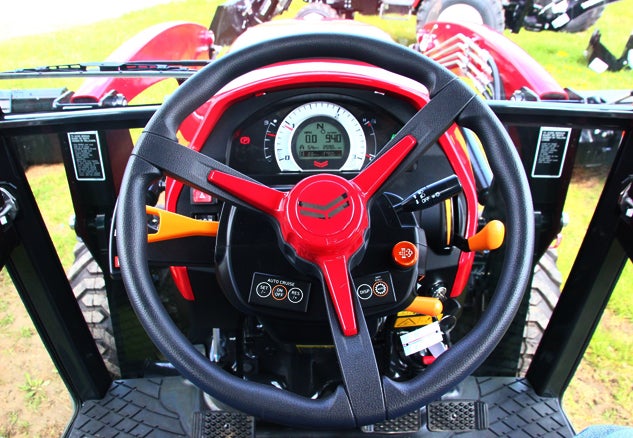 Controls on the left side between the seat and fender include a heel differential lock pedal, PTO neutral lever, 2WD/4WD lever, and range lever with a 3-2-N-1 pattern. Instrumentation is of automotive quality and is highly readable in even full sunlight. There is a digital tachometer, which has a white background, black increments and a red indicator. In the center is a digital LCD display that at a glance lets the operator know everything from ground speed, gear selection, A-B settings/limits, and reminders such as having to put the power reverser lever in the neutral position to start the tractor. Flanking the LCD display and tachometer are temperature and fuel gauges with the two widest sides containing single image indicators for functions such as parking brake engagement and auto throttle on. On the dash below the steering wheel are touch pods for auto cruise (set/-, on – off, res/+), and auto throttle and anti-stall control.
Cab tractors come with air conditioning and heat and are radio ready. Both doors open for access as do the rear quarter panel and rear window. There is also a fixed window behind the seat, helpful for viewing the hookup of rear 3PH implements. We measured sound levels inside the cab of 75/81 dBA at idle and 83/83 dBA at PTO speed (the open station tractor had a reading of 82/92 dBA at idle).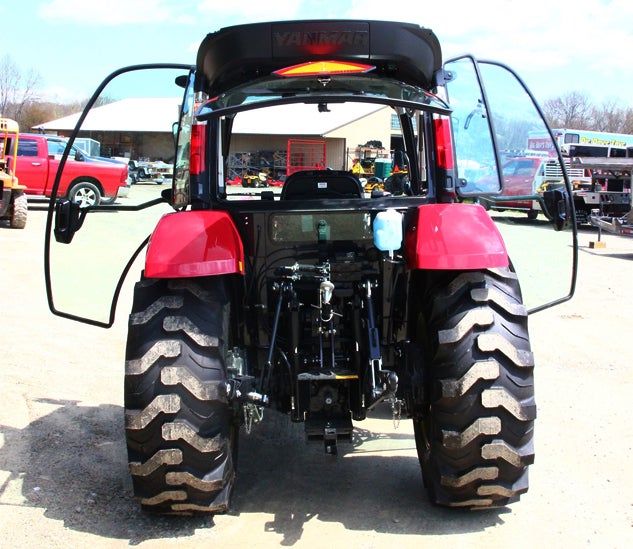 So how does it all work? Well enough that an inexperienced user is able to step right in spending little if any time getting acquainted with the tractor operation but still having all the capability an experienced operator demands to get some serious work done. Loader responsiveness off-idle is a little lethargic, but perfect for that inexperienced user. Ramp up the throttle or pull the trigger on throttle boost and the YL610 wakes up using 9.4 gpm of the 10.1 gem available flow. Visibility of the bucket at full lift height is excellent, even in the cab tractor. And when auto throttle gets a little hard to modulate on bumpy, challenging terrain, it is easily defeated with a button press to disengage and another to engage cruise.
COMPARISON: Read our review of the 2015 Massey Ferguson 1759 Open Station
The YT347 measures 131" long by 70.6" wide and is 95.7" tall to the top of the ROPS (89.5" cab). Ground clearance is 13.7". Tire sizes are 8-6 6PR front and 14.9-24 rear R1 (Ag), or 27 x 10.5-15 front and 44 x 18-20 rear R3 (turf), or 10.0-16.5 front and 17.5L-24 rear R4 (industrial), all riding on a 75.9" wheelbase.
With a MSRP of $39,213 open station (tractor and loader) and $47,336 (tractor, cab and loader), the YT347 in whatever variant you chose is one serious workhorse at a seriously competitive price point. Yanmar quality is backed by over 100 years of diesel know-how and is evident in the 24-month bumper-to-bumper/2000-hour private user warranty with extended power train coverage of five years/2500 hours.
Yanmar trademark users are "Agrilifers," which covers a wide range and includes homeowners, landscapers, contractors, farmers and municipalities. For those fitting into those categories and in the market for a deluxe 47 HP tractor with wide range of available implements and cab availability, it would be well worth your time to check out the YT347. And if you are in the vicinity of Pomfret, CT, Big Boy's Toys would be a good place to start.
Buyers Guides
Our Partners