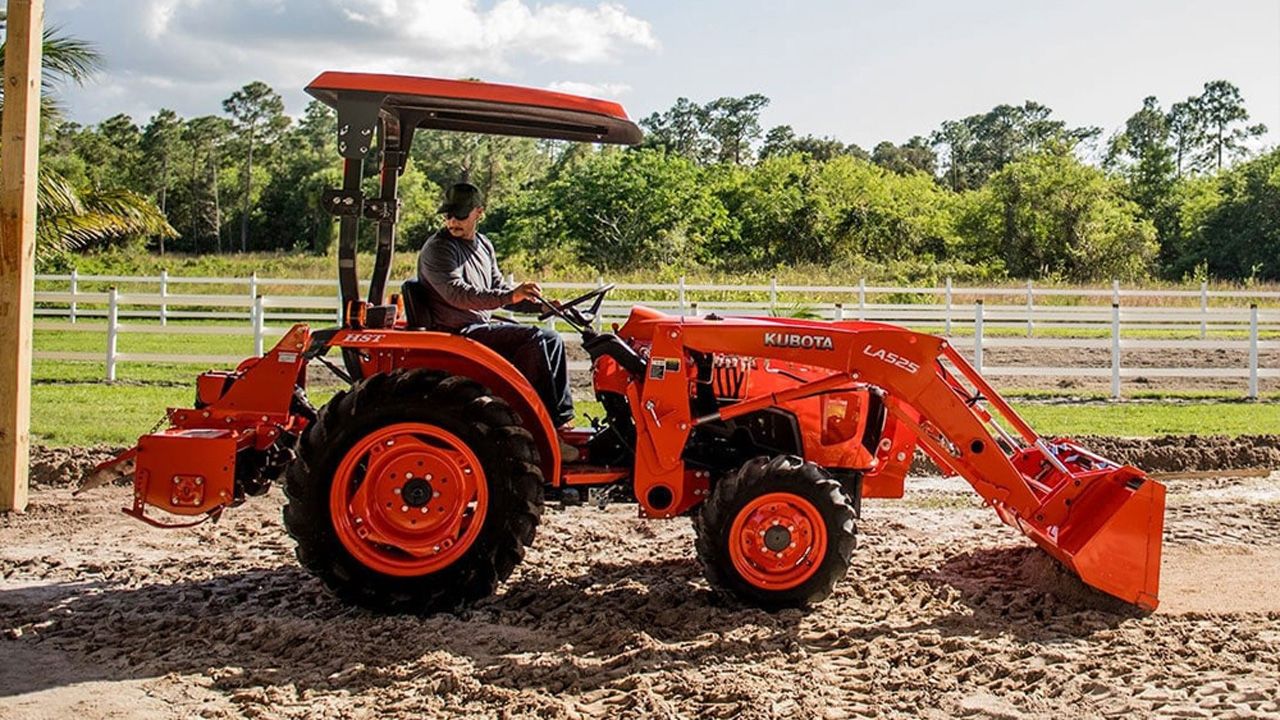 They're the go-to equipment of rural America – the 30-horsepower range, sub-compact and compact tractors. Loosely defined as tractors with horsepower ranging from 26-34, their pickup truck equivalents would be the Chevy Colorado, Ford Ranger, or Dodge Dakota. Great for mowing with a bush-hog, hauling yard waste, spreading manure, drilling fence-posts, or anything requiring a small front-end lift, the best 30 horsepower tractors can do just about anything you need done short of disking 500-hundred acre fields and hauling wagons full of grain.
Priced at budget-conscious levels, fans of these models run the entire spectrum of folks, from suburbanites needing snow removal and farm hobbyists mowing pastures, all the way up to full-scale ag-producers cleaning out feeding lots. What makes for the best 30hp tractor really depends on the users' needs, budget, proximity to dealer support, or familiarity with the models sufficient to work on themselves with parts bought online.
Below are our top 5 30 horsepower tractors to check out with our spec analysis for review.
Kubota L3301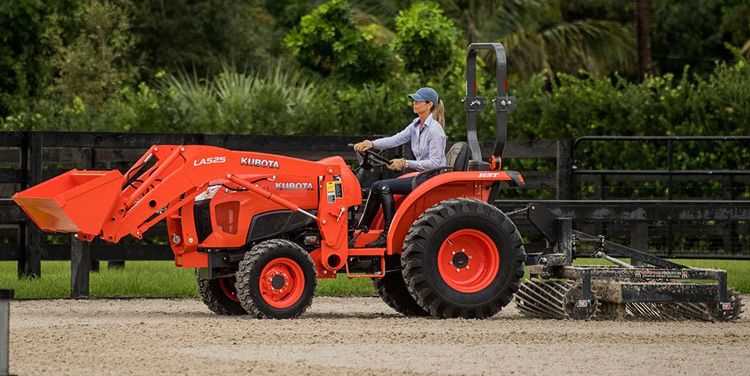 Among the more popular 30hp tractors tooling about the trails, the Kubota L3301 comes in both 2- and 4-wheel drive options. The direct injection, vertical, water-cooled, 4-cycle diesel engine kicks out 33 horsepower gross, with 31.4 horsepower net, and 27.7 at the PTO. A 3-cylinder unit, the bore and stroke measure 3.4 x 4.0 inches, with a total displacement of 111.4 and rated speed of 2,700. As typical with tractors this size, the machine runs off a 12-volt battery and 12-volt, 40-amp alternator. Fuel tank capacity is 11.1 gallons, and the PTO/engine speed cranks out at 540/2,430. The tractor features a Category I 3-point hitch with lift capacity at all points of 1,985 pounds, and 1,433 pounds at the 24-inch behind-lift points. Traveling speeds go up to 14 miles per hour forward and 12.7 in reverse. The machine itself is sized to manage, with an overall length of 107.9 inches, width of 55.1 inches, height of 91.7 inches, and a 63.3-inch wheel base. Total machine weight ranges 2,557 to 2,778 depending on drive options. Learn more here.
John Deere 3025D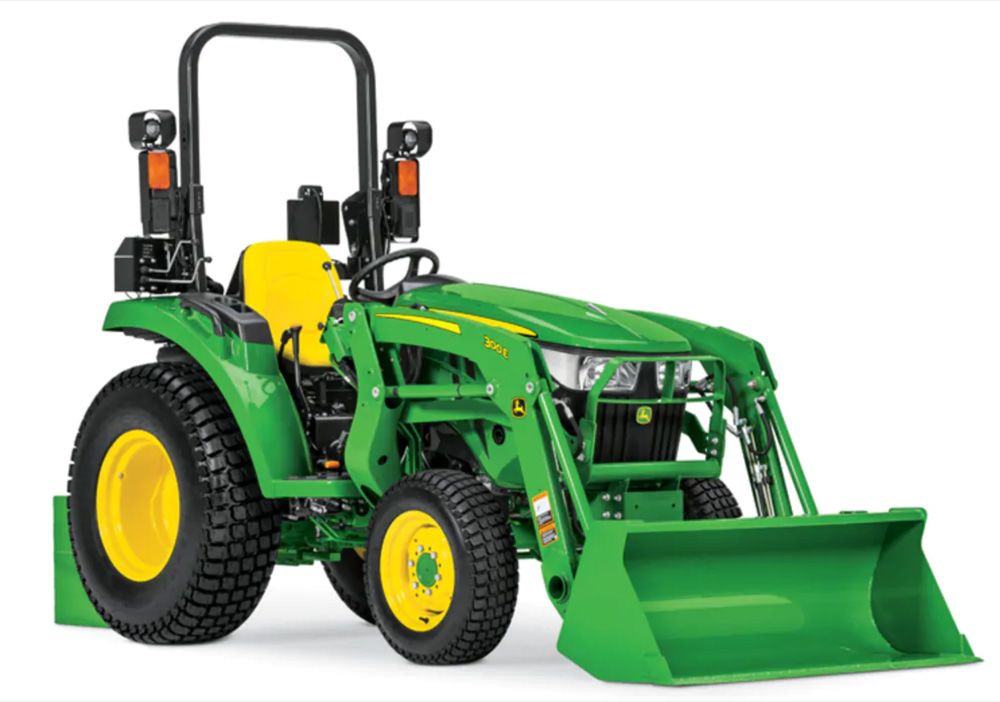 There's a reason John Deere green dots the American landscape with the frequency it does, and the 3025D model is quite frequently seen among the ranks. With a 24.7 horsepower engine and 20 horsepower at the PTO, the direct injection Yanmar engine sports three cylinders with a displacement of 100.2 cubic inches. With cast-in-block cylinder liners, the bore and stroke measures 3.46- x 3.54 inches with a compression ratio of 19:1:1. Engine torque is at a rated speed at 53.4 pounds-per-foot. The unit's fuel tank capacity is 9.7 gallons The John Deere 3025 features a Category I hitch type with 1,640-pound lift capacity at 24-inch behind the link arms. The unit operates off an 8-forward and 8-reverse synchromesh shuttle shift gear transmission. Total weight of the open-station cab unit is 2,778 pounds with a 62-inch wheelbase. Hauling capacity exceeds 4,409 pounds and the contoured, comfortable seat adjusts both forward and backwards. Learn more here.
Mahindra 1626 HST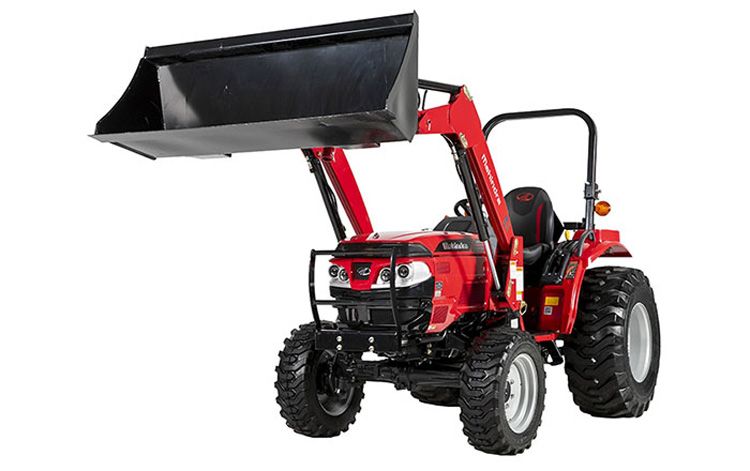 Part of the top-selling 1600 series, the Mahindra 1626 HST operates of a four-stroke, naturally aspirated, indirect injection, water-cooled diesel engine sporting 25.9 horsepower at 2,500 RPM. The three-cylinder unit offers a displacement of 80.4 cubic inches and utilizes a 7.1-gallon fuel tank. An infinite number of speeds are afforded by the HST-3 transmission with a dry-single clutch and wet disc braking system. With a live PTO, top rear speed is 540 at 2,376, with mid-PTO at 2,000 at 2,526, and total PTO horsepower at 19 horsepower. The Mahindra 1626 HST features an implement pump output 7.5, and maximum total flow of 10.8. The unit features a Category I 3-point hitch with telescoping stabilizers and lift capacity of 2,646 pounds. Powered by a 12-volt battery and 12-volt, 50-amp alternator, the machine's total weight is 2,459 pounds. Measuring 121.3 inches in length, with an overall width of 63 inches, height is 81.5 inches, and the wheelbase is 67.3 inches. Learn more here.
New Holland Boomer 40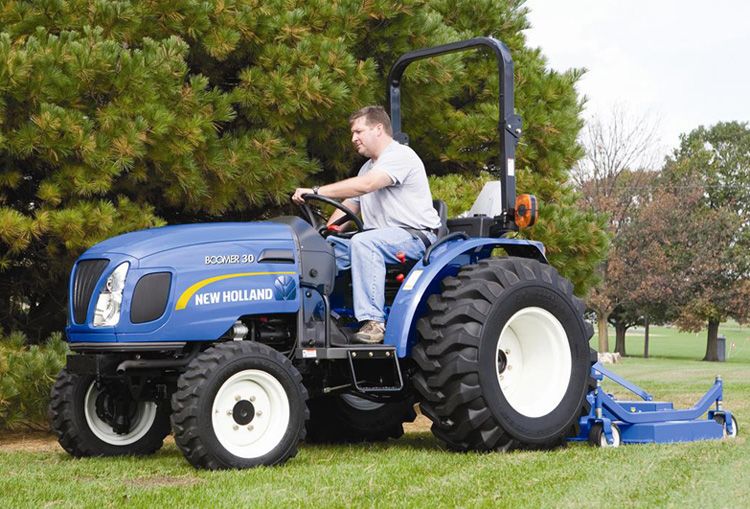 Big Blue comes through by way of the New Holland Boomer 40 – one of the best 30-horsepower tractors in the industry. With 30.2 horsepower and a rated speed of 2,600, the four-cylinder diesel engine kicks out a displacement of 2.5. The battery is powered by way of a 50-amp alternator and the machine is fueled off a 9.5-gallon tank. A hydrostatic transmission sports three ranges off a synchro, twin-pedal, shuttle type. Maximum forward speed is 15 miles per hour, with a maximum reverse of 14 miles per hour, all with a mechanical, wet, multi-disc braking system. The New Holland Boomer 40 offers a Category 1 3-point hitch with a lift capacity of 2,755 pounds and hydrostatic steering. The electro-hydraulic-engaged PTO horsepower comes in at 34/32 with rear speed at 540 RPM, mid-speed at 2,000. The Big Blue machine measures 306 inches long, with a height to the top of the ROPS frame of 245 inches, and a 176-inch wheelbase. Total weight is 3,737 pounds. Learn more here.
Massey Ferguson 1735E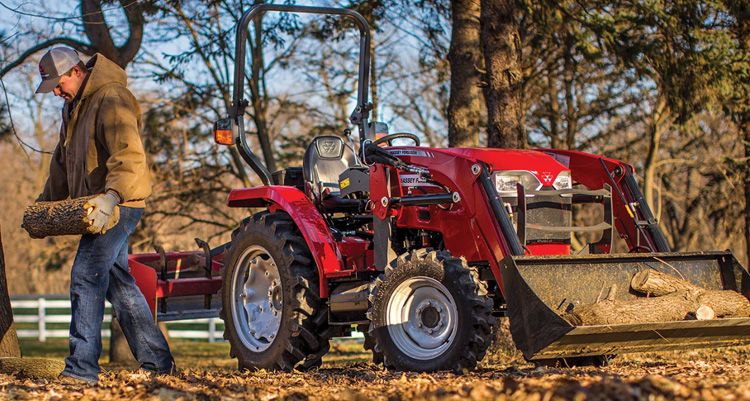 Red and gold, big and bold, the Massey Ferguson 1735E brings 34 horsepower to the game, along with an independent HST transmission-driven PTO horsepower of 29. The Tier 4 Final, 1.5 liter, three-cylinder, liquid-cooled Shibaura engine offers an engine speed of 2,600 RPM and 8×8 Synchro Shuttle or 3-range HST transmission with open center hydraulics. Hydraulic capacity is 9.7 with a Category I three-point hitch and lift capacity of 1,598 pounds at the 24-inch mark behind the pins. Total unit weight is 2,734 pounds with a length of 122 inches, width of 64.2 inches, and cab height of 91.3 inches. The Massey Ferguson 1735E comes with a five-year powertrain warranty and ongoing support. Learn more here.
30 Horsepower Tractor Implements
One of the great things about the 30 horsepower tractors is they're built to accessorize with implements.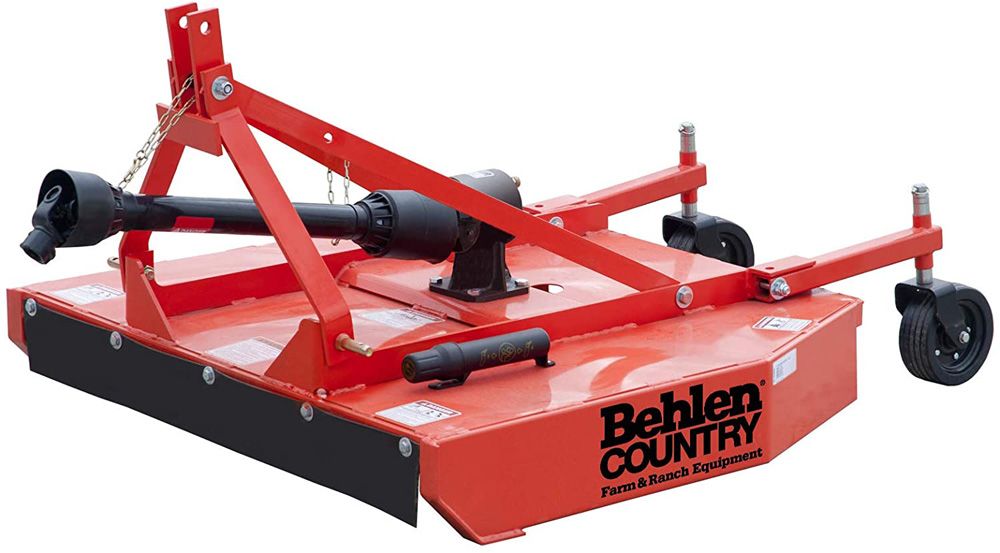 The Behlen Country Sub-Compact Rotary Cutter 4-Feet model offers an easy fit for sub-compact or compact tractors. With dimensions measuring 69 x 55 x 19 inches, the unit weighs 400 pounds and goes well with any of these models for bush hogging purposes.
Buy Now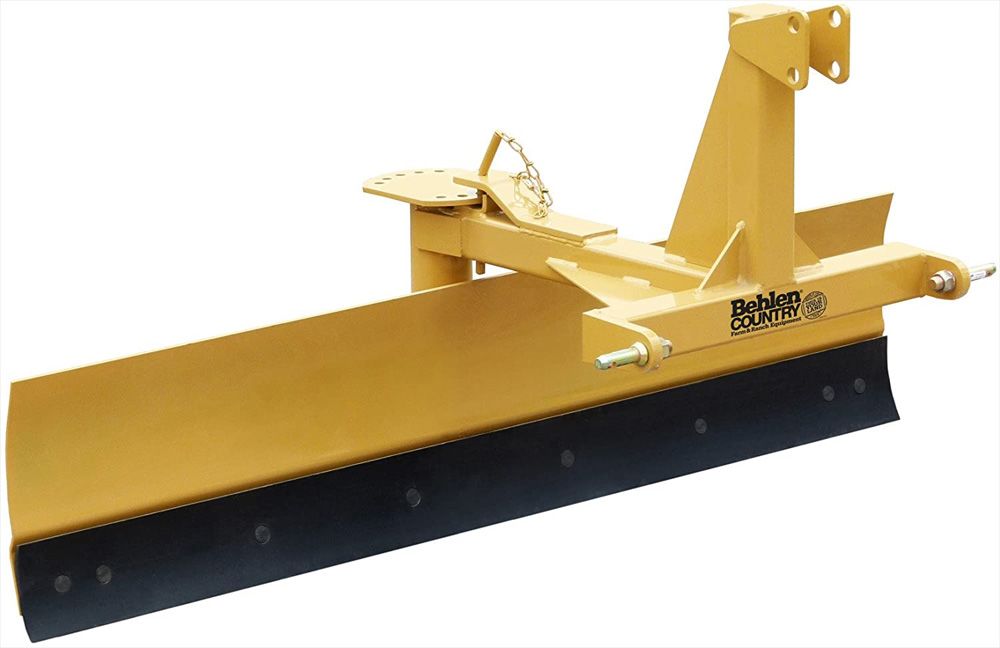 Another worthy implement to accompany your 30hp tractor is a Behlen Country Medium Duty Grader Blade, 6-Feet model. Ideal for driveway maintenance, snow removal, dirt and gravel spreading, the 72 x 54 x 72-inch unit weighs 228 pounds and likewise fits most makes and models.
Buy Now
We are committed to finding, researching, and recommending the best products. We earn commissions from purchases you make using the retail links in our product reviews. Learn more about how this works.